Being a nurse is, no-joke, exhausting in all aspects of the word,
mentally, physically, and sometimes emotionally,
but one perk, is that I get four days off every week.
This would mean the world to a lot of you nine-to-fivers out there,
but also extremely advantageous for the shopping fiend
who can't handle the chaos of crowds. (hi, that's me!)
 So, shopping on a random weekday morning is amazing,
because it provides me with the perfect opportunity to shop quietly
… and as aimlessly as I please …
which makes the Pisces in me oh-so-happy.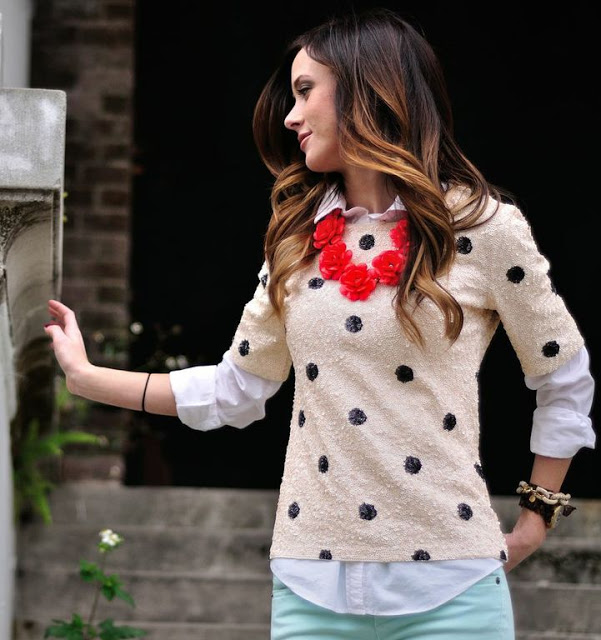 You might have heard of a store called J. Crew.
They could re-name it "Haley's Playground"
and they wouldn't be lying.
Being that I am a frequent meanderer of the Town Center,
Jacksonville's outdoor mall,
I find myself in there quite often.
Now, J.Crew is not cheap by any means,
so when I looked at these photo's and realized that
my outfit was consisted of ALL J.Crew items,
I saw exactly where I could gear the literary piece of this post.
It's so quick for you, the reader, to say
'oh it's all j. crew … must be nice'
I find myself in J.Crew at least once a week,
but that does not mean that being a nurse
has allowed me to plant a money tree in my backyard
(I FREAKIN' WISH!)
I think that if you do it right (shopping, that is)
you can have a fun and creative wardrobe
no matter what your paycheck looks like.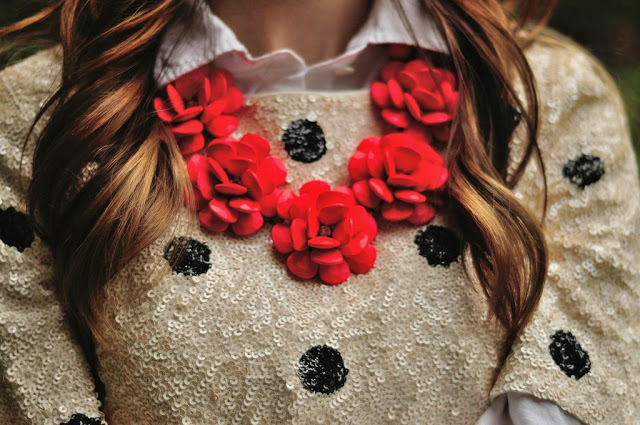 To me, I think the realization that your wardrobe
won't be full of all the most perfect options
to create fun outfits over night
or after one trip to the mall
is really important.
It takes t i m e.
The key to shopping and creating a wardrobe you can be proud of
is looking and paying attention
and thinking about what you already have.
I see my wardrobe as an art collection.
Every time I go to buy something,
I think about how the piece I am thinking of buying
can enhance or collaborate with what is already there.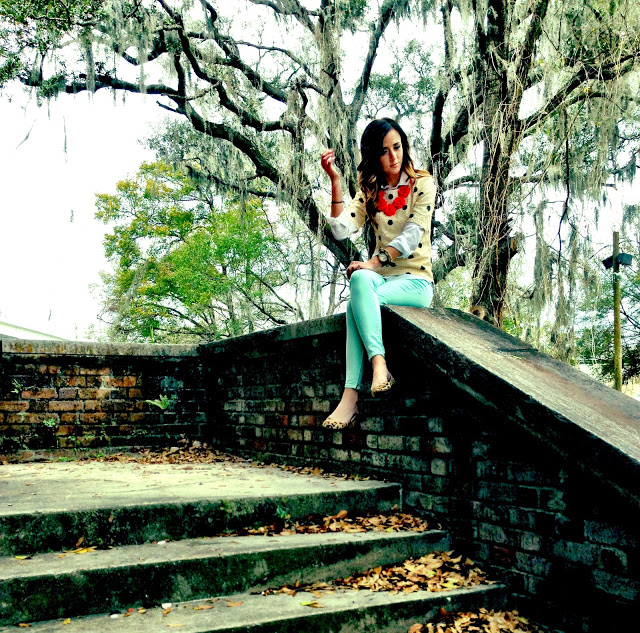 How to be a Good Art Collector:
Set a budget.
Set aside money every paycheck to help with the 'splurges'.
Head to your favorite store, often.
(You never know what could have gone on sale since you went there last week!)
Pay attention to new collections.
(Ask the sales manager when it comes out, just in case you find something you really want!)
Keep an eye out for sales.
Sign up for their emails.
Accumulate good finds at good prices.
Ask if they have any discounts
(J.Crew has a 15% discount for students and teachers)
Only 'splurge' on what you know you will wear ALL. THE. TIME.
Keep your impulse buying under control.**
("Hi, my name is Haley and I am an impulse buyer.")
**oh, hey there, 'work in progress'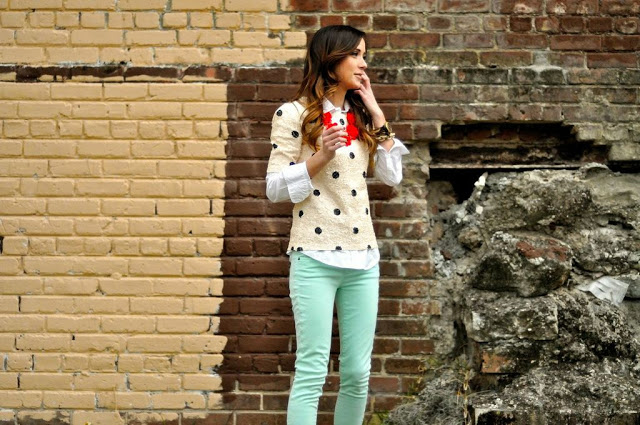 I promise you I follow these rules myself:
I bought these mint pants last Spring
after I got my tax return
because, like I've already mentioned,
I'm a cool color person,
and I knew I was going to get a lot of wear out of them.
I bought that necklace the DAY this current Spring collection hit stores.
(Hey,  don't judge. Didn't I say to pay attention to new collections?)
I have been on the hunt for the most perfect red necklace for
I'm not kidding,
YEARS.
I follow J.Crew on Instagram
(shocking!)
and saw a photo of it styled on a model,
I knew two things:
1. It was coming to stores and
2. I had to have it.
I have literally already styled this necklace
so many ways. If you follow me on
Instagram
, you know.
(See there … only splurging on what I know I will wear all the time)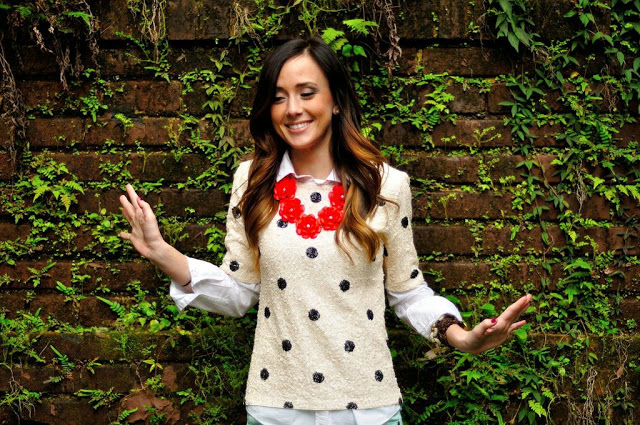 and again, I wear it all the time.
And I used a gift card to pay for half of it.
I bought the sequin polka dot top right after the holidays.
I got it on super sale.
I don't remember how much I ended up paying,
but J. Crew takes care of its customers
by offering a lot of sales during the year.
On top of that, a lot of times
their sale items will have an additional percentage off.
EXAMPLE:
They have ALL NEW Spring items on sale,
and an additional 25% EVERYTHING!
I bought my Steve Madden leopard flats last Spring
and they haven't left my feet since.
Okay .. I'm kidding. They have.
But, I wear them more often than not.
Leopard, to me, is a neutral print,
so I throw them on all the time
because they always match.
Hope y'all had a wonderful weekend,
and an easy start to the work week!
With LOVE & sequins,
Haley
Shoes: Steve Madden {similar: 
here
}