Joie Flo Heel in Whiskey [other colors here] >> Okay … how cute are these? The heel is PERFECT as well as the color. Suede is HUGE for Spring so just know you'll be seeing a lot of cute suede sandals, as well as a lot of tassels and ankle wraps.
Bisley Cerulean Blue 2- & 3- Drawer Filing Cabinet >> You'll learn, later in this post, that I am in desperate need of structure. I was talking moreso about my daily life but feel like helping myself to these filing cabinets will be a HUGE help in the grand scheme of things. I got rid of the two pink chairs that have been in my office for the last year. Really, I need sanity more than I need people to have a seat in my office because, well, I don't have clients that come and meet with me in there, anyway, ha … I'm so excited to get these and see how they look! I'll definitely share more on Snapchat when they come in!
Shashi Tatiana Bag >> I'm heading to Miami this week and I don't think there is a cuter bag to bring to accompany me and compliment the looks I put together. Being from Florida, you'd think I'd know Miami well but I've actually only ever driven through it to get down to the Keys. I'm excited to see what it's all about!
 BRICS Luggage >> I've never had nice luggage. All of mine are ancient and from either Target or Dillards. I decided to gift myself some nice luggage for my birthday. Is it weird that I chose pink? Waiting for your bag to come through on the baggage claim conveyor belt is really stressful for me, personally, so I just like the obvious identifier. Ha! Anyway, this luggage is super sturdy and beautifully organized with multiple compartments on the inside. Can't wait to use it this week!
 Topshop Leaf Print Bikini [Bottoms here] >> Couldn't be more excited to lounge in the sun later this week! Hopefully it's warm enough. I know to most 72 degrees sounds SO warm, but Floridians are weird. That's kind of cold to me. But regardless, I snagged this cute bikini. Price is just right and the print is precious!
Okay, first of all … how beautiful is Warsaw, Indiana? I personally can't point out WHERE that is on a map but, after seeing how beautiful it is there in the Fall, I sure do want to find it! It seems like an amazing place to raise a family.
Hands down favorite part of this episode: Ben's parents! They are so precious and seem like the sweetest people!! Swoon. A RIDICULOUSLY close second, though, were the bloopers at the end! Hahahah. Kristian, my roommate, and I could NOT stop laughing! Worst part of this episode? Listening to Emily talk to Ben's mom. OMG, y'all. Poor girl was ALL OVER THE PLACE. We were wide-eyed the whole time. I think she has a lot of growing and maturing to do as a woman, and I think it's pretty cool that this experience could be a launching pad for that. It may be in front of America but I can imagine it's taught her quite a bit.
Is it just me or does the editing of the show at the end kill anyone else? It makes me laugh. I feel like I can tell now when it's "too" dramatic to be real. There was nothing super dramatic or torturous for Ben about his decision this week. I think he knew deep down it was Becca that he wasn't seeing a future with. What do y'all think?
I felt really bad for Becca. It was clear that the connection just wasn't there for him. He offered her no validation and I would have totally been battling those exact same feelings of rejection she was in the end. What a bummer for her! She's gorgeous and seems like such a sweet person. I have no doubt God is fashioning an amazing man for her.
I really think he ends up with Lauren B. in the end. I think she challenges him and he likes that. He wants a girl who knows who she is and stands for that.
 "Best Fake Smile" – James Bay
 "American Love Story" – LANco
 "Crazy Over Me" – Dylan Scott (this guy is, like, my dream!)
 "Let It Go" – James Bay (obsessed with this guy's voice!)
 "Locked Out Of Heaven" – Bruno Mars (rediscovered my love for Bruno after the Super Bowl!)
This actually was pretty hard for me to answer because CONFESSION: I RARELY scroll my Instagram newsfeed. I honestly don't have a lot of time or interest to. When I'm working, I'm fully focused on getting done what needs to get done [whether that's working on the next blog post, styling looks for a shoot, getting back to emails, planning social media posts for the day, documenting expenses, filing receipts, running errands, etc.] and then, before I know it, my roommate gets home from work and we're catching up on our days, making dinner or going to meet people out for Happy Hour. I think I spend a total of 5 – 10 minutes [cumulative, not consecutive] on my feed. BUT … I was able to pull out these five out of my head. I definitely enjoy when I catch one of their posts and I am CERTAIN you will enjoy them, as well.
@harlowandsage >> I mean, I don't even feel like I need to explain why I love this account so much. Venture over there and you'll see. You can thank me later. (The videos – and the music that usually accompanies them – are my favorite!)
@lucylaucht >> I stumbled upon Lucy's Instagram about a year ago, I believe, and was drawn to it, initially, because it has TONS of blue throughout the feed. So, naturally — y'all know me — I was drooling at the sight of it all and hit "FOLLOW" without even really thinking twice or looking closer at any one photo in particular. Once you scroll each individual photo, though, you will discover her deep love for the world and exploring it, even down to the details of the flooring of certain places. It opens your eyes to the beauty that is out there, the beauty we don't see because we're so busy with our normal every day, which I totally get is necessary to make a living, etc. But, overall, I love her feed because it inspires me to take the time to make the necessary plan to see what else is out there. Like Dave Matthews says "the future is no place to place your better days". Don't put it off. Plan it NOW!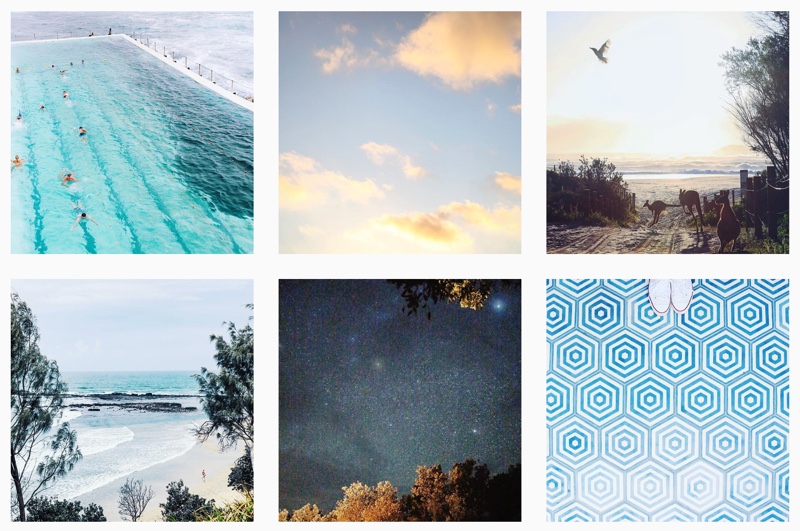 @topparisphoto >> I always thought, over the years, how weird it was when girls would express this deep love for Paris. Whether they had been there or not, it's ingrained in some many women's hearts. Now that I've been there … it was me that was the weird one. How could I not be in love with Paris? When I was there in December / January, I was telling Kristan and Whitney how impossible it is to encapsulate the enormity of the buildings around you in a photo yet here I am two months later perusing this Instagram account everyday hungry for a photo that gives me just small incapsulated pieces of this beautiful city I can't wait to get back to someday. Hopefully this year, even. Fingers crossed. If you're in love with Paris, get your daily dose with this account … it's lovely.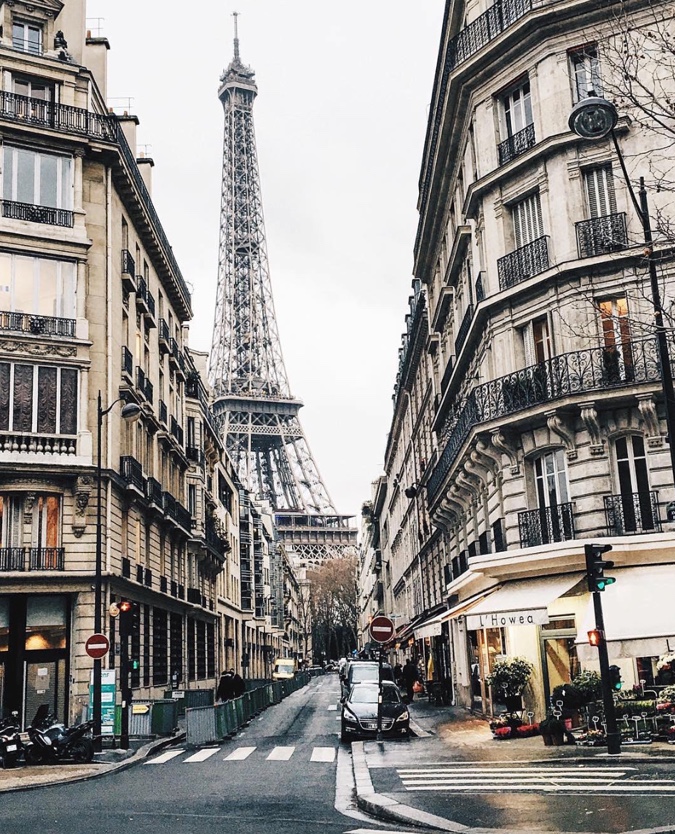 @blonde_atlas >> I may be a little biased because Whitney, in less than a year, has become one of my best and dearest friends but, I am so proud of what she has shared on her blog, Blonde Atlas', instagram over the last few months. She is a beautiful person inside and out and she wants the best for us all. She believes in us, that it is possible for all of us to reach our full potential and unlock our destinies if we just put a little action behind our ideas. Follow along if you want encouragement, positivity, travel tips and guides, and to be inspired to dream big and challenged to not only talk about it, but BE about it!
@parisinfourmonths >> Carin is a photographer who up and moved to Paris for four months and ended up staying, as her profile clearly shares. She went to follow her dreams and she is, seriously, living THE dream. I recently followed her on Snapchat. She seems very sweet, loves to travel and always has designer gift bags waiting for her when she gets home. Sister, you've got it MADE! Her feed is dreamy to follow. If you love travel, narrow side streets, Paris, and pretty vignettes … follow Carin!

My birthday is this week so I thought I'd share some personal and professional wishes that I'd love to see happen over the course of my 30th year. It's about to get real, y'all. Buckle up!
 BETTER FOCUS >> I love running S&T but with so many things that need to get done, I sometimes get discouraged and feel like I'll never be able to get it to where I'd like for it to be because I'm so all over the place, and I don't allow myself to really sit quietly to brainstorm and plan the future. I'd like to branch out into the different topics within the Categories menu, bringing y'all more lifestyle, faith and travel posts, but it's literally all I can do, it seems, to just get style posts to you. It's a struggle of mine. I run a mile a minute all the time, and I just wish I had better focus on planning ahead rather than getting low priority items done just to get them off the list. [I'm learning that I'm a horrible delegator, which is something I need to really work on]
 The next wish kind of goes hand-in-hand, professionally, with this one … and, thankfully, I've got a plan in place to tackle them both so I'm really looking for to seeing it through.
 STRUCTURE >> Ask anyone that knows me really well … I have been craving structure like no other over the past few months. When you work from home, it can be a struggle to stay energized and motivated when you work by yourself especially when you are one person working ten people's jobs. It's hard to wrap your mind around the priority levels of everything that needs to get done, from accounting to appointments to photography to buying to planning travel for conferences or trips to managing social media and customer service for your readers, and then organizing your week accordingly. I'm someone who is easily distracted and extremely scatterbrained without any kind of structure put into place, and I've found I don't create that structure well for myself. Believe me, I get a lot of stuff done but there's no plan or organization to it whatsoever. I just deal with it all as it comes and do things on a whim. I've got some ideas in place to make my wish to operate within a helpful and healthy work structure by this time next year. #staytuned
MORE TRAVEL >> When I travel, it's usually with friends who aren't bloggers so I don't document my travels the way other bloggers do [i.e. on the blog]. It's important for me to respect my friends' vacation time and also value and be fully present in the time that we get to spend together being that many of my best friends live in different cities across the country.  However, this year, I would like to share more documented travel with you, and have put together some ideas to make that happen. I am still planning on sharing bits of my London and Paris trip. I promise … it IS still in the works, ha. But, I hope to travel more this year in a way that will allow me to share more of it on the blog for you because traveling is one of my favorite things and I'm so happy and thankful I'm able to do more of it now.
FISH STAYS HEALTHY, AS WELL AS EVERYONE I KNOW >> Fish is my best little friend and I want him to live forever. That's not selfish, right? The older you get, the more you're hit with unexpected losses. I've realized that over the last few years, so pray over the health and wellness of your friends, family and loved ones, and spend as much time with them as much as you can. That was one of the biggest reasons why I quit nursing. More on that when I tackle my Birthday Q&A …. 🙂
CARE LESS >> I love sharing myself with y'all, but there are elements to what I do that can be difficult. People leave hurtful comments that make you feel judged and misunderstood. People unfollow you and, in turn, you question your worth and value. You fall in to the comparison game because everyone's life is perfect on Instagram, right? (Wrong.) I've definitely developed a thick skin from dealing with all of these over the last couple of years, and I do have a firm grip on reality most days, but I am still human, and a female at that! So, this year I hope to work on caring even less than I do now, and realizing when it's time to put up healthy boundaries.
Overall, I just want a healthy, happy, fun and adventuresome 30th year!
Oh, and of course I hope to find love but I can't hold on to that. I just believe so strongly that the right person will come along at just the right time so I'm not going to WISH for it, per se.
I hope y'all have enjoyed this week's Friday FIVE. I may continue it next week. I haven't decided but it will definitely be back next month sometime. Give me feedback in the comments below! I'd love to hear your thoughts! Thanks for stopping by and enjoy your weekend! Be safe! xo.