Hi friends! We all work so hard during the week so, if you're like me, putting on comfortable loungewear after a long day and crawling in to bed is my favorite time of day. Similarly, sleeping in on a Saturday and taking my time getting my day started by lounging on the couch with Fish and catching up on the latest gossip magazine is another guilty pleasure of mine after a long week. I must make this pretty obvious or clear on Snapchat because I received a few requests from y'all about doing a loungewear post and, I was like … um, YES. I'd be happy to help ensure that the end of your long day is rewarded by opening a drawer full of comfortable loungewear for you to choose from.
Within this post, you'll see photo's of me hanging out with Fish is an easy $20 pink tank top and comfortable bright pink slim sweatpants. But, generally, I'm pretty open when it comes to the type of  lounge / sleep wear that I'll buy. I, personally, have a wide variety from chemises to sleep shirts to sweatshirts and sweatpants. With that said, I'm going to share a few different categories of products in case you're a bit pickier or just want multiple options!
I've rounded up some favorites below! Click on the style board to shop and I'll break each category down throughout the post for you and share which items I have specifically, as well!
SWEATPANTS & JOGGERS:
I can't sleep in sweatpants and joggers but I typically am wearing these around the house more than anything. They're so comfortable and perfect for someone, like myself, who is typically cold and really just likes to feel cozy, whether it's summer or not. Here are my current faves:

I personally have these and these and love them!
SLEEP SHIRTS & CHEMISES:
Sleep shirts and chemises are two of my favorite things to wear to bed. I get really hot while I sleep. I'm assuming because I'm such a deep sleeper. I bought this chemise by Splendid last month and I LOVE it. Actually, Splendid does a … splendid 😉 … job with sleepwear. I have a few other pieces from them that I love, as well, like this jumpsuit. This chemise is definitely my next Splendid purchase!

This cute pink & white striped one is on sale for a little over $25!
SEPARATES SET'S:
I absolutely LOVE separates. I always feel so put together and cute going to bed when I wear them, hah! Y'all loved THIS set that I shared a few weeks ago on Snapchat. It's still available and now comes in a navy option! I think THIS & THIS might be my next separates purchases! They both look so lightweight and comfy!

I also have THIS one by PJ Salvage that is still available, just in a different color combination now. My set is purple/orange and this set is green/gray.
TANKS & TOPS:
I stock up on affordable graphic and plain tanks to wear around the house for the summer months! The one I'm wearing in today's post is SUPER affordable at only $20 and it's so comfortable. Here are some other options:

SLEEP SHORTS:
Sleep shorts are SO necessary in the summer months! I get way too hot sleeping for pants to even be an option, even with a fan, so here are a few that have caught my eye out now:

These blue striped ones are currently sitting in my shopping cart right now! SO cute!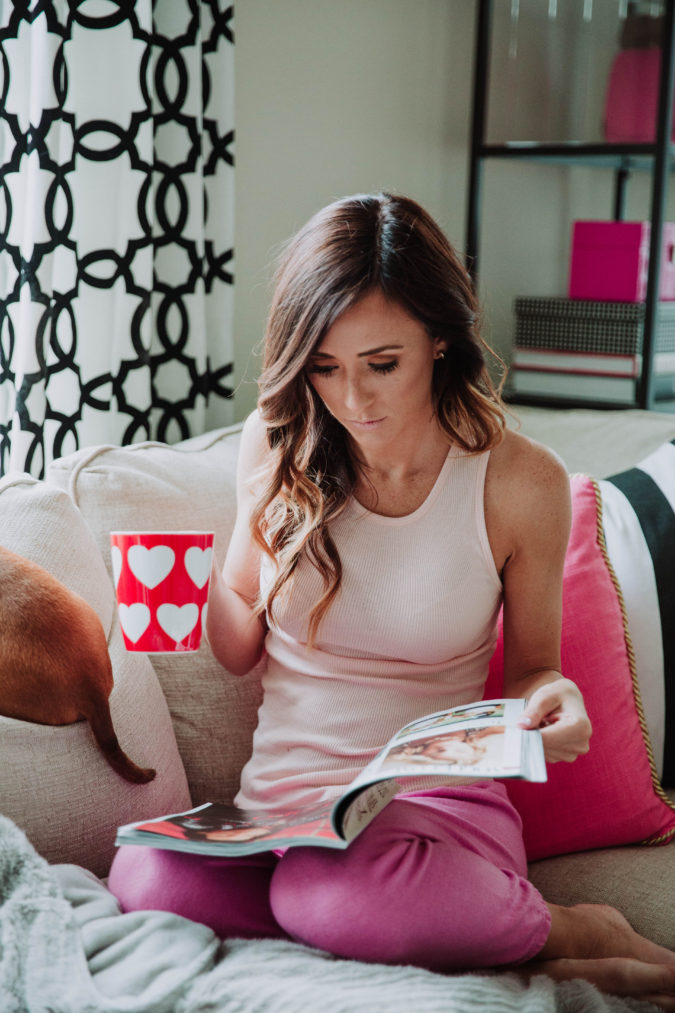 I hope you all enjoyed this post and found it to be helpful! I want to apologize it took me a few days to get it put together after saying on Snapchat I'd have it up the day after I got back from Mexico. Silly, Haley.. I don't know why I think I'm superwoman. Uh oh .. I feel my thoughts about to just spill out everywhere but, being that we're comfortable in loungewear at the moment, let's just go ahead and have a little bit of a coffee talk:
I've had a lot on my mind lately, and I always have these thoughts after I come back from traveling, which I've done quite a bit of over the last six months. Y'all may not even pay it any mind when I don't have a post up on S&T but, I definitely put a lot of much pressure on myself to get posts up every single day because it used to be possible. When I strictly posted outfit inspiration for you guys, I was able to do that – no problem! The posts took, maybe … an hour and a half at most to put together. But, I told myself in January that I wanted to be more of a resource for you all and curate posts that are different, helpful and interesting. I'm finding that y'all are LOVING that. But, to be honest, those posts [like the Neutral Shoe Review, the handbag post, and even this one, too] take hours to put together. I'm absolutely not complaining. I love what I do and I love putting posts together that you all have requested from me. I'm just highlighting how, because of the increase in time I spend on blog posts, it's not as realistic as it used to be for me to have posts up EVERY day like I used to and, honestly, like I want to. Maybe other people can, and props to them! But, for me, it's become clear that I can't have those types of posts up every single day AND run the back end of the blog, without other parts of my life suffering. I want to create quality content for you all but I also want a great work / life balance. To get my blog where it is now, I made a lot of sacrifices. I spent a lot of time ignoring people, things and myself in order to nurture this little space and grow it. I don't regret those sacrifices. I think you'll always make sacrifices and put a lot of time in to making a dream a reality, especially in the beginning. But, for me, those are sacrifices I don't want to continue to make just to make my blog bigger or to make me more aspirational in your eyes. Let me be clear: I want my blog to be an amazing place to visit. I want you all to know me and see me as a friend. I want you all to find inspiration here, and to see me as someone you can turn to as a resource for your needs. But I don't want to put too much pressure on the timing in which I share that quality content you're wanting to see from me and that I'm wanting to share with you. I want to work hard on the blog, but I also want to work hard at being a good friend, a good daughter, and a good girlfriend and make those things a priority, as well, because they're important. I also want to see the world and, while I fully intend to do that comfortably and stylishly I want to share those experiences with you, as well. But, again, that's content that takes time to put together. So, anyway, I'm a share-er and I wanted to share what was on my heart in regard to blogging these days because it's been bothering me and, honestly, I don't like what not posted may seem like to you all. I've always been the type of person who likes to feel understood, and I know that's impossible with a large audience. Everyone is different and not everyone is going to be compassionate and want to understand my point of view, and that's okay. But regardless, that's another reason why I wanted to share. So, with all that said, you need to know that I am so thankful you come to visit my little space here on the internet and I appreciate your patience with me if you do venture to S&T everyday looking for a new post. I can't tell you what it means to me, and I hope it's always a place that serves you and makes you feel inspired but, also, less alone. xo.
Anyway … Thankfully, I am caught up on laundry. I've got all my appointments done with as of yesterday. I have fresh food in my refrigerator. I've rested and taken some medicine and am starting to feel A LITTLE better. I've pulled LOTS of clothes out of my closet for my assistant to organize and eventually post on @shopalysonhaley! And, I've gotten all my photo's from my trip uploaded so, I'm looking forward to putting more posts together today, then it's off to Dallas tomorrow to celebrate my best friend, Ashley, who is pregnant with her first baby! 🙂 Enjoy your Thursday, friends!