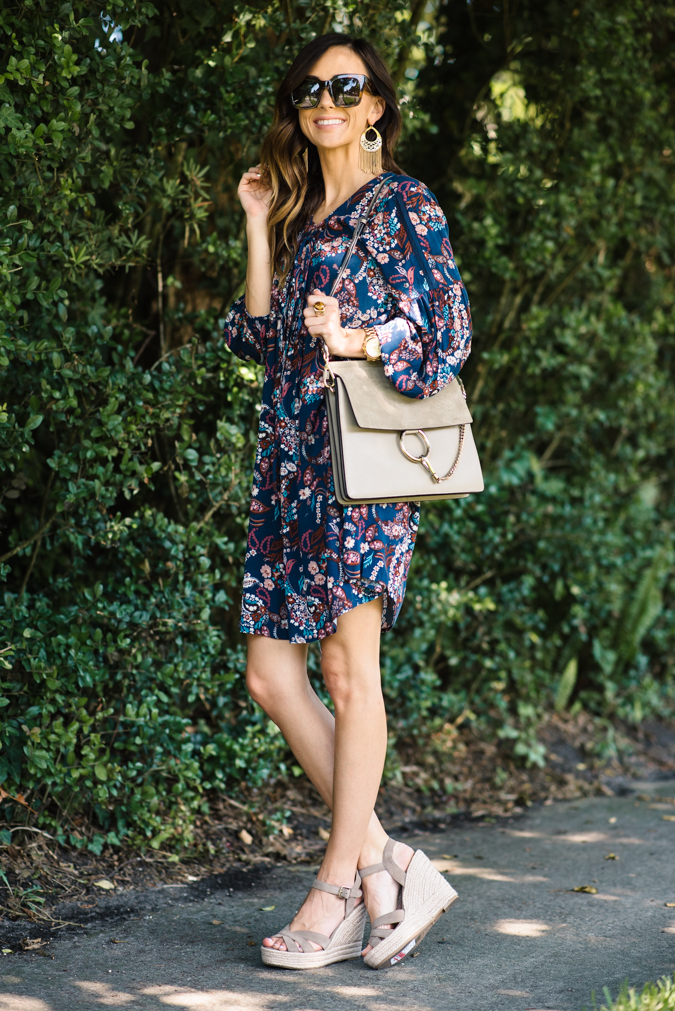 Hey there! Happy Hump Day! Today, I've partnered with Nordstrom Rack to showcase their amazing selection of summer sandals. I found SO many, you guys, that are seriously so cute. I got so excited to share this post with you because of it.
Let's start with the ones I'm wearing … These Dolce Vita wedges that I snagged
last week are a little shorter than I tend to go for but, that's what makes them SO comfortable and easy to walk in. Typically, I would expect these shoes to be at least $89 – $109 but, nope! They're only $49.99 and come in multiple color options! I paired them with this boho-esque floral dress that also blew me away in terms of price at just under $45! It's also super lightweight and airy, just what we're all looking for in a summer dress.
The next pair I need to mention are these leopard sandals because, I mean, who doesn't need a good pair of leopard sandals in their closet? That's right. We all do. So, if you have tiny feet [because I think there are only small sizes left, unfortunately!] don't wait on scooping these up!
Next up … and probably the pair that I'm most excited to share with y'all are these Stuart Weitzman LOOKALIKES. The Stuart Weitzman version of these sandals are $455 and these are under $30! I can't speak to the
quality or comfort but they are pretty darn cute and almost identical to the originals. I'd say they're worth the gamble!
If there is a trend I have seen all season long, in terms of sandals, it's the platform sandal! I found this pair during my sandal search at Nordstrom Rack so, if you're wanting to give them trend a try but don't want to splurge or fully commit … look at these. They personally scare me a little bit because I'm clumsy enough as it is and I feel like I would trip over them so … I'm thinking I need to take my own advice with these, hahah!
Another cute summer sandal trend are wrap up sandals! I found a few pairs of those, as well. I personally love this pair and this pair! I have the black pair in my shopping cart … ready to bite the bullet.
CLICK ON THE PRODUCT IMAGES WITHIN THE TEXT TO SHOP!
Can you tell we've hit the jackpot here people!? I hope you've also taken note of the killer prices because, look, we're all saving for something (myself included – more on that on a later date) so, I'm here to help you when I can. I've splurged on sandals one too many times in the past and, sure, there are some great ones but I'd say, more often than not, it's been a huge disappointment. I definitely think this is an article of clothing you should opt to save on!
Here are all of my favorite sandals all sold online or at your local Nordstrom Rack store while supplies last:

Tomorrow is the day I'll be sharing the "Follow Me For A Day" post where I take y'all through a day in my life, as a style blogger. I'm sure you all have wondered what we do all day and I think the answer is really hard to answer. The truth is … we all do this job a little differently and at different capacities, which is one of the great things about what we do. There's a lot of flexibility because we are essentially running our businesses at whatever speed we want / need to and we can opt to take on more or less depending on how we feel / what our goals are. With that said, I can only really share what I do so I'd encourage y'all to see it as that instead of a generalization. Anyway, I'm SO excited to share it with you because you all REALLY wanted to see what I do based on the Snapchat votes (it got the most votes out of anything I've ever put out there for y'all to vote on hah!) and I wouldn't trade what I do for anything so … I hope you'll stop by tomorrow to check it out! 🙂
Thanks for stopping by today, y'all! xo.