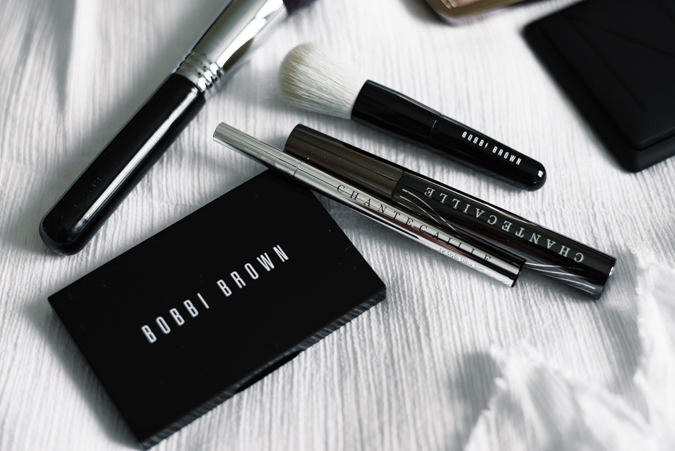 Hi there!
Am I the only one that almost dreads buying beauty products because their price tag's are always a little overwhelming? I mean, don't get me wrong … I love trying out new products but the price you pay to do so can put a huge dent in your checking account. So, when beauty products are included in a big sale event, I take advantage! As I'm sure y'all are aware, the Nordstrom Anniversary Sale's Early Access is well under way for card holders and it will be open to everyone in a couple of days. In order to make shopping this department a little easier for you, I thought I would highlight the beauty items you should have on your radar. I'm no beauty guru but there are quite a few products I use regularly that are included, and others I'm really enjoying!
• T3 'Featherweight' Hair Dryer: I've had this hair dryer for over a year now and I've seen a significant improvement in the quality of my hair. It's shinier and dries super fast, which I never thought I'd say. My hair holds on to water like a baby holds on to their pacifier. I'd highly recommend this hair dryer if you're looking to invest in a good one that has a positive affect on your hair. I'm pretty positive they will be restocking this item for public access! [Original Price: $200 | Sale Price: $139]
• Anastasia Beverly Hills 'Modern Renaissance' Eyeshadow Palette: I tend to gravitate towards 'neutral' or 'nude' eyeshadow palettes to the point that they're the last thing I need in my makeup collection. However, as I was perusing my local Nordstrom's beauty department, I couldn't keep my eyes off of this neutral and berry palette. I thought it was included in the sale so I bought it but, sadly, it's not and am just now realizing that. So, my sincere apologies for including it in this post BUT it is a good quality eyeshadow palette so consider it if you're looking for one! There is a mix of matte and metallic finishes, which is another perk, in my opinion! They're highly pigmented and really easy to blend out. I'll be using it in my 'Get Ready With Me' Snapchat Story this morning. I'll share the colors I use from this palette for an everyday makeup look! [Original Price: $42]
• Anastasia Beverly Hills 'Brow Studio' Set: I bought this after a lot of you commented on my Snapchat Shopping Adventure from the beginning of the #NSale. I've been wanting to try this product but for awhile but was a little intimidated by it. I will say that it does take a little getting used to, and a little bit on the brush goes a long way so this is a product that will last you a LONG time. The product is easy to apply as long as you know what shape you should be creating with the brow pomade and, because it's waterproof, stays in place when you apply the gel over it. I wore it yesterday and really liked it but need some girlfriends to give me their opinions, too. Let me know what you think of how it looks on my Snapchat Morning Makeup Routine. [Original Price: $54.00 | Sale Price: $36.00]
• HOURGLASS Ambient Luminous Light Palette: So, you'll see that I probably went a little overboard in the bronzer, blush and highlight palette department thanks to the #NSale. But, when I saw this one, I went all *heart eye emoji* over it and immediately threw it in my cart. Turns out, these shades are made with Photoluminescent Technology, which helps to filter out harsh light and refine the appearance of your complexion. I love how each shade helps to create a natural looking summery glow to your face. I'll show you what I mean today on Snapchat! [Price: $62.00 + gift with purchase for Early Access]
• Chantecaille 'The Perfect Eye' Set: As I was shopping around my local Nordstrom, one of the ladies in the beauty department and I started talking and, eventually, came upon the topic of this French makeup brand, Chantecaille. She raved about how well their products work and how I NEEDED to give them a try because this set was such a good deal considering their original price. I'm not getting a lot of sleep these days with so much going on in my personal and professional life so the Stress Repair Concentrate for my eyes has been my best friend. I also love how easy it is to apply their liquid eyeliner but it's a little too thin of an application tip for my liking. I like a medium sized line and this one is almost invisible. I already have a liquid eyeliner that I'm completely devoted to but, I'm never opposed to trying products just to let you know how I like them so that's what I wanted to do with this. I think it's a great product for people who might prefer that type of liquid eyeliner more than I personally do. So, don't disqualify it but I wouldn't buy it again. [Original Price: $142.00 | Sale Price: $89.00 + gift with purchase]
• NARS 'Nordstrom's Best Cheek' Palette: NARS will always be one of my absolute favorite beauty brands because, aside from MAC, it was one of the first ones that caught my attention and kept me coming back to try more things. They have some of my favorite blush colors, including 'Orgasm', which is included in this cheek palette. What I love about this palette is that it gives you four amazing blush options to choose from as well as a bronzer and highlight option so it's EVERYTHING you need on ANY day of the week. It'd be perfect for your work or weekend trips for that reason, as well. It's marked down almost 50% off! SUCH a great deal! [Original Price: $124.00 | Sale Price: $65.00 ]
• Bobbi Brown 'Bobbi On Trend – Cheek Palette': Bobbi Brown always has the BEST blush's. I always love her soft powder formula. This palette is so cute and compact, it could easily travel with you for touch-ups throughout the day! It's everything you need: a bronzer, pretty pink blush and a shimmery pink highlight to compliment the previous two! Highly recommend! [Original Price: $92.00 | Sale Price: $50.00]
• Bobbi Brown 'Bobbi On Trend – Nude Lip Set': I tend to gravitate toward nude lip colors, as well. Although, in the Fall and Winter, I love berry and nude tons but you will primarily see my a nude lip color. As I've already expressed, I love Bobbi Brown and these products do not disappoint. Her lip formulas are always creamy and SO pretty. I'm wearing the Art Stick in 'Brown Berry' in these photo's! [Original Price: $81.00 | Sale Price: $50.00]
• Sigma Beauty 'The Power Pair' Set: I've been using Sigma's brush cleaning mat for awhile! Squirt a little bit of Purity facial cleanser on the mat and go to town! It makes it super quick and easy to get a sometimes daunting task done! I also can't wait to try out the brush that comes with it to apply my foundation. I keep forgetting to try it! [Original Price: $49.00 | Sale Price: $34.50]
• GO SMiLE 'Dental Pro On-The-Go Sonic Blue': So, I have to admit. I despise how complicated it is to whiten teeth. I know, it's actually NOT complicated but I guess I just don't like the options that are out there. I already have enough to remember to do during the day and putting teeth whitening strips on my teeth twice a day, especially when they taste terrible, is something that I tend to prefer not to remember, although I DO WANT THE RESULTS, hah! So, when I saw this product was included in the sale … I was certainly intrigued. One of the things I always remember to do for the sake of everyone is brush my teeth twice a day and, if all I have to do is add some whitening gel to the mix in order to get the results I'm looking for, then I am ALL in! I've been using this product for the last couple of days and will keep you posted on the results! [Original Price: $89.00 | Sale Price: $66.00]
• Trish McEvoy 'The Power of Brushes' Collection: If there is a splurge worthy beauty purchase during this sale that I would advise you to make, this would be it! I am often a little lost when it comes to cosmetic brushes but, after reading about these, it's clear that these are great quality and will be conducive to a more flawless face. I'll be using them during my 'Get Ready With Me' Snapchat Story this morning. [Original Price: $382.00 | Sale Price: $275.00]
• FOREO 'LUNA Mini' Compact Facial Cleansing Device: So, I've used a Clairsonic for the longest time, and I don't hugely dislike it but what I didn't like is always feeling like I really needed to change the brush head for cleanliness. I've heard really great things about this little cleansing device and decided to give it a try since it's on sale! So far, I don't have anything negative to say and I feel like it does a really great job of cleansing my face with my TULA facial cleanser. It's supposed to improve your complexion, as well. [Original Price: $99.00 | Sale Price: $74.00]
• Philosophy 'Purity' Facial Cleanser: This stuff is amazing! I used it for years as my facial cleanser but now only use it to clean my brushes and beauty blenders. Regardless of how you choose to use it, it's a quality product that will last you a long time especially if you take advantage of this great sale price! [Original Price: $79.00 | Sale Price: $53.00]
• Neulash Lash Enhancing Serum: I apply this serum every single night during my night time skin routine and it WORKS. There's no need to go to your doctor for a prescription for Latisse when this stuff does the trick! I already have pretty long, thick lashes but these have enhanced them in a really pretty way. It is totally worth the money and, thanks to the #NSale, you get a full size tube [0.2 oz] and a travel tube [0.1 oz] for the price of a full size tube. It might not sound like that great of a deal, especially when you look at the price but, being a user myself, I can confirm that a full size tube lasts you A LONG TIME. So, it's not something you'll have to keep replenishing and splurging on often! [Original Price: $245.00 | Sale Price: $150.00]
• Deborah Lippman 'The New Romantics Set': Five nail polishes for $29?!? Such a great deal! I also loved that these colors are great year round and not just one particular season! [Original Price: $60.00 | Sale Price: $29.00]
I hope this helps you decide between what to buy and what to save on. Keep in mind that, while this was quite a large haul to splurge on despite the sale prices, these products will be used throughout the entire year and last me that long, as well! Just like other things, these are great investment purchases that will go the distance in the long run!
My pajama's can be found in the widget below as well as some others from the #NSale that have caught my eye:

I hope you've had a great week so far and I hope you'll join me now over on Snapchat as I take you through my morning makeup routine! [Same username as IG!]
MORE #NSALE BLOG POSTS HERE:
NSALE FAVORITES + SNAPCHAT SHOPPING PRODUCT REVIEW | THE FRIDAY FIVE: NSALE EDITION | TRANSITIONAL OUTFIT FOR SUMMER TO FALL | #NSALE FAVORITES UNDER $50 | CASUAL SHIRTDRESS UNDER $40 | FALL OUTFIT ESSENTIALS UNDER $50
Thanks for tuning in this morning! From the feedback I've received, y'all really enjoyed it. I'd be happy to continue doing them from time to time. Here are the products I used that aren't linked above:
EYES
I apply a cream base to my lids prior to putting my eyeshadow on. I love THIS product in the color 'BARE STUDY' a lot. It's a super soft, creamy formula but it's a little pricier than THIS option, which is also great. The only difference is the more affordable one isn't as soft.

Next I used THIS eyeshadow palette, using the colors TEMPERA [inner corner of eye and up underneath eyebrow arch], then BURNT ORANGE [lid and up into crease], then RAW SIENNA [crease]. I applied most of the shades with the application tool [the white tip side] that comes with the product but, I applied my crease color [RAW SIENNA] with THIS brush. Don't forget to blend with the other end of the application tool that comes in the eyeshadow palette! It's key to creating a blending and beautifully natural looking eye.

Next, I apply my liquid eyeliner to my lid along my lash line. This Chantecaille kit came highly recommended but, honestly, I wouldn't spend the money on it again. I love THIS liquid eyeliner that I've used for years FAR too much. See my review above for more info on the kit. After that, I apply a black gel eyeliner to my waterline. I used THIS eyeliner for years, and still have a tube that I grab sometimes and use, but just found THIS amazing option for only $7.99! Such a steal …

Next up is mascara! I apply THIS eyelash primer to my lashes to enhance the effects of mascara.I typically use THIS mascara. Today, though, I used the mascara that comes in the Chantecaille kit. I liked it, personally but, again, since I love what I already use so much I probably won't switch.

Finally, I do my eyebrows. During my tutorial, I did them before I applied my eyeshadow and, honestly, you can do them whenever. Today, I used THIS eyebrow kit which has a colored pomade to fill in your brows. It's pretty thick but dries quickly and keeps your brow in place throughout the entire day. I'm afraid the color I got was a little TOO dark for my face so I might return it for one of Anastasia Beverly Hills' pencils, instead.
On a daily basis, I use THIS eyebrow pen.

FACE
HERE is the primer I use.
Then, I applied THIS foundation with the brush from THIS kit included in the sale. I really liked it. It applied everything evenly and the bristles are super soft against my skin. NOTE: My foundation comes in a Combination/Oily skin formula and Dry/Normal skin formula.
Next, I set my foundation with THIS powder before applying THIS concealer. I usually buy 2 shades lighter than my skin tone to add to brighten up my face. I dabbed my concealer into my face with THIS beauty blender, and they're currently on sale!

Next, I used the yellow CREAM color in THIS contour / highlight kit to set my under-eye concealer with THIS brush. [To be honest, I don't know if that's the brush that's appropriate for that task. It's just the one I always grab to do it.]
Next I used THIS palette to contour my face. I used THIS palette for my blush and used the color LUSTER. To apply my blush, I use THIS brush. Next, I blend all of what I've applied to my face together so it's not so intense looking. My favorite overall blending brush is HERE, and it's – again – a HUGE key to your makeup looking natural! It is my number one holy grail beauty product. It's a game changer and SO worth the money, and it may be a little more feasible being that you're saving money by buying great drug store beauty finds! I use the same palette that I used for my contour for my highlight. I used the fan brush in THIS brush kit.
THIS is the brush I used to slim my nose.
I used the lip pencil in THIS kit, and it's also on sale!

Hope that helps, y'all! Let me know if I missed anything! More details in the snapchat video! I'll post it here in the morning for anyone who missed it! xo.