Hello, lovelies! As many of y'all know, I spent 4th of July weekend in Charleston, South Carolina with a couple of my girlfriends. While it was a extremely hot, to say the least, it was also very, very beautiful. This Southern city, almost completely surrounded by water, quickly became one of my favorite destinations to travel to. From the mansions lining the Battery to the colorful crepe myrtles lining every street, Charleston has a charm to it like no other and, while we kept ourselves really busy, there were still so many things we didn't get to check off our list! You can easily explore Charleston for at least a week or two and not get bored. There is so much to see and do! Today, I'm excited to share my weekend away in this beautiful city with you. I've split everything up into the following categories: STAY, EAT, DRINK, PLAY, WEAR. 
As I was researching places to stay for the weekend, I quickly realized that Charleston is really not short on adorable places to consider. However, when I realized that one of my options, The Mills House, was pink AND in a prime location ANDDD affordable, I was like SOLD! I mean, please … get a load of how gorgeous it is:
Its lobby and sitting area were gorgeous and their rooms were super comfortable. I slept so well and seriously considered packing a few of their pillows in my suitcase before we left, hah!
FOR THE RECORD
I would never do that, but the thought did cross my comfort-loving mind!
Aside from all of the already mentioned positives, my girlfriends and I also enjoyed an afternoon by the pool! Get there early! It's on the smaller side so, although there are chairs all over the second floor outside deck area, there are a limited number of chairs RIGHT by the pool. We enjoyed drinks at the bar one night and had the sweetest waitress, who enjoyed watching us Snapchat about our night. We also opted to eat breakfast at the restaurant within The Mills House one morning. I got the shrimp & grits and it was probably my favorite breakfast of the entire trip! It was so good, and their biscuits are so soft and fluffy! To die for! Shout out to Robin who was so fun and took great care of us!
Before heading up to Charleston, I asked y'all to send me your suggestions on where to eat and you sure did spoil me with recommendations! One of the most highly recommended restaurant was Husk! It was conveniently located just caddy-corner from The Mills House so we decided to not waste any time and went there on Friday night not long after we arrived. We put our name in and, since there was about an hour wait, we decided to head next door to The Husk Bar to grab a drink and a light appetizer beforehand. Kristan, my roommate and I, went crazy over their Pinot Grigio Rosé option! I hope I can find it at my local Total Wine. Our appetizer came out just as our table was ready and our server didn't miss a beat! She kindly reassured us that she would take it to our table next door at Husk while we closed out our tab. We were seated at a table on the balcony upstairs and, while we enjoyed the view, we were all a little underwhelmed by our meals. I ordered the catfish, which was extremely bland. It had no taste, and Gina got a pork chop that she felt had too much fat on it. Kristan liked the wreck fish she ordered, but wasn't something she was super crazy about. So, I am certainly not trying to discredit Husk or your opinions of it, but I can't say it was amazing if I didn't feel it was, in my personal experience.
Another restaurant that came highly suggested was Poogan's Porch, and it definitely impressed us. It's a couple doors down from Husk and we decided to go there on Sunday morning before setting out to do quite a bit of exploring. We all really enjoyed our meals and thought the story of little Poogan was a sweet one. You'll have to dine at the restaurant to hear it but, I'll give you a hint as to why I like it so much … Poogan is  a dog. 🙂
We also really enjoyed Fleet Landing, Charleston's only waterfront restaurant. We sat outside by the water and had a gorgeous view! I got shrimp, red rice and green beans which, for me, is one of those meals I could eat everyday and never get tired of! It was so delicious! I almost wanted to order another plate of it all … but I refrained because I think our server would have thought there was something wrong with me.
One night, we wanted to go to Halls Chophouse but we did not plan accordingly. It's an amazing steakhouse in Charleston and, if you want to eat there, you need to make reservations a few weeks before! We were going to wait for a table to open up in the bar area but, it was way too small and we were pretty hungry so we walked down the street and found The Rarebit. This place was no steakhouse but it was absolutely delicious! Who doesn't love breakfast for dinner? I got their chicken and waffles, but I think Gina's macaroni and cheese was the biggest hit!
There were quite a few other restaurants that we didn't make it to but heard so much about such as 82 Queen, Toast and S.N.O.B. We wish we could have made it to them all but I kind of like leaving something for next time, you know?
Just like restaurants, there are no shortage of bars in Charleston! I already shared my impression of The Husk Bar, but there were quite a few others I'd recommend, as well. There are two rooftop bars that the girls and I checked out: Pavilion Bar and Vendue. We went to Pavilion Bar, at the top of the the Market Pavillion Hotel, one night after dinner at The Rarebit and just barely caught sunset, but caught enough of it to suggest you do the same during your visit! The views are a good mix of city and water, and the bar staff are very attentive and swift. There are tons of seating options, between loungers and high top tables with adorable umbrellas with lig
hts on the underside lighting up the rooftop when it's dark. The girls and I sat out on the loungers for awhile, watching the sky fade into black, until we finally saw a table free up! We checked out Vendue on 4th of July before heading out of town and over to the Magnolia Plantation & Gardens. I am usually very keen on sticking to wine when I drink but I was excited to see that they had a Pimm's Cup on the menu. It was delicious and the view was gorgeous! It's more of a water view if that's what you would prefer! Another bar we stopped in one night was Carmella's, a cafe and dessert bar! We were looking for something a little more lively but it was adorable inside and the cheesecake looked DIVINE!
In terms of where to go out, I am probably going to be laughed at by ANYONE who lives in Charleston, or has at one time, when I share where we went out on Friday night. Let me preface this by saying … we love the show Southern Charm on Bravo and thought this place would be SO fun to go to being that we've seen the cast frequent this bar on more than one episode. So, with that said … we went to Republic, which is actually more like a club than it is a bar. We had fun – well, as much fun as a introverted homebody can have. We met some people, who were kind and funny. Afterwards, we ventured over to Trio, which was just a mess haha! I felt like I was in college again. However, I never go out so I tried to just embrace it and have fun, and I did. If you're super social and like to go out, I would say try those two!
REQUEST
If you know of any better places, leave them in the comments section below so I can include them here for anyone wanting something fun but not like these two places I've described!
One of the other things I love about Charleston is … there really is something for everyone! If you're a foodie, I've already got your to-do list set with options you saw in the EAT & DRINK above! If you love a thrill, head over to the Old City Jail to catch a tour. It was Charleston's County Jail and housed thousands of prisoners since its construction in 1802 until 1939, when it was deemed inhumane and unsafe to keep people there. It's supposedly haunted by many spirits who died over the years and has been featured on tons of ghost hunter type shows. We went on a rare 11:00pm one and enjoyed ourselves – for the most part!
DISCLAIMER
I know everyone has their own opinions about ghosts, spirits and the afterlife. I am kindly asking you to please refrain from commenting about said opinions and harassing me about whether or not I should have partaken in such a tour. Going on a tour like this doesn't necessarily mean I believe one thing or another. My mom, a huge history buff, brought me up to embrace our past and this building was a huge part of it for many, many years. I thought it'd be fun to venture through it for that reason and if a ghost tour is my 'in' to do that, I'm okay with it.
Another thing my fellow history buff's may enjoy is heading over to The Big Red Barn to go on a carriage tour through Palmetto Carriage Works. You'll need to buy tickets ahead of time, so head to your hotel's reception to point you to the exact location you'll need to go to purchase. We picked ours up at a store we popped into to grab a popsicle and cool off for a bit, so we just stumbled on it but I know there are other places to get them. Honestly, we had a great time on the tour. I love learning little fun facts about old cities. For example, there are these stones you'll see on the side walks and they look a little odd because they're standalone but seem to serve no point. Well, the city decided to keep these stones because, back in the day when carriages were the primary means of transportation around the city, the carriage would pull up to these stones to let ladies out. The stones served as a stepping stone so they didn't have to jump down from the high carriage. Kinda cool …. or am I a nerd? 😉
HEAD'S UP!
Now, as I've already said, it's SO hot in Charleston so the girls and I certainly kept looking at these carriage tours like 'are these animals okay in this heat carrying all these people around?' Before we set out on our tour, I obtained information about how the animals are treated and was happy to hear the staff atPalmetto Carriage Works  talk so compassionately about their animals and animal care process. They even have a handout for people to take with them with all the information. I know there are a lot of animal lovers and activists that follow me, and I understand that there are a lot of people who don't like that these animals are used in this way. I totally get it but, again, don't need to be harassed for the choice I made to go on the tour. I truly believe that Palmetto Carriage Works don't just talk the talk. It's clear they walk the walk. They use mules instead of horses, which are stronger and do better in the heat. They assign TWO mules to each carriage tour and one driver to direct them instead of the driver ALSO running the tour. Most carriage tours we saw had ONE horse being driven by the tour guide which, after learning about mules vs. horses, made me really sad for those horses! I'm sure every company is regulated and does a great job with their animals but I was highly impressed with how this company treated theirs. They even start the tour by driving you through where they keep their mules so you can see it all for yourself, and they mentioned that each mule gets a couple days out of the barn to run around and not work. 
So, if you want to go on a carriage tour, I would recommend going on one through Palmetto Carriage Works. And, if you're completely against this activity, no one is forcing you to go. You're entitled to your opinion and stance on the matter, just as I am!
Other great options for you history buffs would be to head down to East Bay Street to check out the infamous Rainbow Row. It's the most photographed area of Charleston and it holds a sweet little spot in my heart. My mom's favorite city in the South was Charleston and we had paintings of Rainbow Row around our house growing up because she loved it so much. It's typically pretty congested so, I would go early if you want a picture with not a lot of people or cars. You can also head out to Fort Sumter, where the first Battle of the Civil War took place. I went out there and took a tour the last time I was in Charleston, a few years ago. It's pretty interesting and another big part of American History to learn more about and see for yourself.
If you are keen on taking some pretty photo's, well … you're in Charleston, so you're pretty much set but I'd definitely suggest just walking down along the Battery just before sunset, heading over to the Pineapple Fountain OR checking out an old plantation home just outside of the city. My girlfriends and I did both! In terms of a plantation home tour, we chose the Magnolia Plantation & Gardens. It's a short drive just outside of Charleston on the Ashley River and our concierge at The Mills House said it's the most popular and a beautiful site to see. She wasn't lying! This place is absolutely gorgeous and, despite the heat, we loved exploring the property!
FYI
I shared in an instagram photo that I went to Magnolia Plantation & Gardens and got a comment from someone who couldn't believe that we went to a plantation home because the families that used to live there owned slaves. So, I feel like I need to make it VERY clear that touring a plantation home, for me, does NOT mean I support the white civilians who lived in those homes in the South during the 1800's. In my opinion, I think touring places like this stirs up compassion in my heart for those who experienced such injustice, because it wasn't okay! To be honest, the tour had almost nothing to do with slavery. There was one small mention that, after the Civil War, that many of the owner's slaves decided to stay on the property and help him take care of the property and run the tours. He paid them, as well. Other than that, it was all a historical account of the home throughout the years. 

I wore this on our first night in Charleston when we went to dinner at Husk right across the street from our hotel, The Mills House! It was a great little dress to wear that allowed me to stay pretty cool. I wore it in THIS post from Sunday!
Also … I got THIS neon pink clutch a few months ago and, honestly, totally forgot about it because I've kept it in the dust bag. It would have been PERFECT to wear with this dress and it's currently on sale!

I wore this outfit out to dinner one night! It's definitely hot in Charleston so if you wanted to opt for shorts like THIS or THIS instead, I wouldn't blame you! Both are on sale right now!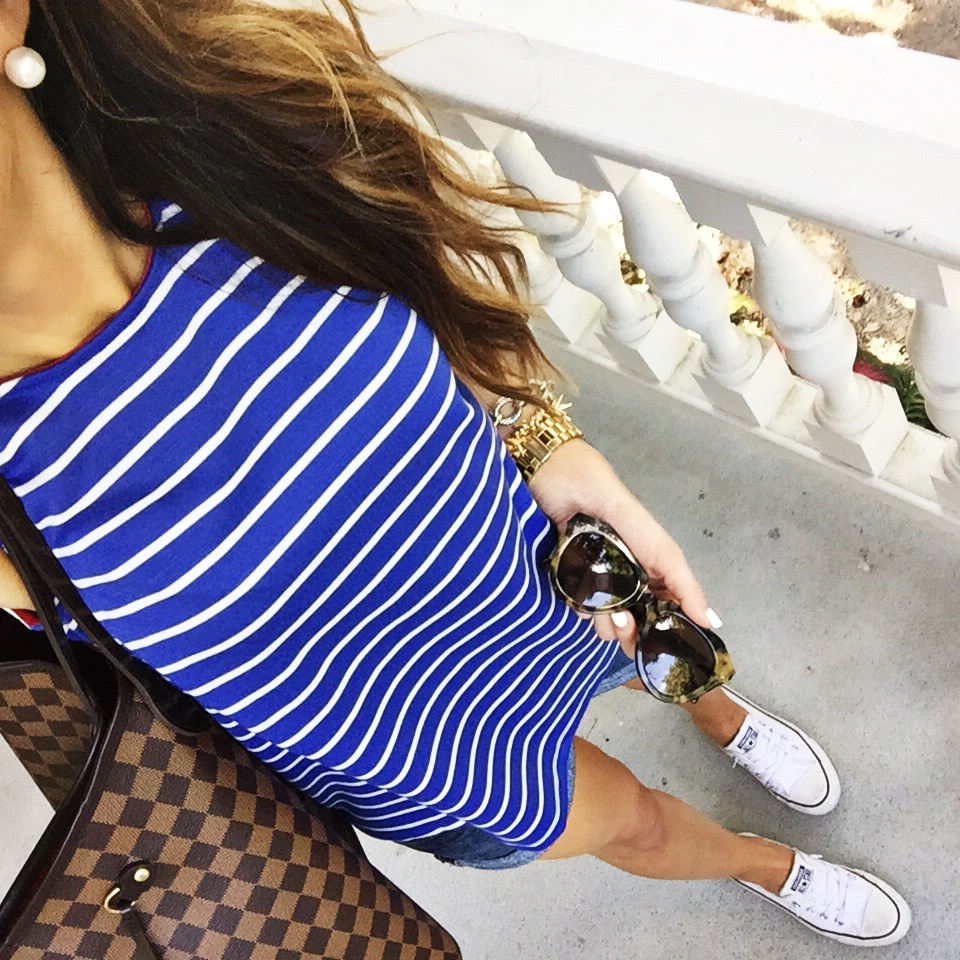 I wore this outfit on  4th of July, our last day in Charleston. We enjoyed brunch at our hotel and then drove around the city, taking pictures of the beautiful sites and homes, then heading over to Magnolia Plantation & Gardens!

I wore this outfit one morning to breakfast at Poogan's Porch and then to shop around King Street with my girlfriends! I ended up stepping outside to chat with Ben for awhile and quickly realized that I needed to wear something a little looser, like the romper I wore below!

I changed into this lightweight romper after we shopped around on Saturday and finally felt 'cool'. I mean, I was still hot but it was MUCH more comfortable because it wasn't clinging to my body. I'd highly recommend it or something similar, like these below:

Alright, that about does it! I hope this helps give you a little bit of a guide to what you should do in Charleston when you go! Obviously, there are probably TONS of other great suggestions but, I can only share what I know 🙂 Thanks so much for stopping by today, y'all! Appreciate it so much and be sure to stop by tomorrow for the beginning of the biggest sale of the year! I'll also be sharing things on Snapchat and Facebook Live throughout the sale so get excittteddddd! 🙂 xo.