Hello, hello! Well, we haven't done one of these in awhile, have we? Not a formal one anyway … I threw in some Instagram #ootd's into my Nordstrom Anniversary Sale posts for y'all but, thought I'd round up a few of my latest Instagram's since then to get back on track when doing these every couple of weeks or so!
Enjoy! xo.

This jacket is from last year. I brought it with me because I couldn't find a new utility jacket to purchase before I packed and came to London. It's such a great Fall staple. I definitely knew I needed to bring one with me so I had to bring my old favorite. Please read the following side note for some insight into purchasing items to style for S&T and how it'll be a little different while I'm in London …
SIDE NOTE: Last night, on Snapchat, I shared with y'all that it is always a priority of mine to style items that ARE available for you to purchase. I understand how annoying it is to really like an item a blogger is wearing and then it not be something that is attainable, because you can envision yourself wearing it yourself! It is a bummer. I totally get it. I'm asking y'all to show me a little bit of grace at this time in that department because I will – sometimes – wear an items that I brought along to wear here in London, like this jacket, that I might need until I can shop new Fall items and get them to me. International shipping time from the U.S. to London takes up to / more than two weeks, so please know that if I link something similar to one of these older items … it's an item that I seriously want you to consider. This is ALWAYS the case for similar items that are linked on Sequins & Things. I only ever link similar to items that I would personally purchase for myself, but I wanted to bring this up, most especially right now while I'm here. I want y'all to not skip over them or discredit them. When I link to a similar item, I'll also make sure to mention which ones I have purchased and are on their way to me, as well. One last thing … this will not be the norm for most products. JUST. SOME. I don't want you to think I'm linking similar to every product because it really is NOT the case. 98% of the items I have with me are currently available and ready for you to purchase so don't worry!
But, for example, I recently ordered this utility jacket that just came out, is brand new, and super, super cute! I won't get it until next week but, I will speak to sizing once I receive it! I ordered an XXS, as recommended. I'm really hoping it runs true to size, as it says.
My thermal swing top is one of my favorite purchases I made right before leaving for London. I also ordered it in purple and can't wait to wear that when it comes in, as well! It runs true to size!

This graphic tee is a favorite of mine. I wear it around the house all the time, and wore it out and around London on Saturday under my jean jacket. Be sure to scoop up these distressed denim skinnies. They're only $70 and fit like a dream! Also linked similar gladiator sandals at a much better price compared to mine. xo!

My earrings are currently on sale for only $24! The exact top is here but if you want something a little cheaper, this top is a great alternative!

My little studio flat is starting to feel a little more like home with my favorite candle, vase and fresh flowers! I also bought two new Chanel lip glosses in 204 & 206. One is a light, baby pink and the other is a beautiful light nude beige gloss.

I wore this cute floral kimono over the only white camisole you need in your closet on Friday night for dinner with Ben in Notting Hill! So cute, right? It's under $50!

I love my room back home!

This scarf was a London find in the Anthropologie located in Chelsea. It's not available on the US Anthro site, but you can purchase it from the UK one. Just click the link in the widget. I also really like this one with pink pom-pom's!
The US Anthro site does have an ah-mazinggg selection of light scarves for the beginning of Fall!

This is probably one of my favorite outfits over the past couple of weeks. I'm obsessed with these Nike's but … psssst …. I just bought these and can't WAIT to get them! I'm obsessed with the color combination!

Y'all were ob-sessed with this sweatshirt when I wore it on Snapchat last week! I know it's a little pricey …. but it's SO cute!

Such a cute bikini! Love the pattern and colors! I also love how it keeps everything covered … bikini's these days are getting smaller and smaller. Amiright? or amiright?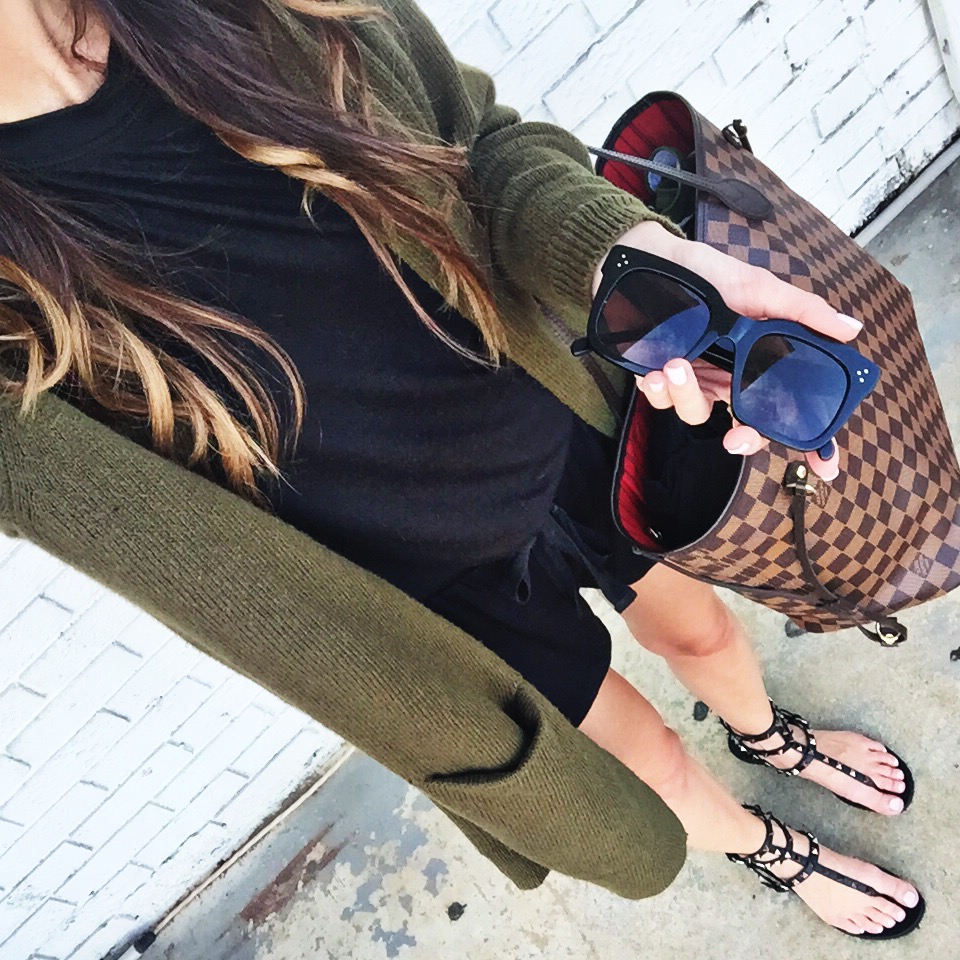 This romper and cardigan combo is everything. I could wear them both everyday. They're so comfortable and functional!


I wore this maxi dress on another date night with Ben to a show near Charing Cross in London. I love the high neck and the price tag, only $48! It comes in multiple colors and prints.

This adorable wallet came back in stock after the Nordstrom Anniversary Sale. The pebbled leather is so soft. I love how easy it is to get the things you need out of it without fighting with a stiff leather wallet.
These nude lip colors are my recent favorites that I shared on National Lipstick Day. They're all amazing, quality-wise, and represent everyone's budget. From left to right, the colors are: Adrienne, Fairest Nude, and Give In.

I wore this dress in Mexico A LOT. It's still available and so so cute! You can get it here and here!

I love the camel & black color combination in this sweater and these jeans are a recent favorite of mine! They're so soft and under $100! Go down one size from your normal! Here's a great alternative to the sandals I'm wearing!

This dress is such a cute, easy throw on for those hot summer days! I wore it when I was in Seacrest Beach, FL a few weeks ago to a family game night. It runs true to size and is currently 50% off, making it only $40!


Everything I'm wearing is priced so well. The softest faux leather pants are under $100. They run true to size. I've had them since last year and highly, highly recommend them! They will keep your legs super warm in the chilly air that we all have coming.
The turtleneck sweater is a great staple for early Fall and, again, it's under $50! I'm wearing an XS. It runs true to size.
This tote bag goes everywhere with me, practically! It's only $60! I love the color.
---
And, that's it! I hope you found a few things you've been hoping to score recently! I have some more things in my closet that I packed that I can't wait to style and share with you all. As always, you can find all of this style inspiration FIRST on my Instagram. To shop it, simply sign up for LIKEtoKNOW.it – a free service! Once you're signing up, you can simply LIKE my photo to receive an email in your inbox within 5 minutes of all the product links I'm wearing in the photo you liked. If you prefer to NOT receive emails, you can certainly opt for that within your settings. To shop without receiving emails, simply type in the URL within the Instagram photo description. You'll be taken to the LTK site where you'll sign in to shop the photo! Easy, peasy!
You can find out more about why I use LIKEtoKNOW.it HERE.
Have a great Tuesday, y'all! xo.
Also … head's up! Tory Burch is having a flash Private Sale! Enjoy up to 70% off some of her best items! Here are my favorites:

Hurry! The 'staple' items go fast!