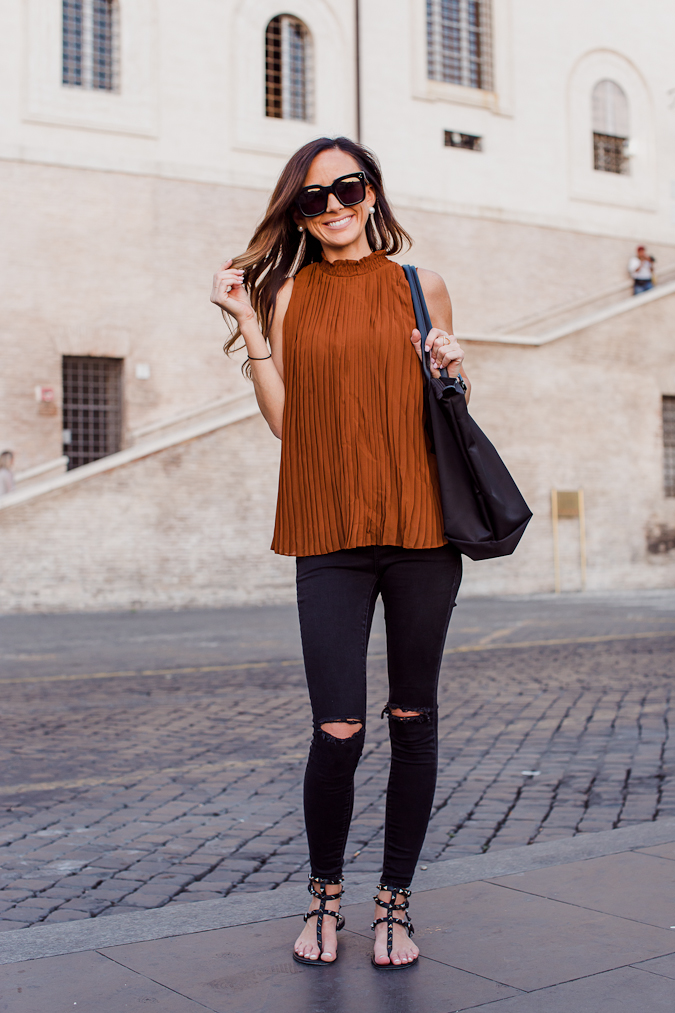 Hi friends! As many of you know, Ben and I ventured over to Rome for the weekend. He had a Bank Holiday on Monday, so we figured why not take advantage [being that its the only one he has while I'm here] and go somewhere?
For those of you wondering what the heck a bank holiday is …. [Don't worry, I was right there with you when I came to visit in December] … Bank holidays are, essentially, a day when banks are closed. They are viewed as a public holiday and thus, citizens in the UK get to enjoy a paid day off from work. They have about eight or so a year and are the best excuse to get out of town for the weekend.
We were so excited leading up to it. Ben hadn't been to Rome since he was 14 and I had never been. It has been number 1 on my travel lust list for years and years, so I couldn't wait to check it off and see it all for myself! The first day was jam-packed. We got up so early and did so much – more on that in a later blog post – and, after taking a small, much-needed nap, we decided to catch the sunset before heading to dinner. He really wanted to see it from Pincio lookout point but, for whatever reason, our taxi driver dropped us off a little early at the top of the Spanish Steps instead. There's a church there [called the Trinità dei Monti] and, if you climb its stairs, the view is spectacular. I tried my best but I really don't think my photo does it justice!
So many of you asked about this pleated rust-colored top after I featured it on Instagram. My sincerest apologies that the LTK emails never went out. There was a little glitch during the set up that caused it to link incorrectly. Thankfully that doesn't happen too often.. Anyway, I'm wearing a UK 6 in the top, which is equivalent to a US 2. It essentially fits like an XS. I think it's so adorable. I love the ladylike detail around the neckline and pleats throughout. For my ladies who work in a very professional dress setting, this top would be adorable tucked into a pencil skirt and paired with suede heels, in my opinion! With a neat top knot and smart glasses? Ugh. Yes!


After snapping these photos and enjoying the sunset, we headed over to the Trastevere area along the west side of the Tiber for dinner at Taverna Trilussa. I was a little scared after I read the menu because it's not a traditional 'American' Italian restaurant, but decided to stick it out. I've heard that when that's the case in Italy … you are in for a treat. I blindly chose ravioli with a white sauce and seriously contemplated ordering another serving of it. It was SO GOOD. By the end, we were too full to order dessert but our server wouldn't let us leave without trying a little something. He sneakily placed a small cup of tiramisu on our table and smiled at us as he walked by the next time. After devouring the whole thing in less than two minutes, we really regretted the 'let's skip dessert decision' but were thankful we can now say we know where to get the best tiramisu in Rome.
My favorite black distressed denim skinnies that I'm wearing in today's post are on sale! Snag them now! I actually need a new pair. I may try and find them at a Topshop here in London.
Can we take a second and appreciate Ben's great photography skills? He took all of these outfit photos.  To be honest, because I've been single since I started my blog, having him take my photos was something I was really unsure about at first. It seemed a little unnatural, in my mind, because I'm so used to setting aside time in my work schedule to shoot outfit photos. I'm not used to incorporating it into my personal life schedule that I share with someone else. It's not wrong. Obviously, there are plenty of bloggers' whose husbands have assumed the position of helping their blogger wife or girlfriend capture content for their blogs on the weekend or while traveling together. However, I didn't want him to feel like he had to if he didn't want to. I have always looked forward to being able to accurately capture my life, style and travels organically with the help of someone I do life with but, I don't want it to negatively affect our  time together or be a thorn in the side of that person or our experience overall. So, with all that said,  I wanted it to be a conversation with Ben rather than an expectation of him.
In every conversation we've had about it, Ben has said that, when it comes to the blog, he wants to help and be apart of what I am creating. Within reason, of course. As with anything. There should, obviously, be more time spent on quality time together exploring and enjoying where we are than just using our time together & travel location as merely a backdrop for a bunch of outfit posts. [I couldn't ever let that be reality, anyway. I love exploring cities too much.] But, he sees the backend of what I do … not only how much work goes into it, but also how much I love it … so, he's happy to help me tell these stories that would otherwise go untold, so to speak. Thankfully, even with the photography learning curve, we knocked these photos out in 15 minutes and got the enjoy the rest of the sunset.
I hope y'all have had a great week! I know it has been a little quiet around here lately but I'm really trying to practice healthy living and choosing grace over perfection. I probably could have gotten more blog posts up last week but I decided to only do what I could. There's a lot of backend stuff that's been needing my attention so I decided to focus on getting all that done before I left for Italy on Thursday of last week. Instead of staying up late every night, I've been opting to go to bed at a decent hour and choosing to remember that I'm only one person and that, even though I want to get a post up every day, I don't HAVE to get a blog post up every day. There's no rule that says I have to. I think, in my head, I hate that it looks to you like I'm not working when there isn't one up. I'm realizing more and more that it's okay. Some weeks I'll have more than others, especially while I'm here, and maybe it's better that way. Anyone else have any work-life struggles you deal with? Feel free to share! Let's be friends.
With all that said, I am so glad I was able to get this post up for you today and, I'm excited that I have some fun posts in store for you next week! Y'all get to enjoy a long weekend and there are TONS of great sales to take advantage of. I've rounded up a couple of my favorites here:
WAITING ON MARTHA | 15-30% off depending on how much you spend. See site for codes!

NORDSTROM | Up to 40% off of summer styles through September 11.

WEST ELM | Up to 25% off all rugs & furniture with code THISISBIG
POTTERY BARN BRANDS | Up to 25% off with code SAVEMORE
GIGI NEW YORK | 15% off site wide + free personalization + free shipping over $125

BAUBLEBAR | Up to 75% off + additional 20% off sale!

ONE KINGS LANE |20% off art, decor & rugs!

Leave me a comment in the comment section below … I'd love to chat with you! Happy Friday, ladies! Enjoy your long weekend. There are a few sale notifications below  xo.