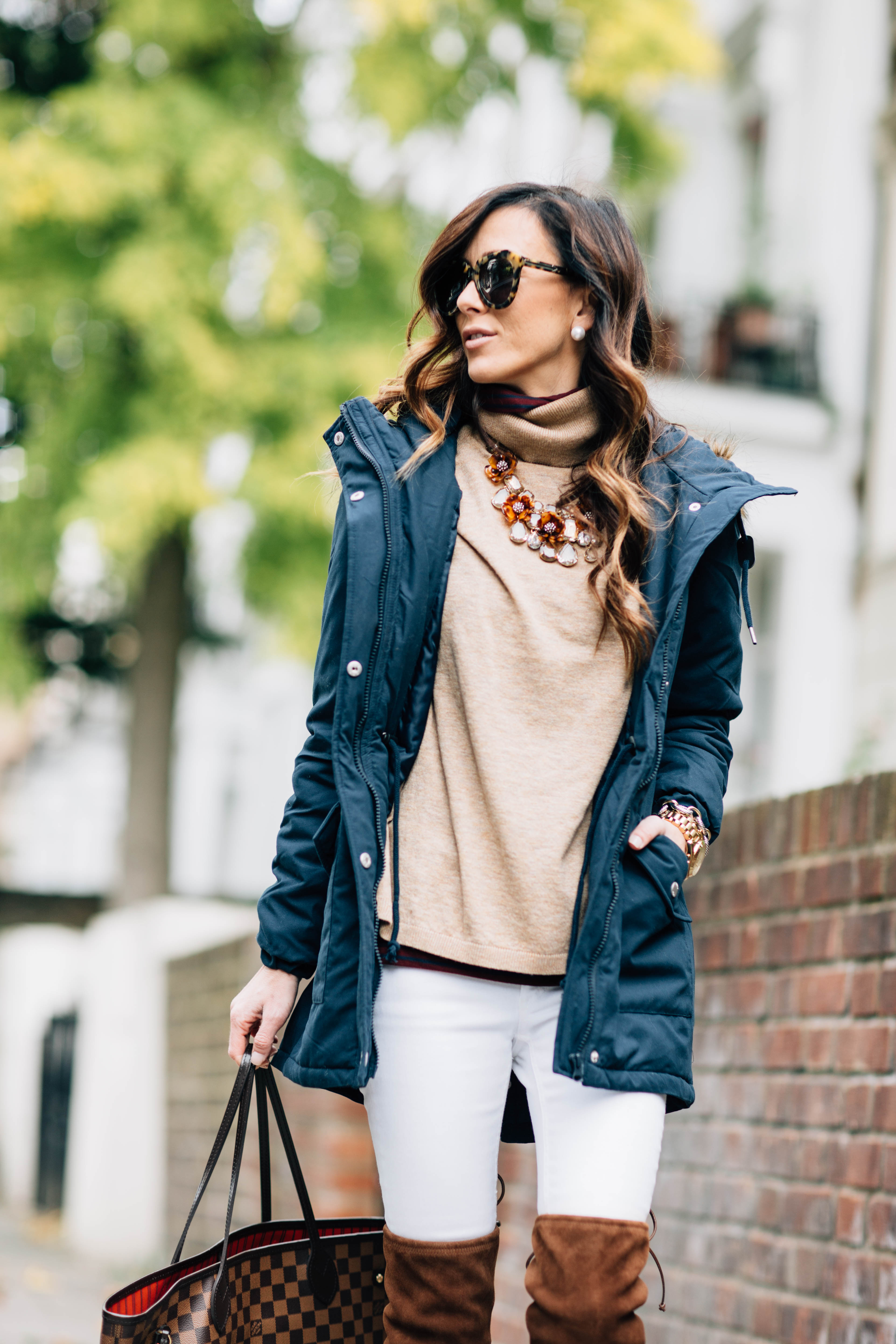 Hi friends! The temperatures have been dropping steadily here in London so I have been sporting layers upon layers each day to ensure comfort and warmth. Walking around, I tend to get a little hot, so shedding a layer is something I look forward to when I'm walking down into the tube or I've been hustling over to wherever I have made plans. Layering two turtlenecks is one of my favorite styles in the Fall. Mix up a solid with stripes and it'll definitely get people's attention. I think it's a fun way to change up your normal, everyday style. I always stock up on the tissue turtlenecks from J.Crew every year. They always have cute striped options. My camel colored turtleneck has a cute side slit that shows off the striped one I have on underneath. This navy blue parka is only $57 and fits SO good! It's cozy. The pockets are big so my arm doesn't get stuck in it trying to pull something out. The faux fur trim hood has been great for any unexpected rain.
SALEALERT! I don't get to say this very often but Stuart Weitzman styles are up to 30% off with code MAINEVENT16 until tonight so definitely take advantage if you've been swooning over that brand for awhile, waiting to take the plunge! Unfortunately, my Lowlands aren't available anymore on the site but there are tons of other options!
Today, I am off to grab breakfast with Marissa. Sadly, Kathleen left this morning. Marissa is off to Manchester this afternoon, and I am grabbing drinks with a friend in Central London. I am excited to get some tidying up done this weekend, and have a fun little day trip planned on Sunday before welcoming Marissa back to London for another day or two. It's been so nice having friends here for the past couple of weeks! I have a few weeks to myself before I have Whitney back in London staying with me for awhile!
Hope y'all have a great Friday! Let me know if you have any post suggestions you want to see from me! I'm going to try and work on getting some travel posts up for y'all! Those are the ones that take forever so they just get pushed back and back but I will try and get one to you this weekend!
Thanks for stopping by! xo.