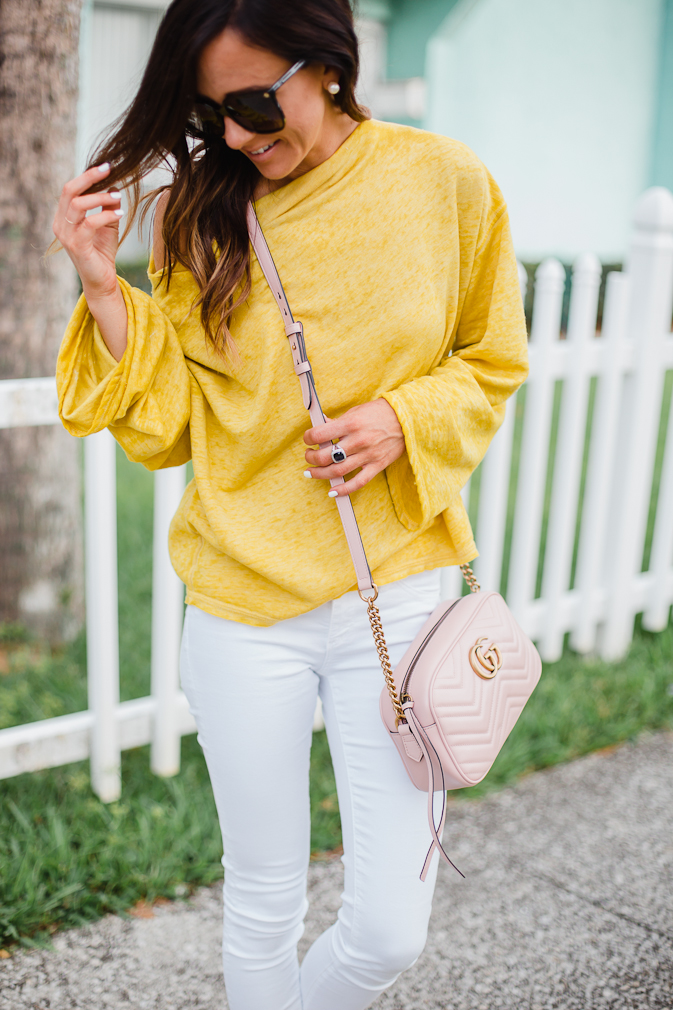 Hey there, lovelies! I've been a little MIA [on the blog and on Instagram] since I left for my trip to Italy and … honestly … it's been kind of nice to just disconnect from the online world / life and just reconnect with people I haven't seen or caught up with in a really long time. If you missed it on Snapchat, I am staying just outside of Sorrento, Italy with my friend from college, Sarah Kate, and her family. She is getting married this weekend to her long-time beau, Domenico, who is from Naples. Sarah Kate was my nomad friend and the friend who always had ideas on how to solve a problem in a way no one else would. She is creative, funny and always seeking adventure so, after college, she moved to Italy to teach English and, sure enough, she met the love of her life. This was years ago and I've been asking her for ages when they were going to have their beautiful Italian wedding and now it's finally here!
I've always loved Sarah Kate's family. Her mom and I are similarly tender-hearted so we have shared many laughs and stories and tears with each other over the years. I haven't seen her in a few years because … you know … that happens after college. You just don't see people and their families as often anymore as everyone goes their separate ways. [Sarah Kate & her hubby live in Chicago; her parents have been living in the Bahamas] I had never really gotten to know her Dad TOO well so, the other day, everyone was out running errands and it was just he & I at the villa we're staying at for the week and we literally talked for FIVE hours. Now I love her family even more! I didn't necessarily NEED to come this early but SK was like I want you here, come! And, I was like you know what .. it's not often I can see them and spend that much time with them. They're such good people so I'm really excited and very thankful to be able to be here with them all week.
On Friday, when I flew out of Jacksonville, I wore this outfit for the first leg of my journey – to JFK – then ended up changing into leggings, a sports bra, tank and sweatshirt for the long flight. I absolutely love these pink bow slides. They're so fun and I thought they had sold out for good about a month ago, then saw them restocked and got really excited for any of you who may not have snagged them yet! I had purchased this top in lavender back in February and I'm so excited it's now available in additional colors! I love this yellowy/chartreuse color a lot. It will go great with turquoise and I especially love it with pink! I went one size up because, from experience, I know this top is a little short and I wanted it to be a little longer and oversized. I purchased this pink Gucci cross body bag from their new collection and I couldn't be more obsessed with it. Nordstrom is carrying this one in the same color and I'm kind of obsessed with the style of the bag. It seems like a great practical everyday bag if you're looking for a good designer investment to make. It also comes in black, which will go with more than the pink I think, depending on your style.
I seriously can't believe this weekend is Memorial Day weekend. This year is flying by. Before we know it, we'll be buying Christmas presents. This week, as I mentioned, I'll be hangin' with SK and her family. We're going out on a boat on Thursday and heading over to an island that is on my list of things to see while I'm here, so I can't wait to do that! Tomorrow, I'm trying to solidify plans with a local photographer to shoot some outfits before the weekend festivities and before some people come and meet me out here to REALLY explore the area. I've been working on our itinerary over the last couple of days and I just can't wait for them to get here! Can't wait to share who!
Okay, I think I've talked your ear off enough! I'll be sharing my French Riviera packing guide with y'all tomorrow so be sure to check it out! Thanks for stopping by today, y'all! xo.
Nordstrom's Half-Yearly Sale started! Don't miss the savings! Here are a few of my favorites: