Hi friends! Happy Happy Friday!
I wore this outfit in Boston a couple weeks ago when I was there for a few short hours before heading to the airport to catch a flight to New York City. Victoria had never been and we left wishing we had chosen to stay for at least one night so we had a little more time. Next time! We found this super cute stoop on our walk back to our car. It made me really wish I had a stoop to decorate this time of year! It looks so fun!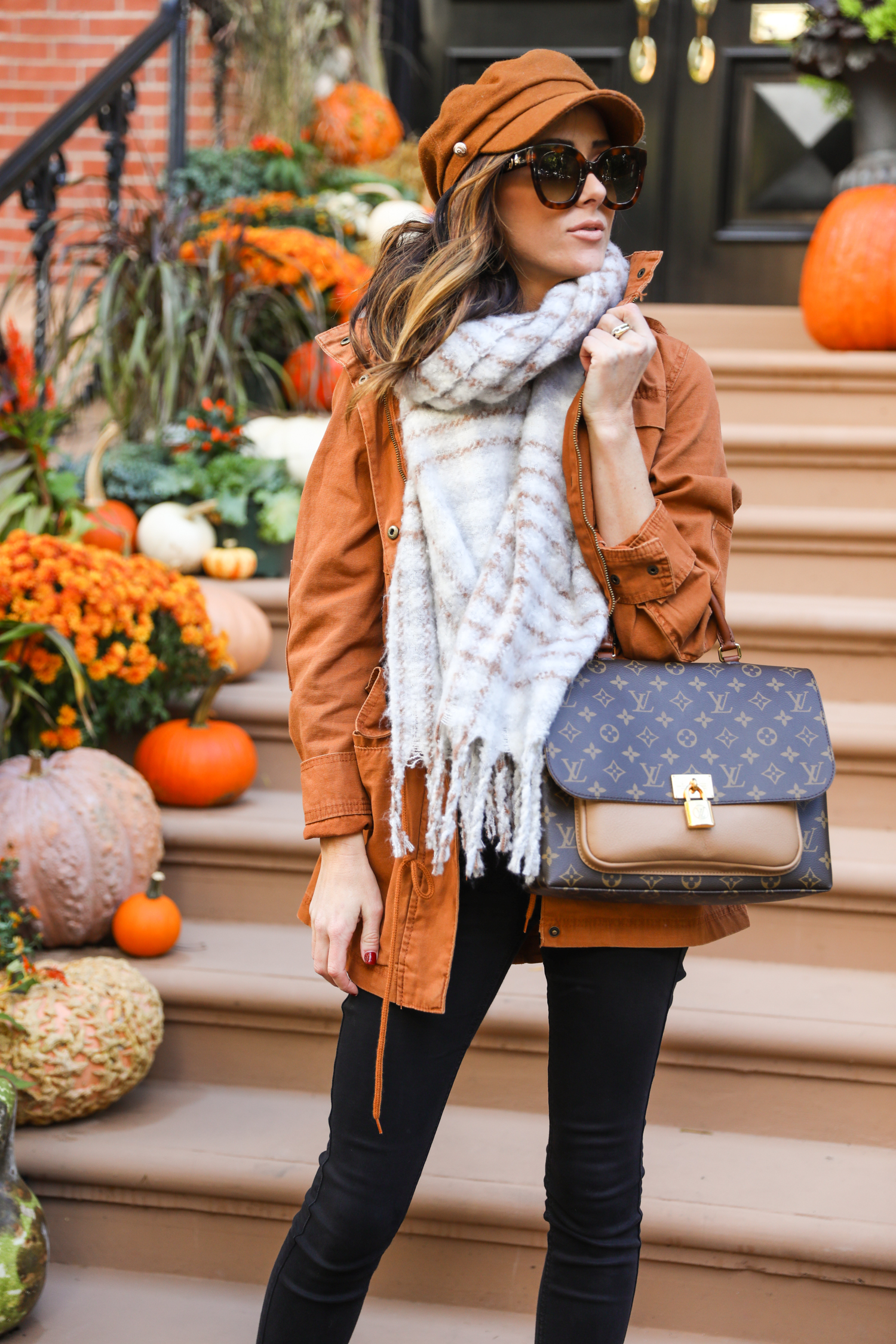 Our first stop in Boston was a Super Target as Victoria had never been and wanted to see what all the rage was about! She was very impressed and went home with a few goodies for herself and her fiancé. We were going to do a Target haul on Stories for you guys but we only had a couple of hours in Boston and we were STARVING when we left. We were borderline hangry so we opted to do it later and then never got around to do it. When Victoria and I are together, we are always so focused on either exploring, talking to each other, and getting the content we set out to get while we are together so sometimes stories inadvertently gets put on the back burner! Sorry guys! :\
To make up for it, tomorrow, I'm going to share a mini Target haul over on my IG stories. I got some really cute things and I'm excited to share them with you! Because you read my blog, you get a sneak peek at one item before the IG story fam does! Congrats! It's this super cute utility jacket! I absolutely love the rust color. I saw it in an XS and snatched it up so quick!
HEADS UP | More insights into fit and details on the items I'm wearing in this post can be found in the Editor's Notes at the end of the post!
What are y'all up to this weekend? It's a crazy weekend here in Jacksonville as it's Florida / Georgia weekend but this girl just wants to catch up on sleep but also get back on East Coast time. I think I'm going to go to bed really early tonight.
I apologize this post is getting up to y'all super late but better late than never! I have tons of content to get out to y'all … I didn't want to push it to tomorrow! Stay tuned for a new post tomorrow! It's gonna be a good one … one y'all have been asking me for for awhile! It'll likely be up later in the day but I'll see y'all on Stories tomorrow for the Target haul!
Weekend Sales
Abercrombie & Fitch | Up to 50% off site-wide + 15% off purchases over $100 with code 11747! Exclusions apply.
EXPRESS | 40% off everything! I ordered this in an XS in the cream color.
J.Crew | 40% off hats, sweaters and more must-have's! Plus 25% off everything else with code BRRR at checkout. Here's what I recently purchased:

LOFT | 30-50% off almost everything + free shipping!
Target Haul
Here are the items I featured in my Target Haul on IG stories on Saturday:

 xo.