Hi friends!
When I lived in Colorado, I remember being so nervous about the Winter months. I was a Florida girl with no puffer coat and thinking about what one would cost me was daunting. It was so expensive to live in Denver and I just didn't think I was going to be able to find one that was warm enough at a decent price. Honestly, I wish I knew then what I know now about outerwear!

Sure, outerwear is typically more expensive but there ARE great affordable options out there if you know where and when to look for them!
So, when IS a good time? 
Lucky for you … if you're in the market for outerwear … is NOW! With all of these amazing holiday deals going on, you have no excuse but to find a good price on some great outerwear options!
The next question is where … and you may be surprised by my answer but, honestly, I've found some of the cutest and most affordable options at Abercrombie & Fitch.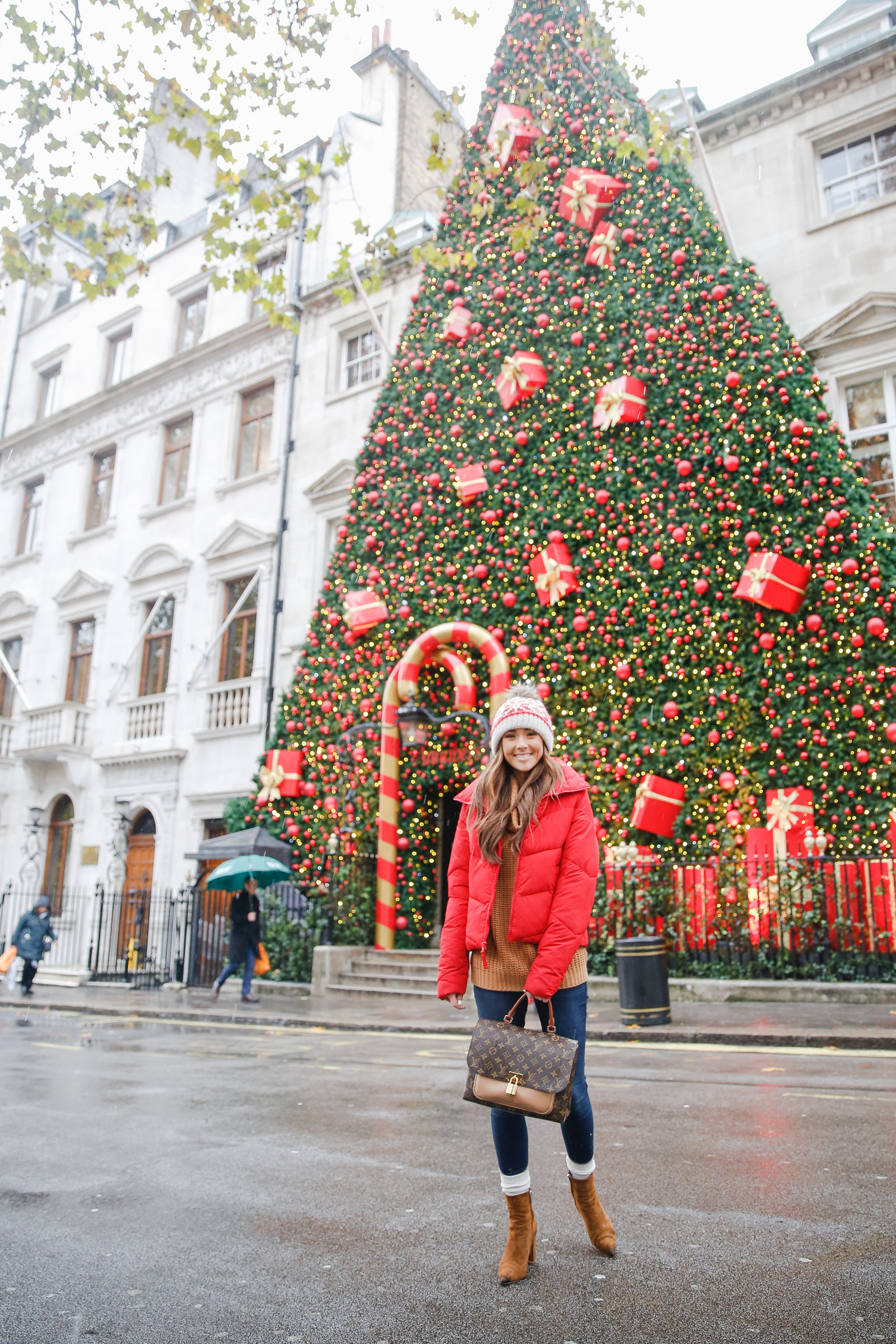 Y'all may have noticed that, over the past year, I've been shopping there more and more. Until then, I hadn't shopped there since I was in high school. I hate to age myself … especially since I know most of y'all are much younger than me … but that was in 2004!
But, honestly, they really impressed me with a lot of their cute holiday and Winter options last year, that I couldn't resist. It was clear that they were trying really hard to rebrand themselves and I felt like they were doing it in an authentic manner so I gave them a shot. Y'all, their stuff is really cute and well made.
I bought this pullover last year in gray and wear it all the time around the house! It's a great casual option. This year, they released a few more fleece options, which I've also really loved. Y'all have seen me style this one, in the hunter green, quite a bit when I was in Vermont. I also loved this white & pink zip-up!
Before I went to London, I ordered a few of their outerwear items. While I opted for a wool coat over the faux fur trim parka that I loved, I did end up bringing this adorable and festive mini puffer jacket in bright red! It paired so well with some of the adorable holiday backdrops that London has around the city … as well as kept me super warm! The best part is the price, though! It – along with the mid-weight tech jacket, for men – is currently $59, which is essentially 50% off! That's such a good deal! Also, if red isn't your color, the mini puffer jacket also comes in some other colors, including a neutral black and navy blue!
There are a lot of other discounts being offered on almost all outerwear at Abercrombie this weekend. And, if it doesn't, then you'll receive 30% off your purchase with code 11750!
Here are some of the other favorite outerwear pieces that they are currently carrying:

More weekend sale announcements can be found in the IG stories page and be sure to check out the HOLIDAY page for all the latest stocking stuffer recommendations and all the holiday gift guides!
Have a great weekend, friends! xo.