Hi friends! Hope you're having a good weekend, as good as it can be with a lot of you on new lockdown orders. I know this is such a weird time. We're on almost three weeks of self-isolation and two weeks of lockdown and, sadly, it gets harder and harder as the does go by, especially when it's beautiful outside. But, we have to stay positive and remember why it's so important. It's truly not as hard as it is for those on the front lines and those battling this virus. If that's you, please know I'm thinking of you and am doing my best to keep that perspective! Sending you ALL my love! Here's this weeks' roundup:


Count this as one of those places I would love to be right now! One day we will be able to travel again but until then if you are planning a trip, be sure to check out my posts on where to eat and what you need to know to plan your Amalfi Coast trip!


It's been so nice to see this room slowly, but surely, come together! These jeans are 50% off this weekend!


My forever go-to is Tula's cooling & brightening eye balm and if you have been around here for any length of time you know that about me! This is the perfect product to touch up under your eyes if you don't want to commit to full make up right now with not having anywhere to go but want to feel and look refreshed & energized!


Abercrombie's entire site is 50% off this weekend, if you are in the mood to shop! This skirt is under $35 with the sale & is adorable for a quick run to the grocery store when you want to leave the sweats behind and switch it up a bit!


This satin lace bodysuit is amazing with any kind of denim, comes in a variety of colors and is perfect for warmer days to give you an elevated yet effortless look, plus it is $22.50 right now with Abercrombie's 50% off site-wide sale!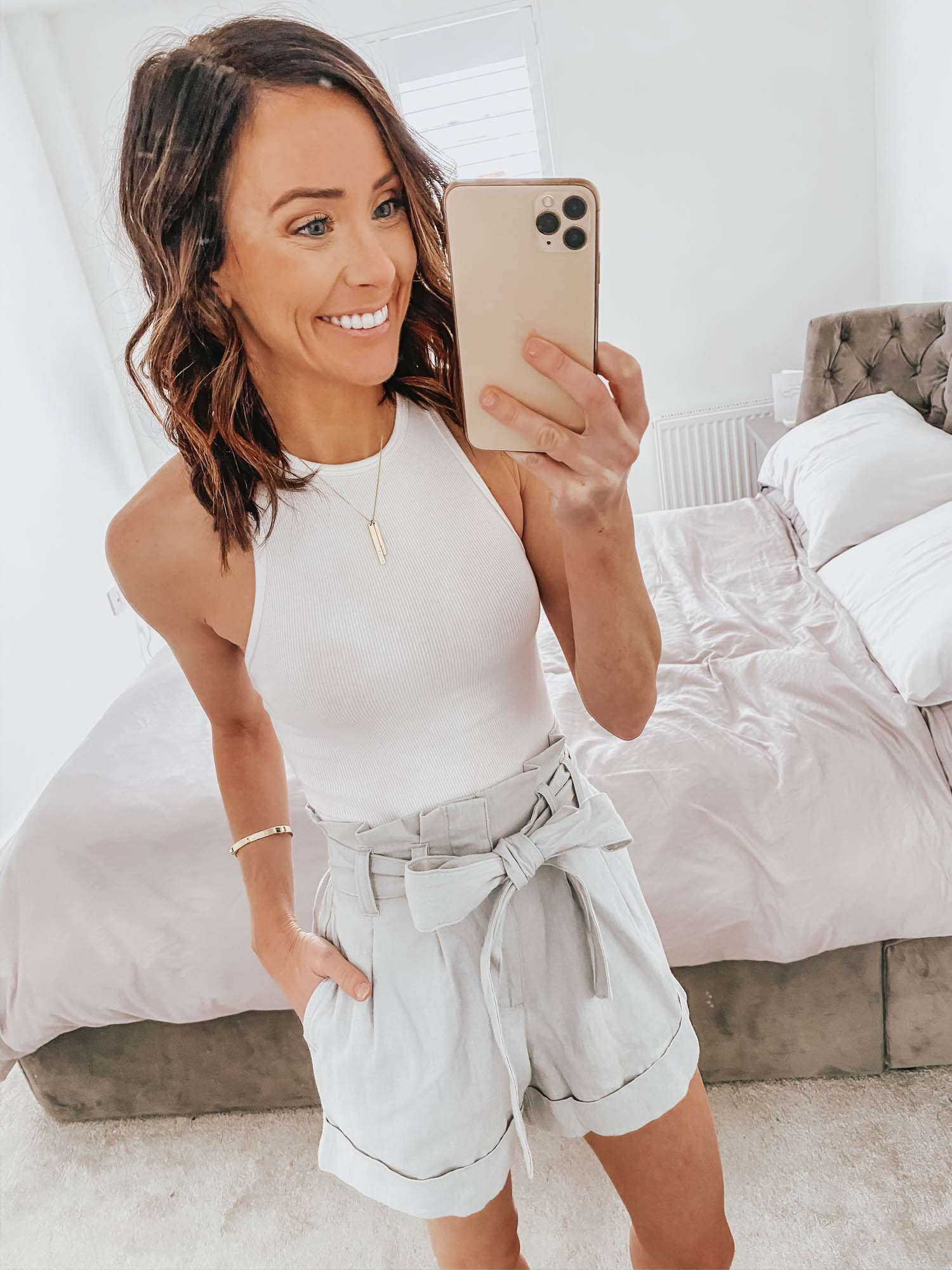 Which one is your fave? I think mine is 2! It's been a minute since I've done a try-on on stories so if you're wanting a little escape, head here to catch up! In other news, John said he thinks we should download Tiktok 😂 Wish us luck! I think a little dance cardio is in our future!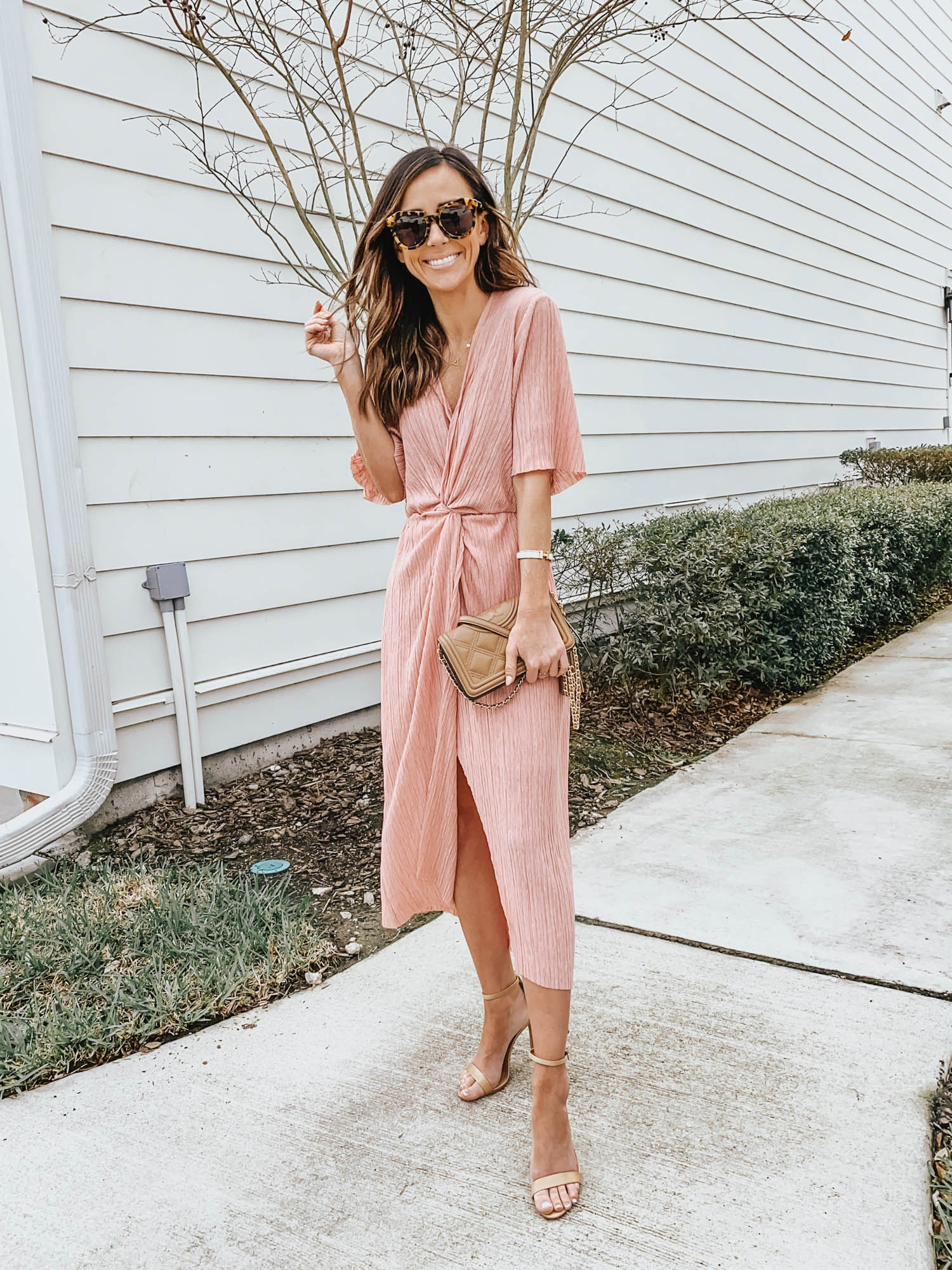 Thinking back on brighter days and hoping for more ahead 💗💗 As we enter into a new week of days that kind of all blur together, remember that this too shall pass and let's try to do our best with what we have! Leave a comment below with something you're looking forward to this weekend! This dress is 40% off right now making it $35!


Staying home is getting a little easier as the days pass and it starts to truly feel like it around here (just missing my little nuggets, of course!) We put together this clothing rack this week and my gold mirror finally came in. It is starting to feel like home more and more each day and that I am thankful for!


Quite like the looks and company of my quaran-team mate! Seriously wouldn't want to go through this whole thing with anyone else! My pajama set is literally so comfortable and under $30!
This Weekend's Sales
Abercrombie & Fitch​ : 50% off site-wide [my recent order is HERE and a recent try-on haul is on my IG profile]
American Eagle​ : 50% off AE & tailgate + 25-50% off AE jeans and shorts
Ann Taylor​ : Extra 50% off sale styles
Anthropologie​: 40% off select blouses, jewelry, blazers, & more + an extra 25% off sale items | UK GALS: Enjoy 25% off site-wide all weekend!
ASOS​ : Up to 50% off new season sales
Banana Republic​: 50% off everything, extra 10% off everything
Crate & Barrel​: 20% off wine and dine, Up to 30% off select dining & bedroom furniture, 20% off upholstery favorites + Easter sale – 40% off decor and 20% off kitchen essentials
Express​: 40-60% off everything
Free People: Sale up to 50% off, $50 denim
Gap: All in the family event, 50% off everything
Harvey Nichols: UK GALS – enjoy 25% off when you register for a HN rewards account with code SPRINGHN25 this weekend! My picks are HERE
J.Crew​: 40% off purchase with code ​SPRING + an extra 40% off sale styles [my picks HERE]
Loft​: 30-50% off almost everything
Madewell​: $75 jeans
Nordstrom​: Spring sale – up to 40% off select styles
Old Navy​: All in the family event, 50% off everything
Urban Outfitters​: 25% off shoes
This Week's Best Selling Products
Thanks for stopping by today, y'all! I hope you enjoy your weekend, staying safe & healthy! xo.