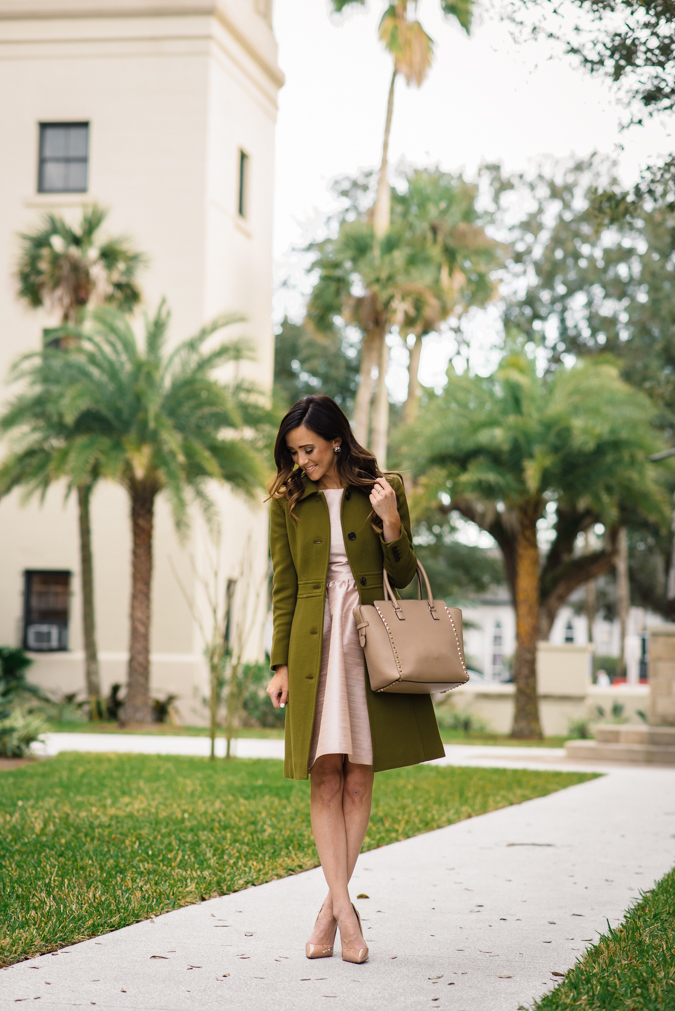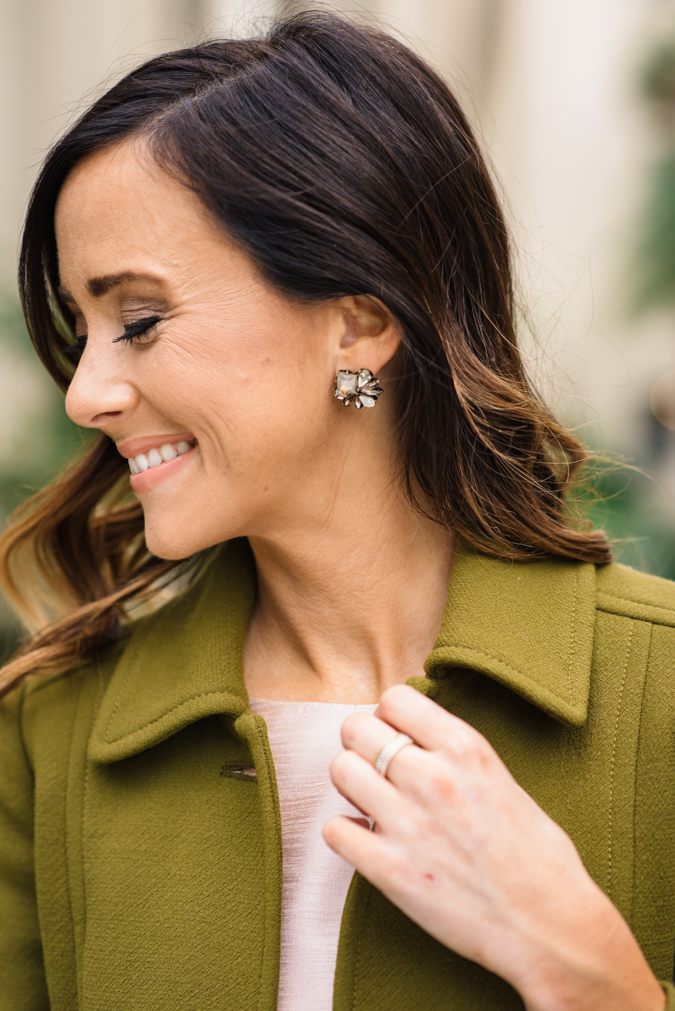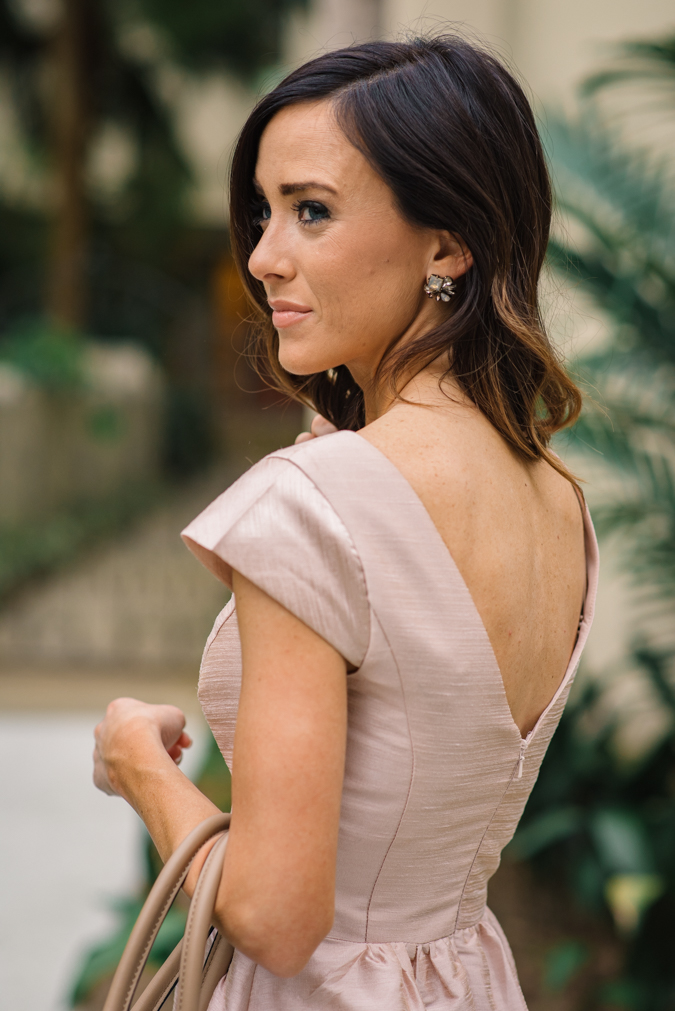 Hi friends! Happy Monday! A couple of weeks ago, I attended my friend's Nathalie and John's wedding  in St. Augustine, Florida. It got me thinking that it might be fun to share some of my do's and don't's when it comes to wedding guest attire. I know I've definitely been stumped before! It's tough, so read on to find out what I've learned over the last few years of attending countless friends' weddings to hopefully make it a little easier on you:
When I'm shopping for what to wear to a friend's or family member's wedding, I look at the date of the wedding first and the attire indicated on the invitation second [see first DON'T below for more on that!].
The date of the wedding helps to determine what colors to filter out of my search options when looking at online retailers. If the wedding is on July 7th, I would filter out the black, dark red and plum options. Similarly, if the wedding is November 27th, I'd steer clear of light pink, yellow and other pastel colors.
FYI: Embellished dresses are okay to wear to a wedding, but it's definitely more appropriate for formal evening weddings during the Winter months.

For Nathalie and John's wedding, I opted for a light pink fit & flare dress because it's been a rather warm winter here in Florida. Honestly, it feels a lot like Spring. I did choose to bring a subtly bright, olive green coat to pay homage to the Winter season. It was also a great way to be prepared for the cooler temperatures at the end of the evening. So, it's okay to use your own judgement, too!
Choose a pair of comfortable heels to wear to the wedding ceremony, but don't forget to bring a pair of nice sandals to slip on at the reception. If it's a more casual wedding, a newer pair of flip flop sandals would be okay. However, if it's a more formal wedding, I'd recommend a nicer, dressier pair of flat sandals or neutral flats.

One of my biggest fears is showing up to a wedding looking like I belong in the bridal party. This, actually, almost happened in September when I was invited to my friend, and fellow blogger, Katey of Chronicles of Frivolity's wedding. I sent her a link to the dress I was considering wearing. It was a pretty champagne color, and thought it'd be a great dress to have for multiple occasions. Turns out, Katey laughed and said that the dress I was considering was THE.SAME. dress as her bridesmaids, except her bridesmaids were wearing black. I cannot even explain how mortified I would have been if I hadn't asked her. What if I liked it in black? What if I wasn't close enough to her? 
If you're not super close to the bride, you can always ask someone who is what the colors of the wedding are, specifically the bridesmaids dresses. Do your best to steer clear of those colors. Knowing the material of the dresses is helpful, as well. Try and find out as much as you can, and don't be shy if you feel like you don't have a way of finding it out! The girls in the wedding party would surely not mind a harmless Facebook message about what to wear to their dear friend's wedding. I know I wouldn't! They want it to be the best day ever so go ahead and send along a quick inquiry! Their names are typically shared on the couple's wedding website, so reference that if you're not sure who they are.
During the work week, it's a shame that your statement jewelry is at home collecting dust. A weekend wedding celebration is a great opportunity for you to pull out your favorites and show off a little bit! We all know there are some cringe-worthy ways to stand out at a wedding [i.e. showing too much skin, wearing a dress that's too short or too tight], but statement jewelry is the most appropriate way without taking eyes off the bride!
STYLE TIP >> Never wear a watch to a wedding.
Sadly, I've made this mistake before.
As you can see in the photo's above, I wore these fun statement earrings which perfectly pulled together my dress and coat. I wore this bracelet to the wedding, which isn't pictured in today's post, but I highly recommend you consider buying for occasions such as this.

If you're really not sure what to wear, even after investigating the type of wedding and considering the season, just remember that it's better to be overdressed than under dressed! Being overdressed is more appropriate AND, to be honest, it will draw people to you making it easy to make new friends, allowing you to feel a little more comfortable whereas being underdressed would do the opposite. So, in general, it's a good rule of thumb!
______________
The invitation typically indicates what attire is appropriate for the type of wedding the bride, groom and families are planning, so be sure to read it carefully. This article is great and details what each indication means in regard to attire. Be sure to show your respect for the occasion by following the guidelines of that dress code.
For anyone who has been attending weddings in their recent past, this should be a given, but this is important to know for anyone who may just now getting to the age where you're friends are getting married. White is reserved for the BRIDE only. This goes for wedding showers and rehearsal dinners, as well.
Here are some great dress options for a wedding guest to opt to wear in the upcoming Spring season, all of which are NOT white:


Staying on the conservative side when attending a wedding is smart. If you're wearing a short dress, be sure that it's no shorter than an inch above your knee. It's okay for your dress to be tailored to fit you, but be sure you're dress is not too tight. Make sure that your cleavage is tasteful, if any. If you're wanting to show off a particular area, such as your back with a low back dress or your torso with a very small or thin cutout, it's okay but keep it to one area. For example, if you have a low back dress, be sure that the neckline is high and there isn't a dramatic slit in the front. Remember, this day is not about you so don't dress like it's YOUR night.
As I've already mentioned, there are a few ways you can steal the show from the bride. Be sure to steer clear of white, showing too much skin, wearing a tight or short dress but another tip would be to maintain appropriate behavior. Be sure to enjoy yourself, socialize and have a great time but put a limit on the number of alcoholic beverages you have.
As a wedding guest, you don't want to steal the show but you do want to put your best foot forward by looking nice and being prepared for anything. I would suggest styling your hair, especially if you don't normally do too much to it. Also, wear lipstick or lip gloss and get your nails done before the event. Also, be sure to carry a medium-sized clutch or bag that is not only structured, but appropriate for a wedding to carry all the little extra's you may need throughout the evening. Some 'little extra's' include bandaids, breath mints, cash and a pair of sandals [see the second DO for some options!]. And, finally, before you head home, be sure to give the bride and groom a hug and express your sincere gratitude for being invited to share their special evening with them!
Hope this post was helpful! Let me know if you have any questions and I can incorporate those answers into the post! xo.