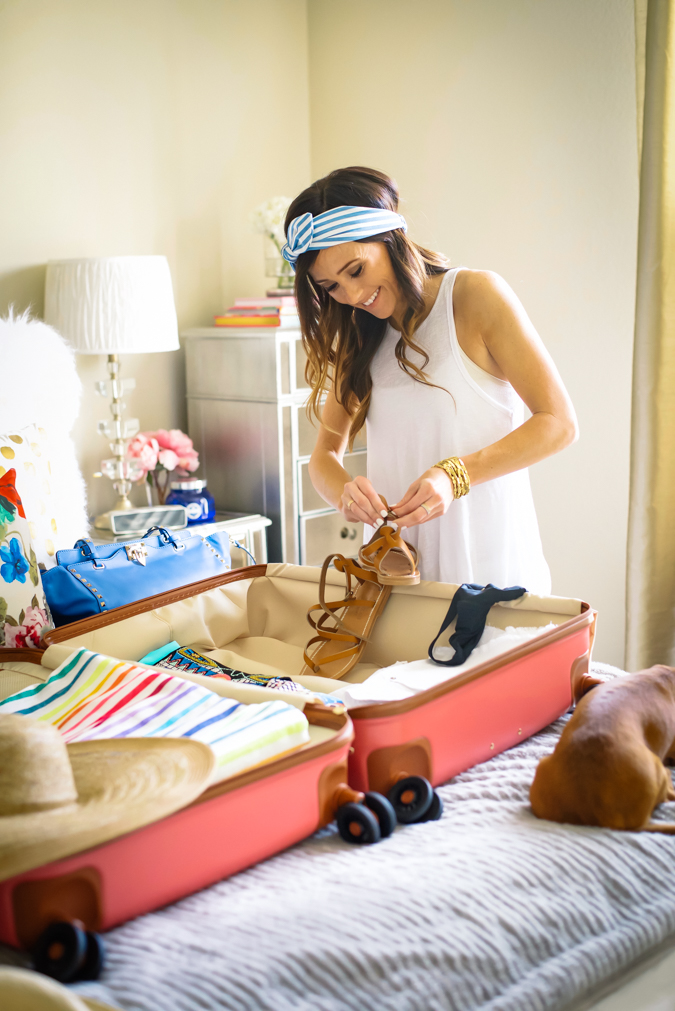 Hi friends! Bringing you something a little different today … I am heading down to Miami tomorrow  to celebrate my birthday with a few girlfriends and I could not be more excited! I thought it'd be fun to share the inside scoop on what I'll be packing and what you may be seeing me share on Instagram!
Incorporating bright colors into my wardrobe is something I really look forward to in the middle of winter, and this year is no exception. I've had a lot of fun shopping for this trip and found quite a few great colorful pieces to pack! This striped towel is everything. I love all the bright colors, but also comes in pink stripes and blue stripes. I'll be wearing this bright blue coverup* to the pool / beach, this orange dress to dinner one night, and this vibrant red tank to brunch or out shopping. I ordered this maxi dress* in a couple different colors [in AQUA & VINE]. It was hard to choose because there were so many options, but loved the price point. I think this turquoise necklace [from yesterday's post] is an amazing pairing to any of those colors so, although it's a little pricey, I definitely think it's an investment piece worth saving for. Speaking of colorful investment pieces, I splurged on this beautiful blue handbag [happy birthday to me] and a sturdy pink suitcase [All of mine were filthy and broken in some way, so it was time I pulled the trigger!]. 

It's very clear that gladiator sandals and wrap-around ankle sandals are going to be all the rage this Spring. I bought these sandals* a couple weeks ago, which I LOVE, but then recently found these almost identical ones for just under $60! Wish I had found those first, ha! Being that we'll be in Miami, I figured I needed some fun heels to wear out at night, right?! I ended up pulling the trigger on these beige cage sandals because, well … they're on sale, for one, and the reviews on them were great! I snagged this cute striped head wrap and will be wearing it ALL the time. I think it's so cute! I'll be bringing along some new jewelry and sunnies, as well: these gold stack bracelets, these new Baublebar earrings [here and here] that just came out, and these rimless, mirrored aviators that caught my eye. And, y'all … it's SO hard to shop for hats online, so after ordering a few … I've found that THIS one is the best for a beach weekend getaway!

Okay, on to bathing suits … One-pieces have been all the rage the last couple of years. Personally, I think they're adorable and chic but … I love to lay out, and when I go to the beach or the pool … I'm not there to be 'pretty'. I'm there to get sun [I wear SPF and drink plenty of water, don't worry!] and relax. So, one-pieces aren't really a style I've paid much attention to up until recently when I decided to give them a chance, because why not? You never know what could work for you. So, what did I think? Well, the verdict is in … NO. They are not for me. I won't say they will NEVER be for me. But, the ones I tried were a no go. Let's just say … I wish I had curves, ha! But, I AM, however, a fan of the new halter trend I'm seeing. I bought this Mara Hoffman halter top* and think it is so precious. I got this pretty bright blue one, because … blue. It fits really good. I was impressed. And, I also love the wrap around tops, like THIS one by Mara Hoffman*. You may see me in THIS* one in Miami. Both styles are great for small busted women, such as myself.
Below are some other options I found and loved, as well as some cute coverup's [my fave is THIS pink and white one with pom pom's!] I plan on packing:

I'm so excited for Miami and to be with my closest girlfriends for the weekend, and hope you'll follow along with my birthday celebrations via Instagram and Snapchat (same username as IG)! Let me know if I forgot to pack anything 😉 Thanks for stopping by, y'all! Get excited for tomorrow's post! I'm sharing the 20 things I learned in my 20's … xo.
Oh! Also … exciting news! Better Homes & Gardens has nominated Sequins & Things as one of their favorite life & style blogs and are leaving it up to YOU to determine who is the best in their 2016 Blogger Awards. I'd love it if you could take a second and vote for S&T: http://bit.ly/1KEJ3G5
Thanks so much, friends! xo.
FYI
*  Included in current Shopbop Sale Promotion

The flamingo drink holders can be purchased HERE.
I've been needing a new iPhone case for Spring and finally came across THIS cute, colorful one today when I was at Nordstrom!