Hi there, friends! Today, I want you to give me the practical answer to the following question:
If you had to pick between jewelry, a handbag and a pair of shoes, which would you prefer to buy for yourself?
When answering this question, especially if you're on a budget, I think the best way to approach it is to think about what is the most practical. What will you get the most use out of? Which of these will you NEED to use every single day? Now, I know it's not as fun to think of it that way. In a practical way. I mean, personally, I would pick a pair of shoes but, how often can you wear the same exact shoes every single day for every single type of occasion you get dressed for? Not often. I'll be the first to admit.. I'm not a very practical person, so I tend to have to call for backup when I'm faced with these situations. Today, I want to be your backup …
This post was created in response to the many requests you all have sent in to me asking about particular handbags that I own, particularly the designer handbags. These are handbags that cost more than my personal rent check and I'm well aware that that is insane. I'm also well aware that not everyone can make that kind of financial commitment to a handbag right now, and I know that because [1] you all share it in the comments on my Instagram and blog and [2] I haven't always been able to buy the handbags that are currently sitting in my closet. I'll never sit here and think that it's no big deal to buy one … because it is. I don't think any of us should take the ability to buy one of these bags, no matter how long it took you to save for it, for granted. It is a big deal.
With that said, though, I also feel it's necessary for everyone to remember that everyone's budget is different for handbags and, no matter what that budget is, especially if it's different than yours, we should be respectful of it. It's all objective and we shouldn't shame each other, or even ourselves, for what we can and can't afford. I see it often, when girls align their personal value on whether or not they can achieve the price listed on the latest 'it' handbag. I can promise you … a handbag will not change your life and fulfill the emptiness in your heart. So, just be honest with yourself and be smart about how you're spending your money.
[I feel like people are pretty quick to be like 'that's easy for you to say, Alyson Haley' … but y'all … I'm going to be super transparent here:
I have made horrible financial decisions in the past. I've spent money I didn't have. I've skipped multiple credit card payments. I've consciously neglected putting a percentage of my income away in savings. The list goes on, and it was all to "keep up with the Jones-es", so-to-speak. Years ago, the shiny things of this world became an idol of mine and, as a result, I had to deal with really frustrating consequences of those decisions. I learned the hard way how detrimental these irresponsible financial decisions were on things that really matter, like your credit score, your ability to be eligible for loans for a future home, etc. It seriously kicked my butt in gear! I realigned my values and I was real quick to put together a plan and, eventually, got myself out of it. The strategy behind it all was, basically, doing what I'm telling you to do. Be honest about what you can afford and be smart about how you spend your money. If you can't afford it, do not buy it. It took a lot of time to get myself out of the place I put myself after making all those bad financial decisions, which is why I'm being really honest and open about money in this post. I may be in a secure financial position now but, it's not because I am 'lucky' … it's because I've decided to be intentionally smart about how I handle the money I make every two weeks.]
The decision I came to about how to structure this post was to select a couple designer handbags that you all have asked me to review [the Chloe Marcie Leather Satchel & the Louis Vuitton Damier Ebene Neverfull MM] but then also include & review three other bags, all of which I have recently purchased, that I feel would be great, affordable additions to your wardrobe, especially considering the season we're in! I'll be reviewing the quality, wearability, functionality within the PRO'S & CON'S section for each bag, as well as my overall recommendation at the end. You'll also find more options from each designer and brand as well as dupes of the designer bags for anyone who would like to sport the look for less at the end! Please keep in mind that I can only do as good as what is available online in regard to similar bags.
With all that said … let's get started!

The Chloé Marcie Satchel is divine. Y'all know I love it. I wear it quite a bit and have it in the Tan color and the Nut color [no longer available]. The quality is top-notch. It's made in Italy out of calfskin leather with multiple storage compartments within the main body, as well as underneath the front flap [see photo's]. The handles are wrapped with leather and secured with gold hardware shaped like bow's, a signature for Chloé.

The small depth of this bag is a con, in my opinion. I tend to only carry it if I think a handbag is more appropriate than a clutch wherever I'm going, and I don't need to carry a lot with me. Sometimes I wish it was bigger if I am needing to carry a few more things with me. Honestly, that is the only major con that I can think of that bothers me a bit at times.
YOU CAN BUY THIS BAG >>> HERE
I highly recommend this bag for anyone in the market for an every day bag that can be used to run errands, go out to dinner with friends, etc. You will certainly get a lot of use out of it, making it a very practical purchase. It will also last a very, very long time due to the quality of the products used to make it.



The color of this signature Rebecca Minkoff handbag caught my attention right off the bat! I usually gravitate towards turquoise this time of year but, I've been seeing TEAL everywhere instead for some reason this year, and it's been drawing me in! I thought it'd be a fun pop of color to play with and add to summer outfits so, decided to give it a try! The quality of the leather is pretty impressive for the price. I prefer soft leather over hard and this bag is like butter … SO soft! It has a large zip compartment, which I love, as well as two small pockets for other small items like your phone or lip glosses on the other side. The inside is just enough space for the things I like to carry with me. Overall, I'm really impressed with this bag. I would assume it would last about two years of continued use.

I honestly don't have a lot of negative things to say about this bag. The thin tassel details may be a lot for some people. Sometimes I think maybe there are too many. It's also a little short. I think I'd like another inch or two added to the height of it.
YOU CAN BUY THIS BAG >>> HERE
If you're looking for a small summer satchel that is made of good quality material, will last a couple years, carry all of your necessities, while also adding a fun pop of color to your outfits on a daily basis, I think you will be really happy with this bag. I've had fun wearing it with some of my bright dresses and will be bringing it on a weekend getaway this weekend! 🙂

Where do I begin? Louis Vuitton's Damier Ebene Neverfull Tote is my favorite bag right now. I had it on my lust list for years and years, but found the Longchamp's Le Pliage Medium Tote to be an amazing alternative for a much more affordable price. It's been my go-to tote since college and, while I still believe it deserves high marks in functionality and comfort, I recently decided to finally pull the trigger on the LV Neverfull and am so happy I did. It has a gorgeous red striped fabric on the interior. The MM has just enough space for all of my work necessities, which helps me to not overpack and weigh myself down. It has a large zip pocket on the interior, and also comes with a small pouch to prevent your small items from spilling out all over the bottom of the tote. I also LOVE the little keychain detail on either side of the inside at the top. I hang my keys on them. All of these little details help keep me SUPER organized, which is typically hard to do!

The leather on this tote is very stiff, especially the straps, when you buy it from your local Louis Vuitton store. I've been using mine so much lately and it's rare that my shoulders don't feel a little tender from the straps digging into them. Over time, they will loosen up a bit and it won't be so uncomfortable but wearing them in is a little painful. I think it's important to not over stuff these bags in the beginning. It is a tote but I would recommend being a little more conservative for that reason.
YOU CAN BUY THIS BAG >>> HERE
If I were to recommend ONE designer handbag to you, it would be this bag. It is SO functional. You can take it to work. You can use it as your every day bag. You can use it for travel. The value of the bag will grow over time, being that this bag has been available at Louis Vuitton stores for years and years and, every year, the value of it increases. It is the most practical purchase you can make when it comes to designer handbags. I'd like to encourage you to consider buying a gently used LV from the links above and below because I believe the more broken in these items are, the more comfortable and impressed you'll be by them. [My shoulders and I seriously wish mine were broken in, hah!]

All of these items are all authentic, gently used Louis Vuitton pieces.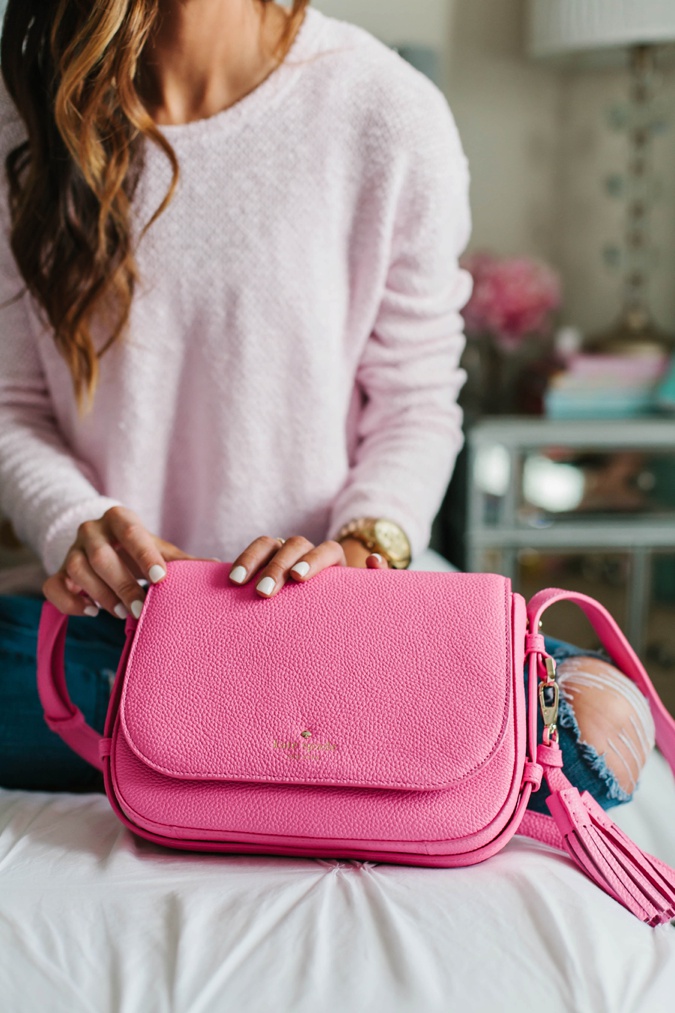 As much as I typically love all the colors Kate Spade handbags come in, I typically don't find myself wanting one of their bags as much as I did with this pink, pebbled leather cross body. In my opinion, these bags are the best no-fuss option to invest in during the Spring and Summer. When you're off to a summer picnic in the park or concert, you don't want to carry a lot of stuff with you and you want your hands free and available, so these bags are just the best. This one, in particular, is a good size and fits all the necessities within the lined interior, as you can see in the photo's. I was surprised it even fit my wallet! I personally prefer pebbled leather to saffiano so I really like that detail, and it's the perfect medium shade of pink. I know it will compliment so many of the outfits I'll be putting together. The cross body strap is adjustable, which is certainly a perk! You can have the bag rest on your body wherever is most comfortable for you! My Kate Spade handbags in the past have lasted about three years so, overall, I think the price is certainly justifiable.

The tassels are an adorable detail to this bag but, they're a little large and in charge when you're wearing the bag, to be honest. I'd also rather just use the tassels as a keychain holder.
YOU CAN BUY THIS BAG >>> HERE
If you're looking for a fun pop of color and a good quality, highly functional cross body bag, this is the one for you! It also comes in other colors! I think you will be very happy with this one!

The blue and pink colors within this adorable straw tote were what originally drew me in to consider it as my 2016 summer beach bag. The overall aesthetic is a dream, even in person, but there were a few things that convinced me to keep it. One thing I love is its size. I hope you can tell from the photo's that I can fit quite a few things in it without it being TOO large: two towels, my drink holder, flamingo towel clips, my phone and could certainly fit a couple books and a bag of my sun protectants. I love the fact that it's double-lined, which makes getting the sand out of it super easy. I also love that it has a small zip compartment to safely stow my phone and keys without them getting grimy and sandy while at the beach. It seems to be very well-made and the straps have enough drop to carry on your arm as a tote comfortably.

Without your towels and other beach day necessities within the tote, it does not stand up by itself. This could be a little frustrating when packing everything back into it at the end of a long, hot day. If this is a deal-breaker for you, and would like a similar one that is sturdy and stands alone, you can find one HERE.
Buy this as your next beach tote only if you're solely obsessed with it aesthetically. I only say that because, after reviewing the similar sturdy option I listed above [I have it in pink], it seems you get a little more with that one than the Tory Burch one. It is a little larger all over. It stands on its own. It has a small storage compartment AND it has three color options to choose from. Not to mention, it's much cheaper. Hope this recommendation and review helped!
YOU CAN BUY MY TORY STRAW TOTE BAG >>> HERE


---
And there you have it … the first handbag review! I hope you all liked it and found it helpful! If you have any questions about any of the bags, please feel free to leave a comment! If there's anything you would like me to comment on in the future, please include that, as well. This is the first go at it so I'm open to suggestions 🙂 I'm off to get cleaned up and packed for a fun beach weekend away! Be sure to follow along on Snapchat to find out where I'm headed! I'm getting a MUCH later start than I originally anticipated but … it'll be worth the hustle and long night drive in the end 🙂 Thanks for stopping by, y'all! xo.