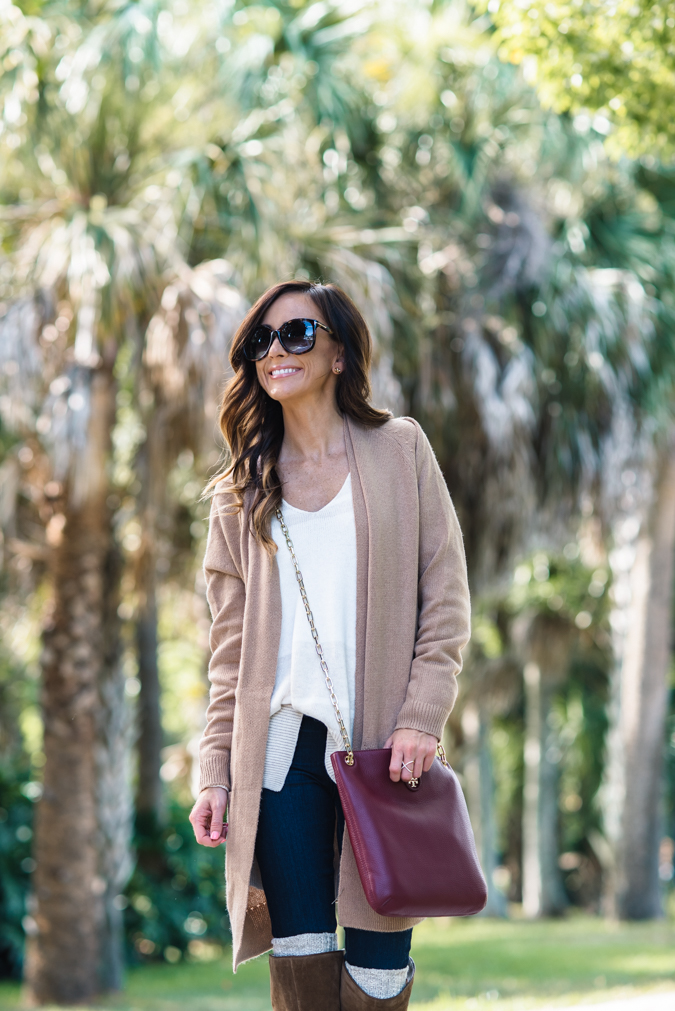 Hi there! So, let's just start with … I know it's not Fall. Yesterday it was 100 degrees in Florida and I certainly didn't wear this for longer than it took to take these photos but, with the #NSale in full swing, it's necessary and all for you guys! 🙂 I got my first order in the mail yesterday and ripped everything open so fast! I'm so excited to share my Complete #NSale Purchase Review for y'all on Thursday but, in the mean time, I thought I'd share just a few with you …
This oversized stripe sweater is probably the item I was MOST excited to get in the mail and it did not disappoint! It's really comfortable and would be great for the first couple weeks of Fall when you're ready to go get your first Pumpkin Spice Latte. Big sweaters that can easily be worn off the shoulder are one of my favorite things to wear ever and, as y'all know, I'm always a sucker for anything striped! [FIT: OVERSIZED | WEARING: XS] The best part about this top is it's just under $50! Such a great deal …
These over-the-knee boots are similar to the ones I bought last year and find them to be the perfect option if you missed out on those! They're comfortable and run true to size. I have a really narrow foot and calf so I went a half size smaller than my normal size. These boot socks are only $12, y'all, and I love that the beige ones are STILL in stock because who doesn't need a basic pair of beige boot socks?
This cardigan is SUCH a great basic to have in your wardrobe. I ordered a few colors and was worried about the quality but, actually, I am extremely impressed with the material used to make these cardigans. You can never have too many in the cold weather months so snag a couple now while you can! They're a steal at just $32!
There are so many great Fall basics under $50 included in the sale! Did you catch my post all about my favorites from the #NSale under $50? You should check that out but, also, here are a few other cold weather items that might suit your closet quite nicely!

Be sure to stop by tomorrow because I'm reviewing ALL of the beauty products I am a fan of that are included in the sale, as well as the newbies that I've had fun trying out the last few days! Thanks so much for all the ways you show me love and allow me to do this for a living! I do not take it for granted. I love you guys so much! Make it a great day, y'all! And … as always … happy shopping!! xo.