Hello, hello!
Today, I'm excited to continue my first ever travel series, centered around my recent trip to Mexico! In case you missed it, the series started a couple of Tuesday's ago by introducing you to Ben, the man in my life who also accompanied me on the trip, and sharing my packing essentials for a summer trip to Mexico. Today, I'm sharing what we did with only 24-hours in Mexico City. We were looking for good food and culture and we certainly got that! So, here we go …
Mexico City was the first stop on our two-week trip! Ben and I met each other in Atlanta and flew into Mexico City from there. The customs line wasn't too long, which is always something you hope for when traveling internationally. We had organized transportation from the airport to our hotel before the trip, which I highly recommend! We were able to do this through our hotel concierge. They were so sweet and hospitable. It made the end of a long travel day [at least for Ben] hassle-free and easy.
Ben & I checked in to Chaya Bed & Breakfast late that night and, after climbing a few flights of stairs up to the top of the building, were greeted by the sweetest woman and her adorable baby, Leonardo. She showed us to our room and let us know where we could enjoy breakfast in the morning. We were exhausted so we quickly settled in to our room – a double room, for reference on the website – and caught up on sleep. When we woke up, we looked out our windows to find the prettiest views that we just couldn't have realized in the dark the night before. It made the climb to the top SO worth it!
WORTH MENTIONING: They have a really sweet man that works at the bottom who, literally, threw my heavy suitcase on his back and carried it up the stairs for me. So, if you book a stay there … don't worry! You'll have someone to help you with your bags 🙂
They normally have hammocks hanging here in the courtyard but, because it had been raining a lot the week we came, they had taken them down. How cute is that?
Chaya serves breakfast daily, Mexican and Continental, which is included in your hotel cost, so once the wonder of the rooftop views died down a little, Ben and I headed over to fill our bellies before starting out on our day of exploring.
Nike's are my favorite shoes to bring with me on my travels! Easy to throw on and comfortable to wear all day, although I don't wear them every day. Just depends on how I feel! Here are some great options currently available:

Recently, I've been really leaning toward lighter breakfasts so I loved that Chaya offered yogurt [flavor changes daily], granola and fresh fruit along with toast and hot coffee. I was all over that! Ben ordered, and devoured, a Mexican delicacy, the name of which escapes me at the moment, but I remember he really liked it! Ladies … if your man can't do a small breakfast or just needs a lot of food, in general, this place is great because they will make them anything they want. Ha!
Chaya provides an intimate, community style dining area for you to enjoy your breakfast. We thought it was so fun to chat with other guests about what they had planned for the day or what they had already done and suggested we do, as well!
Chaya also has a quiet working space, wake-up service, free Wi-Fi access, bilingual staff and tour information. It's also pet-friendly if you like to travel with your furry friend! These were all things – except for the pet service being that I didn't bring Fish but I thought it was cool! – that I found to be helpful during my stay.
The rooms at Chaya are a mix of suites and airy rooms with views of either Alameda Park or the inner courtyard. Ben and I liked it's simple, spacious design and rustic appeal. Since we were only there for a day and checked in so late at night, there was really no time to get our room cleaned up and ready to be photographed before we left BUT you can see photos of it on their main website under 'double room'. You could see the entire rooftop from our front windows and their little cactus garden and the yellow steeple of the church out of our side window!
I did take photos of an empty room they have available at the time so you can get another idea as to what you could expect if you were to book a stay at Chaya!
Our favorite thing about Chaya was how central it was to everything. It's located in the heart of Mexico City at the Western edge of Alameda Park. When you step out the building, you'll find that you're within walking distance from a lot of Mexico City's main attractions! Speaking of attractions, let's switch gears and talk about what we did in 24 hours and what we wish we had been able to get to that you could consider doing during your trip!
The great thing about Mexico City is that there is an ENDLESS number of things to do because it's SO big. Not only is it the largest city in Mexico, but it's also one of the largest cities in the world! It was founded in 1325AD by the Aztec's but its history has also been influenced by the arrival of the Spanish in the 1519. The ancient city was captured by the Spanish in 1521 and, while it became the center of power and culture in this part of the world at that time, didn't gain its independence from Spain until 1821. With this blending of worlds, people, and ways of life in one place, you can quickly see that Mexico City has become a city with a vibrant culture, passionate people and endless energy!
Once Ben and I filled our bellies and got ready for the day, Ben and I headed out into Alameda Park, right in the middle of the city center, and decided to hail a taxi over to the National Museum of Anthropology, which houses one of the worlds largest collections of archaeological artifacts from pre-Hispanic civilizations. Hailing a taxi was a little difficult
TRAVEL PLANNING NOTE: We wanted to end our day near the hotel so we could quickly change for dinner so we opted to do the things we needed to venture over to first. Also, it was a little difficult to hail a taxi but, just a head's up … only hail taxi's that are pink & white. The other ones are not as reliable, we were told.
[source]
To be honest, we walked in and saw how many school children were walking in to tour the museum and decided to put our tour on the back burner. The forecast called for rain later in the day so we felt okay about tabling it as an activity we could do then.
Next, since we were in already in Chapultepec Park, the largest park in the Western Hemisphere, we decided to walk through it and head toward the historic Chapultepec Castle.
The park is beautiful and lush with rolling walkways, open markets and plenty of places to sit and enjoy a catch-up session with a friend or midday snack. There's also a huge lake where you take out little paddle boats!
Ben & I were trying to find a good spot within the park to take a photo of Chapultepec Castle from the park but found it pretty difficult. We came across this monument, which pays tribute to five Mexican military cadets and one of their instructors who fought to their death during the Battle of Chapultepec in 1847 after they refused to fall back after their General finally ordered a retreat. Behind this statue is the Chapultepec Castle, which was seized by American troops at the end of the battle during the Mexican-American War and weakened the power of Mexico City.
Chapultepec Castle is located at the top of a 200-foot hill and, despite the heat, it's a beautiful walk up as you can see in the photo above. I really had no idea what to expect when it came to this castle and what it would be like. Ben did most of the research on Mexico City and put together our itinerary. I knew very little about this place but, in hindsight, I'm glad because I was so pleasantly surprised when I walked through it.
HEADS UP: There's a small ticket price you pay in order to walk around the castle.
This is the massive courtyard you enter into when you walk in and, as you continue through it, you realize that there is so much to see with multiple rooms and floors to search through. This castle provides beautiful views of the city and amazing backdrops for photos [hint, hint bloggers! Although I would NOT go in the middle of the day like I did so that lighting isn't such a nightmare]. That wasn't the purpose of me being there but Ben did snag a few photos of me in a couple of spots.

Be sure to head upstairs to the top of the castle to take in the beautiful views of these beautiful manicured gardens! You can ask Ben … I would not shut up about the black & white tile. I loved it here. I thought it was such a great addition to the overall aesthetic.
Later in the afternoon, after lunch, we noticed that the rain was quickly coming for us so we hurried over to The Zocalo, the main square in the city. It's one of the largest squares in the world and takes up an entire city block. It really is quite massive. When I stepped out of the taxi, I felt so small compared to its size and the magnitude of the buildings that line it. There is a huge Mexican flag at the center, which is usually a pretty powerful site, but I refrained from photographing it because there was a large, unattractive tent surrounding it for an event.
Historically, Mexico City was built on top of the old Aztec capital, Tenochtitlan, and the southeast corner of this square is said to be the location that the Spanish conquistador, Hernan Cortes, met and conquered Moctezuma, the Aztec emperor. The square itself is a clear representation of this Spanish conquest and influence. Like most Spanish cities, a square is placed at the city center and is surrounded by buildings representing the powers of the city: government and the church. You can still see some of the Aztec ruins in one corner of the Zocalo.
As you look around, you can clearly see the melting pot of the Mexico City culture (from traditional to modern) and population (from business executives to market vendors). It's a great place to people watch but, unfortunately, Ben and I did not have much time to do that with the impending thunderstorm. We quickly weaved through the crowd to see as much of it as we could before it did start raining.
There are quite a few buildings within The Zocalo that you can walk through and tour, like the National Palace [Palacio Nacional] and the Metropolitan Cathedral [Catedral Metropolitana].
Ben wasn't super set on touring any of them, which I was excited about because there was really only ONE place that I knew I wanted to go on our one day in Mexico City:
Y'all know my LOVE for the color blue, so when I came across travel photo's of The House of Tiles [Casa de los Azulejos], an 18th-century palace, I told Ben that we HAD to stop by it while we were in Mexico City. Despite the rain, we decided to head that way next. It is a short 10-minute walk from Chaya so we figured it would make sense to make it our last stop. We took a short cab ride over there and snapped a quick shot. Unfortunately, it was about 5:00 at this point so I wasn't happy with the photo's I was getting. Ben, being that sweet man that he is, suggested we come back after breakfast in the morning before we have to head to the airport.
Here are the photos from our walk: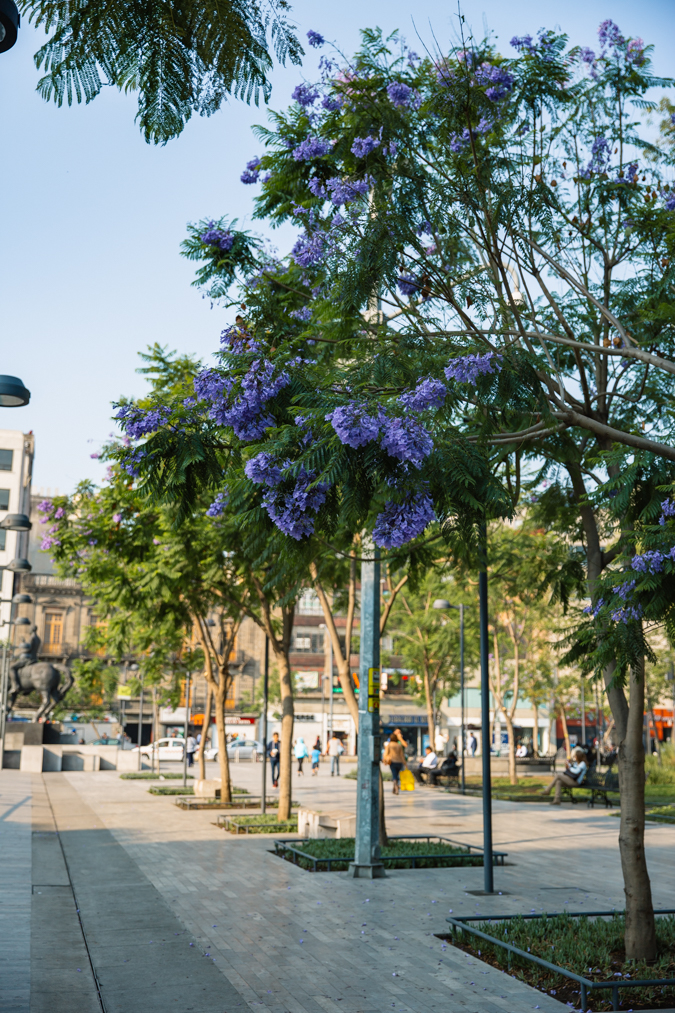 We were in such a rush on this morning but these are photos I'm so happy I have from my short amount of time in Mexico City.
There are also quite a few other things I wish we would have been able to get to. Ben and I both said that we wish we had given ourselves at least one more day in Mexico City to explore places like Museo Frida Kahlo, the Teotihuacan Pyramids, and La Casa Louis Barragan. There really is SO much to do and see!
Aside from our yummy brunch at Chaya, Ben and I were able to snag a delicious lunch and dinner in Mexico City. Due to the amount of time we were in town, we only have these two recommendations but hey, at least they're good ones!
DULCINEA:
Dulcinea is a beautiful, earthy restaurant located within the Purveyor House, which houses a few other smaller restaurants. Ben and I were greeted and, subsequently, spoiled by Chef Lucy. What a talent! She made us tuna aqua chiles, shrimp tacos, zucchini soup, and a delicious dessert to top it all off. Every dish she served us was so, so good and we highly recommend you give this restaurant a try if you ever find yourself in Mexico City.
Before leaving, I went upstairs to order and enjoy a latté from Café Tabasco to top off our delicious, and extremely filling, lunch! I needed the little pick-me-up to say the least!
How cute is Chef Lucy?
NUDO NEGRO
After we freshened up from our day of adventuring, we made it over to Nudo Negro for dinner. This is another great restaurant that Ben and I both thought was quite good. The only down side was that we were still pretty stuffed from the multiple courses we enjoyed at lunch. Toward the end of our fleet of entrees at Nudo Negro, we were having a hard time making it through them. Some of the entrees we really, really enjoyed were duck gorditas, oysters with chili sauce over a vapor soup and cheesecake Baklava.
What I thought was really impressive was the worldly influence that Chef Daniel Ovadia incorporates into his dishes, and they took us up to the kitchen where they were making the meals so you could see the process. You can also see the wall of spices that the head chef has collected throughout his travels.
Some of the dishes might seem a little unnerving because they're not what you and I are used to but I can tell you they were all VERY good. They also have some tasty specialty cocktails you should try if you're a fan of cocktail menu's! I personally stick to wine and wasn't disappointed with my options there, either!
Here are my dinner outfit details:

Well, y'all … that about wraps up my Mexico City experience! Ben & I were bummed to leave but excited for our next destination … Cozumel!
Stay tuned for the next edition of this travel series … thanks for stopping by today, y'all! Please let me know if you like this diary layout or if you'd rather have a more bulleted list of things to do, places to stay, etc. xo.