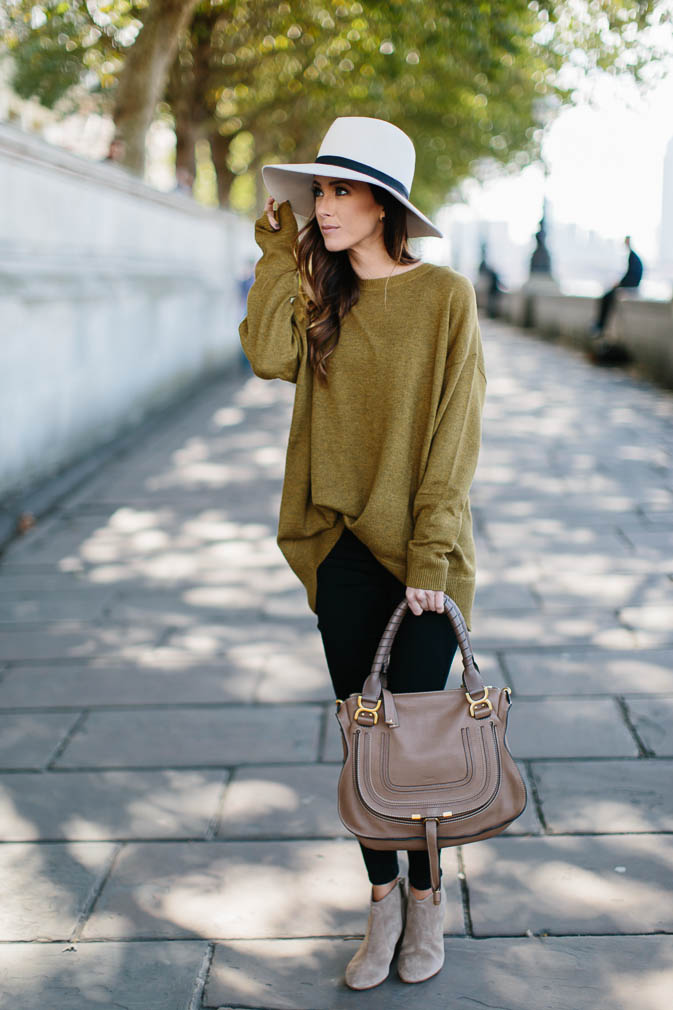 Hello, hello! I can't accurately explain how excited I am for sweater weather & to experience Fall here in London. It has been hotter than I expected, and it's even been surprising a lot of Londoners I've spoken to. They say it's supposed to be much cooler by now. They are loving it. This Florida girl, whose a little tired of the heat, is like CHILL OUT, LONDON! GIVE ME FALL!
I promise, I'm not an aggressive person but … what girl doesn't love Fall?
A couple of weeks ago, though, the temperature did dip a bit so Whitney and I decided to walk around Westminster. I wore this oversized sweater that I had picked up from H&M for under $30! I bought it a couple sizes up from my normal to get an oversized look. I also snagged these new black jeans because I only brought my distressed ones with me & wanted some solid ones for the colder weather. These are SO great. They are super high-waisted, which I'm not necessarily a huge fan of, but I like them because they fit so good in the leg. Plus, the sizing is on point because, in addition to a waist size, it has a length, as well.
If you've never bought jeans with that type of sizing before, I'll give you some insight into what I usually buy. I usually need a 30 length because I'm 5'3 so if you're a little taller, the 32 length might work better for you. I love that and wish more jeans were sized that way. It'd save me some money in alterations!
Anyway, it's finally started to cool down a little bit here this week. It was rainy and dreary the last couple of days but today looks like it's off to a sunny start! I have a shoot tonight with Victoria and, as I mentioned on Snapchat, I'm hoping the sun sticks around for a nice & bright sunset. I'll be sure to point out why when I share the outfit post that comes out of it. 🙂
I hope y'all are having a great week so far! Be sure to check out yesterday's post if you haven't … I rounded up tons of my old Fall outfits and linked items that are available now for you to recreate them for this year! Thanks for stopping by, y'all! Appreciate it! xo.
SNAPCHAT Q&A | I'm doing a Snapchat Q&A tonight! Leave me your questions in the comments below or email me!