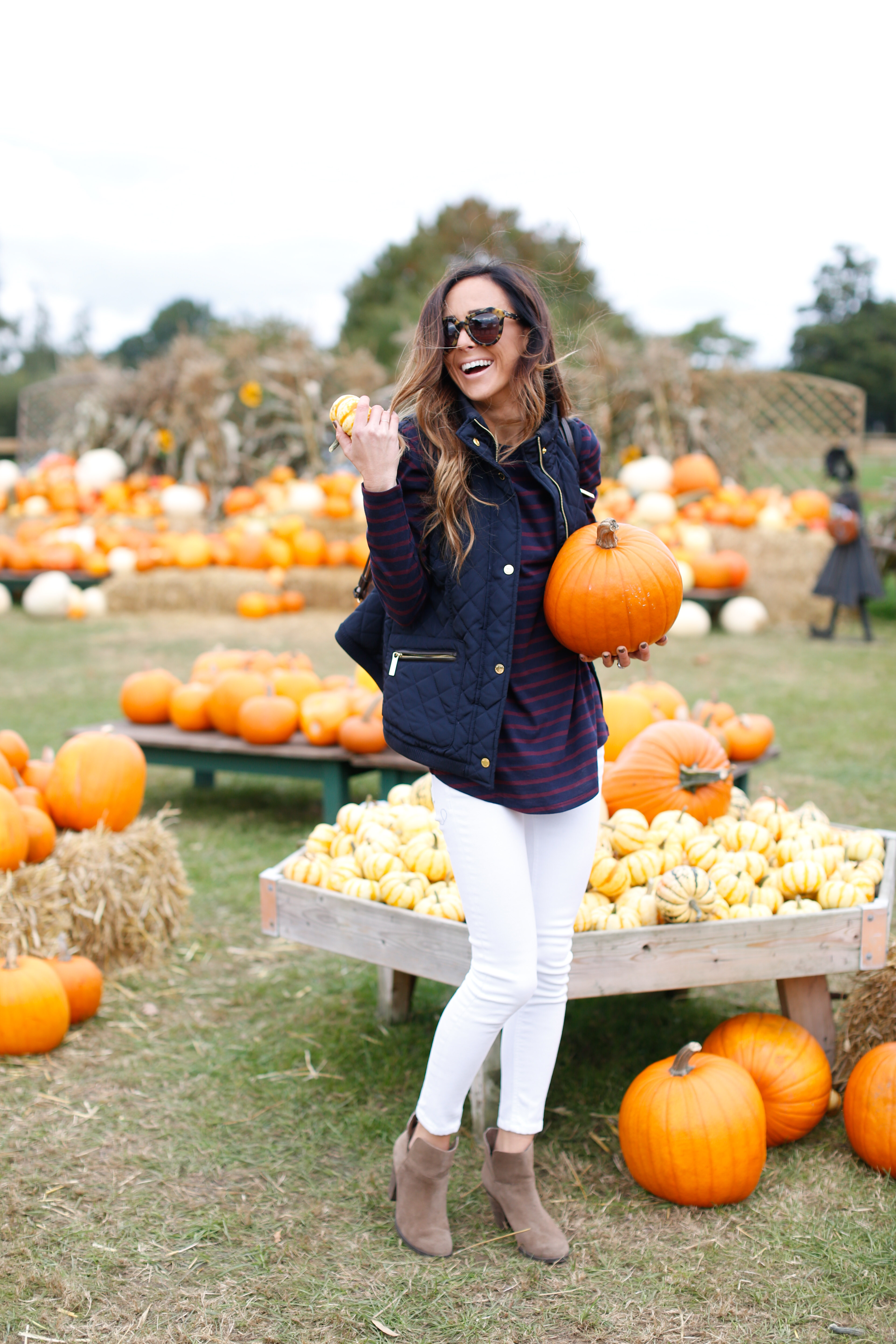 Hey there! Happy National Pumpkin Day …. one day late! We're about to enter in to one of the most festive weekends of the year and I hope y'all have some fun plans on your calendar! I've got a few 'tricks' up my sleeve for the Halloween holiday but, it's quite unconventional … and I'm totally okay with that! Stay tuned to Snapchat for more on that this weekend 😉
Have y'all gotten out to your local pumpkin patch to get yourself a pumpkin to carve or just decorate your front stoop with? I picked up a couple last week when I went out to a little city called Weybridge, just outside of London. There are absolutely no pumpkin patches in London, and I was honestly a little surprised because New York City makes Christmas Tree lots happen during the holidays, so I guess I just thought London would be the same way. Clearly not … and I actually didn't see a pumpkin anywhere until about a week or so ago. Ha! Don't worry, London … I still love you. You just throw me off a little, sometimes!
Victoria and I had a blast out in Weybridge. I educated her on just how us American girls absolutely LOVE the Fall. Like, how we're on another level about it. We love going to the pumpkin patch, burning Fall candles, baking Fall goodies, getting that first pumpkin spice latte from Starbucks [which is absolutely disgusting here, by the way! So disappointing!], decorating our kitchen, TV consoles, dining room tables and front porches with faux foliage and pumpkins, etc. You know, all those 'natural' and 'normal' Fall activities. Girls don't do that here. Hahah, and Victoria's mouth was open the whole time I was sharing with her how we are. I've gone so far as to prove it by sending her some photos from friends' Snapchats and blogs and she has gotten the biggest kick out of it … in a good way! She loves it! She was so game to jump on board with her new American friend and find some pumpkins!! I appreciated that, and I think you can definitely tell in these photos 🙂
I love embracing my inner prepster during the Fall season by sporting tweed, a tailored blazer or peacoat, loafers, etc. so the dark primary colors in this $19 striped top drew me in immediately as a good basic to have on hand. The same goes for this great basic puffer vest. It's not the most affordable one I've ever purchased but I think it fits well, will last you a few years and, therefore, make the heftier price much more worth it. My white denim jeans broke up the darkness of the top half pretty well then I added some basic booties to top it off!
SALE ALERT: If you're looking for a good pair of jeans, be sure to check mine out! They're currently 25% off! Please know that I had the bottoms of mine tailored to fit my short legs, so the product photo will look different than what you see in the photos but they are the same jeans! See the product links at the bottom of the post for my size recommendation.
Oh, I also want to mention the camel coat I'm wearing … so, I purchased mine in a Topshop here in London and saw this one on Nordstrom's website and, literally, thought it was the same one. After further inspection, it isn't BUT it is an excellent dupe from the same brand so it probably essentially is the same cut and length as mine.
I have a really fun day tomorrow planned, but I can't share more until then. It involves one of the top rated places in London. I couldn't be more excited! I hope y'all have had a great week so far! Leave a comment and let me know either [1] what you're carving your pumpkin to be? or [2] what you're going to be for Halloween? I wanna know! Thanks for stopping by today, y'all! xo.
If you missed Tuesday's post and you're in need of sweaters, you need to do some back tracking and check it out HERE! Thank me later … 😉