Hi there!
We're right in the thick of the Winter so I thought I'd take y'all to one of the warmest and most beautiful places that I had the pleasure of venturing off to last year. Tulum, Mexico has gained well-deserved attention over the last couple of years from bloggers, foodies and tourists who are looking for a little piece of heaven on Earth that isn't crawling with loud music and tacky souvenir shops.
Tulum is a diamond in the rough, and I mean that in a bit of a different way than the saying is typically interpreted. It's an absolutely beautiful and charming place for so many reasons. They have the most gorgeous beaches and the salt water is the brightest turquoise you'll ever set your eyes on. You'll dine at some of the most delicious restaurants – aesthetically and appetizingly – in your life. Adventure is at your fingertips, and so is the unique Mexican culture. However, you have to be okay with 'the rough' parts to truly enjoy your time here.
Things are very 'simple' in Tulum. You won't find a lot of first world luxury here, which may not be everyone's cup of tea. Personally, I think it adds to the charm of Tulum and is one of the reasons I really like it. There is no air conditioning or televisions in most hotels and restaurants. There is WiFi but it's typically spotty. Most places are cash only and operating hours, for shops & restaurants, are subject to the weather because the people of Tulum have built their businesses around & within the jungle, instead of destroying it to create a building. It's pretty neat to see their creativity in that regard.
Tulum is like nowhere I've ever been and that's why I can't recommend going enough! We are so comfortable where we are right now, and I think we need a little more simplicity in our lives and Tulum will surely give you that. I encourage you to embrace it while you're there.
The following guide will shed some light on Ben & I's 5-day stay there, what we did, where we ate, etc! Enjoy and let me know if you have any questions!
Cue the crazy number of photos …..
Ben & I opted to hire a private taxi to take us from the ferry in Playa del Carmen down to Tulum for convenience purposes. I'd encourage you to plan this ahead of time so you don't need to worry about it on the day of. It makes your trip so much more enjoyable.
PRIVATE TAXI COMPANY: TUCAN KIN
Alejandra Matora, Reservations
tel: + 52 (1) 984 871 35 38 OR +52 (1) 984 134 75 35
You can also book online.
Upon arriving at our hotel, Coco Tulum, we were greeted by their friendly staff and taken directly to our adorable private cabana. These cabanas are literally on the beach made complete with a small terrace, hammock, queen size bed complete with a mosquito net, a large floor fan and small clay bowl filled with water to dip your feet in upon entering [to get the sand off].
Ben & I did some exploring to start. Here's what we found: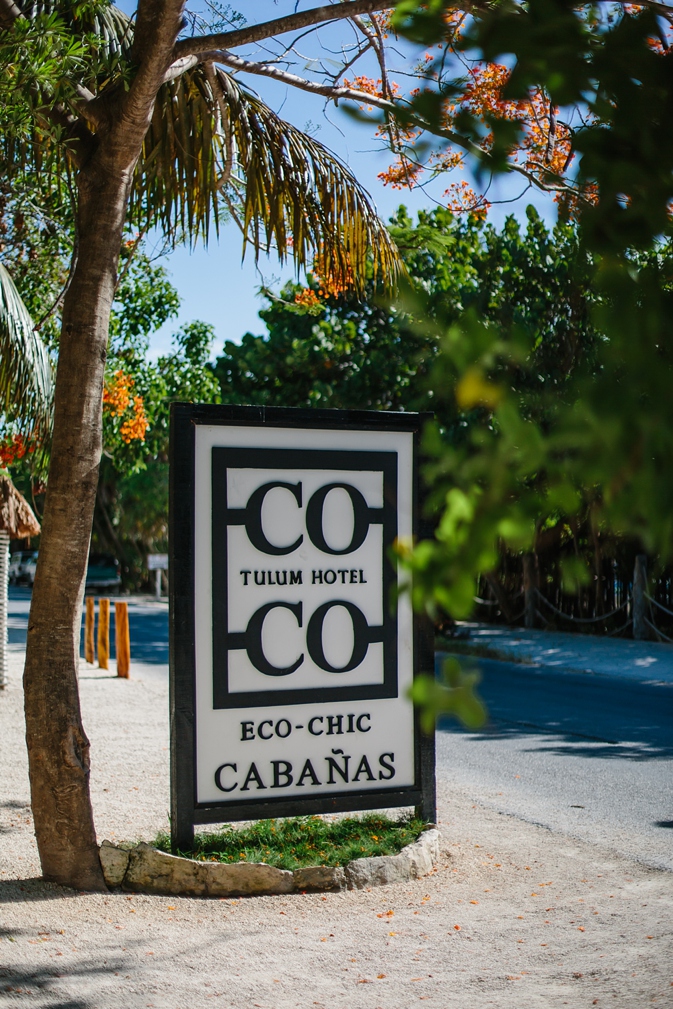 Coco Tulum has an expansive amount of beach in front of it with two different sections with lounge chairs with a fun beach bar and massage area in between them.
There are some suites that include a bathroom in your room but our cabana was one of the ones whose occupants had to used the shared bathroom. Yes, you read that correctly..
And I loved it.
It made me feel like I was at some kind of beach camp, hah!
The shared bathroom was extremely clean with plenty of privacy. There's a cute little conch shell water spout outside for you to wash your feet off so there isn't sand everywhere inside. The sweet ladies they have on staff to maintain it are always in there tending to it in whatever way it needs to be. There's always a full container of cold, clean water for you to use to brush your teeth or drink. The water that comes out of the conch's can be used to wash your hands but should never be consumed, as it will give you a really upset stomach!
I repeat … DO NOT DRINK THE WATER. Anywhere.
Make sure to remember to bring your towel with you when you're about to shower! Coco allots guests two towels, which are yours for the length of your stay. Of course, if you request more than that, they are happy to accommodate you.
The cabanas are extremely comfortable. Ben & I found the mosquito net to be unnecessary, although some may disagree. We slept with the fan on high, the sliding glass door open and the screen door shut. We were able to sleep comfortably, and enjoyed listening to the waves hit the beach in the morning. Ben loved to lay in the hammock and read in the afternoons, while I preferred the lounge chairs or walking around curiously peeking around, snapping photos, etc.
Tulum is quite small, so it was shocking to us just how many restaurants they have. It was even more shocking to us [1] that almost all of them were delicious and [2] how fresh everything was! There are so many healthy, organic options to choose from!
I don't think there are any of this list that we tried that we wouldn't highly recommend!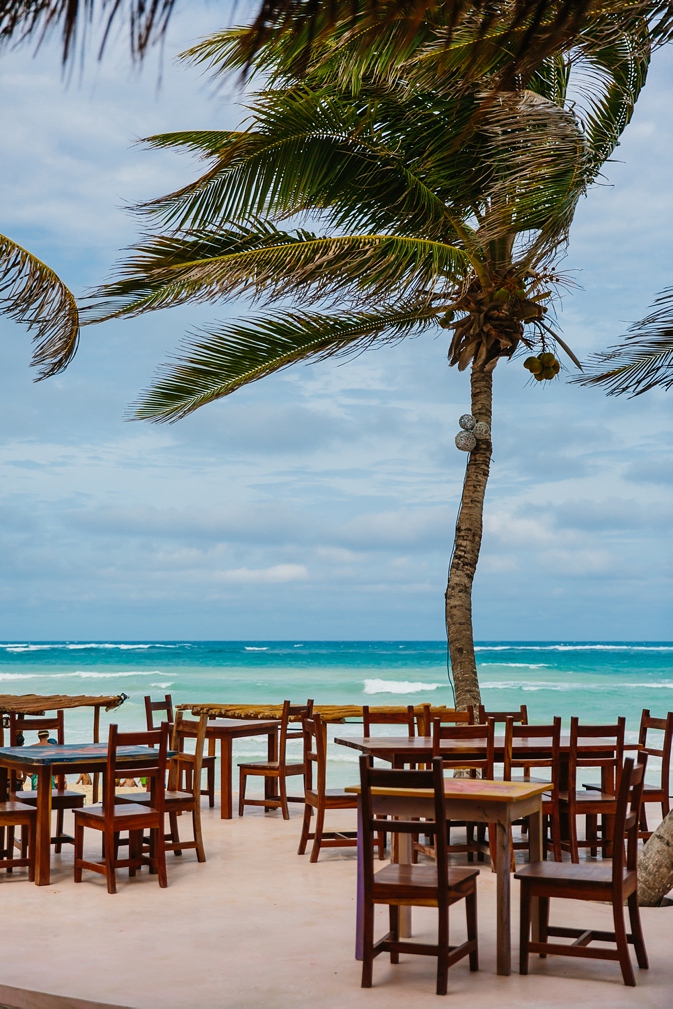 La Zebra Restaurant & Bar | La Zebra is a fairly large restaurant with massive windows, letting in all the natural light, a long bar, high ceilings and plenty of outdoor seating that overlooks the ocean. Ben and I really loved their food! I am a sucker for shrimp tacos and, while tacos were on the menu almost everywhere, I couldn't find a place that had exactly what I wanted. La Zebra allowed me to customize the shrimp taco they had on their menu, which I hadn't come across anywhere else. I wanted them to be spicy with cotija cheese, so with that simple explanation, I thought they were going to be pretty plain but they added cilantro, onions and little bits of wasabi sauce making it absolutely delicious!!
Posada Margherita | This place is an absolute MUST. As you can see, it's right on the beach and has a cool, rustic vibe. It's a hotel and Italian restaurant. We ended up eating there twice, once for dinner and once for brunch. Honestly, I don't know if I can say which was better because they were both different but yummy all the same! What I really loved on their brunch menu, though, were their juices. Between the two of us, I think we tried three of them and thought they were all so good!
Tunich Hotel & Restaurant | Ben and I popped into this place on a whim one morning for breakfast. We hadn't heard of it but it looked charming from the outside. Customer service was amazing. I met and spoke with the owner for a long time. He is a super nice guy! They also have a great juice and smoothie menu! We left stuffed and happy! 🙂
Gitano | Gitano is a contemporary Mexican restaurant with a specialty in Mezcal cocktails. Snag their summer ceviche and house made hummus to start and a combination of taco's for dinner! What I really liked was that it is on the jungle side of Tulum and offers a really laid-back, cool atmosphere to enjoy the company of your friends at the end of a long day in the sun. They also have live bands and DJ's throughout the week if you're looking for a place to go 'out'.
Hartwood | This is probably the most popular restaurant in Tulum. We tried to go there on the one day we didn't have dinner reservations but they were closed due to the weather. Definitely go early, like right when they open, to make sure you are able to experience a culinary delight. My friend went when she was in Tulum and said it's one of the best restaurants she's ever been to!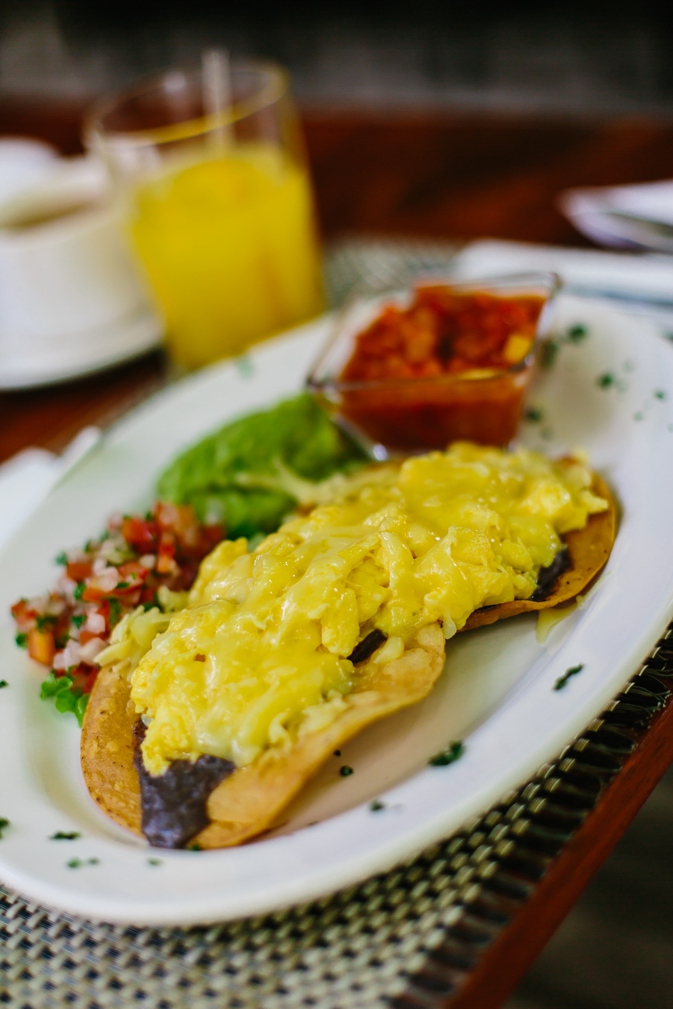 Casa Banana | This was one of my favorite restaurants. We went here for breakfast one morning and it was so quiet. I think we may have gotten there right when it opened. Their coffee was so delicious and Ben & I both barely talked when they brought our food because we were inhaling it. It was so good! I'm not sure about their dinner menu but Casa Banana is definitely one of Tulum's most popular restaurants for a reason!
Casa Jaguar | When you walk into Casa Jaguar, you literally feel like you are walking in the jungle, where a jaguar would roam. There are no walls or proper floors, just dirt. It's very earthy. There are string lights and candles to see by, but not much else when it's dark out. There are fresh fruits and vegetables in baskets everywhere, and I remember Ben and I were impressed by all the different options they had available for dinner. I got their shrimp dish with a light salad, and a cocktail called Sayulita Banhart, which was SO yummy! Highly recommend this place!
Juanita Diavola at Coco Tulum | This was probably the restaurant that Ben & I ate the most just because it was literally attached to the hotel. They made the most delicious pizza's and Ben was impressed by their extensive craft beer selection.
Kitchen Table Tulum | Kitchen Table is on the jungle side of Tulum. The only ingredients they have there include a wooden grill, a bar, and ice boxes full of local fresh produce. And it makes for some excellent food and cocktails! Inacio and his team were so gracious the entire night. I highly recommend! (NOTE: this restaurant, like many in Tulum, is cash-only.)
BIKE RIDING
Ben & I had a pretty packed itinerary while we were in Tulum because there was so much we wanted to do but there was one afternoon that was completely free. It was a really, really hot day so we decided to rent bikes and ride from the beachside of Tulum into the actual city area. It was probably a 20-30 minute ride depending on what part of the beach area you're staying in. We stopped at this adorable ice cream truck and, of course, it was delicious! They had so many flavor options, too!
GO TO THE MAYAN CLAY SPA
I'm one of those people that loves going to the spa but I have only actually gone a handful of times. I don't make time for it the way I probably should. But, when I was researching things to do in Tulum, I came across the Mayan Clay Spa and I got motivated to make time for it during the 5 days in Tulum real quick! It has received such rave reviews and, I can say now, I understand why. We each got a 2-hour clay treatment and both of us basically left as zombies. Once we woke ourselves up by walking back to Coco, we couldn't get over how amazing our experience had been. Both of our masseuses were professional and kind. We spoke with them for a little while after our massages. They told us that the clay they use during the massage, Mayan clay, detoxes your skin, mineralizes & regenerates cells, refines dry dehydrated skin, and helps to heal skin conditions such as psoriasis & eczema. I highly recommend booking a massage here if you spend ANY time in Tulum. It is time well spent, and your body will thank you after!
GRAB A DRINK
When I first ventured down to Mexico last year, I thought I'd be choosing from a plethora of margarita options. I couldn't wait because those remind me of college Spring Break and who doesn't like to feel young again? Ha! But, actually, when you sit down at any bar in Tulum and peruse their drink menu, you'll find that Mezcal is the liquor of choice. Mezcal is a type of tequila but much different than what most are used to. It tastes a little more smokey, in my opinion.
I definitely encourage you to be a little adventurous and try it, being that it's a huge part of their food and drink culture. There are also a lot of tasty Mexican craft beers to choose from at bars, as well. If you are a cocktail connoisseur, I highly suggest heading to Gitano and Casa Jaguar. Both restaurants had an extensive and interesting cocktail selection!
ENJOY THE BEACH
I mean … how could you not when it looks like this?
GO ON AN ENVIRONMENTAL TOUR
While we were in Tulum, we met up with the Amigos de Sian Ka'an, a leading not-for-profit organization in Mexico dedicated to sustainable development and conservation of the environment. They work to preserve the natural beauty of Mexico, from the jungles to the underground rivers. Marai, one of the group organizers, picked us up from our hotel and took us on a tour of Punta Allen with the Amigos. Our tour guides talked about the work they're doing to preserve the Yucatan peninsula. It was inspiring to meet people who were so dedicated to preserving such beautiful land.
After our tour of Punta Allen, we went snorkeling and then on a dolphin observation! It was a long day, and to be honest, the drive to get there was pretty rough! Just a warning, there is no A/C in the car, and you're on unpaved roads for a solid portion of the drive. Once we got there, it was very much worth it! Ben & I got to snorkel over the most beautiful reefs with bright, colorful fish, and on the way back we stopped at a really shallow beach with the clearest water. I wish I had brought my camera with me to show you more but, obviously, I would be running the risk of getting it soaked so I opted to just soak it in for myself. Oh! And we saw quite a few sea turtles and dolphins coming up for air on our boat ride, as well! It was so cool. If you're considering a tour while you're there, I highly recommend going through Marai and the Amigos. I have a whole new appreciation for Mexico after that day!
GO SHOPPING
Just walk along the main road on the beachside of Tulum and you'll come across some really cute shops! I snagged a couple of really cute maxi dresses that I can't wait to sport this summer!
SWIM IN A CENOTE
If you've never heard of a cenote before, they're natural sinkholes from the collapse of limestone that reveal groundwater underneath. They're everywhere in Mexico and they are frequented by residents and tourists alike. I've been to a few cenotes and they're all just really cool. This one was cave-like. The water was really cold and it was also really dark, so excuse the lack of photos. If you go on a tour, like to Chichen Itza, they will typically include a stop at a cenote for you to cool off because it is so hot there. But, if you aren't, just ask a local where the closest public one is and they'll be able to point you in the right direction.
EXPLORE THE MAYAN RUINS
[credit]
As I mentioned, Ben & I's itinerary was pretty jam packed and I love to explore but, eventually, I hit a point where I just need my 'me' time.
#introvert
So, I opted out of going over to the Tulum ruins one morning but Ben went really early – before any tours showed up – and walked through in under an hour. His photos were pretty spectacular and, of course, I regretted my decision to hang behind. Definitely check them out! They're not far from the main beach strip! Don't go with a tour – they try and take up your entire day and it's just not worth spending that much time there!
WHALE SHARK DIVING
I thought I'd forego the photos for this one, hah!
Ben and I are pretty adventurous. I think I'll do most anything that most would consider "gutsy" as long as it doesn't involve snakes. Sharks do scare me a bit but I know enough about them to know that whale sharks are similar to Great Danes. They're gentle giants. They don't have sharp teeth. They eat plankton. In 2015, I went to Cancun and heard about how you can go on these dive excursions to swim with whale sharks but you can only go during certain months and I had just missed the cut off. I was really bummed because, honestly, it does scare me a bit to do this but what a great experience to partake in and story to tell. [I realize some of you may not be agreeing with this sentiment, hah!] So, when Ben & I were planning this trip, I suggested we look into doing it. He was all for it and, lucky for us, we were going during their dive season! We were so excited, got everything booked for the day before we left but, unfortunately, on that day, there was a really intense storm so we were unable to go. We were really bummed! We thought that would have been such a cool and fun thing to do to cap off a great trip together but, alas, we ended up just relaxing, ducking into restaurants and eating our way through Tulum hah! Which, I mean, we didn't mind… that never sounds like a bad idea to either one of us! But, I would suggest going if that is something that sounds like a fun excursion to go on during your vacation!
WHEN IS DIVE SEASON? The next dive season begins June 1st and ends September 15, 2017.
HOW LONG DO THESE EXCURSIONS LAST? Excursions usually take the whole day because, typically, the dive site is a bit away from Tulum.
HOW MUCH DOES IT COST? You can opt to pay individually and be put into a group OR you go on a private excursion and split the price among your party of people. On average, you'll be paying between $100-150 as an individual and around $1000 for up to 6 people and $1250 for up to 7-8 people.
WHAT SHOULD I BRING? I highly suggest buying a wet sack to keep all of your belongings dry. I'd recommend bringing a couple large zip lock bags to keep your wet items separate from your dry items. After your dive, you'll likely be able to duck into a bathroom at the dock station to change into dry clothes before heading back down to Tulum. It makes for a much for pleasant ride back after a long day! Because these excursions take a majority of the day, I would highly suggest bringing sandwiches, fruit, protein bars – whatever you can grab, really – with you to keep you going and prevent episodes of hangriness. You'll be swimming around, burning calories which will definitely cause you to work up an appetite. Aside from that, definitely bring a Go-Pro, towels, sunscreen, etc.
---
IMPORTANT THINGS TO KNOW
• I felt very safe in Mexico. Obviously, just like anywhere, be very aware of your surrounding because nowhere is 100% safe.
• Taxi's are the main way to get from point A to point B. They're super common and it's really affordable because everything is pretty close together. It's just really hot so that's why people opt not to walk a lot.
• Places will always accept pesos but may also accept US dollars. However, if they allow you to pay in US dollars, make sure you know THAT DAY's dollar to peso exchange rate. THIS website is what I use. It'll keep you from allowing them to determine what the Mexican total is in American currency. If you leave it up to them, they will often times try to get more out of you than is necessary. I've even seen the wrong exchange rate posted in a restaurant before. To be safe, make sure you get pesos out at the airport before heading down to Tulum.
• Again, DO NOT DRINK THE WATER. Can't say it enough … your trip will be miserable if you forget!
And, I think that about covers it, y'all! A lot of the things I wore in Mexico can be found HERE if you're wondering what to pack! Some items may be unavailable but it can give you some inspiration! If you have any questions about Tulum or my experience, please leave a comment below and I will get back to you! 🙂 xo.