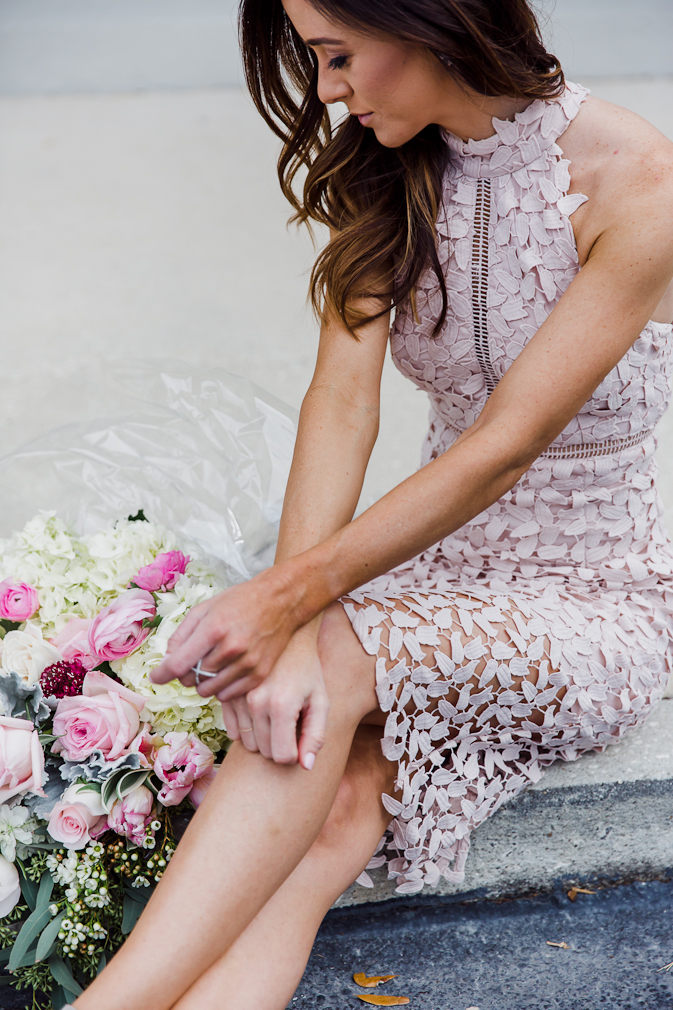 Hey there, lovelies! Happy Happy Friday!
Yesterday was my 31st birthday! Most bloggers I follow are in their mid-to-late twenties, so I feel a little old and weird putting a post together highlighting the fact that I'm 31, ha …. But, at the same time, I know that we aren't promised another year, let alone another day, so we should celebrate our age, no matter what it is!
Last year I shared the 20 things I learned in my 20's in honor of turning 30, and this year … y'all voted on Snapchat and made it clear that you wanted to know a little bit more about me! So, today, I'll be sharing 31 things you may not know about me!
To start, I want to encourage you to read last year's birthday post because there's a lot about me in there. I also want to encourage you to read the Birthday Q&A, as well!
DISCLAIMER: If you have followed me for years, some of the things I share in today's post may be things you have read before but I have to share some basics for those who have just started following along recently! 🙂 But, I will include things that I haven't included in any of these posts, ever.
Here we go! Starting with something super basic …
• I go by my middle name, Haley. I feel like this will always be something I will have to continually share as the years go on because my social media handles make it seem like I go by Alyson, and I didn't really intend to confuse people, hah! My @alyson_haley handles across my social media channels were set prior to Sequins & Things and prior to having people follow me who didn't know me personally. So, everyone that followed me knew I went by Haley but, as I continued to share my personal style on Instagram, more and more people followed me that didn't so a lot of people call me Alyson and I've even had people say, in emails, 'Hello Haley [and Alyson!]'. Hah, umm, I'm the same person 😉 So, just know … you can call me Haley ????
• I was born on the anniversary of my Mom's moms death. My aunt, her oldest sister, has told me that my Mom really liked that. It's a little humbling to think that God used me as one of her God winks to remind my Mom that hers was still watching over her.
• I'm an extroverted introvert. I have known this for a few years now, but when I read this article recently … I have never felt more understood. Hah! It's me to a T. I'm very social but rarely go out. Small talk stresses me out. I ebb and flow between needing to be alone and getting antsy and needing to get out and do something. I'm very talkative & love connecting with people on a deep level but am very selective about who I keep close.
• I'm one of those people that always wonders what your zodiac sign is when I first meet you. Sometimes I make it a game and see if I can guess before it comes up naturally in conversation. And … more than that … once I know what it is, I either get really excited or really sad based on what I know about whether or not our signs are compatible.
• If I'm overwhelmed, I retreat to a nap. When I wake up, I feel refreshed and motivated!
• Humility is the character trait that I appreciate the most in a person. Kindness and humor are a close second and third. Working in social media and seeing people experience extreme success in a short amount of time has made me realize this.
• When waiting at a checkout counter for the salesperson to finish with the transaction, or at the bank, I'm that person who straightens up any business cards or marketing material on the counter.
• Snakes, ginger, the word 'moist' and cold/wet feet are just a few things I thoroughly dislike.
• My biggest fear in life is being deceived by someone I love.
• I worked on a Neuro & Neurosurgery Unit for most of my almost 5 years as a nurse. So, I took care of people after they suffered a minor or major stroke, any kind of abnormal weakness or mental status change, and brain or back surgery. I decided to leave in January of 2015 to run Sequins & Things full-time. Read my goodbye thoughts to the profession of nursing HERE.
• 'Love Does' by Bob Goff still tops my favorite books list.
• My mom, Julie [or Jules as I will refer to her sometimes], passed away without warning on September 28th, 2013. [Typing out the year is weird. I can't believe it's been that long.] I miss her everyday. She is one of the biggest reasons why this blog even exists. She gave me her loving spirit and her love for going shopping & getting dressed! Writing was very therapeutic during the immediate aftermath & I shared some of it on the blog because I always want this to be a place where you know you can find a real, live human being whose life is great, but far from perfect, just like everyone else's. A lot of those posts can be found under the FAITH tab. This is the post I wrote right after it happened and this is a letter I wrote her on my first Mother's Day without her.
• If you're insecure about the fact that you have chin hairs or your hair is coming in gray … don't worry, girl! Me too. [Hope my future husband isn't reading this … ]
• I can sniff out a hidden agenda very quickly.
• I can't start the day without a Venti-iced coffee with extra 2% and two Sweet & Low's.
• My family consists of my Dad, step-mom, two younger brothers, older step brother, older step-sister, and nephew. I don't really like to use the term 'step' because, regardless of who came from who, we're family. But, I did include it here so you knew more 'details', so-to-speak.
• The fact that I was able to obtain a Bachelor of Science degree in Nursing [from the University of North Florida] is proof that if you are willing to put the time, energy and hard work into something … you can do anything! I think people hear the degree and automatically assume that I'm really smart but, nursing school was REALLY hard for me. I struggled immensely. But I didn't give up and I worked really hard and made it happen!
• Living in Florida has its perks, but sometimes I feel like I'm meant to live in a big city that is walkable and experiences seasons.
• I don't leave the house without spritzing a little of either 'Bright Crystal' by Versace, 'Mon Paris' by Yves Saint Laurent or  Flowerbomb by Viktor&Rolf on my neck and wrists. They are the three perfumes that don't give me a headache.
• The five commonly used adjectives I have been told describe me by my girlfriends are independent, loyal, adventurous, gracious and motivated.
• Thanks to Newsies, musicals are one of my guilty pleasures. Seeing them play out on a stage is so fun, in my opinion. I saw Les Miserables, Book of Mormon, Wicked, Aladdin, Lion King & Matilda when I was living in London! Even though I don't have tickets …. Hamilton, on Broadway, is next on my list!
• Hawaii, Croatia, Neuschwanstein Castle, lavender fields in England, tulip fields in Holland, the Redwood Forest, Costa Rica, a road trip along the Pacific Coast Highway, the island of Burano and a tour of the Holy Land are all on my loooong travel lust list! I'm knocking off a few of those this year! Any guesses on which ones?
• Some of the things I love more than anything are laughing till I can't breathe, traveling, my pups, aimlessly wandering through the aisles of Target, holding hands, forehead kisses, worship at church, white lilies, bright pink peonies, marking things off my to-do list, interacting with my readers on social media, shopping, running Sequins & Things, and the smell of Peaches.
• My celebrity crush is a tie between Josh Duhamel, Christian Bale, Hugh Jackman, Ryan Gosling and Ben Barnes. I like different things about each one. I can't decide.
• Keeping a digital to-do list in Notes on my laptop has been a game changer for me over the last year. It is how I stay sane and focused on a day to day basis. Otherwise, I can be a bit scatter-brained. Seeing things in list form help me make it easier to decide what needs to be taken care of next.
• My favorite color is blue but pink is a super close second.
• People often ask if I like my stepmom and the answer is a resounding YES. She is a beautiful person inside and out. We get along really well and often share heart-t0-heart talks and belly laughs. She's also extremely smart and is often someone I go to for advice on how to move forward in certain business situations.
• My favorite actor is Tom Hanks and favorite actress is Julia Roberts. Forrest Gump is my favorite of Tom's, and Steel Magnolias is my favorite of Julia'
• Friday Night Lights, Parenthood, Downton Abbey are just a few of my all-time favorite shows. Now, I'm hooked on 'This Is Us'.
• Writing is my preferred method of communication. I can't verbally explain my feelings quite as well as I can when I write them down. I think it's important to be really thoughtful about what you want to say because, once the words come out of your mouth, they can't be unheard.
• When my Mom passed away, she was driving my car to get my tire changed. So, I've been driving her car ever since because, obviously, I didn't want my car back. I'm thankful to have any car to drive so this has never been a big deal but I have been yearning for a car that I picked out for myself, you know? Back in 2015, I found the one I wanted but had to wait until it came out later that year but never got around to it. So, last year, around this time, I shared that I went to go make the deal but decided to back out of it before it was final because I was dating Ben and wanted to see how that ended up. Now that he & I have gone our separate ways [amicably, I might add – I know y'all probably wonder] … I decided to finally go through with it. So, in May, my new car will be here and I'm really, really excited! ????
Thanks so much for stopping by to read this and thank you so much for the birthday wishes! You guys are so sweet to have reached out and shared some love with me! Y'all are the best! xo.