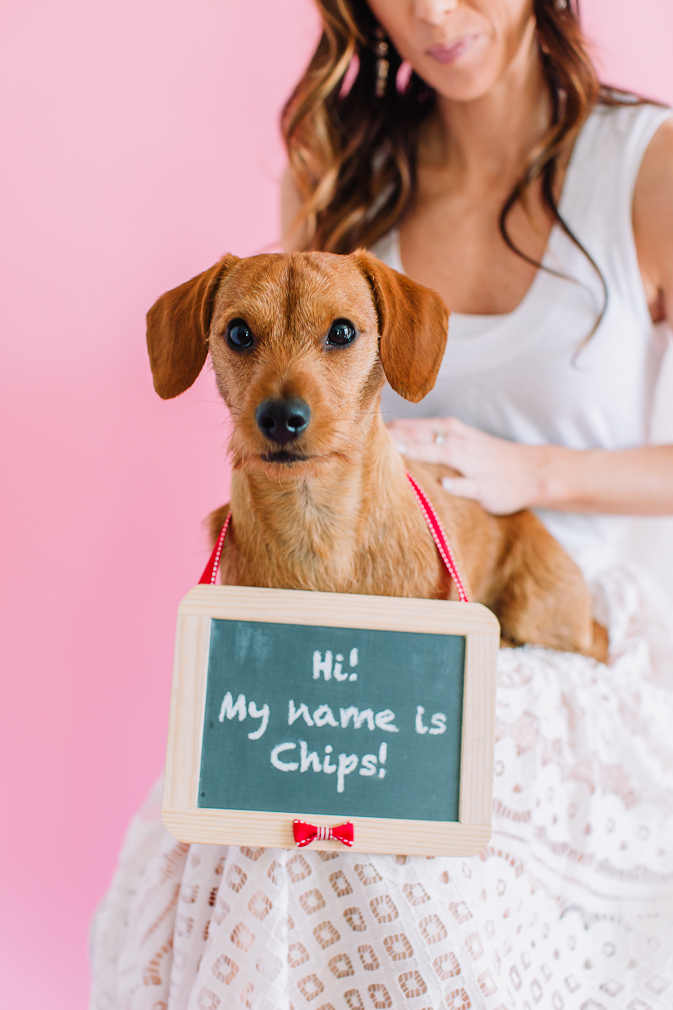 First and foremost, thank you so much for all of the love you gave me on social media and here on the blog last week when I announced that I decided to adopt a new dachshund puppy. I left you all hanging a little bit so today I'm going to share more about how all of this came to be and how things are going!
Where did you get Chips?
A few weeks ago, my friend Kristin, who lives in Orlando, texted me a photo of a really cute dachshund puppy, seemingly a year to two years old, who needed a forever home. The photo was accompanied by a question: "Does Fish need a brother?" I stopped in my tracks at the photo. The puppy was SO stinkin' cute with wire hair, stocky arms, fat paws and an adorable scruffy face. I scoffed and half-laughed at her question, though. Ha, Fish doesn't NEED a brother. I'm taking on quite a few ventures right now with my workout routine, being more intentional about eating every three hours, cooking throughout the week instead of eating out, redecorating / reorganizing the apartment, etc … all the while keeping new blog posts coming to y'all four to five times a week.
'Fish doesn't NEED a brother' was really me saying
'I don't need another thing to add to my to do list'.
And, while that did weigh on me, I couldn't help but sit and think about it from the other side. Fish has been an only child since I rescued him almost seven-years ago. He is protective of me and very much a momma's boy, and I always wondered how he would do with another pup around. My parents, including my Mom when she was alive, would always say 'you can never get another dog because YOU are Fish's'. It's very obvious how attached he is to me, how much he loves me, and it made them doubt that he would approve of having to share me. But, there was something inside me that made me think otherwise. I mean, I knew there was a chance of that but I do think Fish enjoys being around other dogs, as long as he is introduced to them without a leash on in a home-like environment.
I have said, many times, over the years, that I have always wanted another dachshund. I wanted Fish to have a friend and brother to play with, snuggle with, grow old with, etc. The thought has crossed my mind more and more over the last couple of years, since I've been working from home. I feel awful sometimes when I have been focused on getting work done during the day, and Fish just lounges in the sun or on the couch. And, while I know he'd prefer that over being in his kennel all day while I work at the hospital, I did kind of feel like I could do more for him to enjoy his days. So, in January, I started taking him to a local pet play place so he could make friends, stretch his legs & play all day. He absolutely loves it and always comes home exhausted from romping around with all the pups! I thought that was a great solution, as it never seems to be a 'good time' to get a new puppy.
But … even still … there was a sweet wiry-haired dachshund mix who needed a home … so, I decided to ignore the extra weight on my shoulders and inquire a little more about him & just see if he would be a good fit for Fish & I. So, Kristin got me in touch with the girl who was fostering him and she gave me the low-down.
His name is Buddy.
He is 1 year and 4 months old.
She has had him since November.
His original owner was a young man, who was about to go to college, and said he just 'didn't want him anymore'.
He is up-to-date on shots.
He's not neutered.
He's not crate trained.
He gets along great with her two dogs, a lab and an elderly pug.
He needs to be in a home with another dog because he's VERY playful & has a lot of energy.
I kept getting nervous at the thought of adopting him, but I also kept thinking … this is SO similar to the situation Fish was in seven years ago. He was abandoned at 10 months, given up to a woman at a neighborhood pool by a man who 'found him by the gym' with a hunter green collar and no name. He didn't have a microchip. There weren't any vaccination records. He wasn't neutered. He was barely trained and had severe separation anxiety. But, even with all of that, saying 'yes' to rescuing Fish was the best decision I've ever made. And, remembering that that decision was made with quite a bit of fear and nervousness made me feel better about taking the next step with this new baby.
Buddy was being fostered a couple hours away from Jacksonville, so after getting back from my weekend in Amelia Island, I decided to scoop Fish up & drive down to meet him. In my mind, the decision had to be based on how Fish reacted and felt about it. I asked that the other pups that his foster mom owned be kept outside so that we could focus on the two pups we were trying to introduce specifically. She agreed and, honestly, Fish acted pretty disinterested in Buddy at first. I think he was really hungry because it was around dinner time when we arrive, ha … didn't think that one through! But, eventually, they chased each other around and seemed to be tolerant of each other, which wasn't necessarily the relationship I wanted them to have. But, Fish didn't show any signs of jealousy or aggression toward Buddy when I would hold him or when Buddy would come near me. After looking over his vet records, asking a few more questions, and thinking through it, I decided to take him home with us that night. I was nervous I was making a rash decision but, I just loved the idea of knowing that I'd be giving another sweet baby a good and loving home with a sibling to do life with.
Another feeling I wrestled with was overwhelming sadness. It's been Fish and I for seven years. He's been the recipient of all my love for that amount of time, so I felt a little guilty for bringing another one in the mix to love and spoil. It was almost like I was grieving the end of it just being Fish & I. It was strange and unexpected, and it made me question whether or not I was making the right decision.
On the way home, I still wrestled with sadness and a little bit of doubt. I mean, based on their interaction, Fish and Buddy weren't OBSESSED with each other. They didn't play like they had just met their best friend, and that's what I wanted for Fish. I wanted Fish's interaction with him to determine what I decided and I took it into consideration but, then I think I let 'duty' or a 'charitable heart' influence it.
One of my best friends, Kristan, came over to help me unload both babies and bring things inside when I got back to Jacksonville Beach. I fed Fish right away because he kept looking at me like "HELLO, I haven't forgotten." And, once he was finished eating, he came out of the room and … it was crazy … he & Buddy just BOLTED around the living. I mean, they played like they had known each other for YEARS. They were so frisky and adorable together. They were running around, chasing each other, and giving each other flea bite kisses. It was the cutest thing and it made me feel SO much better about bringing Buddy … now Chips … home.
How is Fish doing?
Fish is loving having a brother around! He really is so patient with Chips and all the energy that he has. I've never seen them snap at each other. They play quite a bit throughout the day, then retreat to a little sun spot on the floor to relax and warm up. Sometimes they'll share a little bed on the ground together …. major swoon!
How is Chips adjusting to his new home?
It has definitely taken a little bit of time for him to adjust. He slept at the end of the bed the first night, on top of the covers. I was on edge all night because I was sad he wasn't snuggling with us. I was nervous he was unhappy. I hated that he might be feeling sad or confused. I wanted him to feel loved and wanted, but I also had to respect the fact this is going to be a process and know that some things are just going to take time. But, now … two weeks later … he sleeps on top of the covers still but always has to be touching me OR he sleeps above my head, burrowed in all the pillows.
He can be a little restless at times. Fish will be lounging and he will walk around aimlessly trying to find something to do. So, then he gets mischievous and will pick up the top of a box with his mouth or a shoe … but, if I sit on the ground and work on something, he will just lay down right next to me and settle.
He knows his name is Chips now.
He is still testing boundaries and seeing what he can get away with. We've been working on basic commands, and some are tougher for him to obey than others. He doesn't like 'stay' and when I say 'sit', he'll sit but he'll stand up on his back legs, like a meerkat, and I don't like that because it's not good for his back. So, we're working on that. He also didn't know what 'drop' means, so we've been working on that quite a bit, as well.
Did you get Chips neutered?
Yes! I took Chips to be examined by one of the vet's we love here in Jacksonville the day after I adopted him, then a couple days later he was neutered. As you may know, if a dog isn't neutered, and they come into an environment where they smell other dogs, they will mark. So, we have also had an issue with that, which has been a bit frustrating but … something that has gotten much better over time and with a consistent potty schedule.
How is crate training going?
Crate training has been tough but I am one of those people that is good at tough love. Fish didn't like his kennel when he was younger, either, but now … sometimes I'll look for where he is and he's snuggled up in his kennel sleeping. Fish leaps into his kennel when I tell him to go in there before I leave. So, I know Chips will eventually see his kennel as his safe place, like Fish does. It just takes time. I have already noticed that, while he does whine when I put him in there, he's quiet when I get back from whatever errand I ran.
Do you walk them together?
Walking them together has also been a struggle. I bought a leash splitter and … I come to find that it's a little counterproductive because Fish will want to go one way and Chips will want to go the other …. and then they just stand in their dominant positions & we don't go ANYWHERE. They both have completely different walking styles. Fish is a little slower. He takes his time. He doesn't 'keep it going' so-to-speak. He will even just stop walking sometimes and dig his little paws into the ground until I pick him up. And, Chips …. LOVES walks and he loves to keep it moving. So, he's a little bit more my style, hah! We usually walk a little farther than Fish & I do because it seems like he likes walks more than Fish. So, if I do take them out together … it's usually at night when we're just popping down there really quick for each one to do their last squirt before bed.
So, yeah, every three hours, I walk them both separately which is a solid 35-40 minutes in total. Chips likes to go out RIGHT when I get up, which stresses me out a bit. I sometimes wish I could just open the door and let them both go out and do their thing, but still doing that whole apartment living thing! Ha!
Are you happy you adopted him?
I have definitely had my hands full! It's been a lot to figure out his little personality, his quirks, the things we need to work on, positively reinforcing good behavior and making sure he feels loved and paid attention to. I also have been really intentional about making sure FISH still knows I love him even with a new baby around! But, aside from the extra responsibilities that come from having two dogs and the stress that comes with it …. I couldn't be happier I adopted him because of how adorable Fish & Chips are together. It is clear that they are happy to have each other and that was always what I wanted for Fish.
---
So, those are my little loves! I hope you all have an amazing Valentine's Day! Thanks for stopping by today and let me know if you have any other questions about rescuing / adopting a puppy! xo.
Who are the loves of your life??