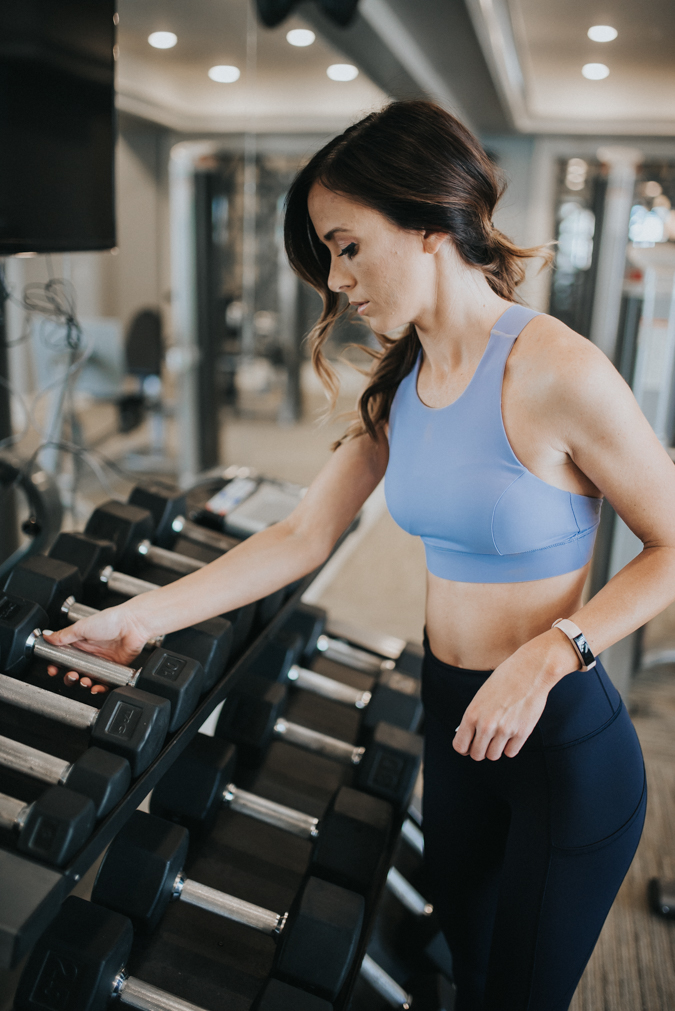 Hey there, friends! Happy Monday!
It's been a couple of months since I've updated y'all on my fitness journey and I'm really excited to share how things are going as well as introduce some great new items at lululemon that have been a workout game changer.
Troy and I still work out twice a week and I'm continuing to focus on eating every few hours – which is still a bit of a challenge to nail consistently but, all I can do is keep trying to be better. I have gained muscle and am noticeably stronger. Every week, Troy switches up my workouts. Sometimes we do high-cardio circuits but mostly focusing on muscle building with weight training. Last week, I was able to squat 115 pounds, which was really tough. When I felt the weight on my shoulders, I was like 'Troy, are you serious?' but, I put myself in a positive place mentally, told myself that I could do it and just took my time. Once I was done, I was so proud of myself and realized the power of mind over matter.
Week after week, my workouts challenge me physically [and mentally] and I leave a sweaty mess but I've recently tried out a couple of lululemon's new NULUX products because they supposedly help you leave hard workouts a little drier. I opted for the Fast & Free Crop because, well, Florida heats up quick this time of year. These crops are seriously made of the softest material, super breathable and moves with you instead of making you feel restricted. I love the Fast & Free Bra because it's made of the same lightweight material and comes up high on your chest, which I find to be really flattering. It also makes me feel more supported.
I wore this combo from lululemon last week and found what they said to be true. They keep you dry during those super tough workouts. They're specifically made for running but, because that's not what I need for my personal fitness goals, I'll continue to wear these on my high intensity workout days.
I work out withTroy on Tuesday but, after that, I won't be back in the gym for a couple of weeks due to travel abroad. I'll miss being in there but I know for a fact that I'll be eating well! Can't wait to share where I'll be exploring!
Hope you all had a great weekend! I spent a lot of time with friends and family, catching up! My friend, Lindsey, who lives in Colorado, stopped by because she was in town for half a day yesterday. I haven't seen her in a few years and we were so close in college [and when I lived in Colorado], so it was REALLY nice to pick up where we left off! I love friendships like that! Anyway, have a great start to your week! Thanks for stopping by! xo.
Also, if you were looking forward to me adding a few questions to the Blogging FAQ … I did add those in for you, so check it out HERE.