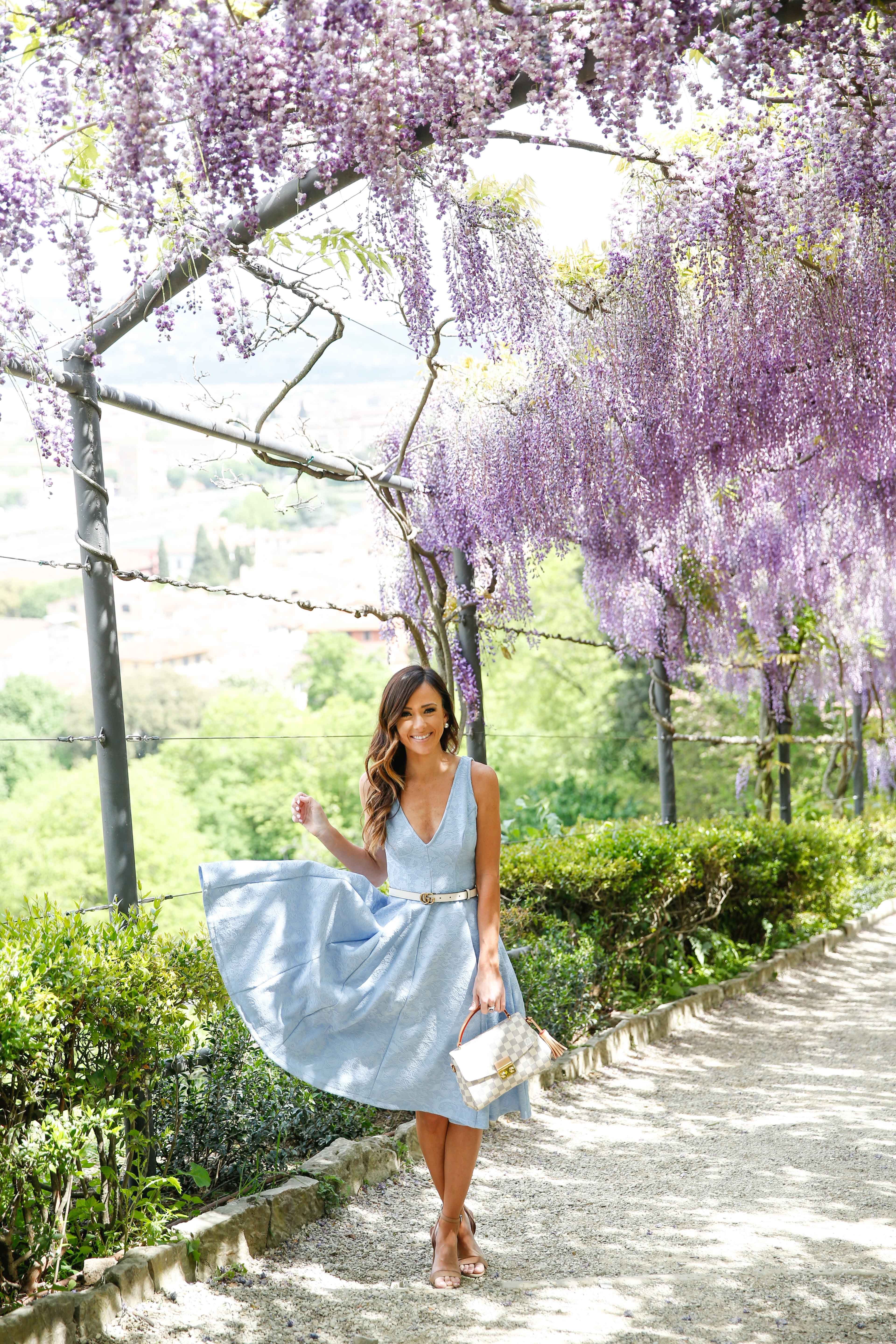 Hi friends! This outfit is the first of three I'll be sharing from my recent visit to Florence! I'm going to preface this post by saying … two of the three I'm sharing from Florence are very unrealistic if you're a traveller and looking to explore this beautiful city. I would not recommend wearing heels around the city, hah! But … there were a couple of backdrops that I felt were perfect for these outfits in Florence so just take them as outfit inspiration rather than travel outfit inspiration. 😉
These photos were taken in Bardini Gardens in Florence. It's an amazing place to visit in the Spring because everything is in bloom and is absolutely beautiful. I also feel like the view of the Duomo is absolutely stunning and much less crowded than Piazzalle Michaelangelo. This was a place I didn't make it to during my last trip to Florence and I've seen photos of this beautiful wisteria tunnel in the gardens online before so I told Victoria that we had to find it! The sweet people working there said we missed full bloom by about a week so they said it wasn't 'as' magnificent as it was but I don't know about you … but I don't get to experience wisteria where I'm from so I thought it was stunning!
This blue dress, once I had it altered, fit like a dream. I love the form fitting top half with the V-neck and the wing detailing in the back. I would suggest pinning the wings to help them stay back consistently with a really small safety pin on each side. I feel like it is definitely a dress that needs a belt because there isn't a seam in the middle and, if you don't wear a belt, it looks a bit incomplete. This is an amazing under $100 option if you have a summer wedding, bridal shower, baby shower, or your next Sunday church service coming up!
Thanks for stopping by today, y'all! I'm off on a boat ride with Sarah Kate, her family and some of the wedding guests to Ischia today, a small volcanic island just off the coast of the city of Sorrento in Italy. It's known to have an adorable coastal town and hot springs! Can't wait to see it! I'll be sharing more on Snapchat and Insta-stories! xo.