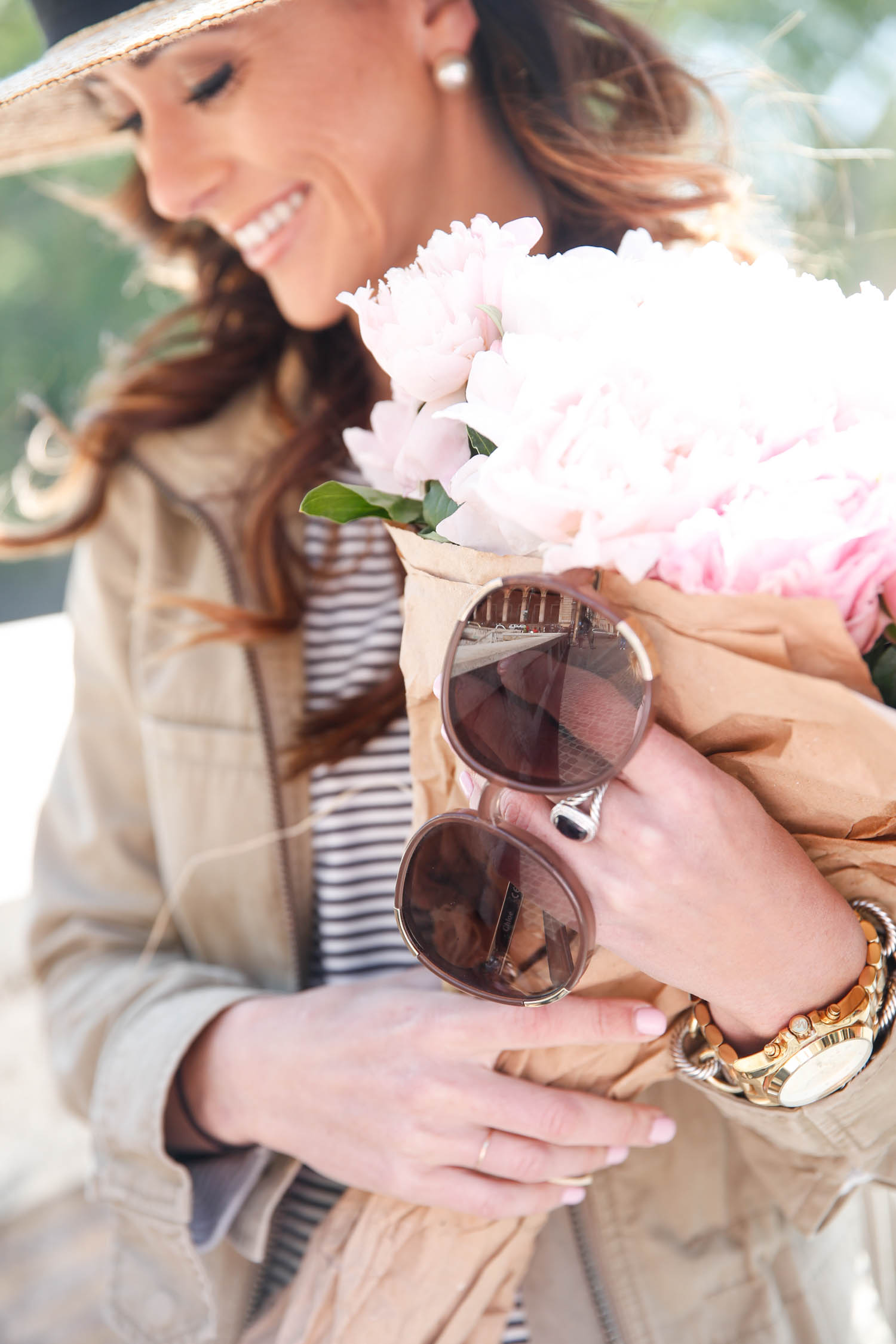 Hey there, friends!
During my recent visit to Rome, I wore this neutral outfit with easy layers. It was pretty chilly in the morning and was only getting to a high of about 67-70ish so I opted for a warmer look than some others I chose. This striped top is SO soft and I have worn it quite a few times since this day. The khaki fleet jacket is a wardrobe must-have. It's just like your best friend. It's always there and reliable! Also, these color block espadrilles have been on quite a few trips with me and have seen better days. They have been worn into the ground hah! But … they're such a cute pair of shoes and, like the fleet jacket, can be paired with a lot of outfits.
If you are heading to Rome this summer, be sure to walk through Campo de Fiori. They have a large flower market and I found these GORGEOUS peonies. The guys working there gave me such a good price on three bundles of them because they had already bloomed. I was only in Rome for a couple of days so I left them to the sweet people at One Fine Stay for letting us stay in one of their Rome apartments. More on that in my Rome travel guide coming soon! 
Victoria and I walked through Campo di Fiore one day, over the Tiber, into the charming neighborhood of Trastevere for lunch. It's a little bit quieter than central Rome during the day and becomes very lively at night. There are a lot of great restaurants in that area!
I hope you have an amazing Friday! Thanks for stopping by today! I'll be back to normal posting next week. I used up the content that I had ready to go last week and needed a little downtime this week to get back to normal after getting back from Italy. Appreciate your understanding! Have a great weekend! xo.