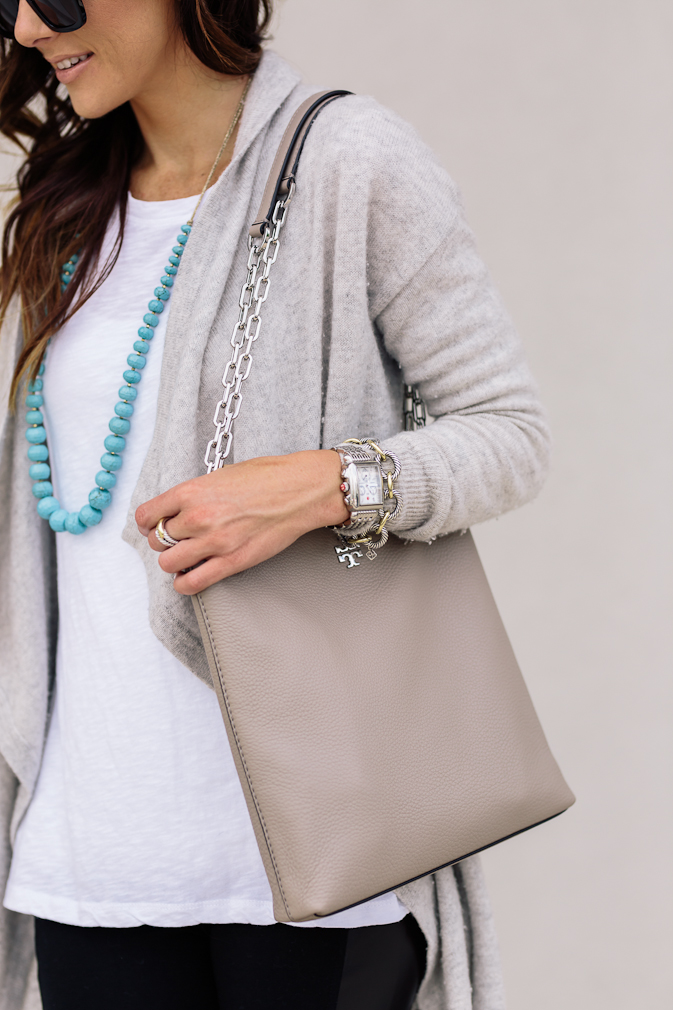 Hey there, lovelies! Hope your week is off to a great start!
 Yesterday, I received a couple of my orders from Nordstrom and I'm excited to finally get a try-on haul up to you guys in the next couple of days. My goal is to have it to you by Wednesday so that you can look through it as you're putting things in your cart so it's ready for the launch on Thursday! I promise – there are quite a few items that WILL be restocked so don't get frustrated just yet regarding anything that you want that's currently out of stock. One restock that took place early that I'm really excited to share with y'all is … 
THIS amazing cashmere drape cardigan that was one of my favorite buys from last year! I wore this so much while I was in London. It's such a great basic throw-on! Grab it while you can! I'm in an XXS Petite.
I've had a lot of people ask me to style the Spanx faux leather leggings, and I will in the product review post, but you can use this outfit as inspiration, too. I would suggest making sure your top is a little bit bigger than the one I'm wearing here. I would one size up from your normal just to ensure that it covers your front and your back when you're wearing leggings. That's always important! I just feel like the outfit looks better that way! Anyway, I styled the BP. Faux Leather Moto Leggings instead because they're a little more affordable than the Spanx and I thought they were a great affordable option for the upcoming Fall season!
Here my review on the items in this outfit:
THESE faux leather mixed moto leggings run true to size and they're super comfortable! I'm wearing an XS.
THIS long-sleeve white tee is one of my closet staples for the Fall. It's a steal for under $20 and I'm wearing an XS.
THIS necklace is still a bit pricey, even with the sale discount, but if you're in the market for a great turquoise necklace, this one is it!
THIS white tank top is my go to tank top to wear under most of my tops. It's like a hug .. it's so comfortable! I always get two new ones whenever they go on sale!
THIS gray cross body is a soft pebbled leather with a lot of storage room. I love the magnet closure and the fact that you can wear it as a shoulder bag or cross body bag! Two bags in one .. for less than $300!
The booties that I'm wearing are two years old. I love them so much but only styled them here because [1] they go with the outfit and [2] I haven't received any of the black shoes from the sale yet! Here are a few other black bootie and boot options that would look great with this outfit:

I hope those of you who aren't card holders are excited to shop the sale! Only two short days! Please let me know what you'd like to see from me in regard to the sale. I'm going to be reviewing all of the beauty purchases I made and reviewing them live for you on IG Live! I've never done one before so be sure to tune in tomorrow at 8:00pm EST. Excited to hang out with y'all there! xo.