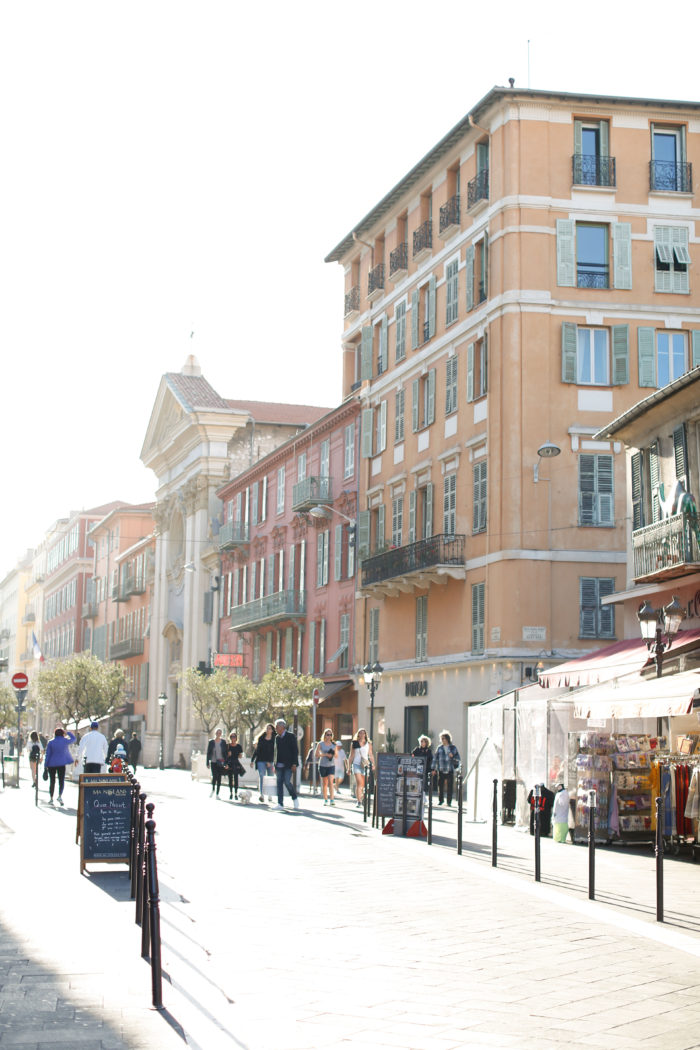 Nice is the second largest city in France, next to Paris, and attracts attention from tourists all over the world for its prime location in the middle of the Cote d'Azur, charming Mediterranean character, and beautiful French [and surprisingly Italian] inspired architecture. This area of the world is known as the playground for the richest of the rich but, I promise, there's plenty to do and see for those of us who don't fall into that category! Ha!
Victoria and I only had two-days in this beautiful place so I'll share what we did, where we ate and some fun tidbits about this area and what I would suggest you do if you have a little bit more time to spend here! I really wish I had planned for a little more time in Nice because, although you can do this city in a day, there are so many easy day trips you can take from here!
• In France, saying 'hello' can be the difference between being treated courteously or getting ignored! Always say 'bonjour' or 'bonsoir' when you enter a store or restaurant, and add the person's title for an extra dash of politeness! I've included those later in this post!
• Nice's unusual beaches are naturally occurring. The smooth stones have been washed down from the mouth of the Var and Paillon rivers, then deposited on the shores of Nice. Wear shoes! 🙂
• Nice is the second most popular French city for tourists, next to Paris. It is easily accessible, being less than 6 hours from Paris by train, and the airport is located just a few minutes away from the city.
• The French Riviera is a popular place for film directors to shoot movies! And why wouldn't they, with the gorgeous water and views! Some famous films shot here include Chitty Chitty Bang Bang, Diamonds are Forever, Golden Eye, The Life Aquatic, An Affair To Remember, and Oceans Twelve.
• The correct pronunciation of the city of Cannes is "can."
• One of Nice's most famous residents is singer Elton John. He owns a huge house in Nice that overlooks the entire city.
• Most restaurants in the French Riviera don't serve food between the hours of 2 and 7 p.m. Bring a snack!
• The French Riviera benefits from 310 to 330 days of sunshine per year! Feels like home! 😉 #floridalife
We stayed at LE GRIMALDI BOUTIQUE HOTEL in the center of Nice and, overall, thought it was an amazing, affordable option in a great location! I highlighted a few pro's and con's below!
PRO'S
• The hotel is a quick 11-minute drive from the airport.
• Breakfast is included in the price of the hotel. Enjoy complimentary breakfast downstairs every morning.
• The location couldn't be any better. Everything that you want to see in the city of Nice is so close. It's a 5-minute walk to the city square, seen in THIS blog post and then another 5-minute walk in a different direction to the Promenade ded Anglais, seen in THIS blog post.
• We never had an unpleasant interaction with any of the staff members. Everyone was extremely professional, helpful and kind.
• They had plenty of hot water and the water pressure was satisfactory. I feel this is important to mention because I have found that to not always be the case when I stay in hotels in Europe.
• This isn't really something that matters too heavily but I did find the decor and aesthetic of the hotel to be really adorable.
CONS
• The first night, while we were staying in the Classic Room, Victoria said she woke up a few times because she heard our neighbors talking in the hallway.
• This didn't bother us too much but, one side of the building was under renovation and you had to walk through it to get from the main building to where you go to get your continental breakfast. Again, not a huge issue and we never heard a lot of loud construction or anything!
OTHER NOTES
• PARKING: Parking is available, although it is public parking and it costs 25 Euro.
• COST: One night, we stayed in the Classic Room for 120 Euro. We stayed in a Junior Suite for the other two nights we were there, for 155 Euro / night, which included a lovely private terrace and a small work desk. It also had a pull out couch and would a comfortable option for 2-4 people.
• WIFI: There is free unlimited Wifi for all hotel guests.
• LOCATION: It's located in the center of the city of Nice and is a short 11-minute drive from the airport. We took an express taxi from the airport and paid 40 Euro, which is a little pricey. On our way out, we took an Uber and paid 15-20 Euro. I don't think you can get an Uber from the airport to the hotel so I'd recommend NOT opting for the express taxi. A regular one will likely be a little more affordable. We realized that was probably not the best decision we made on our trip. 😉
• AMENITIES: Hotel Le Grimaldi offers its guests free Wifi, a 24-hour reception desk, complimentary breakfast, connected rooms upon request, luggage storage, and a Nespresso machine in the rooms. There are rooms available for the mobility-impaired upon request. They have a free ice cream counter in the reception area, called HappyTimes, that is available for guests during the day!
Despite what you may have heard, the French are very kind people but not as overly expressive and loud as we can be in America. They appreciate when tourists try to speak the native language, but don't expect you to be fluent by any means. They'll typically respond to you in English but, be aware, that there aren't as many people who are as fluent in English in Nice as there are in Paris. Here are a few phrases you may want to become familiar with to help get conversations started a little easier!
Bonjour [bohn-joour]– Hello!
Bonsoir [bohn-swah] – Good evening!
Madame/monsieur/mademoiselle [mad-am/mohn-seeur/mad-uh-mwa-zelle] – Mrs./Mr./Miss
S'il vous plaît [see-voo-play] – Please
Merci [mare-see]– Thank you
Je parle un peu français [Zhuh parl uhn peh frahn-say] – I speak a little French
Parlez vous Anglais? [par-lay voo ohn-glay] – Do you speak English?
Je suis désolé. Je parle un peu françaiss. Parlez vous anglais? – I'm sorry. I speak a little French. Do you speak English?
LA MAISON DE MARIE – We went to this restaurant the first night we were in town. It was a short walk from our hotel and the aesthetic was absolutely adorable. We sat outside in the iron gazebo covered in ivy. The cuisine is primarily French. I ordered a rack of lamb with garlic and mashed potatoes. It was good but a little too rare for my liking. The wait staff was really friendly and attentive, although it was extremely busy! Our server was really sweet and quickly switched to English when he could tell how terrible my French is. Hey, I tried! 😉
BALTHAZAR – We stopped at this little place on our first morning for breakfast. It was a short walk from our hotel and has a great location right along the Promenade des Anglais. It was great for people watching and they had fun music playing. They have international cuisine, lots of options that appeal to everyone, no matter where you're from. I know Victoria and I enjoyed their latte's!
LA MASSAIA – On our second night in town, we walked over to this place that looked really cute on the outside. It's an Italian restaurant run by Italians so the food was authentically Italian and delicious! I got a Diavola pizza, which is spicy salami and arugula, which was even more tasty with their spicy oil and sans onions! 😉 We had a little bit of a strange experience with one of the servers who cleared our table a little too prematurely. I'm not sure why. He was not very friendly and clearly didn't care for us even though we spoke Italian to him the entire time. So, I don't know what that was about and it was a bit of a downer considering the food was so great!
RESTAURANT DAVIA – We went to this restaurant on our final night in town. We were beat from a long day trip to Cannes so we decided we would take the receptionists' suggestion and eat at this restaurant that was, literally, right next door to the hotel. You can expect authentic French cuisine that is very, very well done! Our server was very nice and professional but not overly conversational. I got Chicken Cordon Bleu and French Onion Soup, both of which were amazing! Highly, highly recommend this place! Also, note! It is closed on Mondays.
ANNEX BEACH – Victoria and I went to this restaurant for lunch after arriving in Cannes. It's right on the water so the views from each table are stellar. It definitely takes the cake for cutest aesthetic and decor out of all the restaurants we ate at! It's large 'booth-style' tables had turquoise, pink and mang0 colored pillows and wood tables. You can smoke hookah there so those were a part of the decor, as well! The cuisine is a mix of Italian and French so it'll definitely have something that will fit everyones' fancy! I ordered gnocchi and found it to be delicious, however, Victoria wasn't too keen on her steak tartare.
DAY 1 // We flew out of London at around 3:30pm and landed in Nice just before 7:00pm. Keep in mind we crossed into a new time zone so the flight wasn't as long as it may seem!
Once we grabbed our bags, we hopped in an express taxi right outside to take us to our hotel. In hindsight, I'd say that wasn't necessary and would definitely recommend a regular taxi to take you. It's cheaper and probably wouldn't take you that much longer to get there than the express taxi did considering it's a short 10-minute drive anyway. Nice is really small and the airport is literally so close to the city center.
We checked in at Le Grimaldi then we made our way up to our room to get freshened up before dinner. I opened the large window in our room to look out at our view …. and I literally just took a couple of minutes to just take it all in. The French architecture. The palm trees gently swaying. The perfectly blended together pink and purple sunset sky. It's in moments like that where I feel like my Mom is smiling down on me, proud of her girl for doing some of the things that I think she wished she had done earlier in life. It's in those moments that I also feel a deep sense of gratitude for where God has led me. I surely do not take my ability to travel or my works flexibility for granted.
Victoria and I asked the sweet receptionist where we should grab dinner and we ended up at La Maison de Marie, a charming French restaurant that was a short walk from the hotel. We really enjoyed it .. read more about it in the 'Restaurant Recommendations' section! After dinner, we decided to go back to the hotel to unpack a little bit then put together a plan for our two days in Nice.
DAY 2 // Victoria and I got up pretty early because we had quite a few things we wanted to accomplish on our first day in Nice. First, we walked down to the Promenade des Anglais, which is where we ran into this adorable spot on their famous pebble beach [Wear shoes! The pebbles get so hot!]. You really can't miss it but, if you're curious … it's called Ruhl Plage. I was so in love with the blue and white umbrellas. I felt like I was walking around in a postcard. I love when you find places like that when you travel!
>> Outfit photos from Ruhl Plage can be found HERE <<
** These photos were taken on the morning of Day 2, which is why I'm wearing one outfit here and another one in the next photo **
After pulling ourselves away from the beach, we grabbed breakfast at a restaurant called Balthazar, which is literally right across from Ruhl Plage. We sat outside and did some people watching. After that, we took a 10-minute stroll down the Promenade des Anglais. Then, we decided to head back the way we came to go find the main square, Place Masséna, which is a must-see! The color combinations of the buildings, the black and gray tiled floor and the rail-system occasionally passing through from one side to the other makes you kind of feel like you're in a Tim Burton film.
We popped into some of the shops in this area before heading to Old Town, which is supposedly a bustling, young area of the city. It was definitely busy, with lots of people meandering and enjoying the day! We did some exploring down the beautiful alleyways that made me feel like I was in Italy, not France!
>> Outfit photos from this first day in Nice can be found HERE <<
Our venturing took us to where they typically have a flower market that we heard we couldn't miss! Unfortunately, the flower market was closed due to it being the Monday after Easter Sunday, which is a holiday in Europe, but there was an antique market there instead. By the time we had gotten through it, we both were really craving a nice sit-down and a cocktail so, we picked a restaurant in the area with a considerable crowd and did just that!
Once we were ready to get back to exploring, we decided to head over to Castle Hill, or Colline du Chateau, which we heard has an incredible view of the city. We stopped at the I LOVE NICE sign first … just to say we saw it but, the crowd was out of control so we didn't stay long. Everything is really close together so we literally walked across the street to the entrance of the Castle Hill hike. You can also take a lift [i.e. elevator or 'ascenseur'; but you have to catch it before 5:30pm]. We literally missed it by a few minutes so we had to make the 20-minute hike UP … in wedges. It was a blast! Ha! Just kidding. I didn't walk up in wedges. I was prepared with fold-up flats in my bag to wear in case my feet started to hurt after wearing the wedges all day.
Aren't the views spectacular from the top?
After we got our fill of the views, we ventured back down and back through the Square and over to our hotel for a little bit of rest and relaxation after a long day of exploring. Eventually, we got ourselves cleaned up and ready for dinner. We opted for an Italian restaurant close to our hotel called La Massaia. Read more about our experience there in the 'Restaurant Recommendations' section. 
After dinner, we were utterly EXHAUSTED so we talked through our potential plan for the next day, caught up on social media posting, etc. Victoria uploaded photos, did some editing and I put final touches on my blog post for the next day. Traveling while also keeping up with that aspect of what we do is quite a lot to handle and I often feel like I'm behind on things but, at the same time, I try and remind myself to just go with the flow!
Once we were done with all of that ….  s l e e p !
DAY 3 >> I really wanted to spend the morning back at Ruhl Plage [the beach with the blue and white umbrellas] so Victoria and I ventured down there after breakfast. We snapped some outfit photos and then just sat at the waters edge and listened to the water pull itself back over the pebbles. The pebbles falling over each other made the most relaxing sound. I could have sat there all day.
After sitting for a little while, I'm pretty sure we just meandered after for a little bit before heading back to the hotel to get ourselves ready to go over to Cannes for the afternoon. We went back and forth quite a bit about where we wanted to venture to because there are SO many little afternoon / day trips you can take to neighboring cities that are just precious! I'm not sure I'd pick Cannes if I could do it over again but I'll list some of the ones I would consider in the 'Other Ideas / Excursions' section for you! Find train tickets to neighboring cities HERE. This train station is where you will go to take the train. You can buy your tickets at the station.
Here are some photos from Cannes [pronounced 'can'] :
Victoria and I spent the afternoon walking around, popping into a few designer stores here and there and desperately trying to find a rooftop bar to grab a drink at. Heads up! Those don't open until May, when the high season officially starts. We were there in April. So, we ended up grabbing lunch at Annex Beach, which has an adorable aesthetic and is location right on the beach. Then, after more exploring, we grabbed a sunset cocktail at Bâoli, which we were told has had some pretty famous guests in the past like George Clooney, Brad Pitt, Wiz Khalifa and Ben Stiller. Remember … the Cannes Film Festival is held here every year, which is why we thought it might be cool to venture here but … to be honest … it was a little underwhelming. Beautiful, yes! But … it's kind of like a Palm Beach, Florida type of city … small with lots of high-end designer brands. Meh, that's not interesting, in my opinion. But … that's going to happen when you travel sometimes. You're not going to love every place you find along the way.
After making our way back from Cannes, we were honestly kind of pooped! It had also started raining and, since it was our last night in Nice and we needed to get packed up and ready for the next days' travel plans, we took the advice of our sweet receptionist who had recommended the restaurant next door a few times, La Davia. I can't recommend this restaurant enough. It's authentically French and everything we got was delicious!
You can't go to a city like Nice, stay for two days and be completely happy and satisfied. Nice, in and of itself, is super easy to do in a day but it's in the middle of a GOLD MINE. Seriously. There are so many small towns surrounding it that have just as much, if not more, charm to offer its visitors. I really wish I had allotted more time for this area to Victoria and I when we were planning it all out. Granted, this trip would have been 3-weeks long had I done that but, I'm convinced it would have been #worthit
If you are planning a trip to Nice, here are a few places east of Nice that I'd recommend checking out:
• VILLEFRANCHE-SUR-MER – This area is just outside of the Nice city center and you'd likely pass through it on your way to Saint-Jean-Cap-Ferrat if that's on your itinerary. The more photos I see of it, the more I wish Victoria had wandered just a little bit further east. It looks super colorful and cute! Again, probably not a lot to do but I sometimes don't mind that. I like just meandering and this one looks like a beautiful town to meander through. HERE is what I'm talking about. Gorgeous!
• SAINT-JEAN-CAP-FERRAT – Saint-Jean-Cap-Ferrat is a little peninsula and is a short 30-minute drive from the center of Nice. It looks like an absolute dream! If you're in need of an escape without a lot of sites to see or things to do besides enjoy the sunshine poolside or at a local beach, I'd go here. It's perfect for anyone looking to just RELAX. The Grand-Hotel du Cap-Ferrat is a stunning option for a hotel, right at the tip of the peninsula [Cap-Ferrat], although it is quite expensive. There are others to consider, as well, of course! I'd definitely make time to check out both Paloma Beach and Plage des Fosses. They look like absolutely stunning public beaches. I'd also recommend stopping by the absolutely gorgeous Villa Ephrussi de Rothschild. I'd like to move in whenever the offer becomes available! 😉
• EZE VILLAGE – We got so many recommendations from readers to go to this little spot just above Nice in the mountains. The views are stunning and there is an amazing parfumerie there! It looks like the best way to get there is by bus and it'd be less than 2 Euro! Just be sure to look everything up ahead of time so you know exactly what time and where to be for the bus. You can find more information about that HERE.
• MONTE CARLO, MONACO – If you want to tick off two countries on your trip to France, head to Monte Carlo, which is located in its own small country of MONACO. It's known for being a major destination of the rich and famous in years past and is largely known for the Casino de Monte Carlo, which has been featured in a few James Bond films. From what I understand, you'll be greeted by a lot of tall buildings, ritzy hotels and large excessively massive, million-dollar yachts in the harbor. It's likely not everyones cup of tea, like Cannes, but hey … might be nice to just check it off your travel list as a place you have been to before! I'd only go if I had had the time to check everything else off my list beforehand. It looks like the train might be the fastest and cheapest route for less than 3 Euro each way. Book tickets HERE.
• MENTON – Menton is a colorful little town located on the edge of the Italian border and is a short 30-45 minute train ride from nice. The train ticket is typically less than 5 euro. If I did it over again, I would have chosen to venture to this little city, instead of Cannes.
In the other direction, west of Nice, I'd recommend you look into spending time in:
• ANTIBES – Antibes is located between Nice and Cannes. We passed it on the train on our way to Cannes so it's super close to Nice. I was told that I definitely needed to go there and have a drink at Hotel Cap-du-Eden-Roc. Definitely next time! It looks gorgeous!
• SAINT-TROPEZ – You've likely heard of Saint-Tropez and, although it is along the French Riviera, it is quite a ways away from Nice itself. I'd suggest it be a second destination during your trip or something, unless you are dead set on only going for the day!
• CANNES is also west of Nice so it belongs in this list but, I've already gone over my thoughts on it in previous sections so we'll just leave it at that! 🙂
Hitting all of these destinations would make for a full and complete tour through the French Riviera, even though it does stretch a bit further west, I believe.
Here is a short list of the things we did and a couple of extras I wouldn't have minded doing in NICE itself:
• WALK THE PROMENADE DES ANGLAIS – It's busy and bustling with runners, families, cyclists and dogs and a must see with the sea on one side of you and the large hotels on the other!
• EXPLORE THE MARKETS – I wish the flower market was open but we were there on the Monday after Easter, which is a holiday in Europe!
• FIND THE MAIN SQUARE – Place Masséna is so colorful and fun and has lots of shops to explore and enjoy!
• CLIMB CASTLE HILL – Or, you can take the lift [or 'ascenseur'] to the top, but you have to catch it before 5:30pm! The views are stunning!
• WALK THROUGH OLD TOWN – We were told this was the young and happening part of the city! There are lots of shops and restaurants, most of which have balconies with views of the water!
• GRAB AN AFTERNOON COCKTAIL & SIT OUTSIDE  – we did this near the market, but there are plenty of other places to do so on the water front of near the square!
• CHECK OUT THE MATISSE MUSEUM – My favorite artist is Henri Matisse. I discovered his paintings at the end of high school and had a painting of his hanging in one of my apartments in college [this one]. I loved his use of color and his fun outlook on his muses. I'd love to have gone to the Museum but time was limited but definitely next time!
• GO ON A DAY TRIP TO A NEIGHBORING TOWN OR AREA – I linked a few above for you! I'd also look on Pinterest for more photos and ideas on what to do in each place!

• DESTINATION HIGH SEASON: Mid-May to Mid-August
• BEST TIME TO VISIT: March/April or September/October
• PAYING FOR TAXI/HAVING CASH ON HAND: Nice does have Uber but I don't believe you can request an Uber at the airport. So, you can obviously use your Uber app outside of the airport for taxi's. I would, however, have cash on hand for regular taxis.
• TIPPING: A service charge is typically added to each restaurant or bar bill. An extra 5% is typically expected. Taxi drivers shoulder receive a 10% tip. Porters should receive 1 Euro per bag that they help you with. Tour guides are typically expected to be given 2-3 Euros.
• LANGUAGE: The French typically know more English in larger cities like Paris and Nice but it isn't as common as other countries, like Italy, so be sure to learn a couple of phrases and words that would be helpful!
• THE FRENCH PEOPLE + CULTURE: Here are a few takeaways that I gathered through my time and experience in France!
– The French appreciate ANY attempt from visitors to speak French. It doesn't have to be perfect. Just make an attempt that they will likely be a little warmer to you.
– The French are typically a little more reserved than Americans, Italians and Greeks. Don't take it as them being rude.
– The French shake hands with acquaintances but will kiss their friends and family on both cheeks.
– It's considered extremely rude to act out in public. It's important to maintain your manners. Avoid yawning. Do not shout or chew gum.
• GOOD TO KNOW: When you're eating at a restaurant, keep your knife in your right hand and your fork in your left; do not switch! This is common throughout Europe. They typically think the way we eat is so wrong! Stupid Americans! 😉
• WHO SHOULD VISIT THIS DESTINATION: Nice is ultimately a destination for an explorer, someone who gets bored easily and wants to check out multiple places and not just one! It's for someone who doesn't necessarily need to see monuments or famous artifacts but rather someone who just likes to experience a new place, see what it has to offer and just takes it for what it is. There's so much of that along the French Riviera so if you are like that and also enjoy getting a little sun-time in here and there … then this little part of the world is for you! 🙂
We had an AMAZING time in Nice and wish we could have stayed longer … like, seriously hope to make it back here in the next few years to check some of those other places off of my list! However, I do hope this little diary about our time in Nice and the takeaways were helpful if you are planning a future trip there! No matter what you do … you will leave with a new favorite place you'll be yearning to come back to as soon as possible! Thanks for stopping by today! xo.
Also, be sure to PIN this photo to one of your Pinterest boards so you can bookmark this post for future reference!