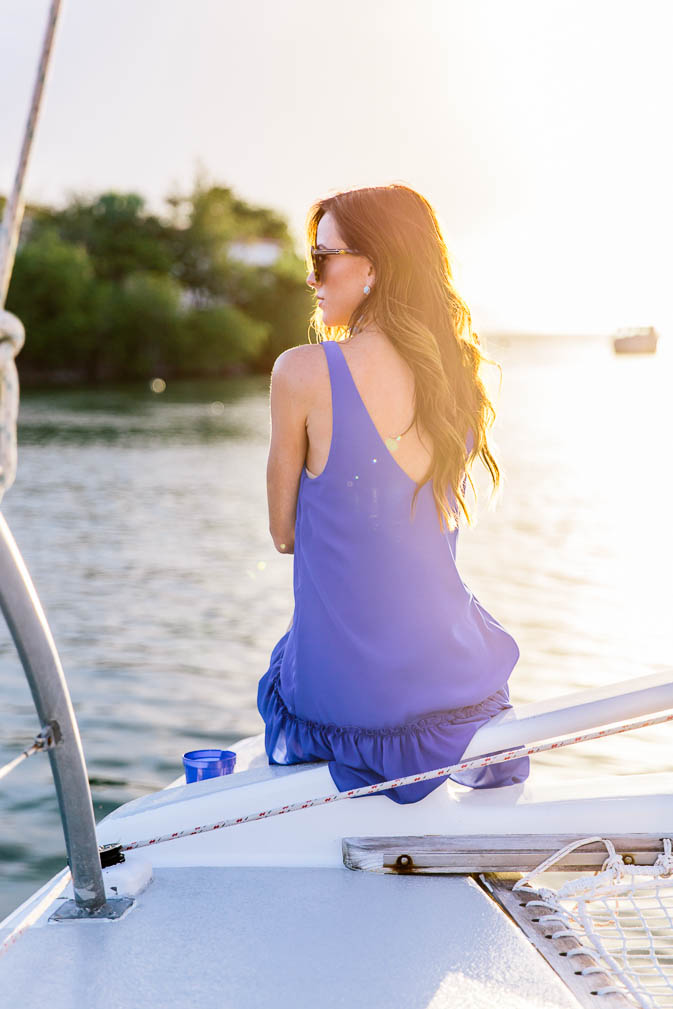 Hey there, loves!
A few weeks ago, I traveled down to St. Thomas to enjoy a weekend getaway at the Ritz Carlton. Kaylee, a good friend of mine from high school, went with me and we couldn't get over the endless beauty of the resort, which overlooks Great Bay and the island of St. John. Crystal clear turquoise water and the sound of wind rustling through palm tree fronds are two of my favorite things that the good Lord created and there were plenty of both there! It was so lovely waking up early, walking out on to my balcony and just taking those two things in slowly with my morning coffee. I definitely could have used a few more of those mornings! 😉
Mornings were always nice. We enjoyed the delicious breakfast spread that the Ritz Carlton offers in the club lounge to those who opt in to club access. All of the staff members were extremely kind and accommodating, always going above and beyond to make sure our stay was carefree and easy. Although St. Thomas has countless famous beaches and restaurants to check out, Kaylee and I were more than happy staying put. The Ritz had everything we were really hoping to get out of a weekend getaway … relaxing at a beautiful beach, soaking up some sun, getting some chapters read in the books we were reading and taking a dip in the pool! Both of us have been working so much lately, so we were really wanting to use this getaway as a small vacation. I went down to one of their beachside cabanas and enjoyed a 50-minute massage. It was divine! I highly recommend it if you happen to be staying at the Ritz Carlton in St. Thomas, or want to!
On our way down to St. Thomas, we got 'stuck' in San Juan, Puerto Rico due to some flight delays / issues. After checking in to the Ritz Carlton in San Juan, we quickly changed so we could take a look around the hotel before dinner. We found the most beautiful spot to take some outfit photos for this recent blog post, then we went up to the club lounge to grab a glass of complimentary champagne to watch the sunset. The sky was the most beautiful melting together of purple and blue. Check it out HERE.
I have to also say … if you ever get 'stuck' here like we did … you HAVE to go to BLT Steak. It was – hands down – our FAVORITE meal of the entire trip. Aside from the steak being absolutely delicious, every single appetizer and dessert that we tried was to-die-for! I feel like it's really hard to nail every single course between two people, you know? [Specifically, I recommend the Tuna Tartare appetizer and the Peanut Butter Chocolate Mousse for dessert!] Their service was on point, as well, which is HUGE for me.


Upon arriving in St. Thomas, we enjoyed breakfast at the club lounge then headed straight for their local beach along Great Bay. We did a little bit of work, shooting my Summer Beach Hair Product post, and then laid out for a good part of the day, seeking shade underneath our umbrella from time to time! Make sure you bring a wide-brim hat to wear out there! The sun is intense and you should definitely try and shield your face as much as possible! I forgot my big one so I was under the umbrella as much as possible!


That evening, we enjoyed a sunset catamaran ride on the Ritz Carlton's very own Lady Lynsey! Its crew takes it out a few times a week to do sunset rides over to St. John or out to a good snorkel spot. Be sure to contact the concierge to put yourself on an upcoming ride during your stay! We had so much fun snapping photos around the catamaran and meeting some fellow vacationers. Everyone was so fun and nice!
We arrived on St. John, the island Kenny Chesney lives on, right at sunset and had about an hour and a half to grab dinner at Extra Virgin Bistro. We were so impressed by this place. We tried so many things but I think my favorite was the Herb Gnocchi. One thing Kaylee and I were told that I thought was interesting was that it's really tough to eat fresh produce in the U.S. Virgin Islands because of the land but this restaurant has its own garden behind it so everything they use in their dishes is fresh from the garden!


More photos in this dress HERE!
Our next two days literally looked almost identical to each other hah, except one morning I went for my massage. We lounged by the pool and the beach both days and just, again, enjoyed being in slow down mode. Here are the two bikini's I wore on these two days, along with my float:

I did wear the triangle top version of the red scallop suit but I can't find it available anywhere online. Blame the 4th of July! Sorry about that!
On our second night in St. Thomas, we had dinner at Set to Sail. We had gotten lunch there a couple of times. If you lay out at the beach or the pool, there are staff members from the restaurant that walk around and serve guests from this restaurant so we'd ordered lunch there both days. The atmosphere is very casual and easy going. There was live music playing, which was really nice, and the food and service were delicious! Definitely go with the Surf & Turf!
Here is what I wore that night:


The last night we went to dinner at the Ritz Carlton's Italian restaurant called Essenza. Their head chef is originally from Rome so I had high expectations after my recent trip to Italy. We did have an amazing bolognese but I don't think the dishes were as amazing as I had hoped. I'd stay away from the risotto. I was disappointed with that dish in particular but the service was exceptional and the view from the balcony is stellar!
This was my outfit for the last night! I shared it on the blog HERE!


This was my outfit for the last night!
Overall, we had an amazing time in St. Thomas. We may not have explored as much as I normally do on my trips and getaways but, you know what, sometimes you just need some recharge time and that's what St. Thomas was for me! But, you can surely bet that the little explorer in me can't wait to go back and venture to all the places I missed … and there were plenty! 😉

Have you been to St. Thomas? What did I miss that I CAN'T miss next time?? 😉 Do tell! xo.