Hi lovelies! After receiving such great feedback from y'all after sharing two ways to style distressed boyfriend jeans, I'm even more excited about sharing today's post. As I mentioned last week, I receive a healthy number of post requests' regarding how to style something and, more often than not, it's a pair of jeans. This week, I'm excited to continue knocking out some of these 'how to style' posts with this one … How To Style Gray Jeans!
Gray jeans may seem difficult to style but they actually go with about as much as blue jeans do! You just have to be willing to take risks and play around with colors. As I did last week, I decided to keep the base of the outfit the same. So, in this case: my white swing tank and gray jeans will be the base of each outfit shared in todays' post. From there, you'll see that I've added different shoes, accessories and handbags to each post and, in some cases, blended to outfits together. The goal is to help you see how easy it is to style gray jeans but also showcase some great versatile pieces you may want to consider incorporating into your wardrobe. If you don't want to add anything to your current wardrobe, then this post is to simply help you see how to mix and match things in a complimentary fashion.
Your feedback on these posts are helpful and appreciated so please leave a comment below!
THE BASICS
Before we get in to the outfits themselves, let's start with the base of this outfit!
I have had this pair of gray denim skinnies for a couple of years now. I went to purchase this pair of PAIGE Denim skinnies during the NSale because I did like them but ended up returning them because, honestly, there's nothing wrong with the ones I've had for awhile. They're in perfect condition. This is the struggle of being a blogger. This is proof that I do keep clothes in my closet for quite some time if I know I'll get good use out of them BUT … they're, unfortunately, no longer available. So, I'm linking to some similar options that are available right now so you don't have to go digging:

Since its extremely hot outside right now in Florida, I decided that a loose-fitting, swing tank top would be the best pairing to these jeans. There's really no need to increase my chance of a heat stroke, right? But, if you want something a little more 'Fall' inspired, I would have gone with THIS long sleeve top. It's such a good basic for only $19!
Here are some more BASE-ic options:

OUTFIT 1
Gray jeans may seem hard to style but if you're new to it, just stick with neutrals! To give you an example, I opted for a camel cardigan that I snagged during the Nordstrom Sale which paired well with my favorite pair of leopard heels. I chose these cute statement earrings to tie it all together. I've had them in my jewelry case for awhile and I finally felt like this was the perfect outfit to showcase them in. I'm particularly fond of the color scheme within this outfit. It's giving me all the Fall feels 🙂
OUTFIT 2
It's the hottest time of year here in Florida so, if you're a jean girl like me but need to keep cool … this is a good outfit to pull inspiration from! While jeans aren't always the 'coolest' route to go, I always pair them with a loose fitting swing tank to offset it! I've always been a fan of pink and gray together so these pink shoes and earrings are a fun added pop of color! Sometimes neutrals like white and gray need that, amiright?
If pink isn't your color, these cute bauble earrings come in multiple colors!
Also, my pink pumps are unavailable and they're a little pricey anyway … so I'm linking a few other options that might [either] or fit your fancy / style more here: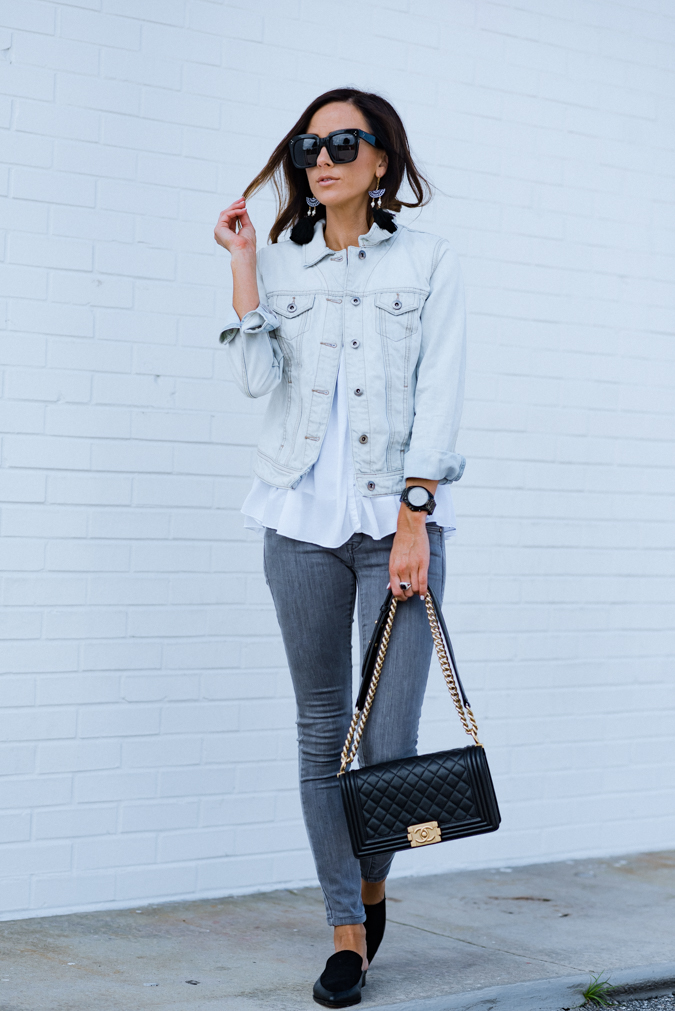 OUTFIT 3
I kept the same statement earrings and sunglasses in this outfit as I did in the first outfit to show you a different way to style them along with the two bases [the white top & gray jeans]. I threw on my Halogen slides that I snagged during the Nordstrom sale, an old jean jacket to lighten things up a bit and a handbag that match my shoes to tie it all together.
What do y'all think about this one?
OUTFIT 4
This outfit is literally just a blend of the first and second outfits within this post. I love how it all ties together effortlessly. I believe it does so because of the colors within the clutch. What do you guys think?
So, there you have it … four outfits that showcase how easy it is to style gray jeans! Of course there are so many other ways! You can pair them with booties, chunky knit cardigans like this one that I styled over the weekend, and over the knee boots! Please let me know if this was a helpful post for you and what other posts, like this one, that you'd like to see! What are you having trouble styling? 🙂 Thanks for stopping by! xo.