Hi there, lovelies!
I've had a few questions lately on how to style certain denim styles, like boyfriend denim, high-waisted denim and gray denim. I'm definitely a visual person and find a lot of inspiration from visual examples, so I thought I'd show you a couple of different ways to style each type over the next few weeks. Fall is coming around the corner and we'll all be living in denim and leggings so I feel like now is a good time to put together and share this kind of inspiration.'
Please let me know if there is anything else – or any other kinds of denim – you need some help styling and I'll see what I can do.
Another request that I get is to style multiple items within my closet more than once. So, instead of putting together two completely different outfits for this post I decided to keep the base outfit the same [the top & nd changed things up so you can see the versatility within the base. Does that make sense?
I've already shot the looks for gray jeans the same way so please let me know if you like this way of doing these kinds of posts!
THE BASICS
So I chose the basics of these two outfits around versatility and budget.
The top is a simple 'perfect fit' tee from J.Crew. Every year, they essentially keep the style the same with a flattering fit and the same medium thickness material. This year, though, the sleeves are a bit longer than they have been in the past and the crew neck is a little wider, but not technically a boat neck. There are always multiple colors available, as well.J.Crew runs big so go one size down from your normal. I'm wearing an XXS.
PRICE: $29.99
This pair distressed denim boyfriend jeans are one of my favorite recent purchases. If you've been a long-time reader of S&T, you know I have always been a big fan of BlankNYC [or Blank Denim] and they're coming out with some great quality, affordable pairs of jeans. These run true to size and have a really nice medium wash to them. I also love that they are slightly loose in the leg but not unflatteringly 'baggy'. The distressing is also not too intense so they can be dressed up without looking trashy, which I'm a huge fan of.
PRICE: $78.00
Here are some other basic options for you if these don't fit your fancy: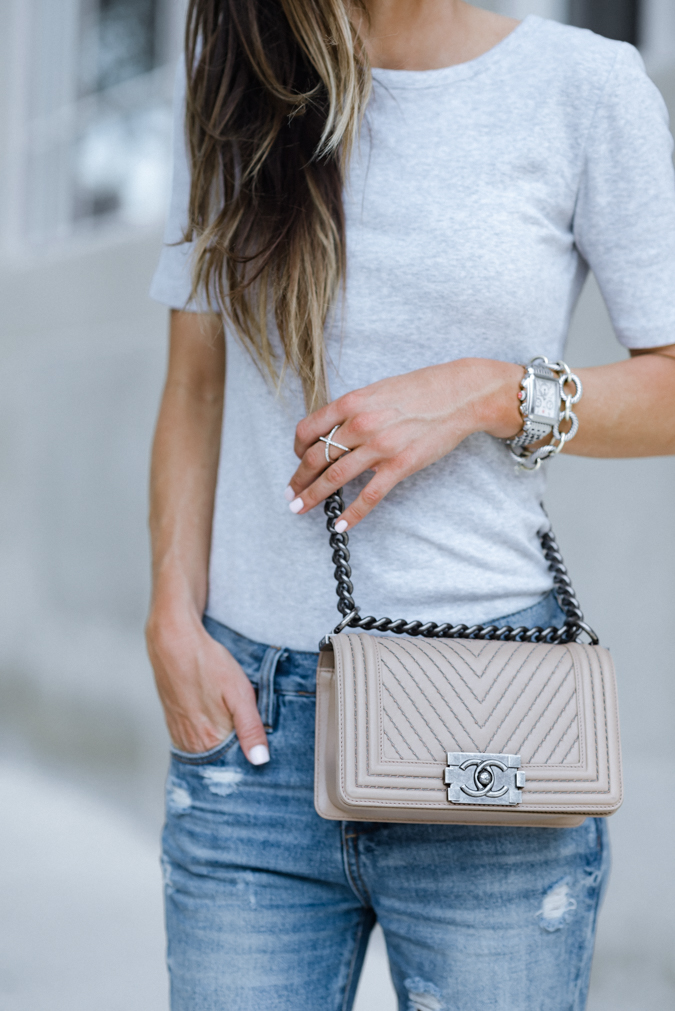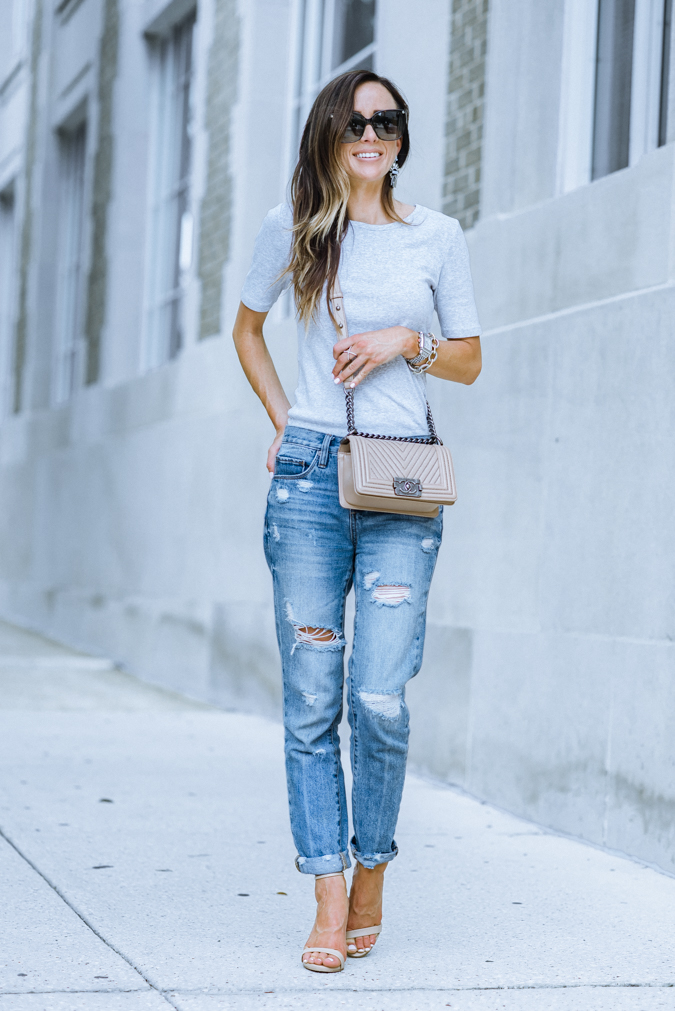 This first outfit is an example of how to dress up distressed boyfriend jeans. Tuck your simple tee in to add a little polish to the ensemble then add a pair of neutral heels, a complimentary handbag and some fun statement earrings … and you'll be all set!
This is a great option for a late summer night outfit and can transition nicely into Fall by simply adding a lightweight cardigan, which is the perfect segue into the second outfit.
This black cashmere cardigan, these slides and a belt to show off the high-waisted detail of these jeans are just the way to elevate this otherwise casual outfit in a chic way. While some may argue that distressed denim and chic can never be used in the same sentence, I'd like to humbly disagree. Make sure you size up half a size in the slides! They run a bit small.
I hope this was helpful for you guys! Next week, I'll be sharing three styling options for gray jeans. Similarly to this post, they all have the same base and some items within the outfits have been used multiple times. I hope it sparks some ideas and inspiration for y'all! Stay tuned!
Until then, have a great day! xo.