Buongiorno!
Florence is the capitol of the Tuscany region of Italy. It is said to be the birthplace of the Renaissance movement from [approximately] 1300 – 1700 AD and is home to some of the most famous and treasured art pieces in the world! It is visited by nearly 10 million tourists a year and, once you experience it yourself, you'll fully understand the draw. Due to its artistic and architectural stamp on history, and the preservation of most everything that makes it famous, both Forbes and Conde Nast Traveler have deemed Florence one of the most beautiful cities in the world. The Historic Centre of Florence is also deemed a World Heritage Site by UNESCO as of 1982. [This is important because UNESCO is an organization within the U.N. that aims to identify, protect and preserve the places throughout the world that are considered to be an outstanding asset to humanity. I am newly obsessed with this organization because it will allow future generations to experience these places as they should … as they were developed years ago!]
Last year, my friend Sarah Kate, my boyfriend at the time and I decided to take a mini road trip from Bologna, Italy down to Florence for the day, being that I had never been and both of them are obsessed with the city. We only spent a solid 12 hours there but filled it up nicely with pizza, exploring, gelato and lots of walking … which is essentially what traveling through any major Italian city should be like 😉 And, while I loved those 12 hours, I felt like there is more to see that I missed so when I was planning my European getaway with my friend, Victoria, earlier this year, I suggested we stop in Florence for a couple of days. She said it had been years since she had been and she definitely wanted to see it again, so we did and from those two experiences … I've compiled a few of my takeaways, must-see's, tips and restaurants rec's to share with y'all in this post!
• In the 14th century, the cultural movement called the 'Renaissance', meaning "rebirth", originated in Florence. This historical time period is considered the bridge between The Middle Ages and modern day when people in Italy experienced changes in art, architecture, and learning among other things. It began in Florence but eventually influenced all of Europe.
• Almost one-third of the worlds most treasured art resides in Florence in the Cathedral of Santa Maria del Fiore, the Church of Santa Croce, the Palazzo Vecchio, the Uffizi gallery, and the Palazzo Pitti.
• "Pinocchio", the beloved childhood character, was dreamed up by native Florentine Carlo Lorenzini in the 1880's.
• The famous statue of David by Michelangelo can be found in Florence's Galleria dell'Accademia.
• One of my favorite instruments, the piano, was invented in Florence in the 1700's.
• Florence is the home of Europe's very first paved streets.
• The Duomo took approximately 140 years to build! It's enormity is truly hard to capture and, when you see it in person, you can see why it took so long!
• Museo Ferragamo is home to more than 10,000 pairs of designer shoes!
• Florence was severely damaged during WWII, with all of its bridges being destroyed except for Ponte Vecchio which Hitler [supposedly] deemed too beautiful to destroy! See for yourself:
• If you travel through multiple cities in Italy, you'll notice the bread in Florence tastes different and it's because they make theirs without salt. There's a legend that says when the people of Pisa and Florence were against each other, the Pisans blocked shipments of salt to Florence in order to get the Florentines to surrender in whatever battle they were fighting. Instead, Florence was like … we don't need your salt. We'll make our bread without it.
• Gucci was founded in Florence in 1921. The original store is located in the center of Florence at Via Tornabuoni 73r – 81r Firenze, Italia 50123
• Dante Aligheri, a native Florentine, is credited with creating the standard Italian language, that the entire country uses to this day, in his native Florentine dialect.
Victoria and I had the pleasure of staying at a boutique hotel called Riva Lofts, set just a mile-and-a-half away from the city center, and thought it was an excellent experience overall.
Dress is Soft Joie but, unfortunately, no longer available. My earrings are Kate Spade. My sandals are Tory Burch. 
PRO'S
• The design of the property is an interesting mix of modern edge and romantic escape. There's a small seating area outside and a shared living room that is available to all guests, where they serve breakfast every morning. We found both of these areas to be very charming. From there, you'll find a large yard with some garden tables, a pool with lounger chairs as well as a few long benches and hammocks. Because of the design and aesthetic of the hotel, you could really recharge here, which I thoroughly enjoyed as Florence was our third stop of five. We had begun to feel the fatigue settling in our bones from hopping from one place to the other along with exploring each place so, literally, one afternoon we came back and just lounged by the pool with our Kindles and a couple of cappuccinos.
• We stayed in the Loft Studio, which was absolutely gorgeous. It had an nice open layout providing plenty of space to spread out, relax and recharge. Traveling is fun but can also be exhausting so right after Victoria and I checked in, we immediately collapsed, one of us on the sofa and the other in one of the beds.
• The Loft Studio has a modern and contemporary design, which I thought was really cool and unique.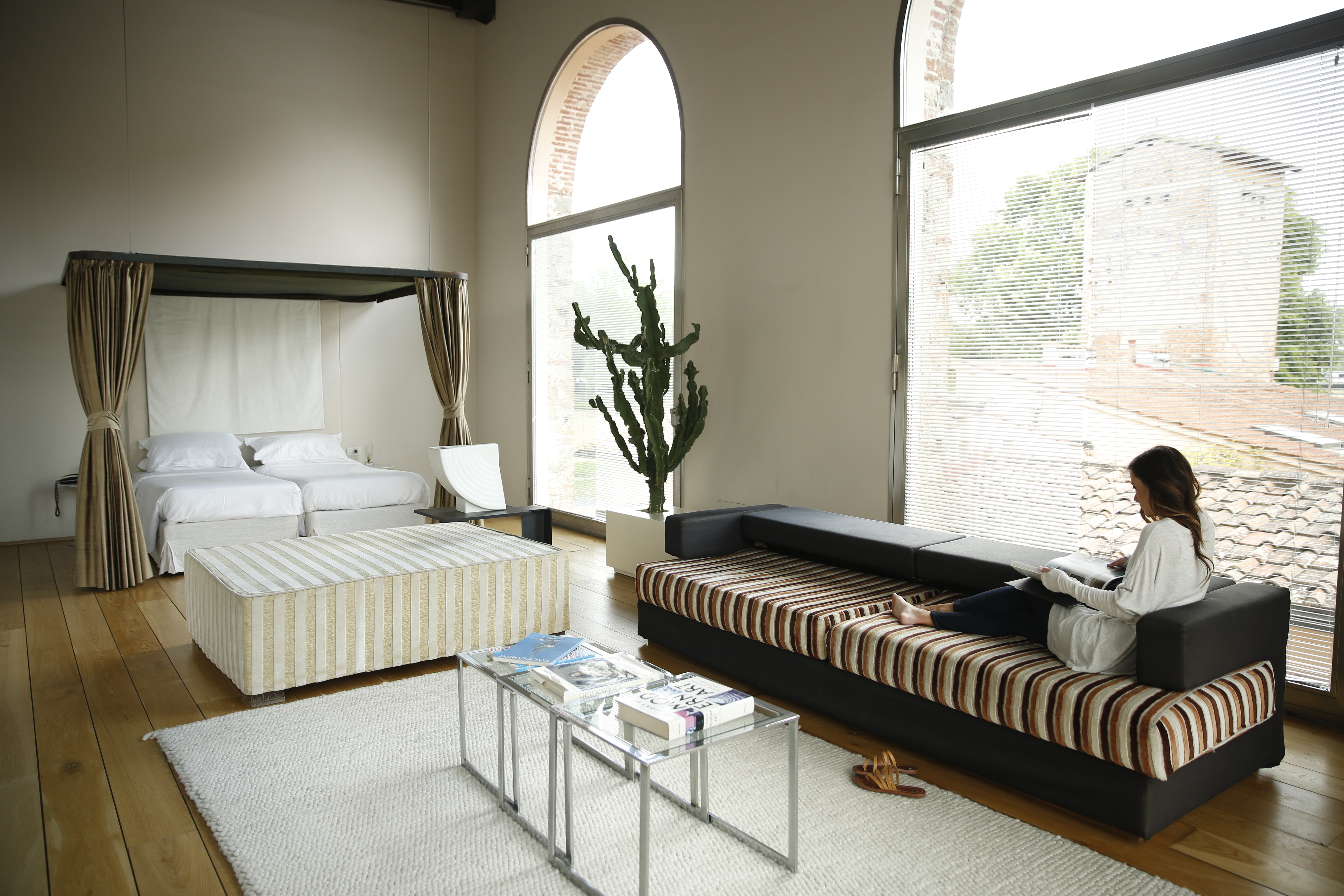 • It's just outside of the city center, approximately a mile and a half away. This could be seen as a pro or a con, depending on what you're looking for in a hotel during your stay in Florence. Personally, I am deeming it a pro because the location it was far enough away from the city center to give you a nice break from the hustle and bustle of the crowds that are ever-present. Hotels in the city are right in the mix of it all but there was a lot of S P A C E at Riva Lofts, not only in the lofts but on the property itself, which I know Victoria and I both appreciated.
• The front desk is open from 8:00am and 8:00pm. During that time, the receptionists' are available to call for a taxi anytime you need one. It costs between 12-25 Euro each way into the city center depending on your drop off point, and takes approximately 10-15 minutes. You can absolutely walk. It would take about 30-35 minutes which I'm sure would be a nice start to the day after you enjoy your breakfast croissant and cappuccino. 
• The premises is very quiet. All other guests that were staying in the hotel were very considerate and kind. It's a small hotel so this was a very pleasant aspect of our stay.
• The staff is extremely friendly and always available to answer any questions you may have. Most of them speak wonderful English but, obviously, you should try to at least start by speaking in Italian out of respect.
• A complimentary Italian breakfast buffet is available in an adorable shared living and kitchen area. All food options were very fresh and delicious! Victoria and I both enjoyed pigging out there each morning before heading out into the city. 🙂
CONS
• The beds are a bit hard when you first lay down, if I'm honest, but once we got home from dinner and ready for bed each night, we both fell asleep immediately. We enjoyed a much needed sleep in on our first morning there so, clearly, it didn't hinder my experience whatsoever.
• A con could be that it's not in the historic city center but, as I mentioned before, it could also be a pro so it just depends on your location preference.
• This isn't a huge deal but moreso just a heads up in case you aren't a fan of unexpected financial surprises [who is, really?] … As guests, you have to pay a city tax of 4.5 Euro per person per night. This is already included in the rate if you book the 'Riva online' rate on their website.
VIDEO TOUR
I shared a small tour of the Riva Lofts while I was there in April on Snapchat. I uploaded it and am sharing it here:
I saved my 24 hour story so my apologies that there are some other videos in there, as well 🙂
OTHER NOTES
• PARKING: They do have parking for guests. There are 3 parking spots in front of the entrance that are free of charge and one private garage space that is available upon request that is 20 Euro per night.
• APPROXIMATE COST PER NIGHT: $250-400 / night depending on the loft you're wanting to book and the time of year you're looking to stay there
• WIFI: There is WIFI that is free and available for guests in all lofts and in shared areas.
• LOCATION: Riva Lofts is located just outside of the city center, approximately a mile and a half away. By taxi, it takes approximately 10-15 minutes to get to your destination into the center of Florence, depending on your drop off point, and costs 15-25 Euro. On foot, you can reach the city center in approximately 35 minutes depending on pace. 
• AMENITIES: Complimentary Italian breakfast buffet each morning, kettle for coffee or tea in rooms, Wi-Fi internet connection, daily cleaning, bicycles available to use, swimming pool access, CD / DVD selection, and mini-bar in each loft.
Grazie [pronounced grat-zee-ay] – Thank you
Prego – You're welcome
Mi scusi – Excuse me/pardon me
Non parlo molto bene italiano – I don't speak Italian very well
Parla inglese? – Do you speak English?
Potrei vedere il menu? – May I see the menu?
Quanto costa? – How much is this?
Mi porti a questo indirizzo, por favore – Take me to this address, please
Posso avere il conto, per favore? – Can I have the bill, please?
Mi chiamo Haley! – My name is Haley!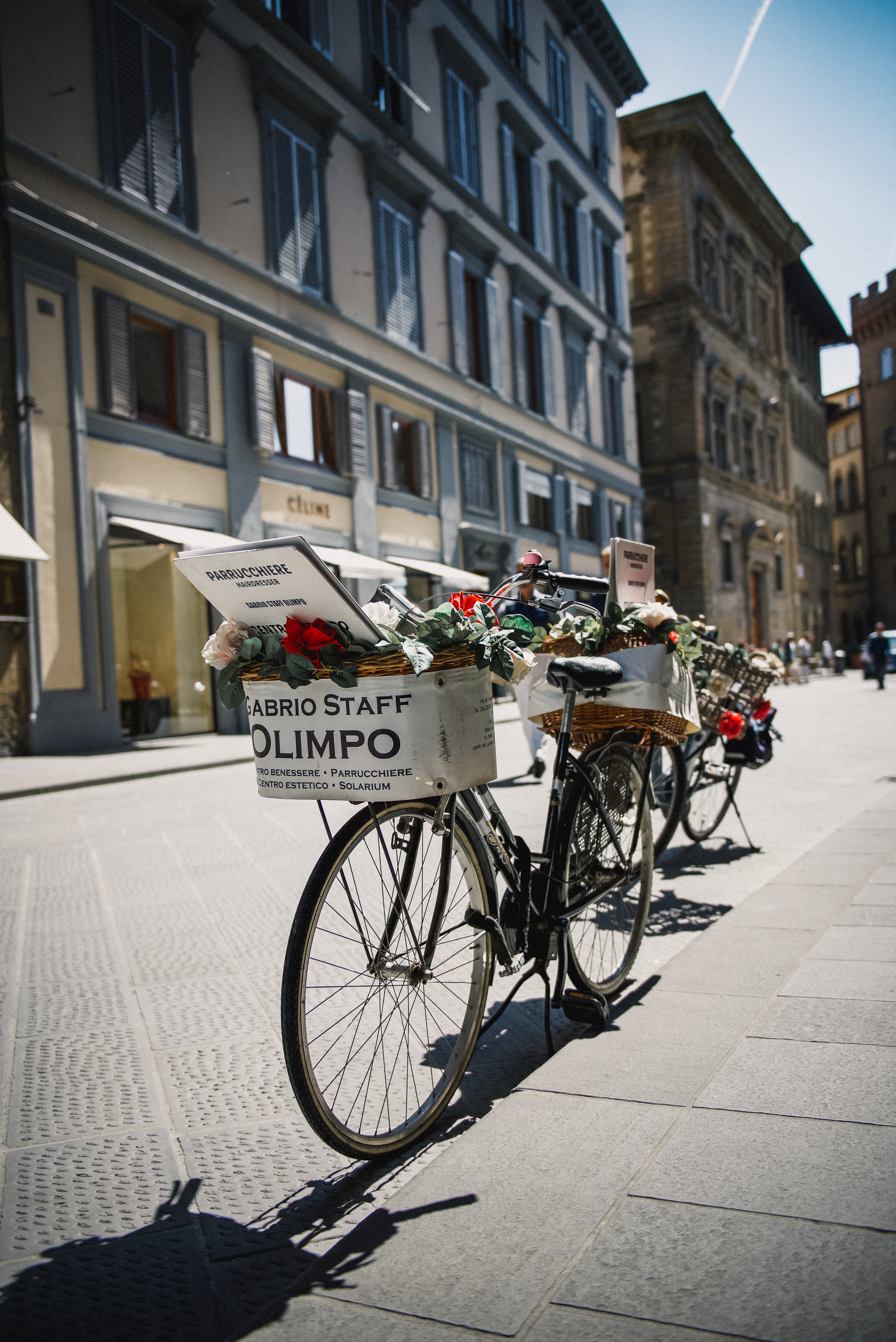 It could also be helpful to know the following 'places' you may need to refer to when speaking with locals:
Metropolitana: Subway
Treno: Train
Macchina: Car. Also known as auto
Autobus: Bus
Aeroporto: Airport
Taxi: Taxi
Ristorante: Restaurant
Albergo: Hotel
Banca: Bank. [Be sure to ask for a bancomat if you're looking for an ATM]
While in Florence, I received more restaurant recommendations than any other city I've been to on my travels! So, it'll be hard to have a bad meal on your trip which gives you so much more to love about this historic and beautiful city! I have a few that I'll mention based on personal experience and then I'll mention some of the others that friends and readers have recommended, as well!
PERSONAL RECOMMENDATIONS
GUSTA PIZZA – During my first trip to Florence, my friends and I popped into this pizza restaurant for lunch after a sorority sister of mine [who lives in Florence] recommended it! We each ordered our own pizza and .. y'all, they are gigantic! Beware or come hungry! I love Diavola pizza, which is spicy salami and arugula with spicy oil, and there's was AMAZING. Highly recommend this place!
ACQUA AL 2 – Victoria and I went here the last night we were in town after multiple readers and a close friend of mine told me it was a can't miss! We ordered the tasting menu and could not have been happier with our meal! We each had PLENTY! They bring you five of their pastas, five of their meat entrees and about four of their desserts! Everything was delicious! I don't think we had one bad thing. A lot of people love their blueberry steak. I don't think it was my favorite but it was definitely delicious and made me understand the hype! Make sure you make a reservation at least 24-36 hours in advance! 
FRANCESCO VINI – Victoria and I popped in to this place after grabbing a sunset cocktail and small bites at La Terrazza Lounge Bar, located at the top of Hotel Continentale, on the first night we were in town. It was a short walk away and our table had a nice little view of the Cathedral of Santa Maria del Fiore. I got the lasagne, I think, and honestly I don't remember what else but I remember that everything we ate was delicious and our server was so nice! We talked to him for awhile after our meal because we were one of the last people to leave the restaurant before it closed hah! Highly recommend this place! You'll really enjoy it!
A HOUSE CA.FE – This may seem like a random recommendation but this is where Victoria and I ate lunch one day. It was small, quiet and away from the crowds, which we were really needing when we went in there. We both liked the sandwiches that we got! They also had Wifi so we were able to kind of chill and get a little bit of work done there, as well.
FRIENDS & READERS' RECOMMENDATIONS
TRATTORIA SOSTANZA – I had a few readers recommend this restaurant. We really wanted to try it but didn't have enough time!
LA GIOSTRA – This restaurant was recommended very passionately by one of my best friends! She said it was 'lifeblood' and I'm really bummed I didn't have a chance to check it out after seeing the photos on line! Another reader said it was her favorite meal and recommended the burrata! Please note that it's cash only if you're interested in this one and you'll need to call ahead for a reservation!
OSTERIA CIPOLLA ROSSA – Someone on Snapchat said I had to try this restaurant!
4 LEONI – I had multiple recommendations for this restaurant! Someone recommended the pear pasta!
OSTERIA SANTO SPIRITO – A reader said this was her best meal in Florence. Make sure to call ahead and make a reservation (your hotel could potentially do this for you). She said she definitely try the panzanella!
TRATTORIA COCO LEZIONE – A reader recommended this one and said her meal was absolutely delicious!
DANTE'S PIZZA – This restaurant was recommended by a reader who studied abroad in Florence while she was in college. She said this place had – by far – the best pizza in Florence!
VICO DEL CARMINE – A reader said this restaurant is life-changing! She says that the locals go here and it's great for a casual nighttime meal.
OSTERIA CINGHIALE BIANCO – Another friend of mine told me that the truffle onion flan at this restaurant will change your life.
ENOTECA PINCHIORRI – This restaurant was recommended by a reader who says this is a really great restaurant if you're looking for something fancy. She said that she really enjoyed her food and experience, although she said that her experience at less expensive restaurants were a little better.
CIRO & SONS – A reader said she had a great meal here!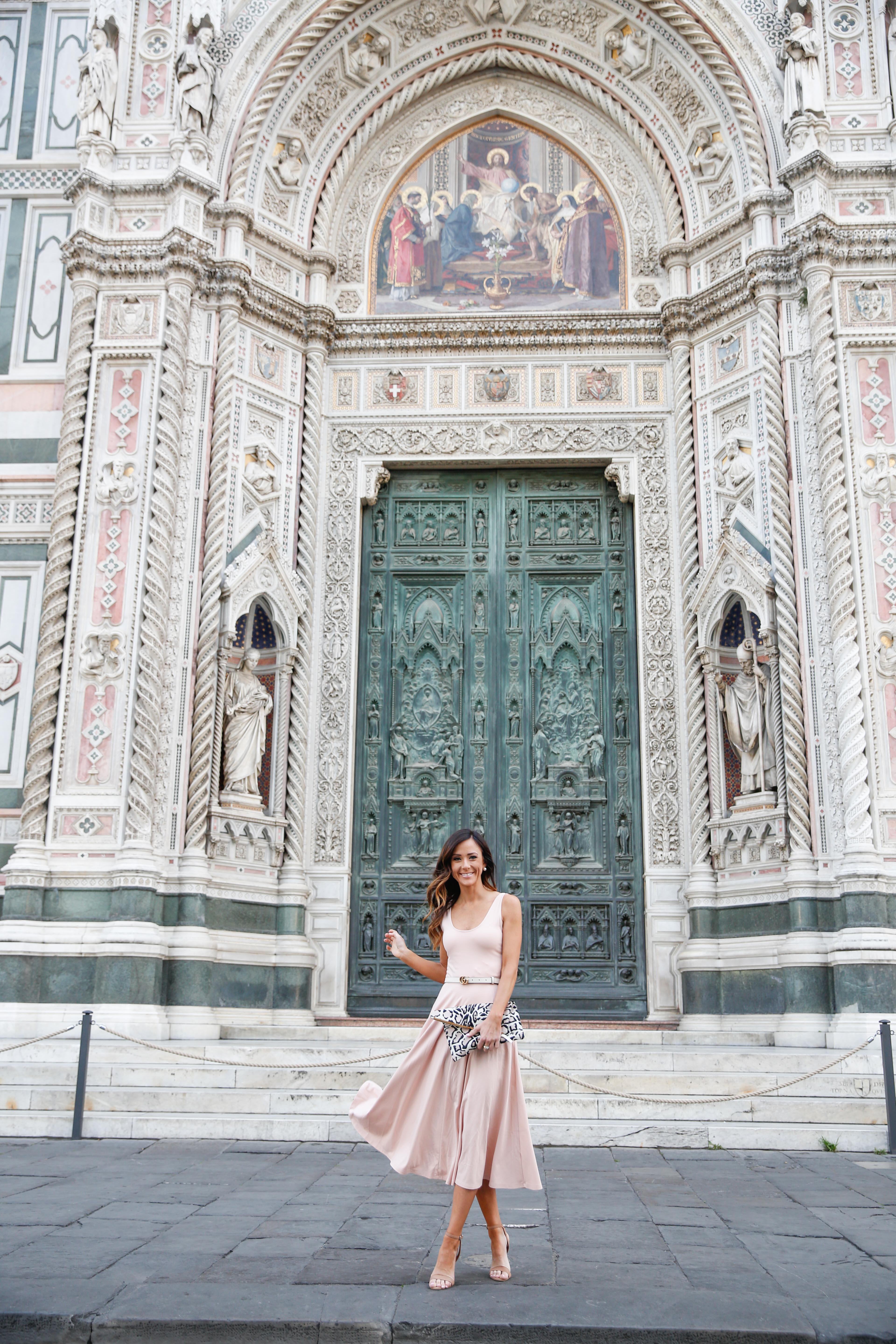 Details on this outfit can be found HERE.
HEADS UP!
There are a few things I want to mention about meals in Italy.
• Unlike the United States, Italians typically eat an appetizer, a first course [pasta], a second course [meat], then a dessert. You don't have to order each one of these but that's how meals are traditionally in Italia! 🙂
• If you're a salad person, they typically come after the main courses because they promote digestion.
• Servers don't expect large tips. Add 10% to the total on the bill as a tip! L
• Look for places that DON'T have pictures in the menu and DON'T have people outside of the restaurant coaxing you to come inside!! Those places are tourist traps.
• ALWAYS opt for the house white or red wine! It's not like here where the house wine is always questionable. The house wine in Italy doesn't have ANY sulfites in it so it's delicious and so cheap!
So, I typically share my trips' itinerary with you in my travel diaries, however, this one is going to be a bit different being that I'm sharing recommendations from two trips – my trip last year and this year. With that said, I'll share the things that I've done, enjoyed and would recommend you doing, as well!
• ENJOY PANORAMIC VIEWS FROM PIAZZALE MICHELANGELO – If you want a stunning, elevated view of the beautiful city of Florence, you will have to be sure to make it over to Piazzale Michaelangelo. It is truly an iconic site to see! Aside from the expansive view, this spot guarantees live music and – undoubtedly – a bit of a crowd!
You can check out the view, at last in part, from the photos in THIS post!
• WALK THROUGH GIARDINO BARDINI OR GIARDINO DI BOBILI – If you're not big on museums and prefer nature, perhaps, I'd suggest walking through either Bardini Gardens or Boboli Gardens. They're both open to the public at a small cost. We paid 7 Euro to walk through Giardino Bardini. We didn't realize what an amazing view it had of the Duomo. It was very similar to Piazzale Michaelangelo but not nearly as crowded! In early Spring, you'll find a beautiful wisteria arch within the gardens. It was beautiful! We also enjoyed a cocktail with a view at the little restaurant and terrace they have for guests to sit and relax at. We only got to walk through Bardini Gardens but heard it's gorgeous and much more expansive.
You can see that wisteria arch I spoke of in THIS post!
• OPT FOR A HAPPY HOUR COCKTAIL FROM A ROOFTOP WITH A VIEW – I've enjoyed sunset cocktails and bites from two amazing spots: La Terrazza Lounge Bar, at the top of Hotel Continentale, located right next to Ponte Vecchio, and Sesto on Arno Restaurant & Bar at the top of the Westin Excelsior, located just along the Arno River. I'd say your view will be much more stunning at the Westin, however, I'd certainly call ahead to put yourself on a list for a table. Both places are a little pricey, if I'm honest, so be aware of that going in! You don't have to be a guest of either hotel to go up on their rooftops. 
• GO SHOPPING! Florence is the birthplace of major fashion houses like Gucci, Roberto Cavalli and Salvatore Ferragamo and is home to bustling markets and shops, so it's an amazing place to snag something to bring home with you no matter your budget! I'd highly recommend walking down Via de' Tornabuoni, the most famous street to shop in Florence. It's where you'll find the likes of Prada, Dior, Celine and the original Gucci store. It's also where I snapped that photo of the cute bicycle in this post! Personally, I think if you're going to purchase designer, you might as well do it somewhere with a story so why not buy a little piece of Gucci where it originated, huh? 😉 I also like to purchase items that are specific to the place I'm in so, in Florence, I picked up a cashmere scarf from a local market because, aside from its designers, it's known for its authentic leather goods, truffle oil, olive oil and cashmere. I'm not a huge fan of markets but, if you do, head to San Lorenzo's market! It's a great place to pick up some souvenirs for loved ones back home!
• WALK ACROSS THE FAMOUS PONTE VECCHIO – The Ponte Vecchio is oldest bridge [it's name means 'Old Bridge'] in Florence and dates back to medieval times. [ FUN FACT: It was the only bridge the Germans didn't destroy during WWII. ] There have been shops along the Ponte Vecchio since the 13th century but in the late 1500's, there was a decree that stated that only goldsmiths and jewelers be allowed to have their shops along the Ponte Vecchio. It is still this way to this day. I'm honestly not sure what the quality of these shops is like, as I just walked across it to say I have. I'm not a huge fan of crowds so I walked across pretty fast haha!
• SEE THE SIGHTS – There are so many sites to see in Florence and I can't pretend that I've seen them all. Here's a list of what you need to consider adding to your itinerary: The Duomo, the Florence Baptistery, Uffizi Gallery, Ponte Vecchio, Santa Maria Novella, Santa Croce, the Statue of David at the Galleria dell'Accademia, and the Gucci Museum!
• INDULGE – You're in Italy so, last but not least, drink the wine, eat the gelato … and go for an extra slice of bread! [Just remember, there's no salt in the bread in Florence so it's kind of … dry]
• SIGN UP FOR A COOKING CLASS – I'm not sure exactly where to direct you to do this but I can't imagine you'll have a bad experience doing this in a place like Florence!
• TACK ON A COUPLE OF EXTRA DAYS FOR A SHORT VENTURE OVER TO CINQUE TERRE – This little area of Italy is in a bit of an odd spot or I think it'd be even more popular than it already is. It's not really in a 'convenient' spot to get to from some of the most popular cities in Italy, so I think the only tourists that go are the ones that [1] know about it and [2] add the necessary number of days on to their trip to go to it. It's essentially a string of seaside villages and towns along the Italian Riviera's rocky coastline. It's on my list of places to go to in the next couple of years. I have a beautiful photo by Gray Malin hanging in my guest bathroom of Monterosso al Mare, one of the five villages within Cinque Terre, and I'm determined to check it off my bucket list! It looks absolutely beautiful from what I see in pictures and on social media, and it seems the easiest jumping off point would be from Florence. So, if you're looking to head somewhere a little bit quieter – although I'm sure there are plenty of tourists in Cinque Terre – I'd suggest venturing by train over to Cinque Terre.
• TAKE A WINE TOUR IN THE TUSCAN COUNTRYSIDE – Have you ever seen Under The Tuscan Sun? I watched it a few years ago and fell in love with how beautiful Tuscany looked! Taking your vacation out into the countryside could be such a nice respite after venturing through some of the busiest cities to see in Italy!
• HEAD TO THE TOP OF THE DUOMO – We were going to do this on my first trip to Florence but we ran out of time, unfortunately. I definitely want to do it in the future. I've heard it's a stunning view although it's quite the hike with 463 steps between the bottom and the top 🙂
• DESTINATION HIGH SEASON: The busiest season for Florence is July through early September. The best months to travel to Florence, or Italy in general, is April to June and mid-September through October. This is when the weather is more comfortable and the crowds aren't as intense! I've always gone in April and I truly believe it's the best time to see the cities! I went to Rome in August last year and it was so uncomfortable!
• TAXI PAYMENT: There is no Uber in Florence, only taxi's. Be sure to have cash on hand before getting in! They do not accept credit or debit cards.
• TIPPING: Add 10% to your overall bill!
• LANGUAGE: There are quite a few Italians in large cities, like Florence and Rome, that know a good bit of English but, out of respect, you should always do your best to communicate in basic Italian. They'll know you're English-speaking but they'll at least respect that you tried. Google Translate is a great tool to help you with pronunciation while you're prepping for your trip! 🙂
• GOOD TO KNOW:
– To go coffee in Italy does not exist. You always drink your coffee at the cafe, whether you're at the bar or at a table. No 'to go' cups.
– Caffe Latte's are a morning drink so just know you may get an odd look if that's what you order after your lunch. 
– In Italy, you have the bar and the table setting / service. Most of the time, restaurants will charge a little more for whatever you order if you sit down. For example, at the bar of one cafe … our coffee's would have been 2.50 Euro but, since we sat down they added a 3.50 charge. It's not usually that ridiculous of an up-charge but just know that if you're bill seems a little pricey … and you're sitting … that's why. Typically, according to Victoria, it's around 1 Euro for an espresso or macchiato and 2 Euro for cappuccino or caffe latte at the bar. Always check the menu before you order at your seat!  
– In Italy, salad comes at the end of the meal because it's a great digestive meal and Italians are big on digestion.
– Many businesses close during the mid-afternoon hours for their midday 'riposo'.
– Italy is a part of the Schengen Zone so, if you're coming into it from another country within the Schengen Zone … you won't get your passport stamped, unfortunately. I didn't even see a place to ask them to, to be honest. I was really bummed.
– Local merchants can call cabs for you or you can use the app it Taxi. 
– Florence is a much smaller city than Rome with equally as many people wanting to see and explore its museums, historical artifacts and landmarks. Be prepared for crowded streets, long waits, selfie sticks and not-so-great cappuccinos in the heart of the city. MY TIP: Get up early and start your day exploring the spots that are likely to draw the MOST crowds, like the Duomo and Ponte Vecchio. You can buy tickets to venture to the top of the Duomo but, again, I'd say buy a ticket for the earliest time you can get. We got into the city center at 8:30 and there were already tour groups and families taking pictures around it. 
• WHO SHOULD VISIT THIS DESTINATION: Florence is a destination for anyone who loves art, architecture, fashion and history. It's a romantic city with lots to see and amazing restaurants to enjoy!
Well … I think that about does it! If you have any questions or any other suggestions to add, please leave them in the comments below!! I would love to go back to Florence one day. I still have lots to see there so I'd love to hear what you did and what I should do next time I go 🙂
Hope this post was helpful for anyone who is out there planning their Florence trip! Please be sure to check out my International Packing Must-Have's post as well as the packing list I curated for anyone heading to Italy in the summer!
Thanks for stopping by! xo.