Travel is something I've been able to do a lot of in the last couple of years, whether it be for work or with friends! During that time, through trial and error, I've come to rely on a few beauty products, in particular, that have made me feel put together and ready to explore while not adding too much to the load needing to be carried! I've broken them down by MAKEUP, SKIN and HAIR to make them easier to digest and am hoping that by sharing these, it could potentially make your travels a little easier, as well!
All of these products are available at your local Nordstrom or are just a click away on Nordstrom's online website, which is so convenient! I'm likely trying to tie up ALL of my loose-ends at work before packing and getting ready to head out of town and knowing you don't have THAT many errands to run, that I only need to stop at ONE place for multiple things, always puts my mind to ease.
Don't forget to leave me a comment when you're done skimming! I'd love to know what products you NEVER leave home without!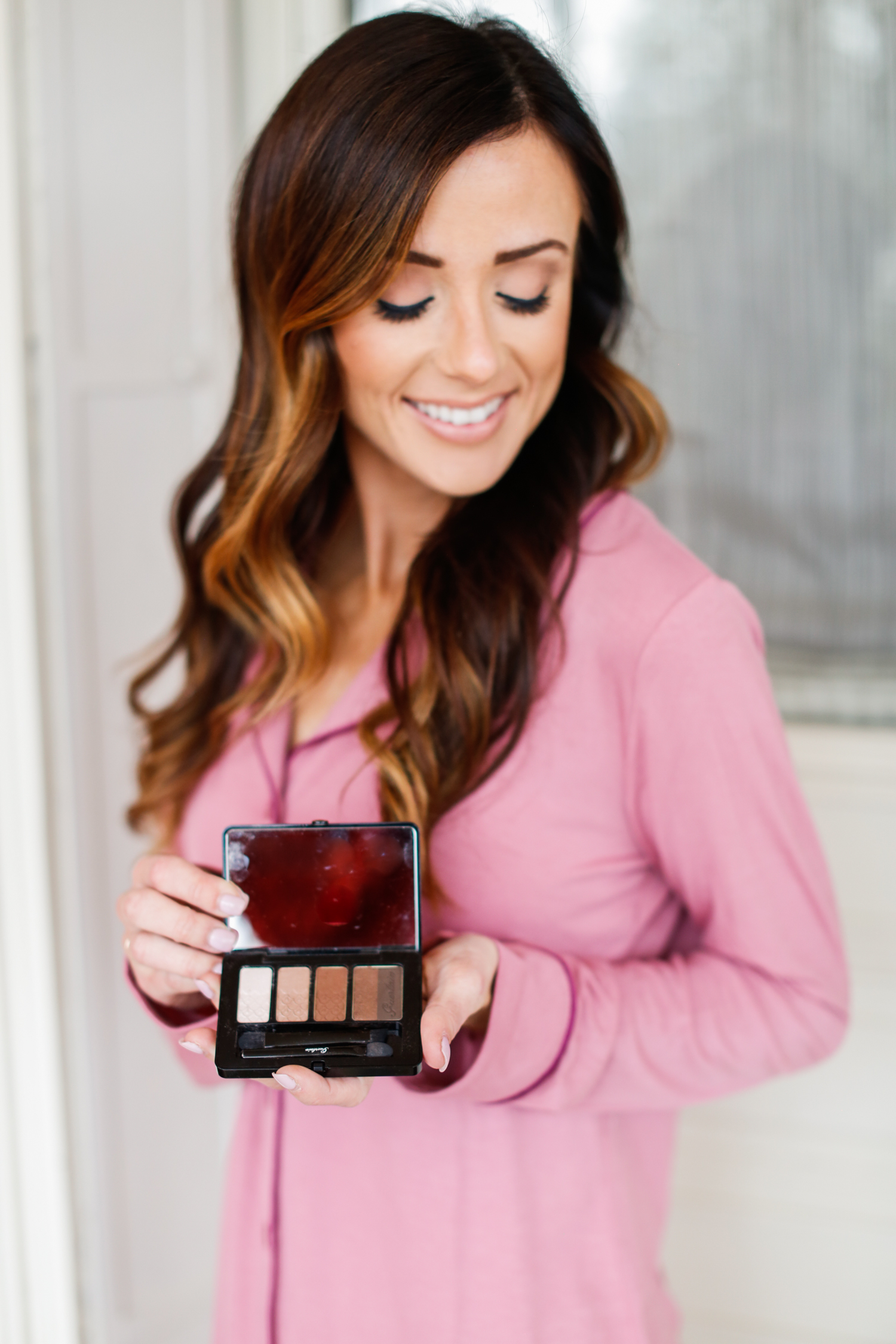 I consider myself a girly girl. I love trying out new makeup and have more makeup than is probably necessary for one girl to have. But, I've learned from experience that makeup can be one of those things that can really weigh down your bag. It's really important to keep it to the essentials and not go overboard with 'extras'. To give you an idea, I bring foundation, two colors of concealer, a contour kit, one shade of blush, two eyeliners, mascara, and pressed powder. The one thing that is KEY for anyone who is like me [and likes to have eyeshadow options when they travel] is small eyeshadow palettes. I would recommend sticking to square eyeshadow kits over the long ones. They fit in cosmetic cases much more easily. It took awhile but, I finally found a smaller compact one that has five colors, all of which I absolutely love!
• Guerlain '5 Couleurs' Eye Palette: My go to shades are a really, really light color as my base and then a few neutral browns and this palette is essentially all of the individual colors that I already have and love, and always go to grab, all in one small compact set. It's PERFECT for travel and I'm so glad I finally found it 🙂 So, now, this is the one eyeshadow palette I won't travel without.
Here are some other small ones that may work for you based on the colors you tend to use:

I ordered THIS one, which is blush, bronzer and eyeshadow all in one but it didn't come in in time. I think it's a great little palette that would take away my need to carry a contour kit and the blush I always bring. Less products = less weight!
I also tend to bring a pouch full of a few nude and light pink lip colors and lip glosses, but will NEVER leave the house without:
• Jack Black's Intense Therapy Lip Balm with SPF 25: It tingles when you put it on. It comes in multiple scents. It protects and nourishes your lips like the major champ that it is. I have used this product for years, starting when I lived in Colorado and my hands and lips were drier than they had EVER been. It's crazy how well it works. I take it everywhere with me. It looks like there are some really cute holiday gift options for friends or family here:

Obviously you need something to carry all of your makeup in. On this last trip I went on, to France, I used this makeup carrier by Kate Spade. It was really spacious. The only thing it couldn't carry were my brushes so I used a long pouch like this one.
When you're traveling, your skin can take a beating whether it's being deprived of the normal amount of oxygen on airplanes or sustaining breakage from a terrible shoe choice. Aside from increasing my water consumption, I always bring my normal skin routine heroes [that are mentioned in THIS post] but there are definitely some other products that I never leave home without!
• Clinique Moisture Surge Intense Skin Fortifying Hydrator: After a really long trip, I bought this in an airport because my skin felt SO dry, even after using my normal skin moisturizer consistently. I don't typically need to use this product when I'm home but, I've found that my skin tends to dry out with travel and the extra moisture this product provides is just what my skin needs for nourishment. I also particularly like this product because it's hydrating without adding more oil to my already normal-to-oily skin makeup.
• Peter Thomas Roth PM Serum: Retinol is highly effective in reversing sun damage and signs of aging. If you've been following me for awhile, you know I'm in the process of having multiple monthly laser treatments done to improve the quality of my skin after years of being pretty reckless with my skin care regimen … or lack there of, really. My skin care regimen is more important than ever now and this product helps to kill off surface skin cells and promotes the growth of new ones to then yield an even skin tone and texture as well as a healthy complexion. It also has Vitamin C & E to provide moisture to the skin. This product is oil-free, fragrance-free, paraben-free and sulfate-free.
• Peter Thomas Roth Travel-Size Face Mask Kit: I carry these travel-size masks with me because they offer a variety of cures to whatever issue my skin could be having due to travel. If you've taken a trip to Arizona in June, the Cucumber Gel Mask can help to calm and nourish dry skin. If you're spending a week in a big city like New York, Atlanta or Paris for work or play, you might want to apply the Pumpkin Enzymatic Dermal Resurfacer Mask to help purify your pores of polluted air from car and truck exhaust, fossil fuel, etc you've been exposed to as you've been walking around the busy streets. I just love that these masks can cover a multitude of sins in a small package!
• KNC Beauty Lip Mask Set: These little lip masks fit neatly in the pocket of my large toiletry bag and I apply one mask to my lips and let it sit for 15-20 minutes. It tingles as the collagen infuses into your lips to leave them plump, smooth and hydrated!
• Clarisonic Mia FIT: Caring for your skin is hard enough when you travel due to the unforeseen conditions you'll be experiencing. Bringing the Mia FIT is the perfect way to give your face a deep clean.
• YSL 'Mon Paris' Eau de Parfum Travel Spray: When your favorite perfume comes in a travel size, it makes it so easy to answer the question of whether to bring it with you or not! These literally weigh nothing and spraying your signature scent on to start your day makes travel feel a little more like home!

Discoveries on this last trip in regard to skincare:
• I recently got two massive blisters on both of my heels after trying a very short distance in London. You really wouldn't believe how bad they were for how long I walked – MAYBE 15 minutes worth of walking which, in London, isn't much. Even the smallest trip in new shoes can lead to skin breakdown and pain which will, in turn, make it more difficult to enjoy yourself. So, now, I won't be leaving home without Compeed Blister Cushions. They were a life-saver! Not only did they protect my blisters but they also helped to heel them. What more can you ask for?
• I was perusing different oils to potentially bring with me on my next long trip that could alleviate muscle tension and soreness and came across this Aveda Soothing Oil. Have you tried it? If so, please leave a comment below and let me know if you like it and think it does what it's meant to do. I'm always a little weary but I usually love Aveda products so I'm tempted.
When you're traveling, you really don't HAVE to do your hair … or your makeup, really. You can use your travels to just embrace NOT getting fully ready. I totally respect that. But, if you're like me, you just want to get yourself a little cleaned up and polished. It doesn't have to be over-the-top. I just like to refresh a few of my curls. This is pretty easy to do when you're traveling commercially because you don't run into a plug and voltage issue but, my first few times traveling abroad … I learned that an adapter doesn't really cut it for most hair tools. And, for sake of not inconveniencing the people I was traveling with, I just ended up throwing my hair up or leaving my hair as it was that day. So, this is my list of hair products that I don't leave home without and, if you're traveling abroad soon, I'm sharing what you need to ensure you DON'T fry your hair tools like I have! 🙂
• Aveda 'Shampure' Dry Shampoo: This is one of my favorite dry shampoo's. My hair looks the best when it's dirty. This product cleans up the part of dirty hair that I don't particularly like … the oil at my roots … so that I can still take advantage of how easy it is to style when it's been 3 or 4 days since I've washed it. I just get the smaller container of it so you don't have to bring a big can.
• Aveda 'Air Control' Hair Spray: So, this has been my ride or die hair spray since my college years and I'm still pretty attached to it. I think it smells good and maintains my curls really well. It also comes in travel size, which makes it easy to bring it with me when I travel.
• Oribe Dry Texturizing Spray: I discovered Oribe's Dry Texturizing Spray a few years ago and think it does the best job adding some much texture to my otherwise fine hair. It's one of the staples in my daily hair routine and being able to maintain a sense of normalcy while traveling adds a little comfort to days that carry the potential of being a little uncertain or unnerving at times.
• ghd curve® Creative Curl Wand: When you travel, it's really important to bring dual voltage curling wands with you so that you don't have to mess with bringing a converter along on your journey. If this is the case then all you'll need is an adaptor. I didn't know this last year when I traveled to Rome and didn't have a curling wand that was dual voltage. I ended up buying this one because I had heard such great things about it. Well, turns out … it's dual voltage so, even though it doesn't have an American plug, I could technically use it here in the States with one of my adaptors. Pretty handy as it is a great wand but I had only been using it during my travels abroad. Aside from that fun fact, it also curls my hair really well and turns off automatically after 30-minutes so it's safe to use no matter where you are! 🙂
So, these are my ride-or-die beauty products when I travel. What are yours?