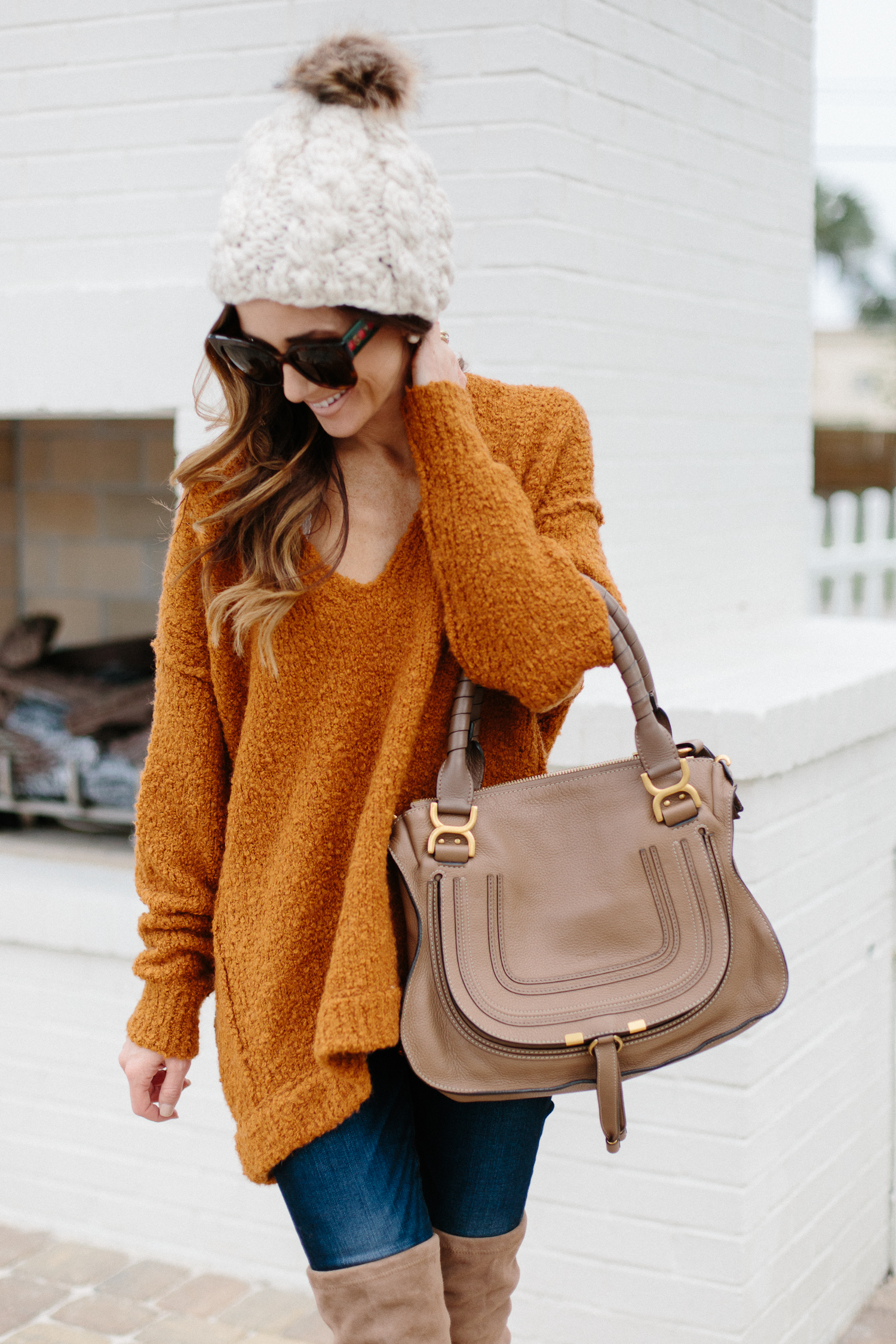 Hey there, lovelies! Happy Wednesday!
Thanksgiving is around the corner so I thought I'd share an easy outfit idea for anyone who isn't sure what they're going to wear or haven't had time to think about it! I bought this oversized chunky sweater last week and am pretty confident about the fact that it will serve you well on Thanksgiving Day. First, it comes in quite a few Fall inspired colors, one of which will surely fit your fancy, and will also likely compliment the table scape at your parents house. You'll be very festive and who doesn't love that? 🙂 Second, it's made of really warm material, which is obviously an important quality for any sweater that you allow into your wardrobe to possess. Now let's talk about food babies … I think, by now, we all know that food babies are a necessary evil if you want to truly enjoy your Thanksgiving. I personally just choose to embrace it but you don't want to constrict the growth of the food baby [gotta go back for seconds AND dessert!] so I always opt for a loose-fitting top so that the baby can grow as big as it needs to … hah! Then, I usually change in to leggings or pajama pants and fall asleep on the couch while watching football.
Isn't Thanksgiving the best??
I'm extra excited for it this year because I was in London last year and I missed it. I ate Italian at a restaurant in Mayfair … which was fine! Hah, but it was one of the only days that I missed being home. Actually, it was the only day. So, anyway, really looking forward to next week 🙂
If you're looking for some more Thanksgiving Day outfit ideas, be sure to take a peek at these options:

Anyone looking forward to Black Friday & Cyber Monday? Where are you looking to save big? Let me know so I can know what to update y'all on! I think sales are going to go live throughout next week and not wait until Black Friday. That's been a growing trend over the last couple of years!
Thanks for stopping by today! Appreciate it! xo.