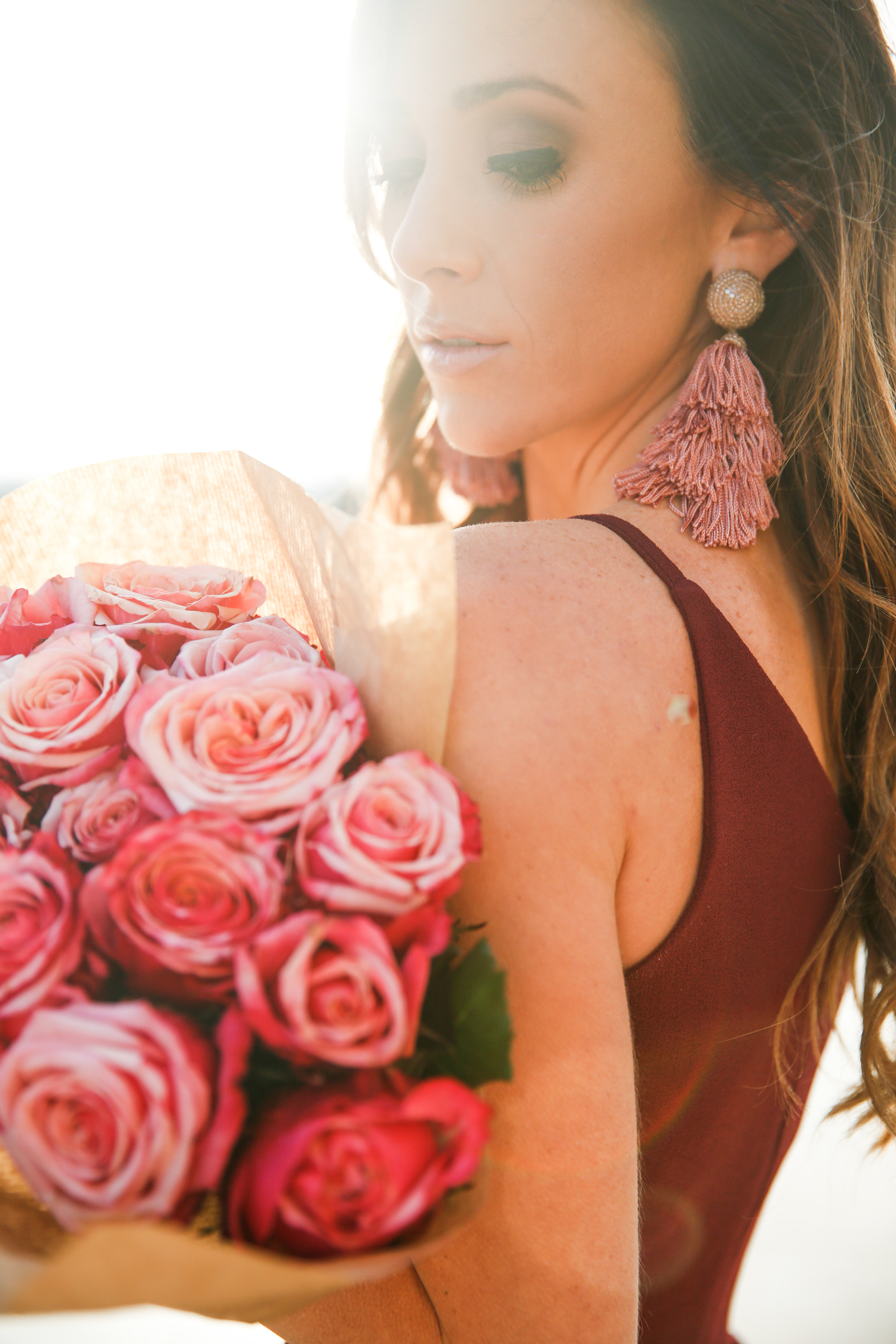 Hey there, lovelies!
Fall is great for so many reasons and one of them is how easy this time of year makes celebrating special occasions. The color options are regal and classy. The weather tends to cooperate more. When you need a quick break from the dance floor, you step away to the refreshment table and you're met with the crisp air that helps cool you off immediately. Then, when you need a little warmth, you take a few more sips of your champagne before heading back out there! Just take a minute and compare that to what the last summer wedding or baby shower was like … 😉
Even thought we're in the thick of the Fall season and heading into the holidays, I figured it can't be too late to help you find a dress for any upcoming celebrations. I instantly fell in love with this beautiful burgundy number a few weeks before my trip to Paris. Every season, I get questions about what to wear to special occasions, so I knew when I saw it that it had to be the dress I wore in this post and I decided Paris was the perfect place to take photos in it. But, I was nervous that it was going to sell out before I'd be able to share it with you but … WE GOT REALLY LUCKY! Because … not only is it available in this color but it's now available in FOUR other color options and ALL of them are so perfect for this time of year! I'm typically a 00 so I ordered the XS in this dress. When I received it, it was a little big on me so I had it altered down to fit me a tiny bit. The product page says it runs small so, the fact that I had to get my normal size sized down to fit me tells me that it doesn't actually run small. I'd say it runs true to size but, keep in mind, everyone's bust size is different so this opinion may be different depending on the person. Please leave your experience in the comments below for others to use for reference. This was just mine 🙂 Overall, I love this dress. I think the skirt is literally the dreamiest and the fitted bodice compliments it so well. I highly recommend this dress!
Here are some other options for you to consider that caught my eye! I threw some accessories and shoes in there, as well!

There are options under $50, under $100, under $150 and one dress under $300. Hope those price points work for everyone! Happy shopping and celebratinggg! 🙂
Au revoir, les amis! xo.