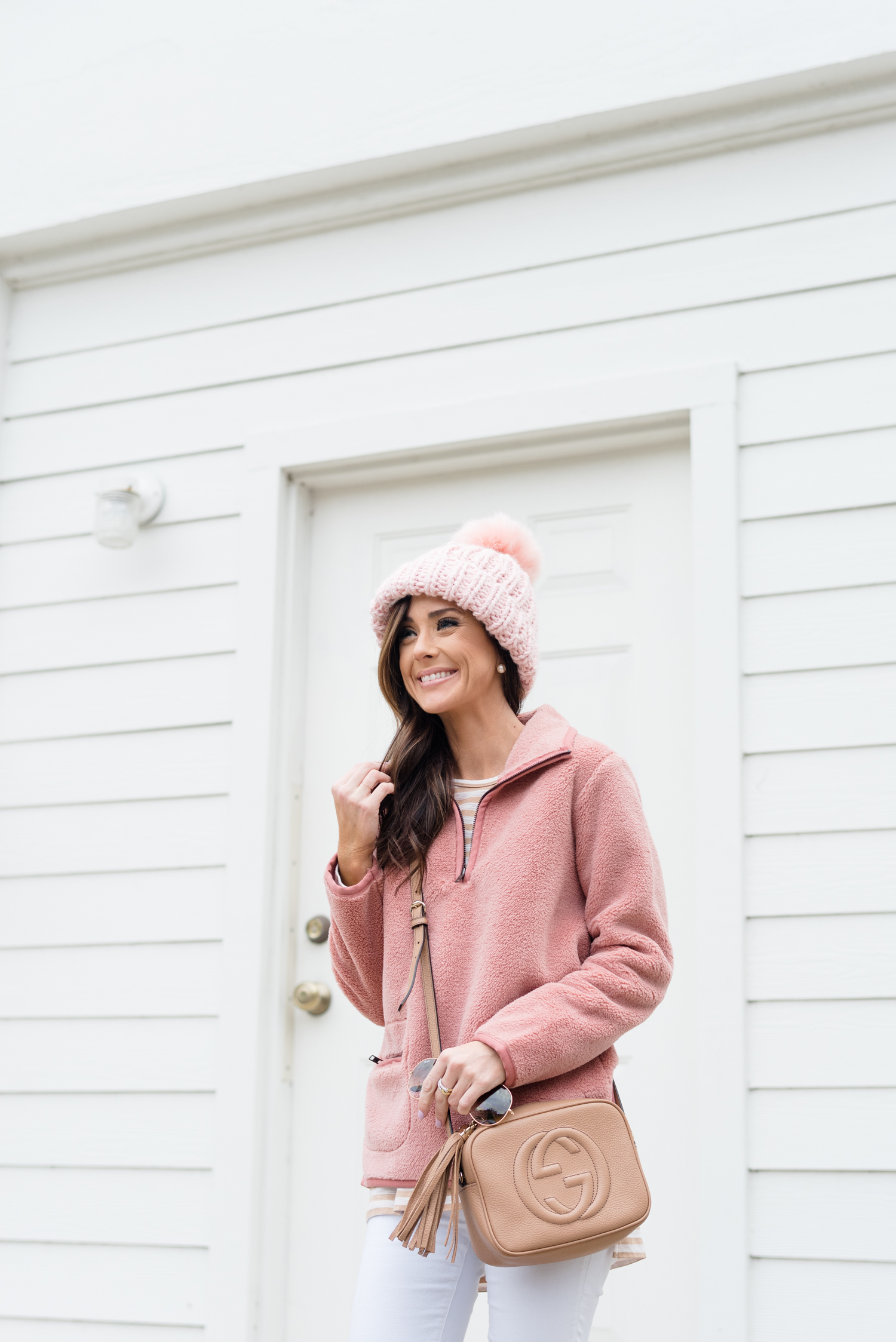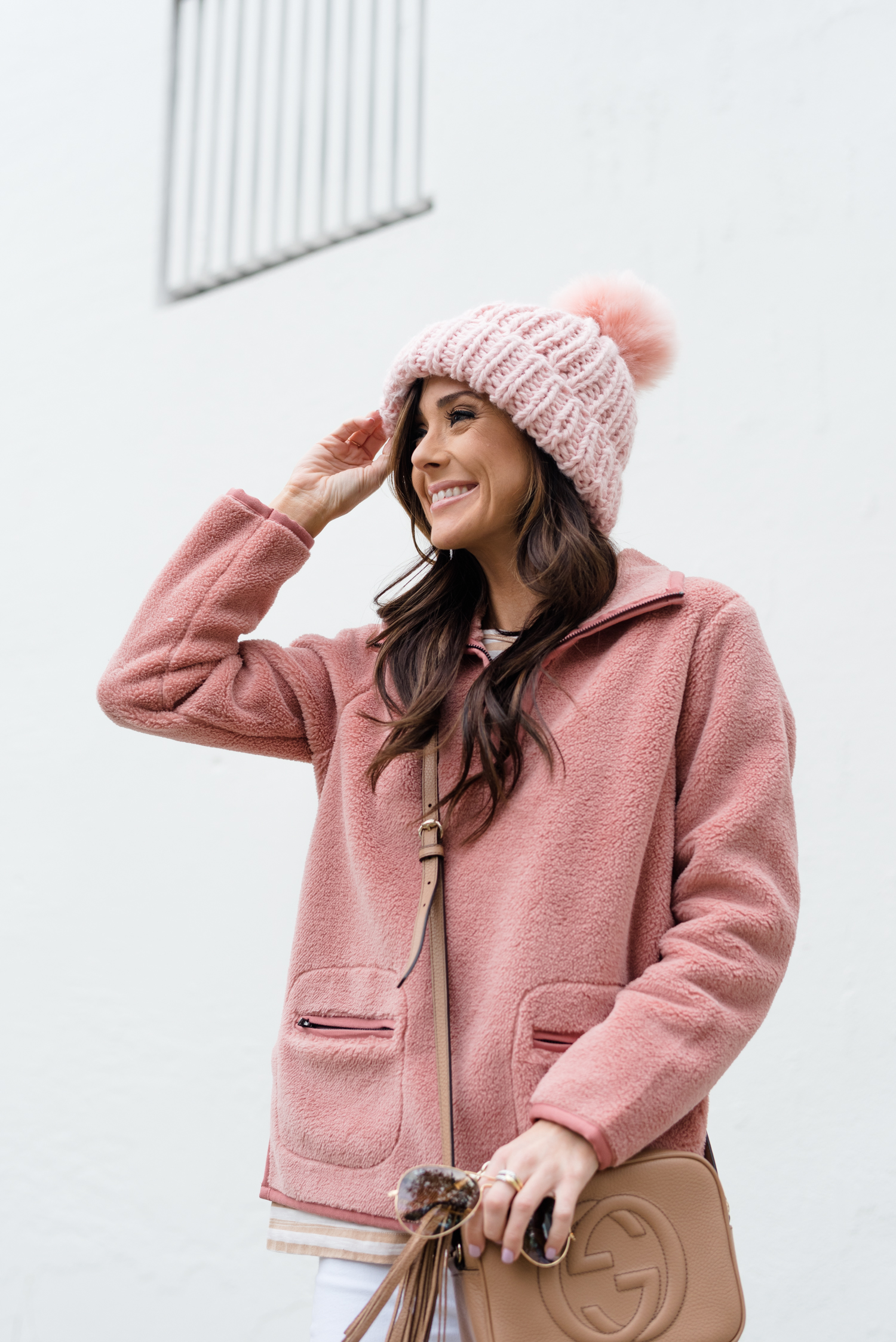 Hey there, friends! Happy Weekend!
I'm currently curled up with the boys on the couch and watching an old movie, one of my Mom's favorites, Meet Me In St. Louis. It's the movie where Judy Garland sings that classic version of 'Have Yourself a Merry Little Christmas'. I've actually never seen it so I decided to finally do it. I'm starting to feel a little better now that I've gotten some proper medication in my system. Sometimes, I feel like over-the-counter medication really doesn't do anything.
Have you finished your Christmas shopping? There are some pretty good sales going on this weekend if you haven't!
LOFT | 50% off everything with code WRAPITUP!

So, LOFT is one of those retailers that I kind of forget about sometimes. Every time I rediscover their site, I am reminded of how many adorable products they carry and how great their prices are! I recently snagged these ear muffs, this beige cable knit beanie and this chic white coat for an upcoming trip to a bitterly cold part of the world! Don't miss this amazing sale! I'm impressed that they still have so much merchandise still available with how good it is!
ABERCROMBIE & FITCH | 50% off entire site [with some minor exclusions] + $5 get it by Christmas delivery

I've been so impressed with Abercrombie & Fitch lately. Their clothing selection is functional and practical, while also being comfortable and cute. I have incorporated so many of their products into my everyday looks, especially during this holiday season. Their Black Friday and Cyber Monday sale was 50% off but they just got some new items in so I snagged this pink overcoat and this sweater dress in the gray & white stripe and cream. I'm also going to try out this pair of jeans. I love the distressing! The price was just too good to resist!
J.CREW | 40% off full-price styles & free shipping with code TIME2GIVE

J.Crew always does a great job of offering a wide variety of products in a multitude of colors to fit everyones' style and preferences. In the Fall and Winter season, I don't think any other retailer does outerwear as well as J.Crew. I hope you've been able to take advantage of their selection in sizes and styles but, if you haven't, check out their outerwear HERE. I personally love the Lodge Coat. I recently snagged this half-zip Polartec pullover in pink, this striped turtleneck in the pink and burgundy combo as well as the cream and white and … if this cable knit sweater with adorable button detail down the side was available in my size, I would have grabbed it, too!
NEIMAN MARCUS | 20% off select merchandise with code FRIENDME

I did some digging on the Neiman Marcus website! They have a lot of great items included in the sale like my most recent Tory Burch handbag purchase, my favorite Tory Burch travel flats and patent leather sandals that I wear everyday in the summer, and this super soft cashmere travel scarf that you'll see me wear on my next trip! I recently purchased a GloPro and am excited to be able to safely travel with it in this GloPro case, included in the sale!
ANTHROPOLOGIE | 25% off everything + free shipping! No minimum!

I love myself some Anthropologie! These candles are keeping my home smell absolutely divine and this eyelash cardigan is a MUST have! I ordered this striped pajamas in grey and I think everyone needs this fuzzy gray robe! Looks so cozy!
BE SURE TO CHECK OUT THE FRIDAY FIVE FOR MORE HOLIDAY CONTENT
There are also sales at Urban Outfitters, West Elm, Madewell and EXPRESS so be sure to not miss those! My pink pullover is from Madewell and currently 25% off! There are limited sizes available to the striped shirt I'm wearing in these photos with the pullover so I'd suggest grabbing this cute turtleneck that is essentially the same colors … and currently on sale!
Hope you're having a great weekend! I'll try and get a couple of last minute gift guides out to y'all this week before it gets too late! xo.