Hi there, friends!
I'm so excited for today's post because although it's been quite awhile since I've put together a handbag review post, y'all have seemed to love the ones I've done in the past!
Check them out here and here, if you're new here!
More often than not, in the Spring and Summer months, crossbody handbags are my go to! They're just so easy to throw on when you're heading out to hang with friends. You still have full use of your hands. Since it hangs in front of you, I find them to be a more secure purse option, allowing you to keep an eye on it and your belongings much more easily than other handbags. I also like that they're typically very lightweight.
Last year, I purchased the Gucci GG Marmont Mini Matelasse Leather Crossbody and the Gucci Soho Leather Disco Bag. I enjoyed both of these bags but found one to be a little more practical and a purchase I'd make again over the other. With Spring coming up around the corner, it made me wonder about other sought after designer crossbody handbags and which ones were really worth the investment. Obviously, my opinion will never be able to speak for everyone but I do love testing out these products and sharing my thoughts with you guys about them. I often receive questions about designer purchases and my opinions so I thought a post about designer crossbody handbags could be useful to any of you who have seen some of these bags on blogs or on Pinterest and had potentially been tempted to add one to your collection.
My most recent designer handbag purchases have been through a website that you might not have heard of. It's called mytheresa.com. They're an online retailer based in Germany but offer the same perks for shopping their website as you would if you shopped on an American online retailer. They offer free 2-day shipping and free returns. They have a wide assortment of brands and products on their website. I literally fall down a rabbit hole when I'm on there perusing because they have so many great things! I found it through an extensive online search for a designer card case last year. I wanted it in a particular color and I couldn't find it anywhere except for mytheresa.com. They often still have in stock items that have sold out on retailers over here and I think it's because the market is so different in Germany, and in Europe, in general. Their market doesn't like or buy a lot of the items we do here in America, so you can likely find 'hot' items on there without any problems with stock!
With all of that said, I am featuring five designer cross body handbags today, all of which are available on mytheresa.com. I'm giving you measurements, the pro's & con's and my overall recommendation for each one! There is one that I would NOT buy again. There are two that I am obsessed with and wear all the time. Then, there is one that I love but could live without, if you will. So, enjoy! I hope this is helpful for some but fun to read for everyone! 🙂
Also, don't be shy! Send this article to anyone you know that might be needing some insight into one of these handbags! I think it's so important to not go into buying designer items lightly. It's a big purchase and you MUST go into it curious and inquisitive at first and well-informed when you hand your credit card over!
Enjoy! xo.
CHLOE 'MINI FAYE' LEATHER WALLET BAG
MEASUREMENTS: 4″h x 7″w x 1″d
STRAP LENGTH: 45.5″ – 52″
INTERIOR CAPACITY: MINISCULE
PROS:
– this mini cross body, or wallet on a chain, embodies a very chic style with the leather and suede contrast and metal hardware
– the strap is easily adjustable as well as removable so you can add your own shorter strap, if you wanted
– it can be worn multiple ways: as a cross body, as a clutch and as a fanny pack
– it could be seen as practical because it only allows you to ONLY bring with you the necessities
CONS:
– it's a very tiny and, therefore, holds very little, as you can see in the photo above. You MAY be able to squeeze in a lipstick.
– the size could also be seen as impractical for some because it's pretty expensive for something that barely holds anything
HEADS UP: There's a Gucci card card pictured in the photos of what can fit in the bag, however, I just used that to showcase that you can bring cards with you. I didn't want to have my credit / debit cards laying out for the whole world to see. Sorry if that's misleading but, that's why I mentioning it here 🙂
Chloé always does an exceptional job on quality and style. I absolutely love this handbag and love that it's lightweight. If you're tempted to purchase this bag, I'd recommend you really think about whether the space it offers is enough for you. I want to say it's an impractical purchase, however, I think this bag WOULD actually be the perfect choice for a low maintenance girl who doesn't carry a lot with her on any given day, especially in the Spring and Summer months. For me? I'm not sure I love it. I think I need a little more space in my handbag but, hey, to each their own. Mytheresa.com has so many color options so do let me know if you opt for this bag and which color you get!
OTHER COLORS AVAILABLE HERE, HERE, HERE, HERE, HERE

GUCCI 'SOHO' LEATHER DISCO BAG
MEASUREMENTS: 6″h x 8.5″w x 3″d
STRAP LENGTH: 48″ – 52″
INTERIOR CAPACITY: SMALL
PROS: Where do I begin? There are so many amazing things to say about this handbag.
– adjustable strap to suit everyone's height
– deceptively spacious interior
– lightweight linen interior material
– two slit pockets for credit / debit cards, business cards or receipts
– neutral colored interior making it easier to see what's in the bag
– made of pebbled leather, making it soft and doesn't scratch
It has a spacious interior for a small cross body handbag. It carries more than you think it will. It's made of great quality leather and has an adjustable strap.
CONS: It was hard for me to find a con to this bag but here are the couple I thought of :
– the excess from the strap doesn't have a second loop to hold it down so it just sticks out, which is a bit annoying
– it retains it's shape for the most part but mine does fall 'in' a little bit on the side that sits against my hip
– has the potential to experience denim transfer due to the light color, however, I haven't personally experienced that on mine yet
This may very well be my favorite handbag purchase of 2017. It carries so much more than I expected it to and, even when filled to the brim, is super comfortable to carry due to the soft pebbled leather. It comes in great neutral colors, is well-made and has too small interior slits for receipt or business card storage. I do wish one side had a zip pocket for added security but, otherwise, I absolutely LOVE this handbag and think you would certainly get your money's worth with how practical it is.
OTHER COLORS AVAILABLE HERE, HERE

GUCCI GG MARMONT MINI MATELASSE LEATHER SHOULDER BAG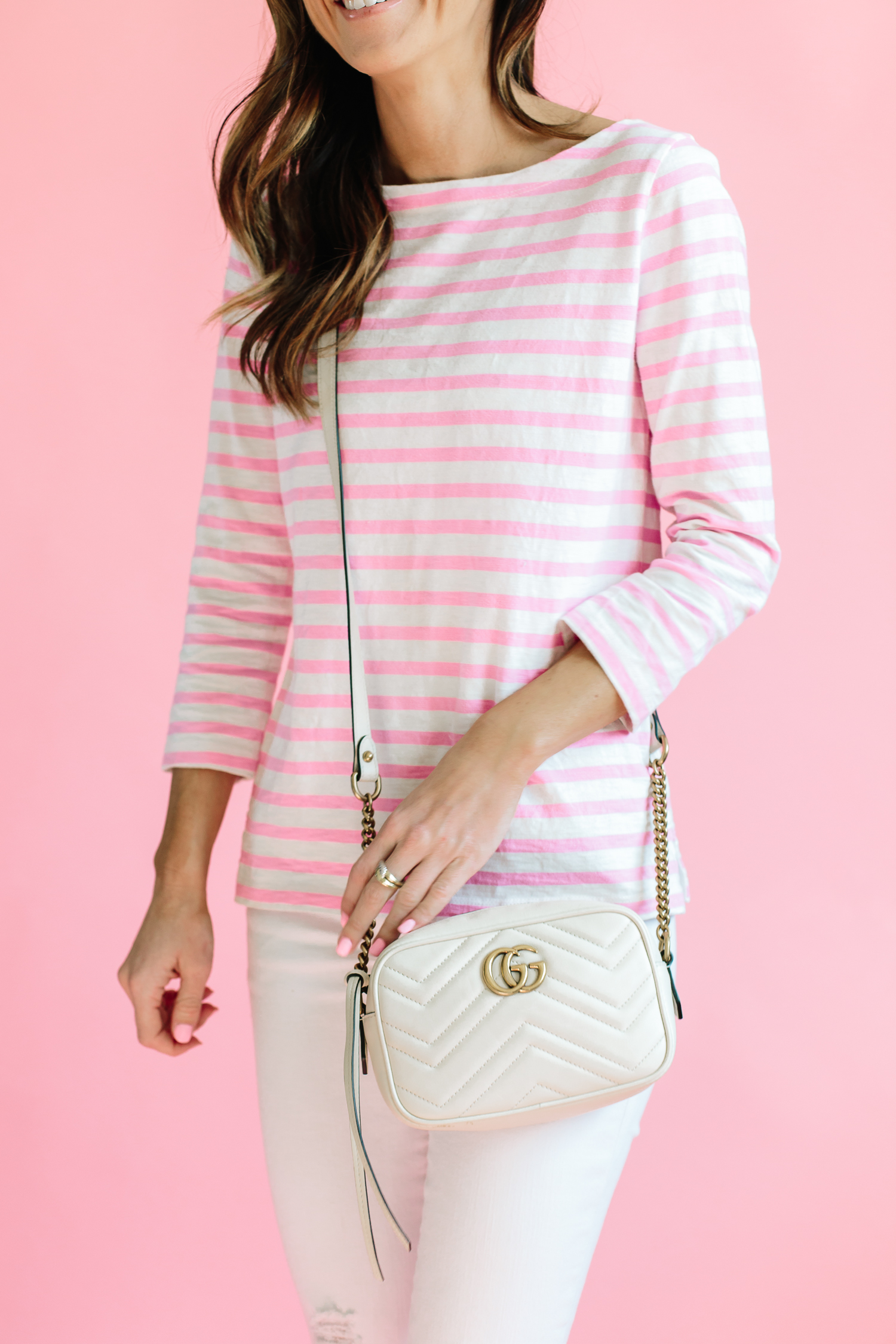 MEASUREMENTS: 7″w x 4.5″h x 2.5″d
STRAP LENGTH: 51″
INTERIOR CAPACITY: SMALL
PROS:
– love the chic gold hardware detailing on this handbag and the vintage Gucci logo on the front
– the chevron detail gives it some personality without taking away any sophisticated appeal
– the width of the bag allows you to get in and out of the bag pretty easily as long as you haven't packed it completely full
– you can fit much more in this bag than you think, but not as much as the Gucci Disco Handbag
CONS:
– the strap is not adjustable, which makes it a bit longer than I'd like for my 5'3 frame
– the white color always has a risk of falling victim to denim transfer, however, after a lot of wear, I haven't seen any on mine
– it's made of soft, smooth calf-leather, which has the potential to scratch a little more easily than, say, pebbled leather
I do very much love this cross body and find that it does compliment a lot of the outfits I wear in the Spring and Summer. However, if you get the white, as I did, you do have to choose when you wear this bag very wisely as to not put it in a position to potentially get scratched or dirty. That does make it harder for you to wear it enough to make the purchase worth what you spent on it, so keep that in mind! It does also bother me a bit that it sits a little lower than I'd prefer and it's not adjustable. It also can't be worn any other way so there's less functionality there.
OTHER COLORS AVAILABLE HERE, HERE, HERE

CHLOE 'PIXIE' LEATHER AND SUEDE SHOULDER BAG
MEASUREMENTS: 8″h x 8″w x 3″d
STRAP LENGTH: 45″ – 48.5″
INTERIOR CAPACITY: MINISCULE / SMALL
PROS:
– this cross body can be worn two ways [as a cross body or by the handles]
– strap is adjustable and removable
– the stiff leather is harder to scratch, which is a huge pro
– the shape of the bag is very 'on trend' right now
– the overall design is very smart and unique; i love how the gold handles fit into the exterior
CONS:
– made of extremely stiff leather
– has no give and a thin design making it difficult to get in and out of
– does not carry much due to it's small and thin interior
– the suede portion needs to be treated with extreme care to ensure that nothing scratches or stains it
– the shape of the bag isn't very 'classic' and might be something you get over as time goes on
– the zipper never stays together at the end so it takes a minute to get it back on the zipper track to zip it up
Personally, I wouldn't buy this bag again. It has no give and makes it hard to get in and out of. The top zipper pops apart at the end so, when you do want to zip it up, it is quite the feat to do so. It's beautiful but the impracticalities of it make it not so enjoyable to carry.
OTHER COLORS AVAILABLE HERE, HERE, HERE, HERE, HERE, HERE

GUCCI GG MARMONT MATELASSE LEATHER SHOULDER BAG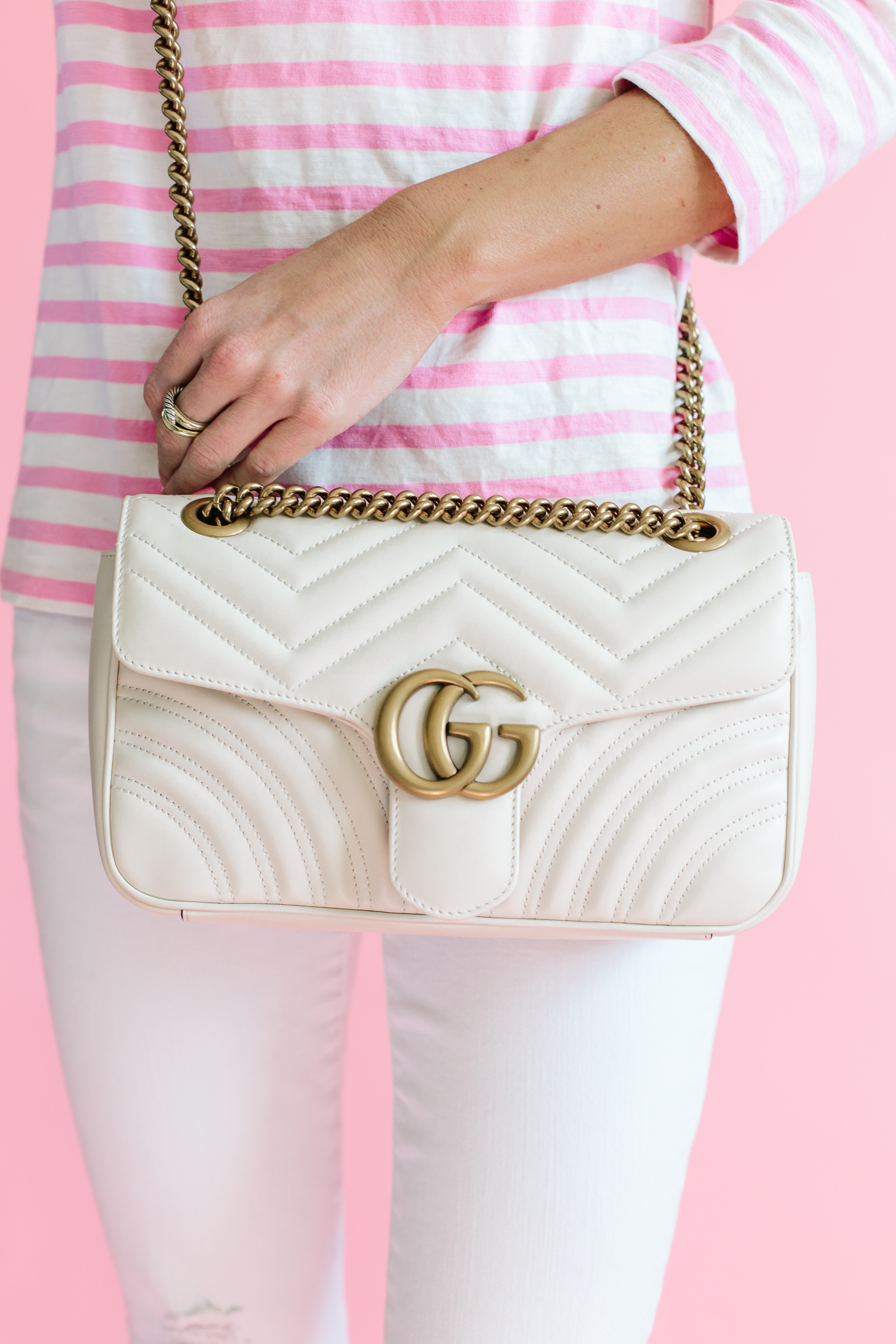 MEASUREMENTS: 6″h x 10.5″w x 3″d
STRAP LENGTH: 44″
INTERIOR CAPACITY: SMALL / MEDIUM
PROS:
– you have two options to wear this bag, as a cross body and as a shoulder bag
– it offers high security with the push-lock feature
– the interior has small zip closure allowing for additional security
– chic gold hardware throughout the design including the vintage Gucci logo from the 1970's
– spacious interior allowing for storage of ALL of your everyday essentials and more, as seen above!
– personally love the soft faux suede as the interior lining; such a chic detail
– feminine and masculine detailing, from the boyish gold chain to the classic flap opening in the front and stitched heart detail on the back.
CONS:
– if, like me, you choose this bag in white, it certainly runs the risk of experiencing denim transfer
– it's made of soft, smooth calf-leather, which has the potential to scratch a little more easily than, say, pebbled leather
This is my latest designer handbag purchase and it was made from mytheresa.com! I would certainly recommend this handbag as I feel like it's practical and the perfect size for every girl but, of course, I can't speak for everyone. Personally, in addition to the Gucci Disco Handbag, this is my favorite handbag included in today's roundup!

For anyone who may be considering buying a designer handbag soon, I hope this has given you some help in narrowing down your options. It's so important to do your research. When making a designer handbag purchase, it should always be an informed decision. My experience in purchasing my Gucci GG Marmont Matelasse Leather Shoulder Bag through mytheresa.com was absolutely seamless. It may be an online retailer that is based in Germany but it cost me absolutely no more to purchase it through their site and it arrived, FROM GERMANY, in two days at no cost to me! I thought that was pretty incredible! I highly recommend their site when you're looking to make a designer handbag purchase.
Please let me know if you have any questions about any of these cross body handbags in the comment section below! I'm happy to help to make this decision a well-informed one for you! Thanks for stopping by! xo.