One thing I love about the conference is seeing so many sweet friends who live all around the country, like Katey and Kate!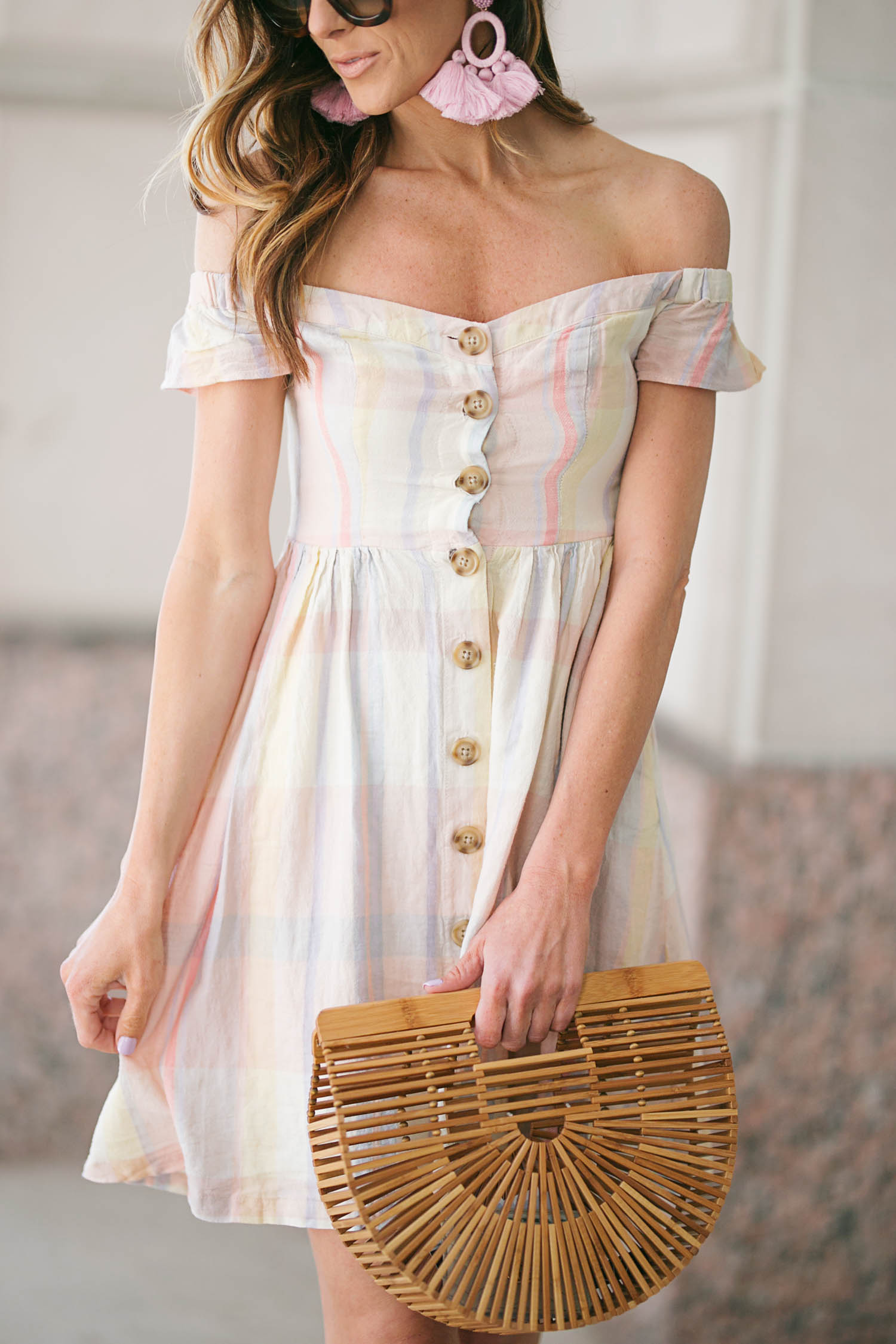 Hey there, lovelies!
The last week has been a whirlwind! I can't believe a week ago I was arriving in Dallas for the rewardStyle conference and, today, I'm writing this post from a cafe in London. Packing for trips like these can be challenging because you want your outfits to reflect you and your style but you just never know if the weather is going to take a turn or if someone else is planning to wear the exact same outfit you packed, which has happened, ha! Obviously, it's no big deal … I always just pack a few extra outfits and just hope for the best!
Sometimes, though, I'll pack something that I really like but I'm almost positive I won't wear and then I end up wearing it and being like omg, I'm so glad I packed this!! This casual off-the-shoulder pastel plaid dress was one of those items on this trip! When I was packing, I kind of felt like it was too casual and more appropriate for a beach getaway but, after wearing it to my friend Courtney's house for a little conference kick-off manicure party [which was sponsored by this amazing new Dallas based app called, Cherry! Check it out Dallas gals if you haven't heard of it! It's pretty nifty!] and completely changed my tune about it after the get together! It fits true to size and it pretty loose making it great for those hot summer months! Something I will say, that I don't so much like, is that it's really tight in the bust. I don't have a lot going on in that department and it was hard for me to button the ones around my bust. That should not be happening! I think it's a major design flaw. You can even tell in these photos that the third and fourth button from the top are pulling pretty good. I'm so used to things being too big on me so I was like whatever … I'm just going to embrace it! Thankfully, none of the buttons popped off and it was a comfortable outfit to wear to catch up with girlfriends! I think it would be perfect for, like I said, a beach getaway or a summer night out with your girlfriends or significant other but, if you're busty, you might need to go up a size!
Just a heads up! There's only one day left to enter the Baublebar gift card giveaway that's going on right now in THIS post! If you haven't signed up for the Ask Alyson Haley newsletter that goes out every Wednesday, don't forget to do that! 🙂 This week, I answered questions that have come in regarding graduation dress options, cute Spring jackets and coats for those who have cooler Spring seasons, my favorite bloggers to follow and the planners that I think are the most helpful! When you email me questions, I will let you know if you're question will be answered in an upcoming Ask Alyson Haley newsletter. It's the best way to get back to questions and have the answers reach the most people!
Also, I added before and after photos of my eyebrows into yesterdays post so you can see the BEFORE microblading and after microblading photos. It's pretty crazy! Check it out HERE!
That's it for today, pretties! Would y'all want me to include some information about what the rewardStyle conference is like, what we do, if there's underlying competition, if it's really enjoyable or more stressful than anything else, what my takeaways were this year, etc?? I'd be happy to answer any questions you have in an upcoming rewardStyle conference outfit post! Let me know what you want to know in the comments below! xo.