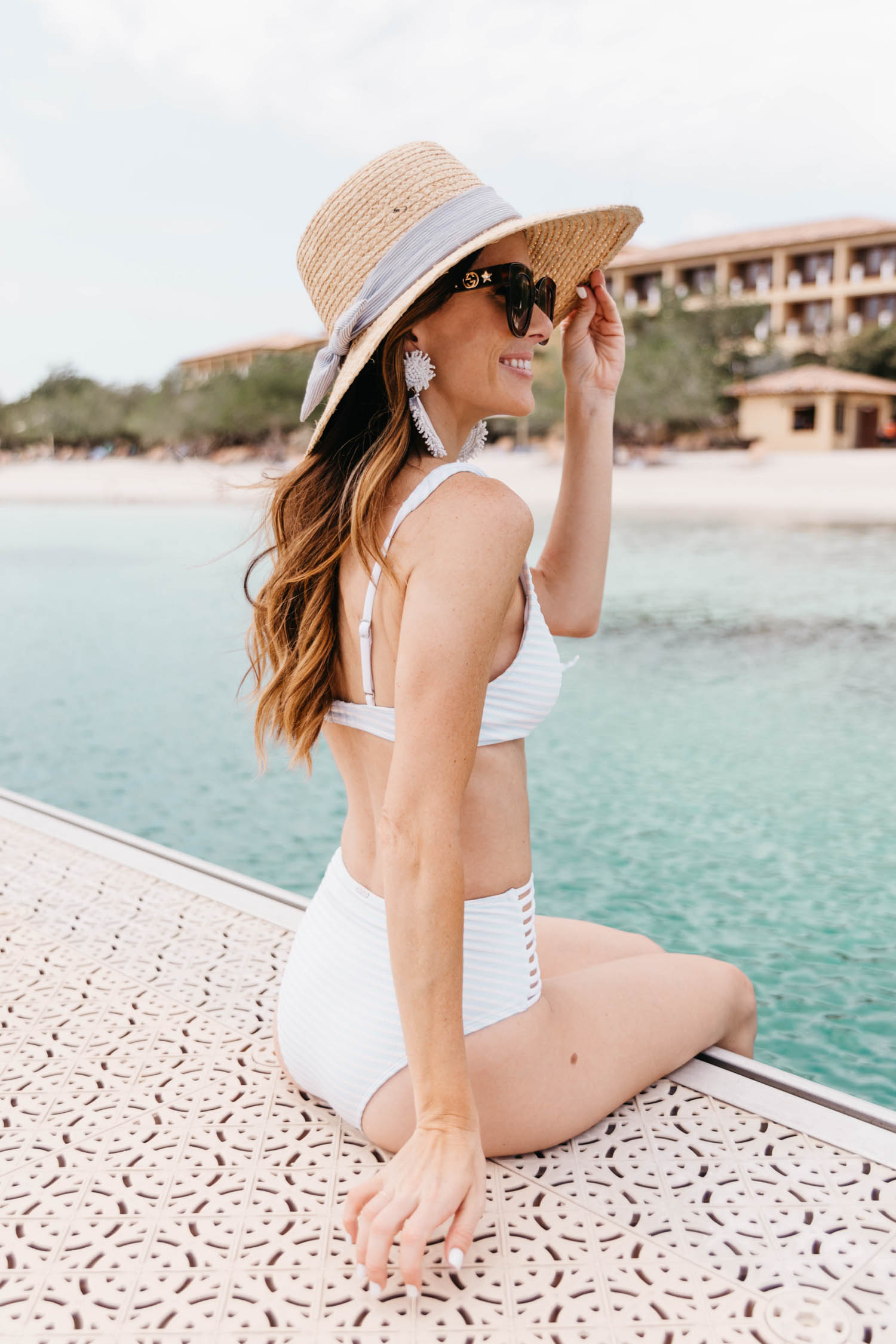 Hey there, lovelies!
Last week, I ventured down to a beautiful island in the Caribbean called Curaçao with my friend Lauren! One third of the ABC Islands, it is located about forty miles off the coast of Venezuela. It is known for it's stunning beaches, unique European-style architecture and colorful facades, and is a mecca for scuba and snorkel fanatics. Lauren loves to travel and also carries a heavy workload back home so together we were really excited to explore a new place but also get some relaxation time in! We stayed at the Santa Barbara Beach & Golf Resort. I'll be doing a travel diary to share all the details in the next few weeks!
On our first day, Lauren and I woke up to cloudy skies that thankfully were gone by midday. We decided to throw on our bathing suits and head out to the little beach that Santa Barbara has on the property that is sectioned off by a long boardwalk so you can't go too far out to where you'd get in the way of the boats passing through. I opted for this seersucker bikini, which comes in a few styles, from Abercrombie & Fitch. I love the retro vibe from the high waisted bikini bottoms and, of course, love the colors! I hadn't ever purchased a bathing suit from Abercrombie & Fitch before so I was firing a shot in the dark by purchasing both an XXS and XS in the bottoms and I was almost positive I'd be fine wearing the XS in the top.
FIT | Both sizes of the bottoms fit fine but the XS had a little extra material in the front that I felt was a little unflattering so I opted to keep the XXS. The bottoms are a cheeky fit so just beware if you aren't a fan of those! Personally, I don't mind them as long as they're not, essentially, a thong! The XS top fit fine. For the white dress, I am wearing a XXS Petite and I wish I had gotten the XS Petite but I didn't realize it is a little short until I got to Curaçao! Thankfully, it wasn't TOO short and still wearable.
I loved so many of the clothes that I purchased from Abercrombie & Fitch over the holiday season that I knew they had to have some good stuff for summer and, here I am … shouting from the rooftops ho much I like their swimwear now! Seriously, though … this is probably the most comfortable, flattering and affordable swimsuit I've purchased this year so far. After trying this one out, I am absolutely a fan of A&F's swim options. I also purchased this ribbed bralette bathing suit top and it is so cute and flattering. They have gotten a few new ones since I ordered this one that I'm eyeing and all of them are under $50.

Don't miss the fact that Abercrombie is currently offering 40% off site-wide in honor of Memorial Day offering buy one, get one off all of their merchandise! So, if you put each piece of this bathing suit in your cart, you can purchase it for less than $55! If you're wanting the scoop on more of the weekends' sales, be sure to head to this post! 🙂
I hope everyone has an amazing day with family and friends! Please don't forget why we celebrate this holiday. There are so many who have fought and died to ensure we can enjoy the luxury of the freedom that our country has known for years and years, that so many all over the world wish they knew. Thank to those men and women for your bravery and sacrifice! xo.