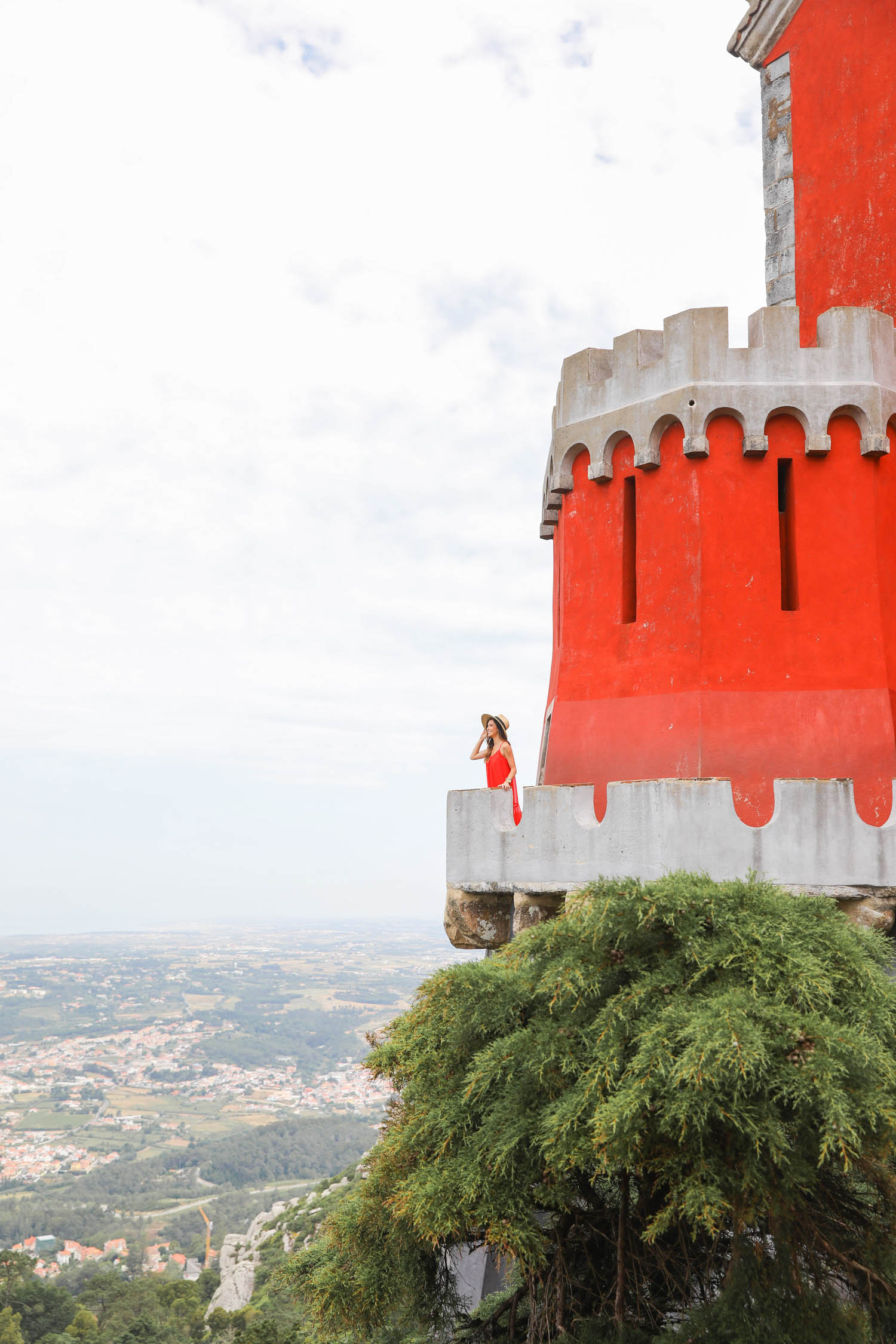 Sintra Day Trip
If you're planning a trip to Lisbon, I highly recommend setting aside a day to head out to Sintra, which is a picturesque resort town that attracts tourists from all over the world thanks to a wide array of impressive palaces the Portuguese nobility have built here between the 15th and 19th century and is a fairly affordable day trip between train tickets and entrance fees.
Today, I'll be sharing some photos from Pena Palace and Quinta da Regaleira, the two spots Victoria and I decided to check out. There are so many other places you can visit in Sintra and I'll list those for you in the post, as well, so you can figure out which one strikes your fancy. These were just the two that I personally have been lusting over and couldn't wait to see for myself!
TAKING THE TRAIN TO SINTRA: WHAT YOU NEED TO KNOW
Victoria and I took the train out of the Rossio Train Station in Lisbon to Sintra. Here is everything you need to know if you decide to take the train.
NAVIGATING THE TRAIN STATION
• When you enter the train station, take the escalator up to the second level. You can either wait in line to book your rides by a ticket attendant or you can do it at an electronic kiosk, which is what we opted to do. It was fairly simple but, what we didn't realize, is that we can purchase ONE ticket with two train rides on it. So, essentially, you book your TO and FROM rides together, and it cost €5. You don't have to choose the time for your return ticket. You can go back at whatever time is most convenient for you.
• Do not confuse the Rossio Train Station with the Rossio Subway Station. They're down the street from each other and we definitely made that mistake and missed the original train we wanted to catch.
TRAINS & TIMING
• Trains literally head to Sintra every ten minutes or so, so missing that initial train wasn't that big of a deal! The ride from Lisbon takes about 40-minutes.
• Make sure you look up what time the places you are wanting to go to open so you know  The Pena Palace opens at 9:30 am during the Summer months and closes at 7:00 pm. The park is open until 8:00 pm. You also need to take into account that, from the train station, you'll need to get TO that destination, whether it be Pena Palace, Castle of the Moors or National Palace of Sintra.
It usually takes quite a bit of time to get up to where the ticket office is for most of these places. For example, it's a 20-minute ride to the Pena Palace ticket office from the train station. You have to wait in the line then there's about a 20-minute walk UP to the castle itself. So, leave Lisbon EARLY if you're wanting to hit a lot of places in one day!
TAXI, UBER OR TUK-TUK
• When you get off the train, I would take a taxi to whichever palace you are wanting to venture to. There is also Uber but, honestly, we had a few cancel on us. I'm sure it's kind of a frustrating place to be an Uber driver. It's not SUPER easy to get around as there are lots of tuk-tuk's and tour buses and the roads are all very windy without any short-cuts when there's a lot of traffic.
I will say, we opted for a tuk-tuk to get from Pena Palace to Quinta da Regaleira but had trouble finding a taxi or a tuk-tuk when we were trying to find a ride back to the train station. We ended up using Uber, but we waited for a good 20-minutes for him to get to us.
What To See In Sintra
PENA PALACE
Situated atop a hill amidst the beautiful pines of the Sintra Mountains, colorful Pena Palace [and Park] is one of the most popular destinations in Sintra. It is the greatest expression of 19th-century romanticism in Portugal. King Ferdinand II [husband to Portugals' Queen Maria] purchased what used to be a monastery and transformed it into what you see Pena Palace as today.
We didn't go on a tour or anything like that. I typically don't like being tied to things like that if I have other things I want to see in an area. We just bought a ticket to enter the palace and walk around but there are Guided Tour options. You can also purchase your ticket online and get a little bit of a discount.
Entry Fee: €14.00


QUINTA DA REGALEIRA
This estate was built in the early's 1900's toward the end of the monarchy's rule in Portugal. It is known for its Gothic architecture and luscious gardens throughout the property. There are also unforeseen treasures in the wells, tunnels, and towers. The only thing I felt like it was missing were fairies flying around. It seriously felt like I was walking around in a fairytale. It was so beautiful and whimsical.
Entry Fee: €6.00


What To Wear In Sintra
KEEP AN EYE ON WEATHER
One of the reasons the Portuguese nobility were drawn to building their exquisite palaces and mansions in Sintra was because it was at a higher elevation, which offered much cooler temperatures in addition to stunning, sweeping views. With that said, if you're visiting early-to-mid-Spring, I would recommend a jacket. I'll let you look at the temperatures and make the distinction on how heavy but it was pretty noticeable how much cooler it was up there, so keep that in mind when you're packing!
COMFORTABLE SHOES
I also recommend wearing comfortable shoes. I am wearing sandals in the photos at Pena Palace, as you'll see, but I had a tote bag with me in which I stored a pair of sneakers. What you can't see in these photos are the hills you climb to get the entrance to the palace so keep that in mind! More on what to pack for your trip to Portugal can be found HERE.
What I Wore At Pena Palace
This was one of my favorite outfits from my trip to Portugal. I rarely wear red so I felt a little weird at times, ha. Let me explain. I already attract attention when I have photos taken in busy places like this. But I felt like I was causing even more of a scene, or just attracting even more attention to myself because I was wearing red. Hah!
This midi dress fit me perfectly, which is rare, and was perfect for a hot Summer day, most of which was spent outside walking around, so no complaints! Bring on the stares! I love that it had adjustable straps and the multiple layers of the dress made me feel like I was playing the part of a princess for the day in all of these castles.
My hat is a travel staple of mine. It's gone on all of my trips and is under $50. These sandals are also highly recommended, not so much for travel, just for everyday use. They're great and it looks like they were just restocked in the color that I'm wearing! They were sold out for a while!
So, between the train ticket prices and the entrance fees, Sintra is clearly a fairly affordable day trip destination for all that you get in return! I cannot recommend a Sintra day trip enough! We went on our last full day in Portugal and I don't think we could have spent it doing anything more worthwhile than this.
Please feel free to leave any questions below that I may have missed! I am happy to help! xo.