Hey there, friends! It has been a minute since I have done a post all about hair so I'm really excited about today's post! I'm going to highlight some of the hair products I use regularly and answer your questions about the hair extensions I recently got. I'll also share some of the new products I'll be using to take care of them!
Let's start with the hair extension questions and then I'll get into my favorite products, as some of those products will have a little to do with the hair extensions so I feel like everything will flow better if we do it in that order! However, if you're wanting quick access to my favorites, I'll go ahead and link them below for you. All of them are are available at Nordstrom, which I love because I can get them all in one place!

Let's get to your questions!
WAIT, CATCH ME UP! YOU GOT HAIR EXTENSIONS?
Yes! Over a month ago, I asked y'all if you had any hair extension suggestions as I was really missing my long hair. There were two things that were really important to me when choosing a type of extension:
• I had to be able to continue to get my roots touched up every three weeks without having to take the extensions out completely, causing me to be at the hair salon for six plus hours!
• I didn't want the extensions to negatively affect the quality of my natural hair.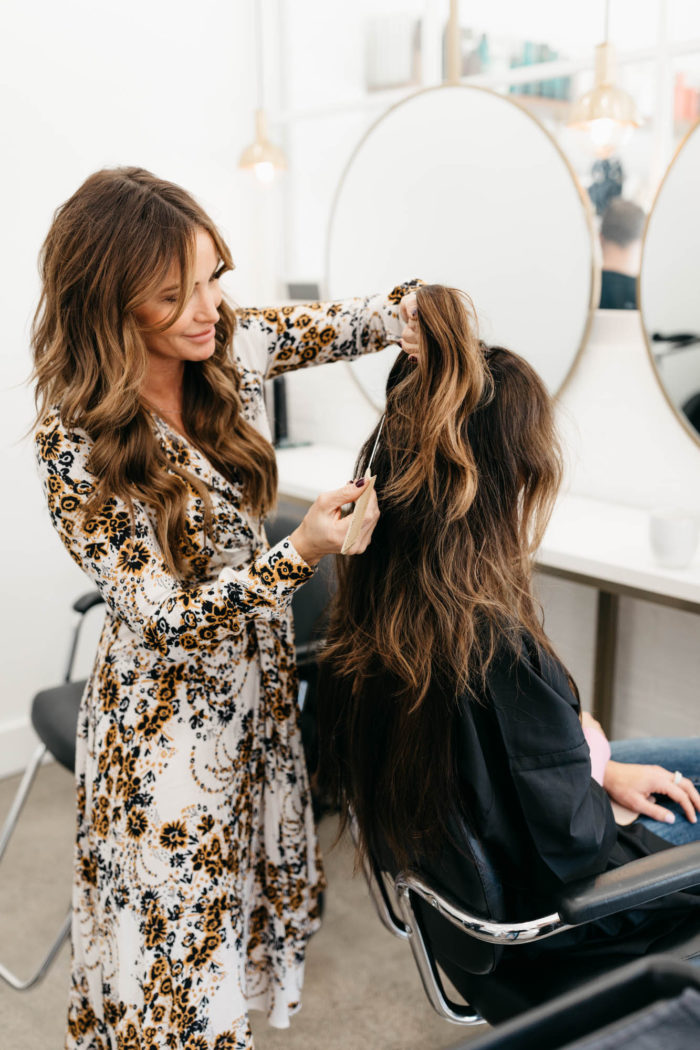 Being a novice in the realm of hair extensions, y'all seriously helped shine a light on all of the different types of extensions out there. I took into consideration every suggestion and appreciated all of the experiences you willingly shared with me in order to help me make the best decision for me. The extension that seemed to be the best fit for me was natural beaded row extensions. As I was looking into them, I was pleasantly surprised to realize that I've been following the creator of this type of extension for awhile now! Her name is Danielle White and I followed her initially because I love her cool, whimsical California girl style and, honestly, because she is also a dachshund mom! Ha! But, it was so cool to learn more about what she does professionally and to realize what a huge impact she has made on the hair industry with the development of her extension technique.
As I was perusing her website, and after realizing there weren't many hair stylists in my area who do these extensions, I decided to do something I never thought I'd do: I applied for a hair appointment at a salon on the other side of the country!
I stopped for a minute and told myself 'this is crazy' but then, I was like … you know what? Why do I do what I do?
Because I love finding ways to make people feel good about themselves and about life! I share great clothing and beauty finds with the hope that maybe it'll make someone feel more confident in their daily life! I share my experiences, whether it's at home with the boys or while traveling, to inspire you to realize the beauty in simple and grand moments and relish in the beauty in all of life's experiences! So, if through this choice to travel across the country to have hair extensions put in can benefit someone in some way … it is worth it to me! I'm happy to use my means to look into whether things are worth the hype or not and, more than that, I'm comfortable sharing my honest opinion about the things I look into for myself, for your benefit. I want you to know what's worth your time, money and energy.
After securing an appointment with Danielle, and having natural beaded row extensions placed in my hair last week, I am happy to report … they are SO worth the hype and the investment!
If you're looking for more insight, I shared an Instastory Series about the experience the other night. Check it out in the Beauty Highlight on my Instagram Profile if you missed it. Also, Danielle shared THIS and THIS video that really 'sold' me on her method.
Here's a before and after:
DIDN'T YOU JUST GET YOUR HAIR CUT? WHY DID YOU FEEL THE NEED TO GET EXTENSIONS WHEN YOU JUST HAD LONG HAIR?
You know … hair is a funny thing. I feel like hair has power. When you have a bad hair day, it can make you super paranoid that you're going to see that ONE person that you don't want to make a bad judgement of you. When you have hair that won't grow or that is thin and breaks easily, it can make you super insecure. Same with men … when their hair starts receding or they start balding, it can really take a toll on their ego. When you have long hair for a long time then cut it short, it can be hard to recognize yourself for awhile or feel the same sense of confidence you once did with long hair. Not always, but I'm just saying it can, you know?
At first, I really liked my short hair. At the time, I was ready for a cut. It was summer and I just wanted something a little more breezy. I also wanted to even up some broken layers I had underneath all of my hair that would pop down when my hair was up [caused by the thin hair ties I use and putting my hair up a lot; those things cause a LOT of breakage, at least for me!]. After awhile though, I just missed my long hair and didn't LOVE the way I looked with short hair. I didn't think I looked terrible but I just didn't feel the same confidence I felt with long hair. I didn't feel like I looked like 'me', if that makes sense.
I had actually asked my hair stylist, Sami, about hair extensions back before I had gotten it cut. She said that, knowing me, I wouldn't be the best candidate for the extensions that they could do at their salon, which are tape in's. They would have to take them out every time I get my roots touched up [every three weeks] and then put them BACK in, and I'd be at the salon for awhile. So … I was like yeah, no. My hair was long at that point so I was like I'll just make do with my natural hair. Well, then, I started itching to cut it and y'all know how that turned out. I cut it and then … yeah, started itching for longer hair again. I knew it was going to take AWHILE to get my length back and I also wanted added fullness anyway, so I thought … you know what? Why don't I look into other types of extensions and just see what my options are? It couldn't hurt, you know?!
And that's kind of what happened and what led me down the path of finding Natural Beaded Rows and DKW Styling Salon!
THAT'S REALLY GREAT THAT YOU FOUND AN EXTENSION METHOD THAT WORKS BEST FOR YOU. WHAT IF TRAVELING TO LAGUNA BEACH ISN'T FEASIBLE?
Danielle focuses a lot of her time on educating other stylists from around the country on how to implement her method on their clients so, you don't HAVE to travel to Laguna Beach to get these extensions. Check out the list of stylists who are licensed and certified in salons around the country HERE!
The best thing is … her education program is growing and growing so, if you don't have someone super close to you that does it, there'll likely be more stylists in your State becoming certified over the next couple of years.
ARE THE EXTENSIONS HEAVY?
No, they're really not. My scalp isn't used to having two tracks sewn along my hairline so I think my scalp was a little sore for a day or two. It took a minute for it to become accustomed to there being some tension along parts of it but, honestly, it doesn't hurt and I haven't experience any headaches.
HOW MUCH DO THEY COST?
No matter how you slice it, extensions are an investment. For natural beaded rows, the price ranges from $1,500 to $2,500. More insight can be provided by the stylist you make an appointment with. I suggest speaking with them PRIOR to making an appointment.
At Danielle's salon, you apply for an appointment and then, every potential client will speak with someone from her team so that you can ask ALL of the questions you have before securing an appointment. It's important to determine whether you are committed to the process ahead of time.
DO THEY HIDE WELL?
They are essentially invisible. You can't see them when the wind blows or when I put my hair up. They live up to their name … natural beaded rows!
CAN YOU PUT YOUR HAIR UP?
Yes! Although, since I have A LOT more hair, I do need a couple of hair ties to make it feel secure. It takes me a minute to do so because of where my tracks are placed. As they grow out, I think it might be a little easier but, ultimately, yes, I can put it up.
DO THEY DAMAGE YOUR NATURAL HAIR?
One of the biggest things that drew me to this method of extensions was how minimally they affect your natural hair. There aren't as many points of contact with your natural hair than other extension types and everything is just sewn in versus bonded, glued or taped so there is very little damage.
HOW OFTEN DO YOU NEED TO GET THEM MOVED UP?
Every 6 to 8 weeks.
WILL YOU GO BACK OUT TO LAGUNA BEACH EVERY TIME YOU NEED TO DO SO?
I will go back in December to get them moved up as well as any color touch-up's that are needed. I haven't made any decisions on future appointments at this point.
My main hair stylist, Sami, will continue to touch up my roots every three weeks as we've done for the last few years. I've had grays since I was
HOW LONG DOES THE HAIR LAST?
It lasts up to 9 months pending you take good care of it.
WHAT LENGTH EXTENSION DID YOU GET? HOW MANY WEFTS DID YOU GET?
I got 18″ extensions. I'm very petite and I felt like 22″ extensions would overwhelm my frame. I knew I could potentially be wrong but, for my first set, I thought 18″ extensions might be the smarter option, just to be sure.
Danielle and her assistant, Katie, placed two tracks  and wefts of hair and a mini piece in the back for added fullness.
CAN YOU PROVIDE INFORMATION ABOUT YOUR HAIR COLOR?
I have a Level 4 base color. I'm not sure what brand was used on my hair at DKW Styling but, honestly, I think bringing photos in to your colorist is the most beneficial thing you can do to get the result you're wanting as providing the colors to you won't necessarily yield the same results. If you're a blonde, the color combination will yield a different result on you than it would on me. Does that make sense? So, always bring inspiration for your colorist and trust the process! Sometimes it takes time to get to your final dream result but taking care of your hair should always be your top priority!
MY MOM IS IN REMISSION FROM CANCER. HER HAIR IS BRITTLE NOW AFTER CHEMO AND IS TRYING TO GROW IT OUT. WOULD THESE EXTENSIONS BE A GOOD OPTION WHILE SHE DOES THAT?
Danielle and her team at DKW, as well as all NBR stylists, are committed to helping women feel confident and good about their hair. They are certainly open to applying their method to any potential client, no matter the situation, but they do make these decisions on a case-by-case basis. I would certainly encourage your Mom find a stylist in her area to speak with and go from there!
HOW LONG DID IT TAKE? IS IT REAL HAIR?
It took three hours for color, install and quick cut! And, yes,they use 100% human Indian Remy hair.
HAVE MORE QUESTIONS ABOUT NBR™?
HERE is the FAQ page on their website!
Now, let's talk products!
To preface, when it comes to my hair, I literally buy everything in one place …. Nordstrom! They carry so many high quality hair care brands. Their product list is extensive. They carry everything from styling tools to And … they ALWAYS have the most inventory to ensure that everyone gets what they need / want! So, if you're always a little frustrated about having to go multiple places to get all the items you use … take a peek and see if they're all at Nordstrom. The chances are high! They also have free returns and free shipping!
WHAT HAIR DRYER DO YOU USE?
I use the Dyson Supersonic Hair Dryer. It's an investment but it truly does have the power to get your hair dry in no time at all! Before extensions, I could blow dry my hair in 5-6 minutes. My hair holds a lot of water but I have friends who have told me they are able to dry theirs in 4. It's incredible! Put it on your Christmas list! I'll keep you posted if it goes on sale during the holidays!
WHAT CURLING WAND DO YOU USE?
I have been using a L'ange curling wand the last couple of years but recently purchased a T3 curling iron, which is what I had before the L'ange wand. Sometimes, I just crave using something different and I was wanting to have a clip to use if I wanted to.
ARE THE HAIR PRODUCTS YOU USE CRUELTY FREE?
I was really pleased to find out that two of my favorite hair care brands, Oribe and Aveda, are both cruelty free. I'm drawn to trying out more of R+co products, as well, because they are paraben-free, sulfate-free, color safe AND cruelty free. I recently heard amazing things about their Frizz + Static Control Spray so stay tuned for a review! I ordered it the other day so should get it by the weekend!
WHAT PRODUCTS DO YOU USE ON A DAILY BASIS?
I honestly don't use THAT many hair products on a daily basis other than dry shampoo, a little bit of hair spray, and texturizing spray, my favorite being Oribe! And, lately, I've been using Bumble & Bumble's Dry Shampoo!

WHAT SHAMPOO AND CONDITIONER DO YOU USE?
I've been using Hair Foods since the beginning of the year but, I recently ran out so I switched to Oribe Gold Lust Shampoo & Conditioner because I had bought it awhile back. It leaves my hair feeling so strong and looking so shiny! After I shampoo and condition my hair, I always spray this Aveda heat protectant on my hair before I blow dry it! It's so important to protect my hair against heat damage!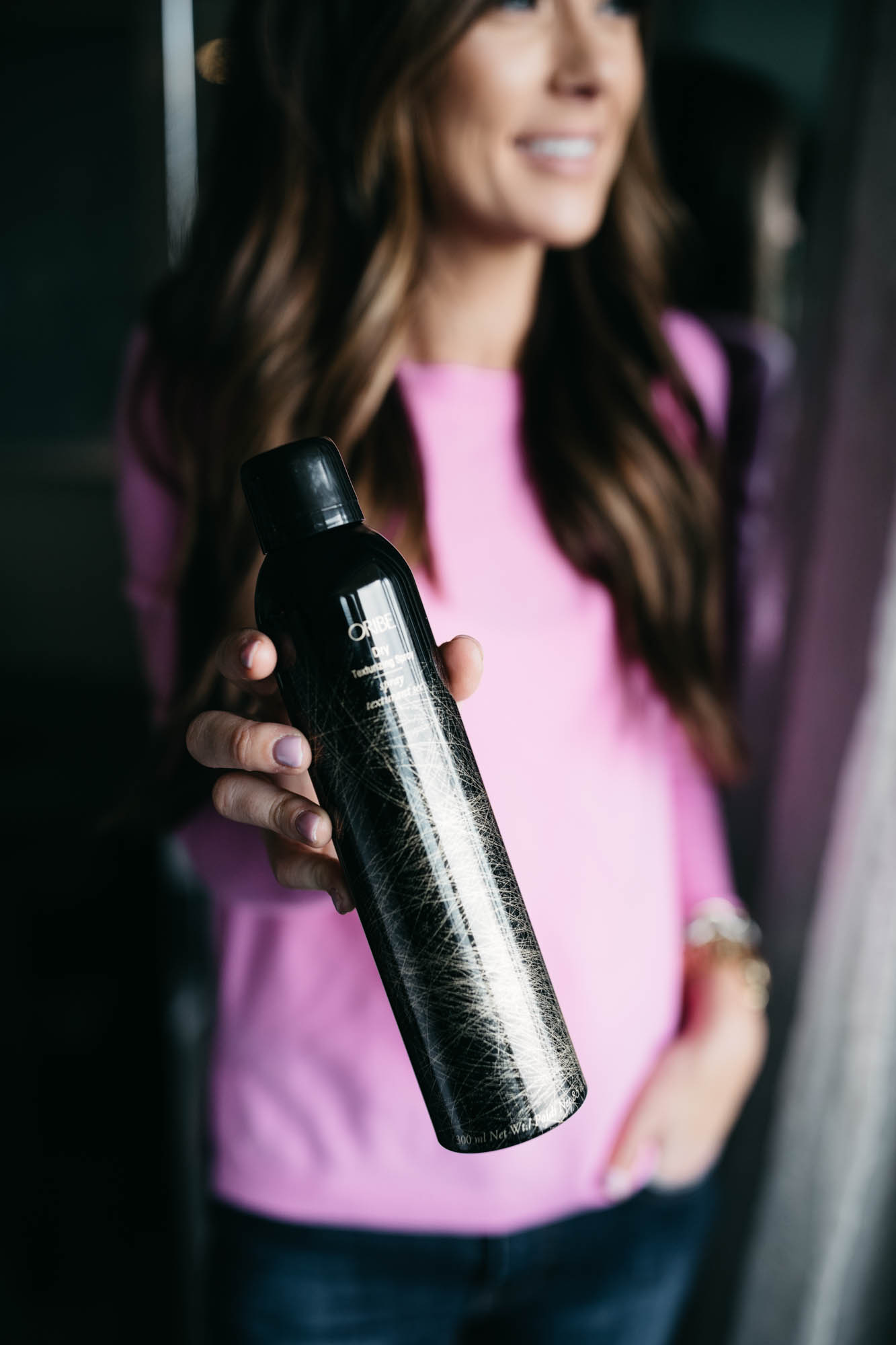 WHAT NEW PRODUCTS WILL YOU BE USING NOW TO TAKE CARE OF YOUR EXTENSIONS?
I will switch to Oribe's Shampoo & Conditioner for Beautiful Color. I'll also use Oribe's Detangling Spray to make it easier to comb through my hair and extensions when they're wet. After I wash and dry my hair, I'll try to be better about using Oribe's Gold Lust Moisturizing Oil on my ends to keep my extensions from drying out. The hair has a silicone coating that washes off after the first few washes. The feel shouldn't be too much different but they can get dryer a little more easily. You could also use this product as a heat protectant, as well, if you prefer Oribe products to Aveda.
And, that does it for today! I hope that has cleared up any and all of the hair questions that you had about the extension process but also the products I use and recommend! And huge shout out to Nordstrom for making my life a little bit easier by allowing me to throw everything I need to take the best care of my hair into my cart in one stop. It really is the little things in life that make me smile and knowing I don't have to run all around to refill my favorites is one of those things!
Make it a great day, y'all! And, happy Halloween! xo.