Well, if this isn't the happiest Monday ever, I don't know what is. The web is brimming with amazing deals for you all to take advantage of. It's truly possible to get everyone purchased for by the end of the day and I do hope that my guide to the best of the Cyber Monday sale round-up can help you tackle a few of them! I've chosen a few categories to tackle and rounded up my favorite products included in all of the sales from that category to help making shopping for certain things like beauty products, outerwear, cozy knit sweaters, travel items, etc. a little bit easier to find. At the end of the post, you'll find a complete list of a wide variety of retailers and their sales in case you want to know what a particular one is offering today! There might be something pretty exciting – a little surprise, if you will – at the end of this post for you, as well! 🙂 Happy Shopping!
Best of Cyber Monday Sales
BEST OUTERWEAR
I'm so impressed by all of the outerwear deals! I tried to make sure to include options that are still available but, you know it is with sales … everyone's shopping so can't guarantee they'll still be available by the time you're shopping BUT … here are my outerwear picks!

My favorite out of all of these picks that have the best availability and has a generous price reduction is this white coat from EXPRESS. It's gorgeous and would go with so many things but, obviously, you'll need to be careful when wearing it! 🙂 Another thing to note is the great reviews it's gotten, as well! I highly recommend you consider this one as there are so many other coats that are selling out so I wanted to make sure to include some that have good availability and are just as nice as the others!
I've been wearing this cocoon coat like crazy here in London! It goes with everything I packed. I also brought this lodge coat in green but haven't worn it quite as much, but it's perfect for the holiday season if it's still available in your size. I also love this red puffer jacket for a fun pop of red if you also love to dress in a festive fashion this time of year! Another piece that I am dying over and love is this faux fur jacket from ASOS. It is SUCH a steal and available in petite, regular and tall sizing.
BEST DESIGNER ITEMS
There are so many amazing designer items on sale this year on brands like Chloe, Saint Laurent, Prada and Valentino. Here are some of the ones that I literally couldn't believe were included:

I'm still in shock that this Chloe Faye bag is almost $400 off and these Valentino sandals that I had in two colors [before Chips got to them; yes, both of them … face palm!] are included, as well!
They're all great pieces that you'll wear over and over! I can't suggest these investment pieces enough, if it's a purchase you can afford or have been saving for for some time.
BEST HOLIDAY ATTIRE
It's the holiday season so it's time to bust out the plaid, tartan, cable knit and all things red & green! I absolutely love dressing festive this time of year and it has been so fun being in London for the fourth year in a row during this time of year! They really know how to get into the spirit of Christmas! Here are some holiday-inspired pieces that have caught my eye:

Be sure to keep an eye on my Instagram for more festive holiday looks that I've been wearing here in London! I wore this look on the morning of Thanksgiving and everything I'm wearing is on sale!

BEST COZY KNITS
Dawning a cozy knit is one of my favorite parts about Winter dressing. I rounded up the coziest knit sweaters for you guys and below, you'll also find some cozy teddy and soft knit pullovers!

EXPRESS really hit it out of the park with this cozy pullover. I am wearing the beige color below on the left in a size small. It might be sold out but they just released THIS ONE that I think is adorable in pink! On the right, I am wearing this cozy teddy bear sweatshirt in an XS. Both are on major sale!

BEST SHOES
Ah, shoes …. one of the many things deemed 'a girls best friend'! In my opinion, shoes really pull an outfit together and I think there are quite a few shoe options, in many different styles, that are currently on sale. I rounded up a variety of styles knowing that everyone's in the market for something different, so hope you find something you like below!

I featured these adorable boots with fur trim in my Shopbop Try-On Haul [you can rewatch it on my Instagram profile under the Shopbop highlight] last week. They'd be perfect for a winter getaway. I got my normal size and I felt like I had PLENTY of room in my toe area for thick socks or even a warming pad. I would suggest spraying them down with a suede spray, though, before going out into the snow in them.

My favorite over-the-knee boots are on sale in black but there is an amazing dupe that you can get 30-50% off with code THANKS30 or THANKS50. It just depends on your cart price. They are great quality but take awhile to ship. However, they are boots you'll have for a few years so I feel like the wait is worth it! Get your normal size in these and be sure spray them down, too!
BEST ELECTRONIC DEALS
There are SO MANY great electronics deals! Save on Kindles, printers, Dyson products, and more! My favorites are linked in the widget!

BEST HOME ITEMS
You guys said that you'd be interested in seeing some of the items that I have in my home that are currently on sale so I included quite a few of them in the widget below but also added a few others that I think are amazing deals:

This French country mirror is one of my favorite pieces in my home and you can save over $200 on it right now! The gray bench at the end of my bed is currently 14% off and my bed itself is 30% off! There are also lots of deals on my bedding and pillows!
The gray and white rug in my living room [you can see it here] is also on sale! Snag it now! It's such a beautiful rug!
BEST TRAVEL ITEMS
Enjoy some of my favorite travel picks that are currently on sale!

My travel wallet is currently 10% off today! Discount is taken at checkout. Plus, free shipping! Sadly, I don't have a photo of it but I'll show you today on stories!
BEST OF BEAUTY
Beauty products can be quite the investment so now is a really good time to splurge but save, if that makes sense! Here are some of the products I love and are currently on sale:

Glamboxes is doing a MASSIVE Cyber Monday sale, as well! It's better than the Black Friday sale! Enjoy 35% off with code CYBER18! I use THIS BOX to organize my makeup and THIS DIVIDER to neatly organize my clutches. This is seriously such a great brand for organization. It makes everything look neat while also looking nice and chic.
Sigma is another beauty brand that I love and is currently offering a HUGE discount for Cyber Monday! EVERYTHING on their site is currently 35% off!
I swear makeup brushes can make all the difference in how your makeup looks in the end, most especially with eye makeup. My favorite makeup brushes are by Sigma and I'd highly suggest snagging one of their eye brush bundles! My favorite foundation brush is HERE and the plastic pad that I use to clean my makeup brushes is HERE.
Here are some of my favorite products from Sigma!

LAST BUT NOT LEAST … do not miss THIS EYESHADOW PALETTE!! It's currently 50% off! TODAY ONLY! I use this palette almost everyday! It has the best neutral and warm toned colors that look good on almost all skin types! Can't recommend it enough.
BEST BOTTOMS
Now is also a great time to stock up on bottoms like faux leather leggings, fleece lined leggings and jeans.

Don't miss Spanx faux leather leggings for up to 25% off with code MORE18 [there's one size left for 20% off at Nordstrom but there are a few sizes left for 30% off HERE]! You can get other types of Spanx leggings for 30% off HERE!
The other day I wore these leggings, that are more like Ponte pants. I absolutely love them. They are so chic. Mine are a few years old but they keep re-releasing them. I can't recommend them enough. They're perfect with a tunic and they look a little more put together than leggings do for dinners and such, in my opinion.
Shop the entire look HERE!
I linked some great fleece lined leggings in THIS POST from the other day on Instagram that are also on sale!
BEST WINTER ACCESSORIES
Time to bundle up! Here are some accessories that are currently on sale, like my favorite cashmere wrap:

I brought the gray one with me to London this time around but it hasn't been cold enough to need it but, in the dead of winter here two years ago, I wore it all the time! It comes in a ton of colors!

List Of Sales
ABERCROMBIE & FITCH | 50% off site-wide + free shipping
AERIE | 50% off all sweaters and leggings
AMERICAN EAGLE | 50% off all sweaters + 40% off select items with free shipping
ANTHROPOLOGIE | 30% off site-wide + free shipping on every $100+ order
ASOS | 20% off sitewide with code HELLO20
BACKCOUNTRY | 50% off select styles + 25% off one Backcountry-branded item and 25% off one Arc'teryx item
BANANA REPUBLIC | 50% off site-wide, $30 sweaters + extra 10% off for cardholders with code BRCARD
BLOOMINGDALE'S | 25% off select items
CHICWISH | Buy more save more! Save $10 on $60 with code BF10, $25 on $120 with code BF25, and $35 on $180 with code BF35
CLUB MONACO | Take an extra 40% off + buy more, save more to stack your savings! Get 25% off purchases of $150+, 30% off $250+, and 35% off $400+ with code CMCYBERMONDAY18
EXPRESS | 50% off site-wide + free shipping
FOREVER21 – 30% off everything!
FREE PEOPLE | Additional 30% off sale items + 50% off select styles
GAP | 50% off site-wide with code CYBER
H&M | 30% off site-wide
J.CREW | Extra 60% off sale styles + 50% everything else with code CYBER
J.CREW FACTORY | 60% off site-wide with code ADD2CART
KATE SPADE NEW YORK | Take an extra 40% off sale items and 30% off everything else with code MORECHEER
LOFT | 50% off all orders + free shipping with code CYBER
 MACY'S | 20% off and and extra 10% off in select departments with code CYBER
MADEWELL | 25% off site-wide with code SHOPALLDAY
MYTHERESA.COM | up to 50% off select designer items
NEIMAN MARCUS | Extra 25% off select items + earn a $50-750 gift card depending on purchase amount with code GC4YOU
NORDSTROM | Up to 60% off select items + earn $50 gift card with purchase of $250
OLD NAVY | 50% off site-wide
QVC | Sale on select items + free shipping on beauty, kitchen, food, and electronics 
REVOLVE | take an extra 20% final sale items with code CYBER20 + 75% off new markdowns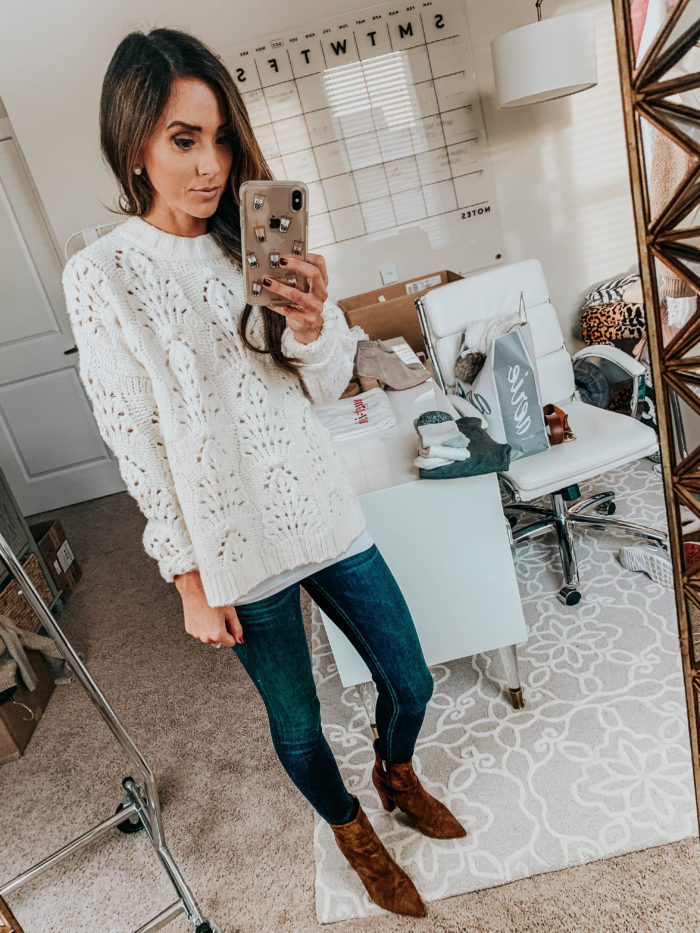 SHOPBOP | Looks like the MORE18 code is still working today! Up to 25% off full-price items and up to 75% off sale items with code MORE18
SPLENDID | 40% off site-wide with code WINNING
TUCKERNUCK – 20% off site wide [25% off when you spend $500+; 30% off when you spend $1,000+] with code GOWILD. Exclusions apply.
URBAN OUTFITTERS | Buy more, save more! $50 off orders of $150 or more, $25 off $100 or more, $10 off $50 or more + free worldwide shipping on orders of $50 or more
Accessories
BAUBLEBAR | 35% off site-wide with code CYBER35
KENDRA SCOTT | 20% off site-wide + 25% off orders of $100 or more, 30% orders of $200 or more, plus up to 60% off select markdowns 
LISI LERCH | 30% off + $5 shipping
TORY BURCH | 30% off orders of $250 or more with code THANKS
VICTORIA EMERSON | Buy one, get one free with code BF18
Home Decor
ANTHROPOLOGIE | 30% off site-wide + free shipping on every $100+ order
CRATE & BARREL | Free shipping + up to 40% off select furniture and 20% off select full-price items
CONTAINER STORE | 20% off all Closet category + new sales each day this week
HORCHOW | Up to 40% off site-wide + free shipping on purchases $50+ with code HOLIDAY
ONE KINGS LANE | 30% off site-wide
PIER1 | Buy one, get one 50% off all Christmas decor + up to 30% off furniture
POTTERY BARN | 25% off all regular price items + save up to 70% off select items and free shipping with code CYBER
WAYFAIR | Up to 80% off select items + free shipping 
WEST ELM | Save up to 70% off select items + free shipping with code CYBER
WORLD MARKET | Buy more, save more with 40% off purchases of $300+, 30% off $200+, 20% off $100+, and 15% off $50+

Beauty
GLAMBOXES | 35% off with code CYBER18!
SIGMA | 35% off site-wide + free domestic shipping + free international shipping on orders over $75
ELEMIS | 20% off all full-size items with code CYBER
SEPHORA | Up to 50% off select items like, today, it's Tarte eyeshadow palettes! THIS is the one I use all the time!!
TULA | Free full-size cleansing oil with purchase of $40+
Boutiques
GOODNIGHT MACAROON | Buy more, save more with 30% off orders of $150+, 40% orders of $250+, and 50% off orders of $450+
WAITING ON MARTHA | 30% off site-wide with code MONDAY30
Happy shopping, friends!
Dyson Supersonic Hairdryer Giveaway!
To celebrate Cyber Monday and to thank you for the love and support you show me throughout the year, I'm excited to be giving away a Dyson Supersonic Hair Dryer!
I am one of those people who likes efficiency. I like things to work and work quickly. I am also that girl that will push back the act of washing my hair as far back as I can. I haven't shared this yet but I hit a new record here in London. I went NINE days without washing and drying my hair, ha! I just despise the whole process. It takes forever but the Dyson Supersonic Hair Dryer speeds everything along and doesn't ruin your hair in the process. I can't recommend it enough if you're thinking about gifting it to someone for the Christmas holiday. This thing is incredible and it'll make the days where you have to do your hair a breeze … literally and figuratively! I'm so excited to gift it to one of you! 
To enter, follow the instructions in the Rafflecopter widget below:
Congratulations to Lauren Mendenhall! Please email assist@alysonhaley.com to claim your prize.
If you're curious about pajama details, details can be found here:

Happy Cyber Monday, friends, and happy shopping! xo.