Hey there, friends! Today I'm rounding up all of my favorite Instagram posts from the month of November! This is always one of my favorite months of the year to style. Hope you find something that inspires you as much as this season inspires me! xo.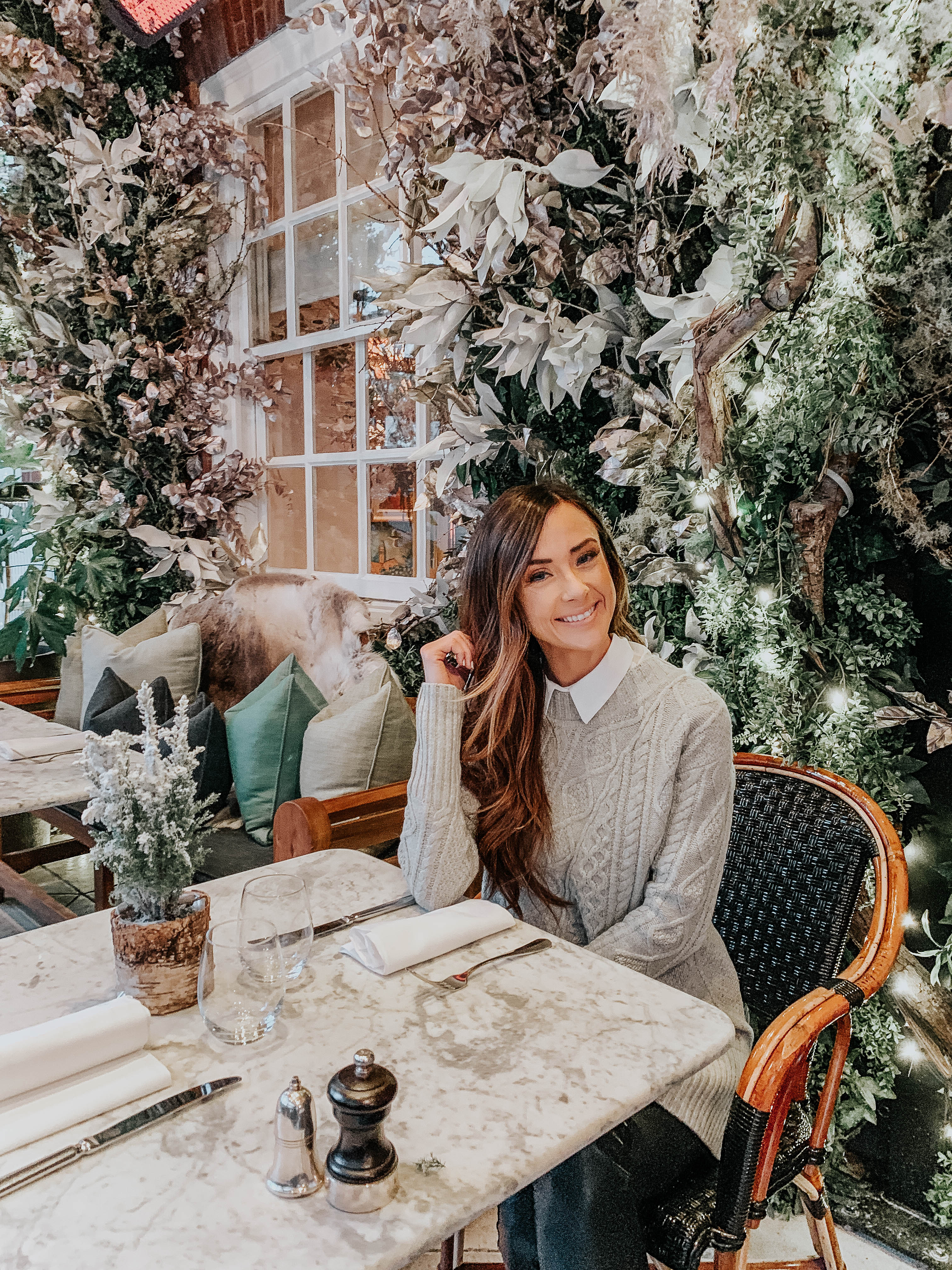 The lovely Dalloway Terrace was a dream! [See all my favorite spots to eat in London here.] And my sweater is 35% off right now!


My leggings AND top are both 25% off and mostly in stock! The booties I'm wearing have been one of my favorite pairs this fall, and they are 60% off right now! Limited sizes available so go grab them if you've been thinking about it!


In case you missed it, check out my Gift Guide For the Beauty Queen! There is an abundance of great beauty gifts out there right now, so I linked a few of my favorites in the widget above!


My jeans are sold out, but I'm linking a super similar pair that is 33% off right now!


Always love a little pop of pink, so since the tree in my living room isn't incorporating it this year, I decided to use these faux flowers on the mini-tree in my bedroom! Such a fun and affordable way to dress up your tree!


This sherpa hoodie is the BEST. It's on sale right now, as are my joggers!


I love the detail on this sweater! So perfect for Fall!


My leggings are under $100 and so comfortable for travel! And check out this new gold version of my favorite marble luggage!


My quarter-zip is under $130 and a great throw-on for those in-between weather days, or a nice extra layer under a coat if it's super cold!


I LOVE this puffer jacket, and it's on major sale right now for only $59!


My joggers are $30 off right now, and these slippers would make such a great gift for any cozy lover in your life!


I was ALL about London's beautiful holiday displays this month. So much Christmas spirit! My boots are still available in limited sizes but more than $200 off original price. Here's a dupe for under $165!


My vest, hat, and socks are 30% off right now with code 11750!


London, "eye" love you so much! Get up to 30% off my dress with code MERRYME.


Fortnum & Mason is one of my favorite spots to shop during the holidays in London! My scarf, hat, and sweater are all under $35!


My striped top is sooo soft and under $50!


I am amazed that this sweater is still almost fully in stock! It's under $35 right now! Also, the tee I'm wearing underneath is 20% off.


This coat and this backdrop had me feeling #extra. How gorgeous is the entryway to this floral design shop?


Snag my booties while they're 40% off!


My favorite coat retailer is having a 35% off sale right now with code WINTERSALE!


I wish I could describe to you how insanely soft this coat is!! Currently $140 off and also comes in a gorgeous blue color!


This pajama set is almost sold out, so I'm linking similar above!


My sweater is under $30 right now!! And I adore these booties but they are a bit of an investment, so I linked more affordable similar options in the widget above!


These corduroys come in three amazing Fall colors, and are on sale right now for under $40!


I've always loved this fuzzy Patagonia vest! Under $100!


Another Canada flashback! I loved this winter wonderland! My boots are old so I'm linking similar in the widget above, plus lots of teddy bear coat options!


My pullover is 35% off right now! And I've also linked the perfect under $70 dupe of my shoulder bag!


My jeans are currently 25% off, making them under $170!


This is a throwback to my Canada trip! I love my Patagonia pullover and this color is perfect for Fall. Under $100!


I always enjoy updating my wall calendar each month, looking back on all the travel and work that was accomplished, and getting excited for what's ahead! Save 25% on my calendar here!
Hope y'all have had a great weekend! Check out all of this weekends' sales HERE! xo.