Merry Christmas, lovelies!
Does anyone else find that the older you get, the faster the time goes? I seriously cannot believe it's Christmas and we will be celebrating the start of a new year in exactly one week. It absolutely blows my mind! This time of year is always so bittersweet. I can't wait to take some time during the next week to reflect on all that this year held, celebrate the high's and find the lessons in the low's!
Since New Years Eve is coming up quickly, it's time to start thinking about our plans and what to wear! As a girl whose blog used to be called Sequins & Things, I personally always like to use this holiday as an excuse to be as extra as possible! I was doing some holiday shopping at Macy's and got distracted [as you do!] and ended up finding this sequined stunner by BCBGMAXAZRIA as a perfect option for the occasion! There's so much to love about it starting with the fact that it comes in two color options, black and pink. There are still quite a few size options available in both but be sure to size down! I'm wearing an XXS here. The off-the-shoulder style adds some drama to the dress but the long-sleeve will help you not completely freeze to death.
I'm not even entirely sure what my plans are for NYE and if I'll even be doing anything that would warrant a sequined dress but, I do think I'll at least be doing a nice dinner so I'm going to make sure I figure out a way to wear it! It's also a dress that could be worn to a dressier bridal shower or cocktail party or wedding.
If this dress isn't your style or maybe sequins aren't your thing, I still want to encourage you to check out Macy's selection of BCBGMAXAZRIA items. They are all so classic and well-made. I purchased quite a few options to try on for a New Years Eve outfit before deciding on the sequined dress. While I might have returned quite a few of these, they could absolutely work for you and thought they were beautiful in person: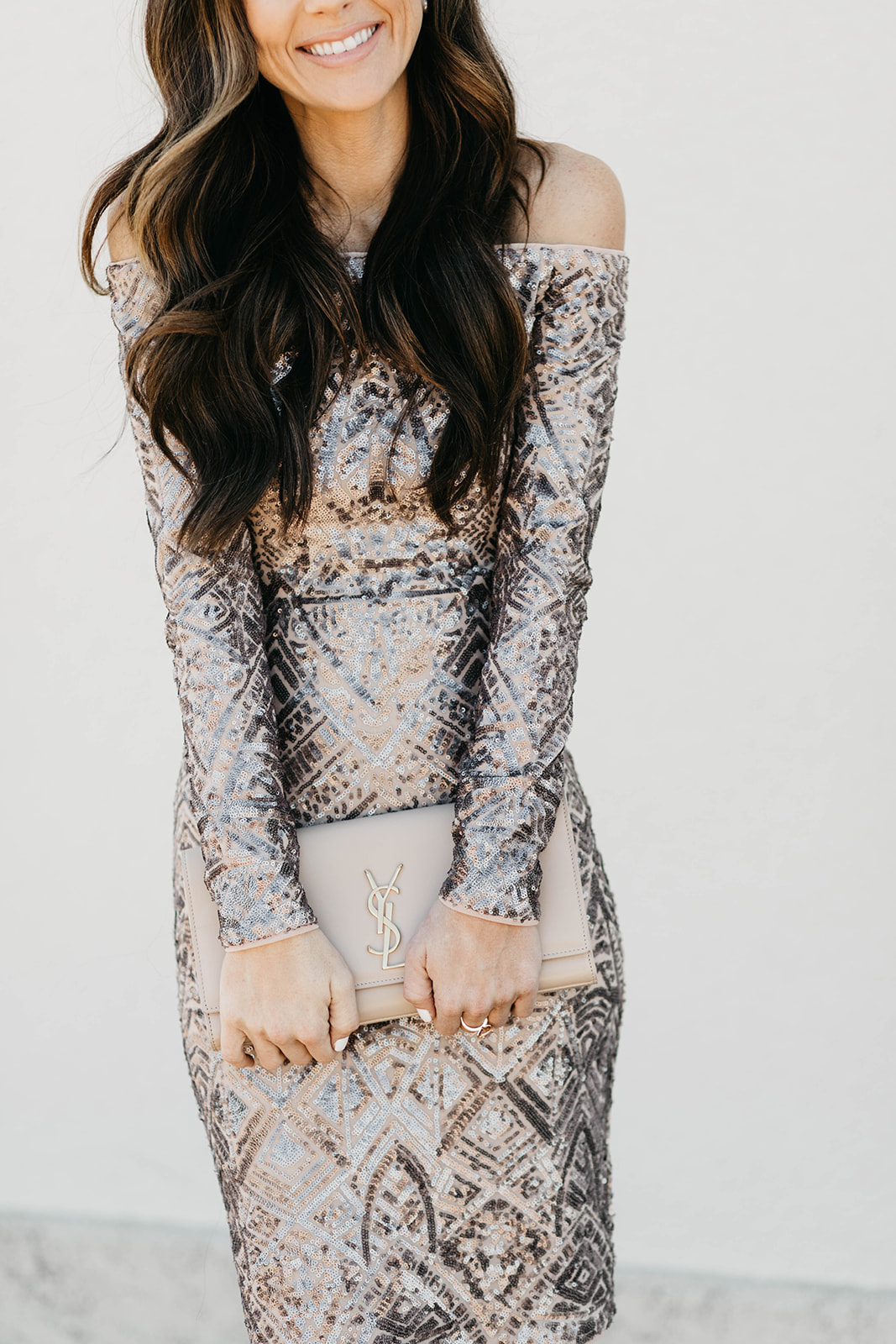 A lot of you love when I share great workwear items and brands so, if you're in need of workwear, BCBGMAXAZRIA is a great option for that, as well! I purchased these white cropped pants for nicer work occasions and meetings. I ordered a size 0 and needed one size smaller so I would get your normal size in pants.
Be sure to get a move on grabbing something for New Years' Eve now as the days will go by quickly this week and you don't want to risk not being able to find something! It's never fun to go to a party or event wishing you were wearing something else! So, order today so it can be out of mind until it comes in! Macy's offers free shipping on orders over $25 + free in-store pick up if you have a store close by you!
Enjoy your Christmas, lovelies! I will never be able to accurately express my gratitude for you all. You're a gift to me everyday of the year!
Also, if you're doing some after Christmas shopping today … be sure to check out Macy's after Christmas sale! You can get an extra 20% off select items in multiple departments like women's, men's, kitchen, home, etc. Here are some of my picks!

More Boxing Day sales can be found HERE! Have a great day!
xo.