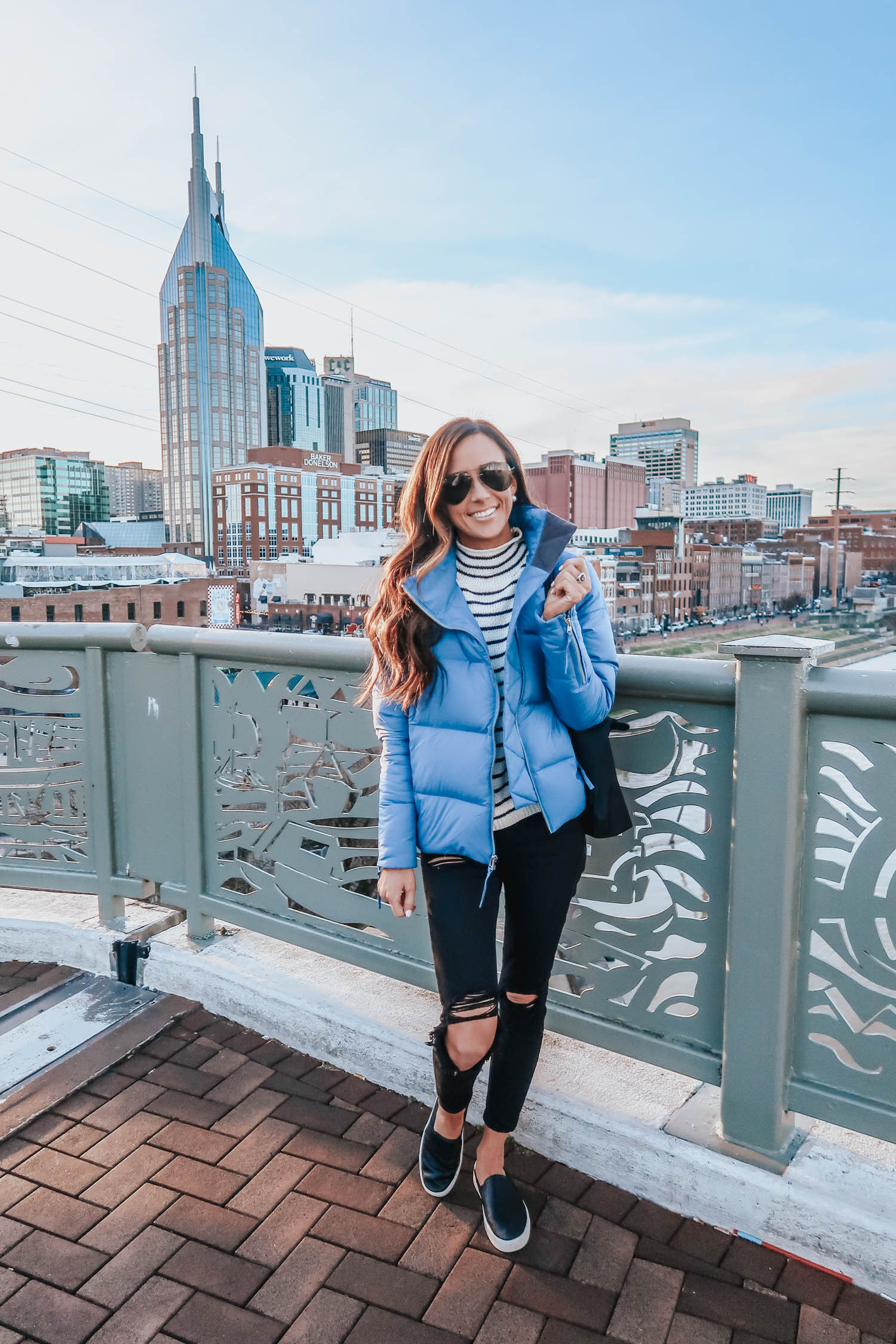 Hi friends!
Last month, I shared that I wanted to implement new ways to stress less this year. I am determined to explore more of my city at least once a month. However, February has been an interesting month so far. I was sick the first week of the month and felt better just in time to head up to Nashville to have some Galentine's Day fun with my bestie, Whitney. Next, her and I are heading down to Colombia to celebrate my birthday so I haven't had a lot of time to check out a new spot in my area so I thought I'd be intentional about heading to new spots I hadn't been to in Nashville when I was there last week.
Over the years, I've had the opportunity to head up to Nashville for different reasons, whether it was to visit college girlfriends or spend time with a guy I once dated, and it ALWAYS leaves me with a huge smile on my face. It is so fun and has incredible energy and charm. It's easy to see why it's one of fastest growing cities in the country!
Today, I thought I'd share the spot that I picked to check out last week in an effort to stay true to stressing less in 2019!
If you love a great city skyline, Nashville's will surely not disappoint you. The best place to view it, in my opinion, is the Pedestrian Bridge in downtown Nashville.
It was super chilly, especially being on the water, so I'm glad I packed this blue puffer jacket from Backcountry.com! Y'all know I am smitten with that website. Their outerwear selection never disappoints.
I love the color of this jacket [also available in a black and eggshell option, as well] and the off-center zipper. I found that the high collar helped block out the wind and the cold and the regular fit allows for easy layering underneath! There are two pockets on the outside and one of the inside for discreet storage. It's a great option for casual Winter outings.
SIZING: Fits true to size | PRICE: Currently 30% off $174.96 + 15% off with code ALYSONH15 at checkout!
Don't forget to get outside this month! And, if you need any outdoor gear, remember Backcountry.com is the best resource to make you feel the most comfortable participating in whatever activity you love, whether it's  yoga, hiking, running, skiing, etc! They are having a great Semi-Annual Sale right now where you can enjoy up to 50% off a wide-variety of products so be sure to check out the selection HERE!
Here are some of my favorites:

If you're heading to Nashville soon, be sure to check out the following spots for a variety of activities:
FOR DINNER: Bartaco, Epice [call ahead], Adele's, Burger Up [casual], Liberty Common [also great for brunch], and Bakersfield Tacos [get the queso with chorizo]
FOR HIKING: Percy Warner, Radnor Lake
FOR A DRINK: LA Jackson, Pinewood Social, Josephine, Old Glory
FOR A GREAT VIEW: LA Jackson [at the top of the Thompson Hotel], Pedestrian Bridge, The Bobby Hotel, Rarebird [on the roof on Noel]
FOR A CUPPA: Bongo Java, Revelator Coffee, Fido, Frothy Monkey
FOR BRUNCH: Le Sel, Fido, Frothy Monkey, Restoration Hardware Cafe, Henrietta Red, The Box, Josephine
Don't miss Five Daughters for a sweet treat before you leave! Their donuts are s'good!
Thanks so much for stopping by today, friends! Appreciate you! xo.