Hi there, friends!
Over the last couple of years, trying out skincare products has become one of my favorite aspects of what I do. Skincare is the subcategory of the beauty umbrella that I am the most passionate about, especially after discovering I had some extensive sun damage on my face after years of irresponsible skincare practices back in 2017. Since I've experience first hand what a good AM and PM skincare regimen is aiming to prevent, it's even more important to me to ensure I am putting on the best skincare products on my skin. To find the best products for my skin, I do a lot of product testing. One product that I've been on the hunt for is a retinol that doesn't tear up my skin every time I use it.
Before getting into the new skincare discovery I've made, and the retinol I've been absolutely loving, I thought I'd give y'all a short little rundown on what retinol is, why your skin needs it, and how to use it!
What is retinol?
Retinol is a Vitamin-A derivative, and one of many 'retinoids', that is highly effective in reversing sun damage and signs of aging.
What does it do & why does my skin need it?
Retinol works on a cellular level to help kill off surface skin cells and promote the growth of new ones to then yield an even skin tone and texture as well as a healthy complexion. It has Vitamin C & E to provide moisture to the skin. It aids in minimizing fine lines, shrinks pore size, and improves the look of acne scars. Honestly, it's a miracle product that is a MUST in your skincare regimen.
When should I apply retinol?
TIME OF DAY | You should never apply retinol products during the day because it will break down when exposed to the sun and also make your skin more susceptible to sun damage. In order for your skin to benefit from the product, it is best to apply it at night.
AGE | This is also a great time to talk about when you should start incorporating a retinol into your skincare regimen. It is typically targeted toward women in their 30's and up because, as you age, the rate in which your skin cell's turnover , or regenerate, slows down significantly. So, what does that mean for our skin? The longer it takes for cell's to turnover, the duller your skin looks and, I'm sorry but, as you get older, that's the last thing you want, right?! Well, that's why retinol is our friend! The closer you get to your 30's, the more I'd encourage you to start using retinol to help speed up that slowing cellular regeneration!
So, what retinol do I use?
If I'm being honest, I've spent the last year testing out two different retinol products – separately. They definitely had positive results but I didn't like how, even after multiple consistent uses, they still dried out my skin and made it peel. So, needless to say, I've kept my eyes open to new retinol products to try. I knew there had to be a better retinol product out there for me that wasn't so harsh on my skin.
The answer came in the form of the lovely team at Colleen Rothschild reaching out asking if there were any products I wanted to try. I actually had the pleasure of meeting Colleen and her team last year at the rewardStyle conference and I could not have been more impressed with [1] how friendly and passionate they all were and [2] how great Colleen's skin looked! Clearly, she is creating products that work! I shared that I was in desperate need of a new retinol product and they were like 'we have JUST the one'. Y'all … they were not lying. They sent me quite a few products – and we'll get into that in a minute – but their Retinol Supreme Night Oil is literally the dreamiest retinol product I've tried.
The Retinol Supreme Night Oil combines the regenerative benefits of retinol with the moisturizing properties of plant-based oils. The sleeping elixir refines skin ton and texture, figures age spots and improves dullness. This product is great for all skin types. It is very hydrating, quenching dry skin sufferers. It also has balancing properties, effectively tackling oily skin. Every time I use it, I wake up with clear, glowing skin that feels hydrated and moisturized. I don't think I've ever experienced that the morning after using the previous retinol products I've tried.
One of the other things I love about the Retinol Supreme Night Oil is that it has Vitamin C incorporated into it. I've also been on the hunt for a Vitamin C product because, like retinol, I just haven't found one that impresses me completely. If the night oil has Vitamin C in it and makes my skin look like that, I can only imagine how much better it will look after I start trying their Vitamin C Treatment Complex!
How often do you apply it?
Everyone responds to retinol differently and how often you use it throughout the week will be completely dependent on your experience. I would start using it twice a week, giving yourself a few days in between before using it again. If your skin can handle it, try using it three times a week. There's no harm in using it every night as it's a powerful antioxidant but, I would NOT use it on nights where you feel like your skin needs some powerful exfoliation.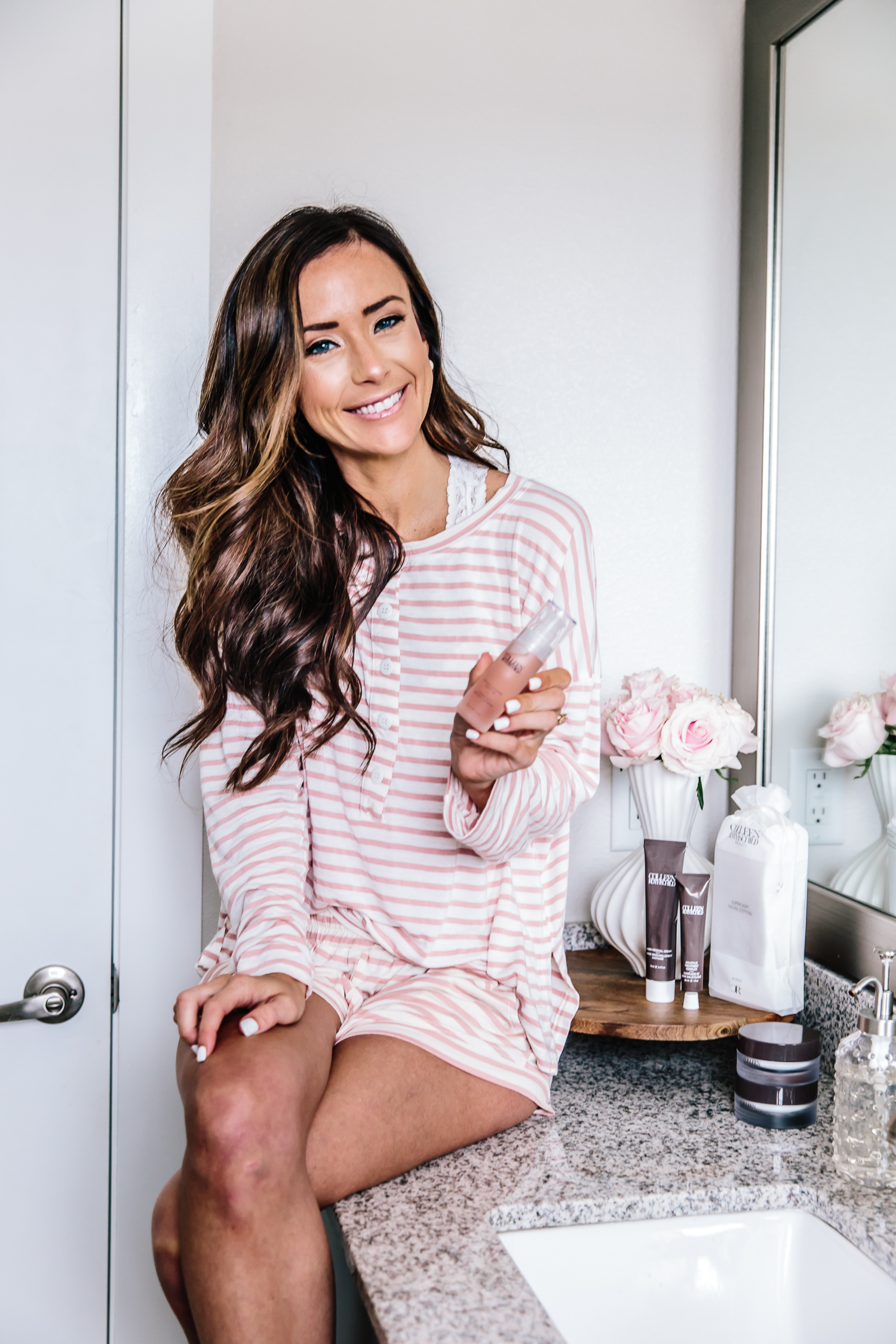 Retinol Rundown
• Dermatologists suggest using a retinol product for a total of 12 weeks to see the best results.
• While you should be applying SPF to your skin each morning prior to applying your makeup, it is even more important to do so the morning after applying a retinol product to your skin, neck and décolletage.
• Retinol is not safe to use during pregnancy.
• Start incorporating retinol in your routine slowly. Remember: Everyone responds to retinol differently and how often you use it throughout the week will be completely dependent on your experience. There's no harm in using it every night as it's a powerful antioxidant but, I would NOT use it on nights where you feel like your skin needs some powerful exfoliation.
• It's important to put a hydrating moisturizer on after applying your retinol product. I've been loving the Sheer Renewal Cream by Colleen Rothschild. It is oil-free and has Multifruit BSC in it, which aids in cellular regeneration, and provides 24-hour hydration so it's the perfect addition to your nighttime routine when you use the Retinol Supreme Night Oil.
Never heard of Colleen Rothschild before?
While I'm still testing out these products myself, let me break down the four products I recommend you start with that I've really liked so far:
• RADIANT CLEANSING BALM: Y'all know I'm a fan of balms! It's my first of two cleanses I do to my skin before toning and is my preferred way to remove makeup. It digs down deep to clear out congested pores removing impurities and leaves skin balanced, soft and radiant. I've been really loving this product!
• MATCHA TEA TREATMENT TONER: This toner is powerful and has a lot of benefits! It removes oil and grime, but also protects against free radicals, absorbs excess oil, helps balance microflora, and delivers essential hydration. Not to mention, it smells amazing! It makes me feel like my skin is extra fresh!
• EXTREME RECOVERY CREAM: This is going to be the product you go to grab when your skin is in desperate need for hydration. I am going to be bringing this with me to on my next long travel day because it really has plumped up my skin on the nights I have applied it. The added hydration in turn helps reduce the appearance of wrinkles. Really, y'all .. what's not to love?
• SHEER RENEWAL CREAM: I've shared this one already but it provides continuous, weightless hydration and promotes cellular regeneration to help minimize the appearances of lines and wrinkles.
Sale Alert!
I shared yesterday that I actually wanted to share this post next week but … I couldn't let y'all miss out on Colleen Rothschilds' Stock Up For Spring Sale! Here are the details:
• Enjoy 15% off with code SPRING15 when you spend $100
• Enjoy 20% off with code SPRING20 when you spend $200
• Enjoy 25% off with code SPRING25 when you spend $300
If you've been looking to try out Colleen Rothschild products, now is a great time!
Please let me know if you have any questions about retinol! I'd also love to know what your favorite Colleen Rothschild product is. Sound off in the comments below! If you're curious, my pajama top is here and bottoms are here! xo.