Honestly could see moving into this Amsterdam coffee shop … all the pink and gold AND an amazing cuppa! I wore this tunic a few times on the trip and loved it.


I absolutely loved riding around Amsterdam on a bike! It's a little intense at first, but you get the hang of it quickly! My puffer coat kept me super warm.


I love this cotton utility jacket for Spring! It's so comfortable and can be layered with sweaters or a hoodie.


I'm part of a great Home Goods giveaway right now on this post! Go enter!


I was up in the air again a few times this month! I hit Cartagena, Colombia, my beautiful London, and Amsterdam. This travel wallet is one of my favorite travel items I own. It keeps me organized and sane!


This was the cutest storefront in Amsterdam! I am obsessed with these shoes, which you miiiight be seeing featured in an upcoming blog post about travel shoes! Also, this sweater is currently 50% off!


Just a reminder to anyone wondering.


Though I don't wear it much in my own day-to-day, workwear has always been so fun to style for y'all! I was about to say I wish I had more meetings, but nah 😉


In case you missed it, I did a whole Spring Try-On Haul on the blog this month! Check it out here!


You know me, I'm a sucker for pink dresses and floral entrances that make a beautiful statement! See more images in Monday's blog post and don't wait to snag this one! It's on sale for under $50!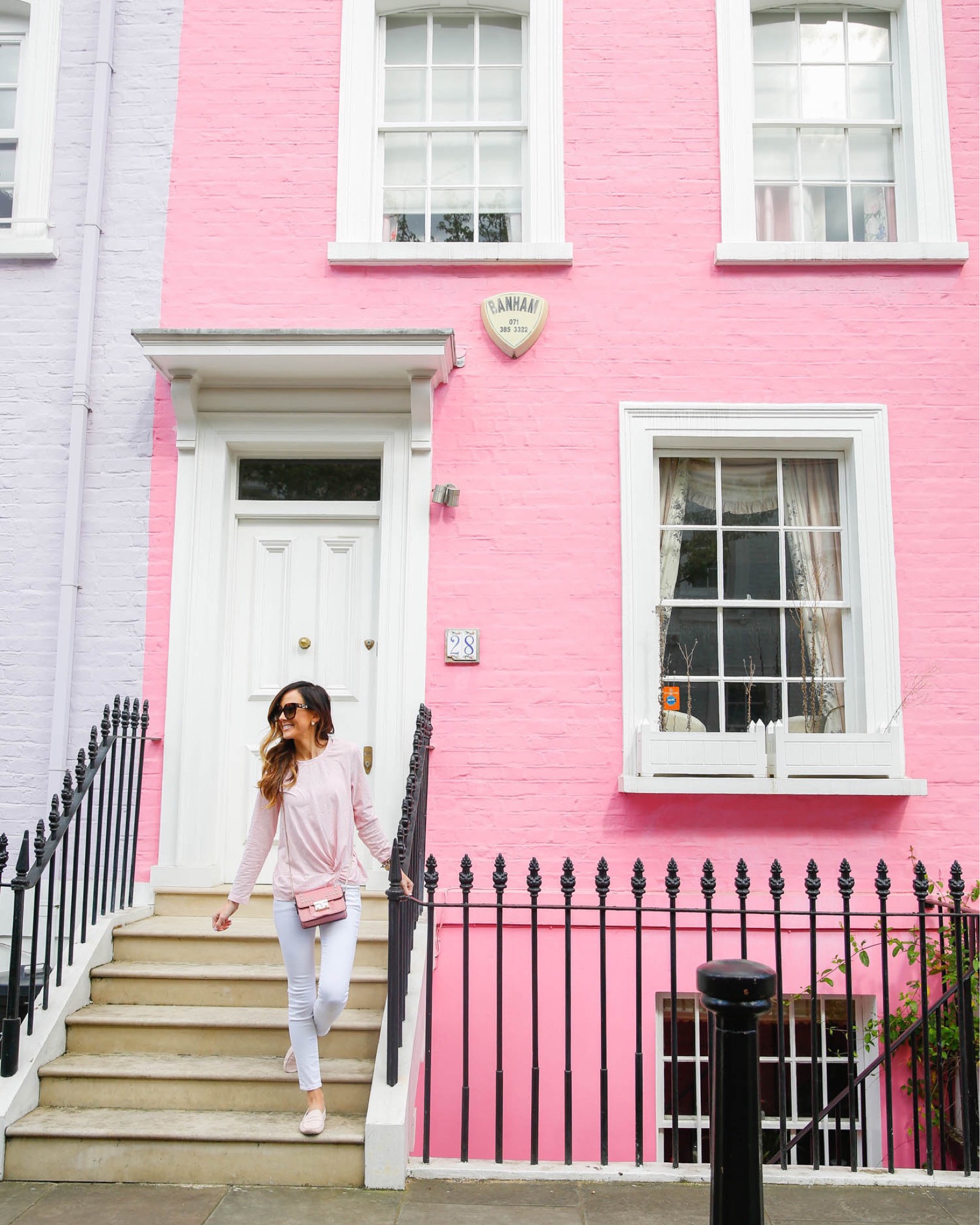 I'll never tire of the vividness and creativity that thrives in London, especially when it comes to their architecture and beautiful homes!


The two tanks I'm wearing, the paper bag shorts, and my earrings are all great, affordable buys for Spring!


I love getting affordable basics like this tank at Abercrombie. They've really been stepping up the basics game lately, and I'm taking full advantage! See more photos of this outfit in this blog post from earlier this month!


This beautiful two-piece set is really flattering, and I honestly had to look twice at the price to make sure it was REALLY that low!


This star-printed denim jacket was part of my Spring Try-On haul. I love the loose fit, and the price is SO nice, especially for a quality denim jacket.


In case you missed it, I did a huge post on all the things you need to know before booking a trip to Cartagena, including an important etiquette step I took before taking this photo!


One of the skin care brands that has been making a huge difference in my skin lately is Colleen Rothschild. Their products are amazing!


Linking this amazing jumpsuit and some other great white options for you in the widget above! More photos of this outfit can be seen in this post from earlier this month! I also shared some additional white options for all of you 2019 brides!


March was a tough month procedure-wise, as I had my first gum graft! But things are looking back to normal now and feeling fortunate to have such a fantastic periodontist!


This adorable set comes in four different color combos, including the one I'm wearing! I've linked them all for you above.


This might be the most affordable swimsuit I've ever put together! Both pieces fit great and are good quality!


Surely by now you've seen this amazing Free People tunic that so many girls are enjoying this season, including myself! It's such a great statement piece and doesn't need much accessorizing.


On our last morning in Cartagena, we walked around the colorful neighborhood of San Diego and it might have been my favorite area! So much color!!! This white dress was one of the most popular items I wore in March!
March was such a fun month in terms of outfits and I'm looking forward to sharing more Spring style with y'all throughout the month of April! I am currently in Cuba and am in awe of the culture, color and architecture. Whit and I are taking it all in. We're a bit disconnected as Wifi is hard to come by here but I'll be sure to share on stories and on Instagram when I can!
Ten Best Selling Products
Here are the 10 best selling products I posted in the month of March, in order of popularity!
1 | 2 | 3 | 4 | 5 | 6 | 7 | 8 | 9 | 10
Also, the Monthly Favorites newsletter went out this morning! Y'all love this newsletter. It includes exclusive content and insight into the previous month and what I've been loving and gives you a preview as to what's to come! Sign up to get the next one by subscribing to 'All Access'! xo.