Hi friends! Hope you all had a wonderful long weekend!
Some of my earliest memories of growing up were meandering the aisles of my local Walmart with my Mom. When I was really little, all I wanted to do was go to the toys but, as I got older, I would tell my Mom to pick me up in the makeup department when she was done grabbing what she needed! Ha, I've always been a bit independent, what can I say? I loved perusing the different brands and seeing what products they had to offer and, today, not much has changed! The selection in the beauty department is impressive and the variety of products will surely allow everyone to find what they're looking for at Walmart.
Last year, I shared that I decided that I would personally only purchase makeup products that are not tested on animals or sold in countries where beauty products are required to test of animals before they're sold to the public. If you're interested in hearing more about this, I encourage you to check out this post I did last August! Almost a year later, I'm still going strong! One of the hardest parts of this journey has been the lack of drugstore beauty brands being cruelty free. I've had to say goodbye to some of those products that I fell in love with so long ago and find newer, more expensive ones to replace them. I don't mind investing in quality products, don't get me wrong, but sometimes … I find great drug-store products that are such a great deal so, there were a few of those that were hard to say goodbye to!
[Let me just take a second and say … hat's off to NYX! I love their products and they're so affordable … and cruelty free!]
Last November, though, there was an exciting announcement for those of us who would really like to see more and more beauty brands [makeup, haircare, skincare, everyone really!] opt to not test their products on animals. Covergirl, one of the leading drugstore brands, announced that they believe that consumers shouldn't have to choose between beauty products you love and values you believe in so they partnered with Cruelty Free International to achieve their Leaping Bunny certification to become one of the largest cosmetic companies to become cruelty free!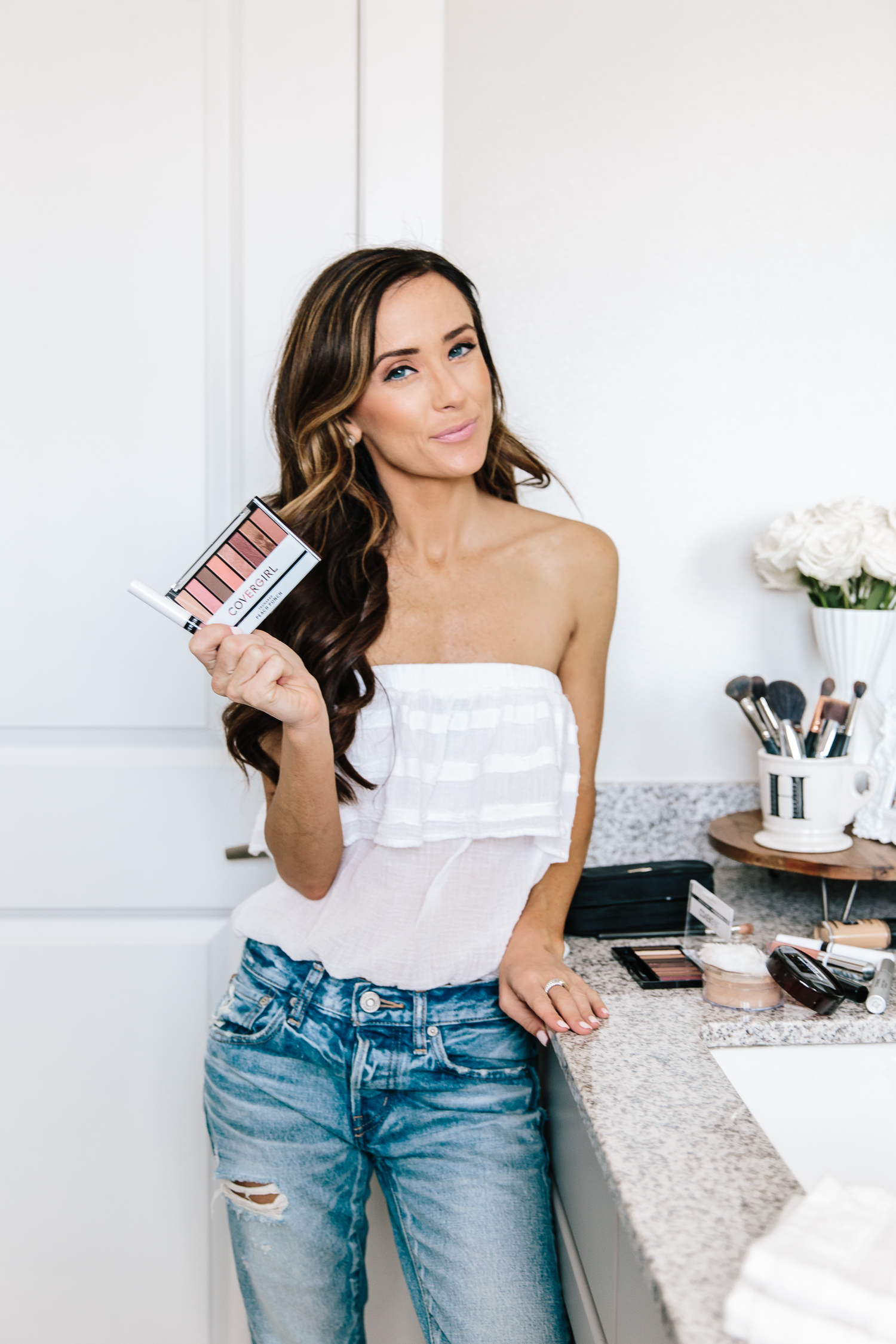 Today, I thought I'd share some of the Covergirl products I've been loving lately and a couple that missed the mark, all of which are available at your local Walmart!
Eye Makeup
TruNAKED Eyeshadow Palettes: There are a lot of color combinations to choose from as you can see below. I have the Peach Punch and the Chocoholic because I love to play with those shades the most. I recommend these palettes because they're under $10 for so many colors but also because the formula of the eyeshadow is really good quality. Sometimes, with drugstore eyeshadows, you can dip your brush into the product and literally get nothing on it when you pull it back. It drives me crazy. But, these are different! You'll get a good amount of product on your brush, substantial pigment when the color is applied without a bunch of fall out, and you'll find them easy to blend, as well.
In the photos you see in today's post, I opted for the Peach Punch palette, in case you're wondering! I may share another combination over on IG stories today to give y'all some inspiration!

I recently tried the Lid Lock Up Eyeshadow Primer, as well, and loved it because it goes on clear, dries fast and isn't sticky so, if you're looking for one to try, this would be a good one for only $8!
Lash Blast Amplify Eyelash Primer: If you don't use an eyelash primer and you're a little unsure if you want to commit to one long term, I'd highly recommend you give this one a try! It's only $6 and it primes and conditions your lashes for mascara application. It's formulated with coconut and jojoba oil so it really does work against your lashes drying out from mascara. Highly recommend!
Exhibitionist Mascara: This mascara is a bit of a splurge for a drug-store beauty product but, I will say, that I like it because it lengthens my lashes the way my favorite mascara does. However, I wouldn't say you're saving that much by buying it when the other one is only $5 more but, if that $5 matters, then I'd highly recommend this mascara!
Lip Products
Outlast 2-Step Custom Nudes in "Light Cool": Sometimes I just need to venture out of my neutral nude lip color comfort zone and find some other colors that may fit my fancy and … this one did the trick! This purply-pink lip color is perfect for this time of year and is a great compliment to the peach eyeshadow palette! The formula is super moisturizing and lasts all day!
Face Makeup
TruBlend Matte Made Liquid Foundation: Y'all. The oil-free formula of this foundation is phenomenal. It goes on so smooth and looks incredibly natural, blurring imperfections with ease. My face doesn't get oily throughout the day when I'm wearing it, which is always a plus! It has a matte finish but it doesn't feel heavy in the slightest. It also comes in 40 different shades so there's a shade for everyone!
Simply Ageless Instant Fix Advanced Concealer: This concealer was an incredible disappointment. I got a lighter color to highlight my under-eye, but it's very thin and didn't offer much coverage at all. I wouldn't recommend.
TruBlend "It's Lit" Concealer: I got this in a shade that would match my skin tone but I accidentally picked up the wrong color. I did apply the formula to my face and I think I would do a much better job than the one above but, sadly, I can't firmly attest to that. The next time I have a chance to get my correct color, I'll report back and let y'all know!
Clean Professional Loose Powder: If you need a loose powder that will set your foundation beautifully but also not break the bank, then I'd definitely recommend this one. It's translucent so it blends in nicely and barely can tell you're wearing it!
I've always known Walmart to be a reliable place to venture to when needing to find some new beauty buys or restock some favorites! You can bet that all of the Covergirl products in today's post can be found at your local Walmart! Are there any drugstore beauty products – preferably that are also cruelty-free – that I need to know about and try?
Thanks for stopping by, lovelies! Don't miss the little eyeshadow tutorial I'll be doing on stories today featuring one of the eyeshadow palettes in today's post! xo.