Hi there, friends! Today, I'm talking about my desire to get to the beach more and my latest beach day buys under $100!
With the strong potential of saying goodbye to beachside living before the year is over, I have told myself that I really need to take advantage of its benefits more. I'm thankful for my trip to Barbados last month for a lot of reasons but one of them is that it served as a reminder. It helped me remember how much I do truly love the ocean and spending the day at the beach. I love the sound of the water crashing on the shore. I love the relief it brings on a hot day. I love that it looks so vast when you look out at the horizon … yet you're looking at such a small little blip of the coast. It's a lot like life … the situations and circumstances we are fussed over sometimes are just a small cry to the rest of what life has in store for us.
While I am a sucker for a mountain getaway in the Fall and the Winter, the beach is where I feel the most calm and where I allow myself to truly reset and relax. I can't bring my laptop out there and work. I get a headache when I strain to see my phone screen. So, they both get left at home or in my beach bag and I just … allow myself to be.
These days … I need beach time more than ever. While I don't have children, I have a business, two dogs, a long-distance love, and my sights set on an international move. My days are jam-packed and I would be lying if I said I did enough for my own self-care and well-being. So, until my big move, I am challenging myself to get out to the beach once a week – either at sunrise or sunset – and allow myself to rest for a little bit. There will always be things that I could be doing. I'm learning that taking care of yourself is a choice and a task you must commit to ticking off your list otherwise, your mental health could falter.
What should you be doing to take better care of yourself?
If you've got some beach time in your future, as well, I thought I'd share some of my latest beach buys that are reasonably affordable at under $100 … and you can get them all at Backcountry! If you've followed me for awhile, you know I love this retailer.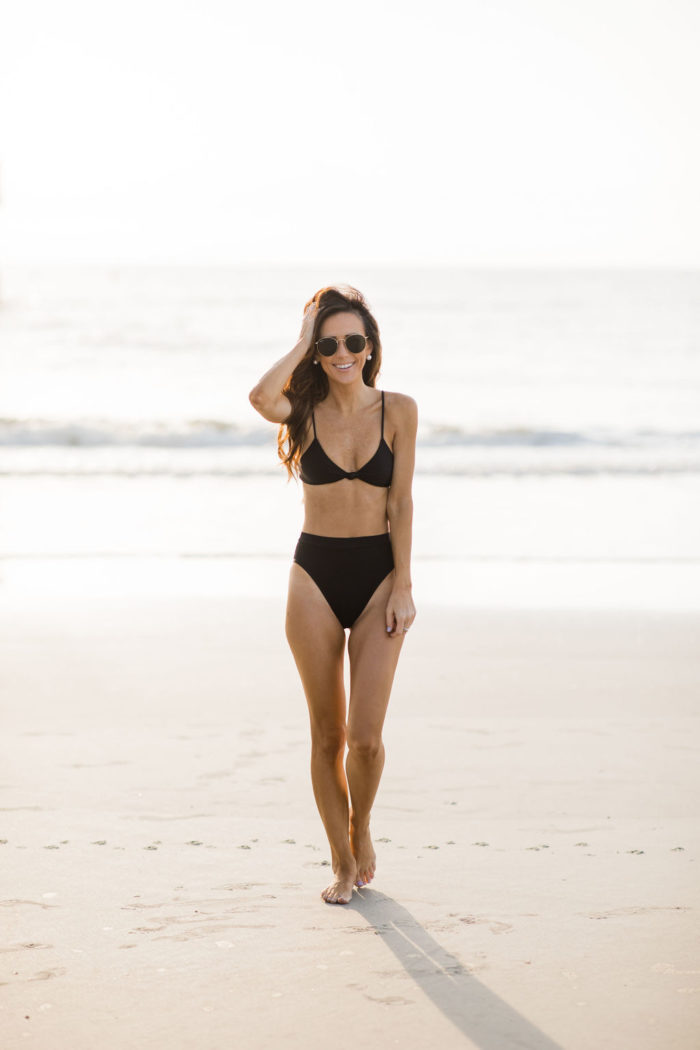 • This bikini top would be great for my fellow small busted gals!
• These bikini bottoms make me feel as classic as Audrey Hepburn. So … go ahead and throw them in your cart! What's not to love about that? ? They are high-waisted and I love that they also come up really high on the hip. They're a little cheeky but not too much. I'd recommend snagging your normal size.
• I feel like I always wear the same hat when I go to the beach. I've had this one for three years now so I recently purchased this one that has a bit of a wider brim to provide a little more sun protection. The black rim matches this new suit perfectly! It's a little bit more expensive than my original one but #worthit!
• How adorable is this large and in-charge beach bag with tassel detail? I love how big it is and that it's different than most beach totes!
Backcountry carries so many great beach day essentials from swimwear to sunglasses! If you're needing a few new beach day essentials, like I did, be sure to take a look at what they have to offer! They have tons of brands that we all know and love like Vitamin A, Mikoh, L*Space, Ray-Ban, Free People, and more! If you find something you fancy while perusing their site, enter code ALYSONH15 at check out to receive 15% off! How nice is that??
Don't forget to leave a comment and let me know what you want to start doing to take better care of your personal mental health! I'd love to hear where it is that you feel the most at rest and calm! xo.