The Nordstrom Anniversary Sale is always a great excuse to stock up on beauty products that I know I'll be using year-round! Not to mention, so many of the items in my list today make great gifts for bridal showers, birthdays, or just because! I love having a small stock of great gift sets, just in case! Here are some of the beauty picks I either refreshed my stock of OR own already and highly recommend! Snag them at these prices while you can!
I love Charlotte Tilbury beauty products because A. they're cruelty-free, and B. they are super high-quality at a price that doesn't make me cringe. This exclusive eyeshadow set, created just for the Nordstrom Anniversary Sale, has six gorgeous shades that are so perfect for Summer! I've already used it three times this week and I just opened it for the first time on Saturday!
Say goodbye to waking up with wonky hair – or pillowcase creases on your face for all my face-sleepers out there! Snagging these silk pillowcases long ago was one of the best decisions I ever made for my sleep. Laying down on the most luxurious silk pillows at the end of a long day is the ultimate 'treat yourself' moment for me, and you deserve it too!  They're also available in this color as part of the sale!
The Nordstrom Anniversary Sale is a great time to purchase a T3 product if you're looking to invest in one. They're amazing quality, super durable, and lightweight so they travel well, too. This is the size of curling wand I use typically, and there's a matching straightener and hair dryer in the sale as well!
Personally, I use this straightener, which is also included in the sale. I like it because it's dual-voltage so I can travel with it without worrying about whether it's going to overheat!
If y'all saw this post, you know I'm a St. Tropez devotee for life! This is my all-time favorite self-tanning product, and is so easy to apply. If you snag this bottle during the Nordstrom Anniversary Sale, you're saving almost $40 and this is a huge bottle that will last a while, depending on how often you like to apply! I snagged the express tan mousse but they also have the classic tanning mousse available at a discount during the sale, as well.
Beautyblenders are another item to stock up on during the Nordstrom Anniversary Sale. In my eyes, you can never have too many of these at the ready, and you're essentially getting two for around the price of one PLUS a carrying case for travel. I've tried countless different makeup sponges, but the Beautyblender always comes out on top.
This is the item that I haven't purchased but wish I had because I absolutely love Charlotte Tilbury's Magic Cream. However, I felt like I was being responsible because I had just restocked my supply of the Magic Cream and I also recently purchased the Wonder Glow [I have almost finished my TULA primer, which is shocking how fast I went through it!] so, I didn't need any more of that, either. But, if you're needing some good quality skincare products to prep your skin in the morning before applying your makeup, these products are great. The Magic Cream is what I typically grab as my daily moisturizer and the Wonder Glow is an amazing primer that I've really liked so far! Both products are included in this set along with a facial cleanser and all for $75.
I love this product!! So excited it's part of the Nordstrom Anniversary Sale again this year. This exfoliating treatment smooths and polishes for a glowy look to your complexion. I use this product probably once a week as part of my evening routine and always wake up with glowing skin as a result. Highly recommend!
This is a new product to me and y'all … I am 100% going to be putting some of it in a little travel container so I can bring it with me to London. It makes your skin come alive, especially if you already have a nice little tan going! I hope you can see what I mean in the photos! Highly recommend, especially during the summer!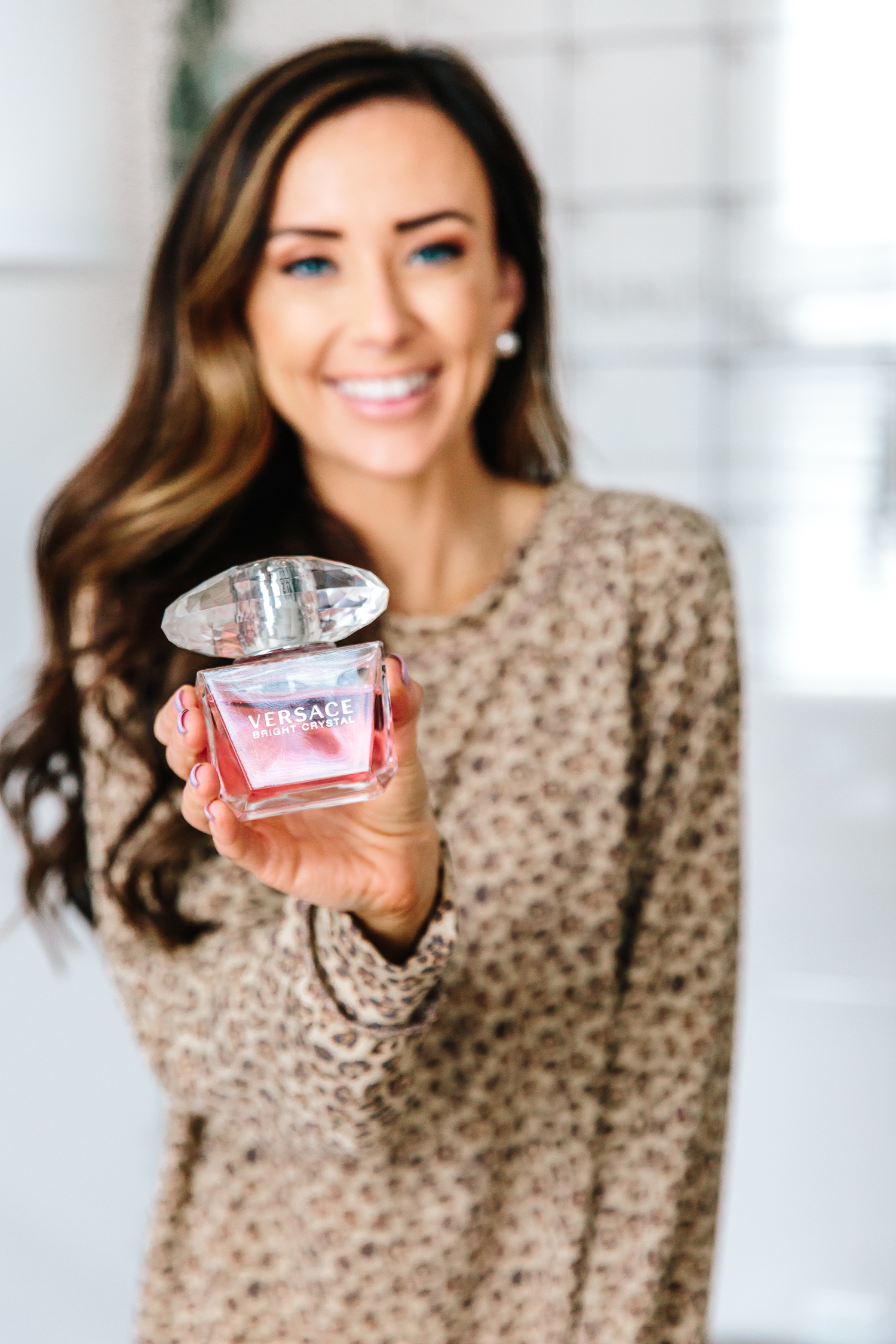 Y'all … my love for this fragrance runs DEEP. I have worn it since college and I don't think I'll ever quit it. I'm so sensitive to perfumes. I only have three that I choose between, all of which have sets included in the Nordstrom Anniversary Sale. If your curious, I wear this one, this one and this one! These sets are a great gift for a bride-to-be or, dare I say, a great stocking stuffer! Never too early, ladies. Never too early!
Oribe has always been one of my favorite hair care brands. The fact that both of my go-to products, Oribe's dry shampoo and its texturizing spray, are in one tidy gift set AND they're majorly discounted … let's just say I might've stocked up on more than one and leave it at that! 😉 I just know I'll use both products all the time throughout the year, and one of these sets would make a great little "just-because" gift for one of my girlfriends! There's also a great travel size Oribe kit in the sale I'd recommend checking out!
I shared my excitement over the Nuface Facial Toning Device before the Nordstrom Anniversary Sale launched and I was nervous that maybe I built it up too much. I mean, I hadn't even tried it yet so whose to say it was worth the excitement, right?! But y'all … I'm so happy to share that it is everything I was hoping it'd be and more! If reduces puffiness as well as contours and tones your face. I took a before photo and can't wait to share some after photos after I've used it over the next month or so! So, if you're like … what even is it? … let me give you the scoop. So, this product stimulates the face using microcurrents to reduce the visibility of fine lines and wrinkles. I'd say it's a great product to invest in during the Nordstrom Anniversary Sale because you're saving more than $100 off the regular price! It's such a great deal, and in my eyes, worth the purchase if aging skin is a concern and you're looking to expand your skincare toolbox!
Now that I am unable to wear eyelash extensions [ICYMI: I had an allergic reaction to the glue back in February], I have started using my favorite lash enhancing serum. This stuff works so well so, if you've always wanted yours to grow a little longer but don't want to make the financial and time commitment to eyelash extensions, I'd highly recommend using this product every night as a part of your nighttime skincare routine. This kit gives you two tubes for under $100. You basically get one free because the value is $190! That's really good!
I've shared my love for Colorscience's powdered SPF over the past few years. It's always with me, especially when I'm traveling in the Summer. Continuing to apply SPF is so important in the prevention of sun damage to your face. Since Colorscience isn't included in the Nordstrom Anniversary Sale, I can't help but still want to encourage you to consider Supergoop!'s version of the same product because it's such a good deal and it comes with replacement powdered SPF chambers. It's basically like getting three tubes for under $40! The Colorscience one is $65 for one!
Alright, y'all! That does it for me today! I hope that has helped you! I'm off to pack for London! I cannot WAIT to see John tomorrow! I'm sharing some of my travel picks from the Nordstrom Anniversary Sale here on the blog tomorrow so be sure to come say hi! 🙂 xo.